Best Ergonomic Keyboards for Wrist Wellness in 2022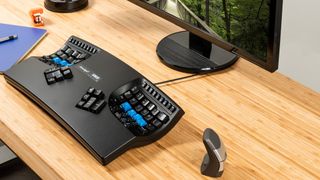 (Image credit: Kinesis)
Seasoned typists or hardcore gamers can all relate to wrist strain or RSI (repetitive strain injury). Hand and wrist pain is a common occurrence associated with prolonged typing on regular keyboards. An ergonomic keyboard is built to provide wrist rests and elicit a more natural forearm position. Topping our collection is the Microsoft Natural Ergonomic Keyboard (opens in new tab). The split keyboard design and padded wrist rest evoke a natural arm and wrist position for guaranteed wrist wellness.
Best Overall: Microsoft Natural Ergonomic Keyboard
Microsoft is a reputable manufacturer when it comes to keyboards. The Microsoft Natural Ergonomic Keyboard-4000 is an addition to its growing line of ergonomic keyboards. The keyboard's key bed has a natural curve, which gives it a beautiful ergonomic arc and a reversed slope. The ergonomic design and plush palm pad ensure that your palm and fingers naturally follow the reversed slope.
Away from curves and arcs, hotkeys, and a multimedia control panel are within a comfortable reach. Everyday tasks like replying to emails, opening documents, and controlling connected devices are a button away. Even better, you get an integrated and improved number pad.
Microsoft Natural Ergonomic Keyboard
Sleek and affordable
Reasons to buy
+
An improved number pad
+
An integrated plush palm rest
+
A dedicated zoom key
Reasons to avoid
-
It is not wireless
-
Mac users need to install additional software before use
Runner-up: Perixx PERIBOARD-612 Wireless Ergonomic Keyboard
This instinctively designed keyboard is an improved version of the classic wired PERIBOARD-512. What sets this keyboard apart is the ergonomic full-size split design. The split design allows your hands to assume a natural typing position. You don't have to artificially straighten your fingers, as is the case with regular keyboards. Also, it works great with the 10-finger typing system.
The 3-D keyboard design gives it a natural curve, which prevents the development of mouse arm, a form of RSI syndrome. If you have already developed any of these complaints, gradually, this keyboard will bring you undeniable relief.
It is compatible with Mac OS X 10.10 and above or Windows 10 and above. You can always switch between two wireless connection options. The default 2.4GHz and Bluetooth 4.0. It comes with four switchable keys and a key puller. That way, you can optimise the keyboard for use with Macs or PCs.
Perixx PERIBOARD-612 Wireless Ergonomic Keyboard
Wide enough
Reasons to buy
+
Dual wireless connectivity
+
Compatible with both Macs and Pcs
+
Dedicated multimedia keys
+
A full-size ergonomic key split
Reasons to avoid
-
The home/end/pg up/down keys have a weird layout.
Best Premium: Microsoft Surface Ergonomic Keyboard
At a glance, you can agree that most ergonomic keyboards have achieved wrist wellness at the expense of aesthetics. Why not enjoy both worlds with the Microsoft Surface Ergonomic Keyboard. The overall design of this keyboard creates a subtle arc for a pain-free typing experience. The palm rest is double cushioned with Alacantra- a luxury material sourced from Italy. That should explain the price tag!
Beauty aside, the stiff texture provides a quiet typing experience and a stable grip. This, in turn, creates smooth and consistent typing action with reduced accidental presses. The keyboard connects wirelessly to both Macs and PCs. Wireless connectivity tends to weaken over time. While it looks attractive and crisp out of the box, the grey material tends to attract dirt if you're not careful.
Microsoft Surface Ergonomic Keyboard
Attractive
Reasons to buy
+
Comes with a double padded palm rest
+
Attractive design
+
Wireless connectivity
+
Quiet typing experience
Reasons to avoid
-
Quite pricey
-
Wireless connection weakens over time
Best Mechanical: Kinesis Contoured Advantage 2 Keyboard
First impressions of this keyboard could leave you wondering "who needs such a keyboard?" People who want the most comfortable typing experience. It is the most ergonomic keyboard in the market, especially for touch typists. The whole keyboard is well contoured with concave-shaped key wells. Key wells are tented at 20 degrees so that you can enjoy a more natural palm, wrist, and forearm position. The separated key wells also ensure that your elbows and arms remain at shoulder width for a neutral body posture.
Even better, the keyboard uses Cherry MX Brown mechanical key switches. That simply means you require less force to trigger or activate the keys when typing. The integrated palm support is perfect for wrist rest while typing. It comes with a self-adhering cushioned palm pads that offer hand rest when you are not typing. A powerful SmartSetTM Programming Engine is available to let you customise key functions.
Kinesis Contoured Advantage 2 Keyboard
Unequivocal wrist wellness
Reasons to buy
+
Plug and play
+
Compatible with all operating systems
+
It has the best ergonomic design
+
Optimised for touch typists
+
Concave shaped key wells for undefeated wrist wellness
Reasons to avoid
-
It is not ideal for hunt and peck typists
-
It is costly
Best for Gamers: Corsair K63 Wireless Gaming Keyboard
Everything in the gaming world is fast and furious. To stay on top of your game, you need a keyboard with uncompromised and reliable performance. The Corsair K63 keyboard features a super-fast 1ms 2.4GHz wireless connection for an uninterrupted gaming experience. Fast-paced general typing and multiplayer gaming is a field day with the Cherry MX Mechanical Key switches. All these features packed into a compact design enable easy portability.
The keyboard comes with a detachable palm pad to support your wrist. Also, you can buy a separate lapboard for effortless couch gaming or typing. Powering the keyboard is a rechargeable battery that can last up to 15 hours. It comes with large font keys and a vibrant blue backlight. The lighting control feature caters to night owls or anyone who needs a lit keyboard for the graveyard shift.
Corsair K63 Wireless Gaming Keyboard
Ergonomic meets perfomance
Reasons to buy
+
It supports wireless charging
+
It features a brilliant controllable backlight
+
Mechanical build for fast typing
+
Ultra-fast BlueTooth connectivity
Reasons to avoid
-
Key placements may seem challenging for a beginner
Bottom line
It is natural to assume that all keyboards are compatible with Macs and PCs. Technically they should be. The significant difference in the operating systems is key layouts. It is better to get a keyboard that will work with your operating system straight up.
Ergonomic keyboards help you maintain the right forearm and wrist position, naturally. For guaranteed wrist wellness, our overall best pick is the Microsoft Natural Ergonomic Keyboard (opens in new tab). The split keys create a perfect ergonomic design. The design elicits the natural placement of your palm and wrist when typing. With a well-cushioned palm rest, your wrist wellness is taken care of. The dedicated zoom button and other customizable hotkeys give you quick access to regular tasks. Also, the new and improved number pad will see you crunch in those numbers in a breeze.
is an avid Tech Writer. If she is not reading, she is reviewing or testing new technology. She also probably tweets way too much.
Windows Central Newsletter
Get the best of Windows Central in in your inbox, every day!
Thank you for signing up to Windows Central. You will receive a verification email shortly.
There was a problem. Please refresh the page and try again.