Windows Central Best of 2018 Awards: Best Accessories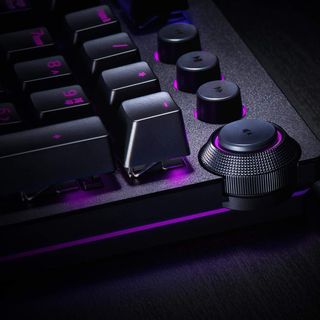 What's the best keyboard to go along with your laptop or PC? What about the best microphone for those podcasts, or the best headphones for all your media needs? Look no further as these are the Best Windows Accessories of 2018!
Best Windows Accessories of 2018
Why you can trust Windows Central Our expert reviewers spend hours testing and comparing products and services so you can choose the best for you. Find out more about how we test.
Best Keyboard
A unique gaming keyboard that could be a game changer.

Has Razer reinvented the gaming keyboard? You might think so after using the Huntsman, which features new "Optomechanical" switches. For those who game, the faster actuation and "light and clicky" feel of the Huntsman is an easy recommendation. Razer is also claiming double the lifespan of these switches, from the typical 50 million to 100 million keystrokes.Runners up:HAVIT HV-KB395L
Why we picked the Razer Huntsman Elite as the Best Keyboard of 2018
The Huntsman Elite is a game changer thanks to its optomechanical switches that respond up to 30 percent faster than a standard switch, while retaining that satisfying click. Toss in a great design and build, and Razer's trademark Chroma lighting, and you've got the best keyboard you can find. Period. Hit our review for all the details.
Best Mouse
The SteelSeries Rival 600 is one of the best gaming mice around. It's that simple.

The Rival 600 is a serious piece of a technology. If you value performance over pretty much everything else, you cannot go wrong with this gaming mouse. The dual-sensor setup offers exceptional performance in-game and while using software in Windows 10. Take into account the available SteelSeries Engine suite and you have a complete package at the affordable price of $80.Runners up:Razer Mamba HyperFlux
Why we picked the SteelSeries Rival 600 as the Best Mouse of 2018
The SteelSeries Rival 600 has an exceptional sensor setup, making it ideal for both productivity and gaming. It's also highly customizable, using the SteelSeries Engine to alter lighting, sensitivity, and macros, or adding and removing weights to change how the mouse feels in hand. Overall, it's one of the best gaming mice for the price. Check out our full review for more details.
Best Microphone
Pro sound, reasonable price.

Pro-quality microphones can be expensive. Very expensive. That's what makes the Audio-Technica AT2035 such a steal; audio quality rivals mics that far more than its $129 price tag. It's great for capturing crystal clear voice recordings and even grabs instruments impressively. It's relatively compact. And it comes with a shock mount included, making its asking price even more attractive. You simply will not be disappointed.
Why we picked the Audio-Technica AT2035 as the Best Microphone of 2018
The Audio-Technica AT2035 provides high-quality audio for every occasion. If you're a recording artist, a podcaster, or something in between, this microphone offers the best audio with lots of different options to tweak audio to suit your environment. It's a great fit for any Windows user who needs a new mic.
Best Headphones
Microsoft's first attempt at headphones is nearly perfect.

The Surface Headphones bring outstanding sound to your PC or smartphone with some intelligent features that separate them from the competition. While they fall short on noise cancellation, they're still excellent.
Why we picked the Surface Headphones as the Best Headphones of 2018
Microsoft seemingly came out of nowhere to release what is arguably one of the top pairs of headphones of 2018. With multi-pairing support, excellent dials for changing volume, and impressive active noise cancellation, these are amazing headphones for those work with a PC and a smartphone. Move over, Sony and Bose. You can hit our full review for details on why we love them so much.
Best PC Gaming Headset
The only gaming headphones that cool down your ears.

The HP OMEN Mindframe are my new PC gaming headphones. At $199.99, the OMEN Mindframes are not cheap, but between the outstanding comfort both in the physical ergonomics and the active ear cup cooling and the solid audio quality, I feel it is worth it.Runners up:LucidSound 35XSteelSeries Arctis Pro
Why we picked the HP Omen Mindframe as the Best PC Gaming Headset of 2018
The Omen Mindframe headset gets very good spatial audio quality, but it's the evolution in comfort that caught our attention. Featuring active-cooling, these cans pull heat away from your head so you can game for even longer, without ever being uncomfortable. This is the first we've seen this kind of tech and it's awesome. And very cool. Our review goes into tons of detail on this unique headset.
Get the Windows Central Newsletter
All the latest news, reviews, and guides for Windows and Xbox diehards.