Best Racing Wheel for Xbox Series X and Xbox Series S 2022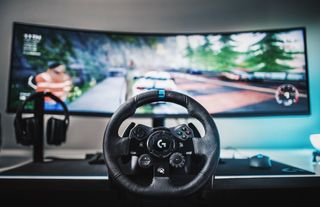 (Image credit: Logitech)
When it comes to console racing, the Xbox Series X and Xbox Series S is where it's at. Whether you're into more simulation-heavy titles or an arcade blast, there's something for you. If you're getting serious about your virtual racing, you'll be interested in moving away from whatever the best Xbox One controller you have is and up to a wheel like the superb Logitech G923.
Best Overall - Logitech G923
The Logitech G923 is, on balance, the best of the bunch. And part of that is based on its likely longevity; Logitech releases wheels and supports them for a long time. It's also very good value, but it's not good only because of its price. Logitech may not churn out new wheels that often, but when they come, they're excellent.
The G923 is a well-built wheel with all the creature comforts you need to go racing. That includes a built-in vibration motor that provides a new, more accurate force feedback to feel the surface you're driving on, a 900-degree rotation, a leather grip, and a full three-pedal setup.
This means you can use the optional gearshift with it if you prefer, though it is an additional purchase. For most, though, the metal paddle shifters will be plenty. It's also worth highlighting the location of the console buttons because they're placed perfectly for easy access without the need to take your hands off the wheel, and compared to its predecessor, it has additional controls like a dial and a nifty dual-clutch feature.
In fact, the only thing that's really missing from this is a dedicated share button since it launched before the new consoles. And also there's no option to have a load cell brake pedal for use on Xbox. Otherwise, the Logitech G923 is an absolute winner.
Logitech G923
On balance, an excellent wheel for all
Reasons to buy
+
Excellent design and construction
+
Attractive price
+
Three-pedal setup
+
Great force feedback
Reasons to avoid
-
Stick shift additional purchase
-
No-load cell brake pedal
Best for Serious Racers - Thrustmaster TS-XW
If you're searching for the ultimate racing wheel to go with your Xbox Series X or Series S, this is it. The Thrustmaster TS-XW is pricey, but it's the closest thing you'll get to reality without having to put a helmet on.
A big part of what makes it so good is the partnership with Sparco, which makes the TS-XW's rim an actual recreation of a real-life racing wheel, the P310, right down to the authentic Alcantara trim. You'll probably want some gloves, though, since after a while Alcantara can get a little uncomfortable.
The force feedback on this wheel is incredible, paired with a dual belt-pulley system and metal ball-bearing axle and 1080 degrees of rotation for the ultimate in realism. The companion three-pedal setup also allows for an optional stick shift. Perhaps the only thing you might not like is that this thing is massive! But it's still possible to mount to even the most affordable rigs, and the interchangeable rims available from Thrustmaster mean you can really make it your own.
The stock pedals don't include a load cell, but Thrustmaster does have a standalone set, the T-LCM, which can be used with the TS-XW on the Xbox, for more accurate feeling braking.
Thrustmaster TS-XW
As close to real as you can get
Reasons to buy
+
Excellent design and construction
+
Modeled on a real-life wheel
+
Three-pedal setup
+
Incredible accuracy from force feedback
+
Interchangeable rims
Best for Beginners - Thrustmaster TMX
Thrustmaster doesn't just cater to the super-serious sim racers out there, the company has a whole range of different wheels, and the TMX is particularly useful for those making their first steps.
The TMX retains features you'd find on more expensive wheels, such as a 900-degree rotation, leather trim, and paddle shifts, but cuts back in areas such as the pedals being plastic, not metal to help keep the cost down, as well as there only being two so it doesn't go with a stick shift. But even then, the pedals are still adjustable, the paddles are strong, and the force feedback is excellent.
The TMX is a comfortable wheel to use. It's also a high-quality product designed to appeal to the newer sim-racers or those on a tighter budget. But neither of those things means you should miss out on features, and that's why it's such a good wheel for beginners. You're not missing out on much at all.
You don't have interchangeable rims, which is fine at this price point, and even though the stock pedals aren't that hot you can use any of Thrustmaster's other pedal sets on Xbox with this wheel just fine.
Thrustmaster TMX
A great first step
Reasons to buy
+
900-degree rotation
+
Great force feedback
+
Leather trim
+
Solid build quality
Reasons to avoid
-
Only two-pedal setup
-
Plastic pedals
Best Budget - Hori Racing Wheel Overdrive
Not everyone is hunting for super-realism and the price that goes with it. If you're searching for something budget that'll still give you a bit more immersion in your racing, the officially licensed Hori Racing Wheel Overdrive isn't a bad choice.
Rotation is limited to just 270-degrees, but for most racing games, that's just about enough. It's got a beautiful design, a grippy rubber trim, and a bonus touch, an adjustable dead zone on the top of the wheel. The latest refresh also has the Xbox Series X|S share button built-in for instant captures, which makes it the first to include the new feature.
The pedals are also excellent. While there are only two, so no stick shifting, they have a retractable footrest for added comfort as well as being full-sized. The pedals are also fully adjustable, so you've still got control over how the setup feels when you're on the virtual track.
This is also a great choice for kids since it's tough but fairly lightweight and is a nice entry point into the world of sim racing for younger petrolheads.
Hori Racing Wheel Overdrive
A super-affordable way to get into using a wheel
Reasons to buy
+
Fantastic price
+
Licensed by Microsoft
+
Grippy rubber trim
+
Solid build quality
+
Xbox Series X|S share button
Reasons to avoid
-
Only two-pedal setup
-
Rotation limited to 270-degrees
Best Direct Drive: Fanatec Podium Racing Wheel Formula
If you want to get really serious about your sim racing, then you're going to want to jump up to a direct drive wheel. While everything else on this list relies on a system of belts and gears, direct-drive wheels attach the rim directly to the motor. The benefit here is the best quality force feedback, unlimited rotation, and the absolute best accuracy. It's the closest you can get to a real race car in your own home.
Fanatec now has a direct drive wheel that also supports consoles, with both Xbox and PlayStation versions available, and the bundle here has an F1 style wheel to get you going. What you get with the podium is smooth, accurate, highly realistic racing. The biggest drawback is the price. Direct drive wheels are much more expensive than belt-driven alternatives.
The Podium boasts peak torque of 20nm and a holding torque of 15nm, a built-in hub, carbon fiber, and Alcantara in its construction, and a built-in OLED display on the base for easy tuning. You've got a host of buttons to map and an integrated display on the actual wheel. All you need to do is get some pedals, which aren't included, and you're off.
Fanatec also has a number of different rim designs, including licensed deals with NASCAR and McLaren as well as F1, so there's plenty of opportunity to really make your setup your own.
Fanatec Podium Racing Wheel F1
Like driving the real thing in the comfort of your home
Reasons to buy
+
Ultimate realism
+
Superb build quality
+
Also supports console
+
Ecosystem of accessories
Reasons to avoid
-
Expensive
-
Pedals aren't included
Racing at its finest on Xbox
The Xbox One has a great selection of top racing titles for fans of console racing. There is also some equally excellent hardware to go with them if you want to get serious. For most, the Logitech G923 will be a perfect wheel.
It's well designed and beautifully made, well priced, and comes with a full three-pedal setup to use with the optional stick shift. Beginners and more experienced racers alike will appreciate this wheel. Logitech has a history of making great wheels, and the G923 is just the latest in that lineup. It's good for PC, too, with Trueforce supported there as well.
It's not the cheapest wheel you can get, but it's also not the most expensive, while still packing the sort of force feedback detail and build quality you'd expect from something that costs much more.
Richard Devine is an Editor at Windows Central. A former Project Manager and long-term tech addict, he joined Mobile Nations in 2011 and has been found on Android Central and iMore as well as Windows Central. Currently you'll find him covering all manner of PC hardware and gaming, and you can follow him on Twitter and Instagram.
Windows Central Newsletter
Get the best of Windows Central in in your inbox, every day!
Thank you for signing up to Windows Central. You will receive a verification email shortly.
There was a problem. Please refresh the page and try again.