The best role-playing games (RPGs) for Oculus Rift
What are the best RPGs for Rift?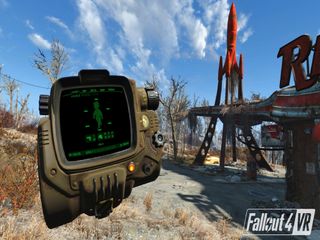 Role-playing games (RPGs) put you in the shoes of a certain character and take you away on an exhilarating journey. That experience is amplified when you have your face in an Oculus Rift — the real world is erased and you can focus on the story unfolding in front of you. Want to take the plunge? Here are the best RPGs for the Oculus Rift. These titles by no means are in order of best to worst, we'll leave that for you to decide!
Fallout 4 VR
Why you can trust Windows Central Our expert reviewers spend hours testing and comparing products and services so you can choose the best for you. Find out more about how we test.
"Crawl out through the fallout, baby, when they drop that bomb!" Well, the bomb has most certainly been dropped! Fallout 4 was released for VR and I'm pretty sure I've been screaming ever since it's no wonder I still have a voice. Get your S.P.E.C.I.A.L. stats ready, harness your inner Marlin from Finding Nemo and go find your son! Fallout was released for the HTC Vive for $59.99, but following these few steps will show you how to get it working for your Oculus Rift. (Don't worry, it's not too much of a hassle and WELL worth it.)
As long as you have a pair of touch controllers (opens in new tab) as they are the only ones compatible with Fallout 4. This shouldn't be a problem, seeing that most Oculus Rift players are using the touch controllers anyways! Besides that, a third sensor for your Rift (opens in new tab) is ideal, considering this game was created for a 3D visual effect! Finally, make sure your SteamVR is not in Beta mode by checking the properties in your Steam menus and go fight some Deathclaws!
The Mage's Tale
We've all wanted to know what it was like to be a sorcerer wielding magic and brewing potions. The Mage's Tale gives you the chance to experience just that in this highly immersive RPG for the Oculus Rift. Jump into this dungeon crawl to find and save your Master from the dark forces that dwell within. Solve puzzles, learn new spells and even create your own! For just 29.99 you, too, can also feel what it's like to be a mighty mage!
See at Oculus (opens in new tab)
Early access MMORPG: Orbus VR
Games are that much more fun when you can play with your friends or even a few strangers. Orbus VR brings that option to you with their massively multiplayer online(MMO) role-playing game. Learning spells, and even casting them, has never been as fun to me as it has here. In order to cast you actually have to draw out the symbol, the spell stands for, giving it that much more of an immersive feeling! It's all in the wrist! But, magic isn't your only wielding options and cute little bunnies aren't your only enemy. Pick up your favored weapons, grind your levels and go fight that dragon! Or, you know, PvP your heart away! Orbus is $39.99 on the Steam store, and all the reviews are absolutley positive about this game.
Vanishing Realms - Rite of Steel
Here we have another fantasy RPG for you, except this time it's time to sword and board. Here you'll seek for lost artifacts of unknown power and battle monsters all the way through it. Did I say that sword and board was the only option? Well, it's not! What's a fantasy RPG without a little magic wielding with it? Choose your battles, and how you fight them! One of the things I love about this game is the health bars following your enemy heads with exact health points next to it. What's more, your damage will show when you swing as well. This makes it really easy for your fight or flight skills to know exactly what the right calls are. For $19.99 you can find this game on Steam for your proper enjoyment!
Chronos
Likened to Zelda, Chronos deserves to be set on its own shelf. This exclusive title for Oculus Rift puts you in the shoes of a young hero attempting to save their homeland from demons. The artwork is imaginative, and the puzzles will keep your mind keen. Travel between dimensions as you fight for your life — combat is calculated and rewarding. If you die, your hero visibly ages a year and your stats change; the way you played at the beginning of the story won't be the same as at the end of the story. Chronos is $39.99 on the Oculus Store, and absolutely worth every penny.
See at Oculus (opens in new tab)
Heroes of the Seven Seas
Love a good naval RPG? Heroes of the Seven Seas lets you captain your own ship way back in the 16th century — dock at a port to trade and gossip with the locals, sail to exotic islands to search for treasure, and fight, fight, fight. Upgrade your ship to better fight pesky landlubbers and maybe a sea monster or two, and don't forget about your trusty flintlock pistols. Voice acting is great (who doesn't love talking like a pirate), and being at the helm of a pirate ship in VR shouldn't be missed when the price is only $6.99.
See at Oculus (opens in new tab)
5089: The Action RPG
If you want an extremely in-depth RPG and you don't mind some low-fi graphics, 5089: The Action RPG is for you with a price that won't break the bank at $7.99. The Overlord of planet Xax hasn't been seen or heard from in 1000 years, and you're here to find out why. The planet is procedurally generated, so you'll never run out of places to explore, and the quests just keep on coming. Disassemble and remake your own weapons, fly around in a ship, or go into stealth mode to sneak up on and spy on people — what you do is really up to you, and the possibilities are almost endless.
Daydream Blue
Daydream Blue drops you into a magical valley where you get to camp out, enjoying nature alongside your pet robot. Roam the valley, discover the secrets it holds, and play through quests and fun mini-games. You'll meet talking animals who inhabit the valley, and you can even play online with your friends using Gear VR. Right now, Daydream Blue provides a sturdy base expected from an RPG — we're very excited to see what the final product looks like and for $4.99 it's pretty hard to beat those prices.
See at Oculus (opens in new tab)
Early access mention: Spellbound
Spellbound has the opportunity to be something truly special, which is why we included it in our roundup. Choose a fable from a book and get ready to cast spells — you get to act out the story as it goes along. The voice acting is carefully done, the graphics are incredible in the Rift, and the music suits the game perfectly. Did we mention there are a bunch of spells to cast? Shoot fireballs or freeze enemies, and use your potions to create new combat effects. If Spellbound manages to recreate the initial story multiple times, this will truly be a must-have game. As of February 2018, Spellbound is still in early access for the price of $19.99.
Besides, after watching YouTuber ownedbytamater have as much fun as he did with his HTC Vive version, it was hard not to want to buy it immediately.
Honorable mention: Minecraft: Windows 10 Edition Beta
Although the debate over whether Minecraft is or is not an RPG rages on, we felt like it should be included here. Why? It's a free upgrade for Rift users and is an entirely new experience in VR. Collect resources, create a home, farm some crops, craft some armor and weapons, and go exploring. There's not much of a storyline, but there sure is a lot to do. If you already love and own Minecraft: Windows 10 Edition Beta but haven't yet played in VR, now is the time. One of the best parts? You get a game you already know you love for free on the Oculus Store.
See at Oculus (opens in new tab)
Your favorite RPGs for Oculus Rift?
What is your favorite RPG game so far for Oculus Rift? Tell us in the comments section below!
Updated February 13, 2018: We added a set of new RPG we're very excited about, to make sure this list still includes all of the best options.
Windows Central Newsletter
Get the best of Windows Central in your inbox, every day!
Essa Kidwell is an expert in all things VR and mobile devices who can always be found with an Oculus Go, a Pixel 2, and an iPhone 7+. They've been taking things apart just to put them back together for quite some time. If you've got a troubleshooting issue with any of your tech, they're the one you want to go to! Find them on Twitter @OriginalSluggo or Instagram @CosmeticChronus.
Fallout 4 VR is playable for Oculus users on Steam? Awesome... I see its on sale too. I was so mad it didn't come out for Oculus. Its the reason I bought a Oculus Rift.