Best Valheim mods every Viking should try
Go beyond the vanilla experience with these superb mods.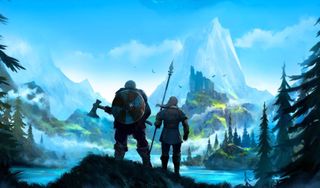 (Image credit: Iron Gate Studio)
The vanilla experience of the viking-themed survival game Valheim is fantastic, but with the power of modding, you can arguably make it even better. Whether you're looking to add more gameplay features, use cheats to make your journey easier, or you just want to experience Valheim from different perspectives, there's a mod available for you. Here's a list of all the best Valheim mods available, as well as a breakdown of what you'll need to use mods properly.
What you'll need
Before you can install and use Valheim mods, there are a few different things you're going to need. Firstly, you need to make a Nexus Mods account since the majority of Valheim mods are hosted on the Nexus website. Secondly, I strongly recommend installing the Vortex Mod Manager and the Valheim add-on for it. While not technically required, using Vortex to install your Valheim mods will make the process significantly easier.
You then need to install BepInExPack as well as InSlimVML. These utility mods are necessary for other Valheim mods to work properly in-game.
Now that that's out of the way, let's dive into the fun stuff.
The best Valheim mods
Here's a full collection of all the best Valheim mods currently available to download and install. Since many of these mods work on multiplayer servers, we strongly suggest using them responsibly and making sure that you're not ruining the fun of other players.
Valheim Plus
Why you can trust Windows Central Our expert reviewers spend hours testing and comparing products and services so you can choose the best for you. Find out more about how we test.
if you're only going to get one mod, make it Valheim Plus. This extensive mod gives players the ability to tweak the stats of their characters, creatures, world structures, and other entities. It also makes it possible to expand your inventory size as well, and it even adds in several advanced building features that allow you to rotate structure pieces upside-down, place them in hard-to-reach spots easier, and more. The sheer scope of this mod is incredible, and it's a must-have for any modded playthrough. You can get the mod here.
Cheat Engine
Less of a mod and more of a tool, Cheat Engine allows you to do everything that the vanilla console commands do and more. Whether you want to give yourself God Mode, fly through the sky to reach locations quicker, build structures without resource requirements, or give your items unlimited durability, Cheat Engine will have a cheat for you. Notably, this powerful tool works on dedicated multiplayer servers, which is great if you and your friends like being able to cheat from time to time and were disappointed to find out that standard console commands don't work on these servers. Download Cheat Engine here first, then download and run this Valheim Cheat Engine file to get started.
BuildShare
Want other players to be able to plop a build you made in their worlds (or vice versa)? This nifty mod allows you to do just that. It lets you save a build as a ".vbuild" file that other players can then download and place down into their own game. Tons of players are already sharing their builds with one another, too, so if you're a talented builder or someone who wants to enjoy living in a build made by someone else, don't pass this mod up. Download it here.
Better Archery
If you're annoyed by the fact that arrows take up inventory space in vanilla Valheim, you'll love this mod. It adds in a craftable quiver that you can use to hold all of your arrows separately, and it also adds in some neat features like the ability to zoom in for more accurate shooting and a chance to retrieve arrows you shoot. Grab it here.
Equipment and Quick Slots
This mod adds in a separate equip menu for your character, allowing you to free up space in your inventory that would normally be taken by your armor and weapons. It also adds in three more hotkey quick slots, which is beneficial if you're carrying around a lot of different equipment. Download it here.
Map Sync
This mod solves one of the most annoying limitations in vanilla Valheim, which is that you and your friends have separate map data. With Map Sync installed, pressing F10 near other players will instantly share all of the uncovered areas from your map with them, making it much easier to coordinate multiplayer expeditions. I highly recommend having all of your friends install it as well so everyone can share map progress with one another. Get the mod here.
Planting Plus
Are you annoyed that berry bushes, mushrooms, thistle, and other types of plants can't be planted? Check out the Planting Plus mod. This mod lets you farm all of the aforementioned plants as well as several others, which should help you out if you're having a hard time finding them naturally in the wild. Get the mod here.
Epic Loot
This work-in-progress mod adds rarity values, random rolled stat bonuses, and enchanting to loot in Valheim — all of which serve to make the game's gear more interesting and fun to chase overall. As time goes on, the mod author will work to make the added systems feel more streamlined. You can download the mod here.
HD Valheim
If you wish Valheim had higher resolution textures and more visual detail overall, check out HD Valheim. It's a work-in-progress mod that aims to make everything in Valheim, from blades of grass to stone pillars, look more realistic and detailed. Get the mod here.
Loki's First Person Valheim Mod
This mod allows you to play Valheim from a first-person perspective, which will no doubt completely change how you perceive the structures, objects, and creatures found in the world. Using this mod will make it harder to build and to stay fully aware of your surroundings, but if you're interested in the perspective shift, give it a try. Download the mod here.
Your thoughts
What do you think of the list? Are there any mods you feel I missed? Let me know. If you're looking for a way to cheat in a singleplayer world without installing mods like Cheat Engine, check out our guide to Valheim console commands list and all cheats.
Valheim is available for $20 on Steam through Early Access. If you haven't yet, I highly recommend getting it as it's one of the best survival games for PC right now. If you do pick up the game, don't miss our beginner's guide to your first days and beyond in Valheim.
Survive and thrive
Norse-themed survival FTW

Valheim is a challenging yet entertaining survival game set in a world heavily inspired by Norse mythology. Build, craft, scavenge, and hunt your way to success.
Get the Windows Central Newsletter
All the latest news, reviews, and guides for Windows and Xbox diehards.
Brendan Lowry is a Windows Central writer and Oakland University graduate with a burning passion for video games, of which he's been an avid fan since childhood. You'll find him doing reviews, editorials, and general coverage on everything Xbox and PC. Follow him on Twitter.