Best Xbox Series X, Series S wireless headsets 2022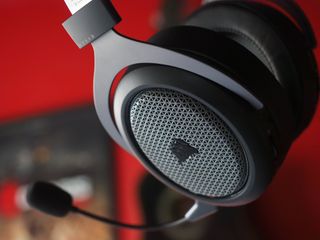 (Image credit: Windows Central)
The next-gen Xbox Series X and Xbox Series S consoles are here, showcasing the best of Microsoft's console engineering with some of the most powerful hardware seen to date. Powerful consoles need powerful audio, and if you generally game from your couch, being tethered to a cable isn't always the most ideal scenario. To that end, Microsoft's partners have built a range of really great products that make up this round-up of our picks for the best wireless headsets for Xbox Series X, Series S. If you are looking for a wired headset, we have a separate round-up of best Xbox Series X, Series S headsets over here for you to browse.
Best Wireless Xbox Series X, Series S Headset Overall: LucidSound LS35X
Our top pick for the best wireless headset for Xbox Series X, Series S overall goes to the LucidSound LS35X for its balance of price, power, and features.
The LucidSound LS35X is an excellent choice for any gamer, owing to its sleek design profile, powerful sound, and next-level comfort. The earcups are encased in premium fibers and leatherette materials, with thick foam infused with coolant gel to keep your ears cool across long sessions. They're simply dreamy to wear, and a big reason why these are my personal top pick for the best wireless headset for Xbox Series X and Series S.
The headset makes good use of metals to ensure sturdy build quality, with on-ear controls that are easy to use and memorize. The microphone is also one of the best on this list, with great clarity and detachable functionality if you plan to use something else. This headset connects to the Xbox Series S and X using Xbox Wireless, so there are no dongles needed (although you'll need the separate Xbox Wireless dongle if you want to use them with PCs). The headset also supports 3.5mm if you're planning to use it elsewhere, though.
The audio profile is also impressive, with a balanced experience across the major channels, with powerful distortion-free bass, clear mids, and accentuated highs, giving this headset tactical prowess without sacrificing immersive quality. You can switch between EQ modes for different scenarios too, and the headset also sports sidetone mic monitoring, so it helps you manage your own voice levels during those tense matches online. This remains our top pick for the best wireless headset across Xbox Series X and Series S for any and all gamers.
LucidSound LS35X
The best overall choice
Reasons to buy
+
Great audio
+
Premium comfort and feel
+
Robust materials
+
Great microphone experience
Reasons to avoid
-
Need a sold-separately dongle for wireless on PC
Best Wireless Xbox Series X, Series S Headset for Value: Xbox Wireless Headset
Microsoft's new Xbox Wireless Headset is a newcomer to the scene, joining Microsoft's growing effort to build wireless headsets for its devices across Xbox and Surface. The Xbox Wireless Headset isn't quite like the expensive Surface Headphones, though, opting to come in at the more-affordable entry-level end, quite arguably muscling out all of the competition at this price point.
Where the Xbox Wireless Headset delivers most is pure value. For a baseline price, you're getting Bluetooth mixing with Xbox Wireless, which is typically a feature reserved for more expensive headsets on the market. With this set up, you can take calls from a Bluetooth-connected laptop, tablet, or phone, while feeding gameplay sound in from your Xbox console. Intuitive dials on the sides of the headset let you control the volume mix on the fly, complete with an LED light to let you know when your mic is active or muted.
The audio won't blow you away, but it's highly customizable with EQ presets and tweaks via the high-quality Xbox Accessories app on console and PC. Similarly, the microphone isn't the best, but it's clear enough for voice comms on Xbox Live or beyond. It also has an intuitive auto-mute feature to block background sound. For the price, this truly is one of the best Xbox headsets out there right now, and the perfect entry-level option for anyone looking to improve their Xbox audio experience.
Xbox Wireless Headset
A great entry-level pick
Reasons to buy
+
Solid audio with lots of customization
+
Comfortable design and good construction
+
Great features for the price
Reasons to avoid
-
No 3.5mm support
-
Need a sold-separately dongle for use on PC
-
Mic isn't the best
Best Wireless Xbox Series X, Series S Headset for Dolby Atmos: Corsair HS75 XB
The Corsair HS75 XB is a newcomer to the Xbox headset lineup, and it quite easily sails into our roundups for the best wireless Xbox Series X, Series S headset.
What makes the Corsair HS75 XB so special is its audio. This headset is impressively versatile due to its cavernous soundscape and unique Dolby Atmos integration. This is the first headset that I've used that comes with Dolby Atmos as an on-board feature. The app on your Xbox will recognize the headset is connected, then give you access to additional surround sound features as a result. Dolby Atmos is an algorithm that can pinpoint audio with 3D-like accuracy, presenting your footsteps below you, planes flying overhead, and that sort of thing. The Dolby Atmos app gives you additional EQ settings, among other config options, and, combined with the HS75 XB, the sound reproduction is truly awe-inspiring. This might be the best-sounding wireless Xbox Series X/S headset on this entire list.
Beyond pure sound quality, the Corsair HS75 XB is also impressive in the mic department, with one of the better-sounding microphones on this roundup, alongside impressive construction and comfort. The battery lasts a decent 15-20 hours, and the design is attractive if subtle. Despite the meshing on the outer cups, this isn't an open-back headset like some have assumed, but it does come with robust materials that should give this headset some good longevity.
Corsair HS75 XB
Amazing audio
Reasons to buy
+
Amazing audio
+
Unique Dolby Atmos integration
+
Great microphone
+
Solid design and materials
Reasons to avoid
-
No 3.5mm connectivity
-
Need a separate dongle for PC play
-
Sidetone is quiet
Best Wireless Xbox Series X, Series S Headset with Bluetooth: SteelSeries 9X
SteelSeries makes some of the best headsets out there, and their 9X option is the best option for those that want to mix Bluetooth sound sources. This is handy if you're a content creator, for example, and you want to capture Xbox gameplay from a capture card while streaming live. You can mix audio into your own headset from a PC chat program like Discord via Bluetooth, combined with the sound from your Xbox console. The headset uses Microsoft's Xbox Wireless protocol, so there's no need for an additional dongle taking up a USB port.
The SteelSeries 9X has a great audio profile with powerful software for tweaking things to get them exactly as you want them. The out-of-the-box sound experience is tuned towards tactical advantages, emphasizing sounds like enemy footsteps and so-on. Combined with Dolby Atmos or the free Windows Sonic algorithms, this headset offers a good surround experience.
The retractable microphone is also of a high grade, complemented with good sidetone audio treatment. The headset is also comfortable, with a floating headband that can be adjusted with a velcro strap.
SteelSeries 9X
For Bluetooth mixing
Reasons to buy
+
Great audio quality
+
Robust software
+
Useful Bluetooth sound mixing
Reasons to avoid
-
If your PC doesn't have Bluetooth, you need a separate Xbox Wireless dongle
-
Bluetooth is always less reliable than 2.4GHz wireless
Best Wireless Xbox Series X, Series S Headset Premium: Astro A50
The Astro A50 is the ultimate premium experience for those who don't mind paying for it. This headset is also ultra-versatile, thanks to its SPDIF optical connectivity. Regardless of what console you have hooked up, you can connect the SPDIF optical cable into your TV and receive audio from your TV set instead of your console. If you don't have a SPDIF optical port, you can also connect the wireless base dock to an Xbox Series S or X using a USB cable, which transmits wirelessly to your headset. This is also useful if you're a content creator since you can leave your dock connected via USB to your PC while mixing in sound externally using the optical cable, which ends up being far more reliable than Bluetooth.
The unique base dock also acts as a display and charging stand. Connecting the headset magnetically will automatically begin charging, meaning that every morning you'll be ready to go. The stand also displays the wireless headset's battery life, the current EQ preset selected, and whether you have the onboard Dolby sound option enabled. On audio, the Astro A50 is among the best out there, with crystal clear reproduction across the spectrum, with impressive software features for tuning every aspect of the headset's audio profile. This is the headset I've probably used the most out of all the headsets I've tested, and it's easily among the best Xbox headsets I've used.
The Astro A50 delivers on comfort and quality too, although the better earcups are sold separately, the ones they're bundled with are excellent, too, with nice fabric across a lightweight design. The overall design is a bit "loud" and gamer-ish, but this isn't a headset you're going to be using outside due to the base it's tethered to. Either way, it's a stellar product that simply does not disappoint.
Astro A50
Not for the budget-conscious
Reasons to buy
+
Great audio with great software
+
Magnetic charge dock with 15-20 hour battery life is stellar
+
Comfortable, light-weight design
Best wireless Xbox Series X, Series S headsets: Bottom line
There are tons of really great headsets out there for Xbox Series X and Series S, but the ones on this list comprise our picks for the best of the best. I've personally used dozens upon dozens of headsets over the years and prefer wireless over wired options any day of the week for the convenience factor. Wired headsets also drain your controller's battery and generally offer fewer features than their battery-powered cousins.
The headset that I personally use is LucidSound LS50X. The headset is similar to the LucidSound LS35X on this list, with a similar sound profile and design, with coolant gel earcups that are simply dreamy to wear. The only difference is the inclusion of Bluetooth, which comes at a large premium. If you don't need Bluetooth for sound mixing, the LucidSound LS35X is dollar-for-dollar the best wireless Xbox Series X, Series S headset for the balance of comfort, great sound and chat, and price.
Another headset I highly recommend for those who can stomach the cost is the Astro A50. It can be hard to find due to its high demand, but it's in high demand for a reason: there's no better headset experience out there. The magnetic charge dock makes for some next-level convenience, with superior sound treatment, great software, awesome versatility, optical-connectivity across a comfortable, light-weight design.
If you're looking for alternatives, do consider the more affordable Turtle Beach Stealth 600. It's one of the only wireless headsets available in the $99 price range, making it a great option for those who want to save a bit of money. Arguably, the new Xbox Wireless Headset from Microsoft offers better value per dollar than the Stealth 600, though, so you may want to consider that instead.
If you simply want unbridled immersion and great audio, the new Corsair HS75 XB is another great option. If I didn't need the ability to mix in audio from a second source using Bluetooth, I reckon the Corsair HS75 XB would become my go-to headset purely based on its superior sound quality.
Credits — The team that worked on this guide
Jez Corden is a Senior Editor for Windows Central, focusing primarily on all things Xbox and gaming. Jez is known for breaking exclusive news and analysis as relates to the Microsoft ecosystem while being powered by caffeine. Follow on Twitter @JezCorden and listen to his Xbox Two podcast, all about, you guessed it, Xbox!
Anyone else having issues on the new consoles or on the W10 adapters with the Xbox Wireless headsets? They seem to be crackling like crazy and even have audio dropouts especially when I am downloading something.

This is a known issue. WC has an article on it. https://www.windowscentral.com/xbox-series-xs-wireless-headset-issues-re...

Thank u jez good article 👏
Windows Central Newsletter
Get the best of Windows Central in in your inbox, every day!
Thank you for signing up to Windows Central. You will receive a verification email shortly.
There was a problem. Please refresh the page and try again.