Best of WMExperts' Week, 3-21-07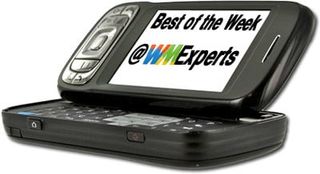 The Windows Mobile news of the past week was surrounded by two Treo 800w bookends: on Saturday we got a nice little leak that one of our forum members had seen a Verizon Treo 800w, and yesterday we heard the downer news: the Treo 800w won't be released until "Late Summer." The news sent everybody scrambling to change their guess on the release date for our Treo 800w giveaway, aka the Contest That May Never End. The good news is that Palm talked pretty big game about their "upcoming Treo," which we're going to take as an admission that our leaks about the specs are right.
We'll also mention that Palm CEO Ed Colligan repeatedly described Palm's current WinMo line up as "aging" and "aged." True that.
A quote from HTC's CEO sent us on a rant about the Windows Mobile Interface and why its association with Desktop Windows hurts it. Be sure to also check out Pocketnow's additional tips for Microsoft -- which we are totally on board with. The top and bottom menu bars take up a ton of space.
Of course, there was plenty of other news to chat about, the big stuff seemed to be that Google released a new search plugin and the HTC Shift is coming to Sprint (Did anyone else not see that coming?).
We told you how to use all the fancy shortcuts on your BlackJack and reviewed the Samsung WEP410 and the Blueant v12. Not to mention a quick little Podcast about the Samsung SCH-i760.
There's plenty more if you haven't gotten enough, just check out our March Archive.
...All this, and you still don't call us and leave us a voicemail to play on our Windows Mobile Podcast. You've got Windows Mobile questions, happen to be (ahem) WMExperts. So call us: 866-904-5882, extension 222. How would you change the Windows Mobile interface?
Leave us a voicemail and we'll send you a coupon good for 15% off a single purchase in the WMExperts Accessory Store! (So be sure to speak your email clearly after your message, we'll cut it out).
Get the Windows Central Newsletter
All the latest news, reviews, and guides for Windows and Xbox diehards.