Bing Sports update finally brings 'Share' option, other Bing apps updates inbound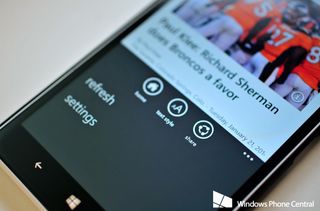 If one thing is certain, people love the Bing Apps suite on Windows Phone. From Weather, to News to Finance, the Bing team has done a great job of bringing a great core-user experience, all for free. But there was one major complaint that the Windows 8.1 RT apps had but the Phone apps did not: Sharing.
Today, version 3 of Bing Sports (3.0.1.121) is now live in the Store for Windows Phone, up from version 2 (2.0.2.177), which came out in October. Large version changes mean new features and we're happy to report Sharing is now onboard.
On the Windows Phone Bing apps, when you came across a story that you wanted to share, there was no direct – or even indirect – way of passing that info through the Windows Phone social tools, like email, SMS, Twitter, etc. It was a real kick in the pants as Windows Phone has some ready-made APIs for developers to tap into native sharing (which also picks up third party apps). We had a hunch it was coming, as the Windows Store versions already had it, so it was just a matter of time.
Now with version 3 of Bing Sports, that feature is ready in tow. By tapping the three dots '…' near the bottom, users will be presented with the now-familiar Share icon (see lede image). Only Email is allowed, which is an odd omission, but we think we know why: the system generates a summary of the story, along with a Windows 8/Windows Phone specific generated link. So sharing on Twitter, for instance, would be prohibitive due to the length restrictions. Same with SMS. (See above image for an example).
No other new features were noted, though we're still tinkering around. Presumably bug fixes for the Live Tile updates and other things were addressed.
As of today (12 PM ET), Bing Weather, News and Finance do not have corresponding updates. But if we had to bet, those apps should have similar 3.x updates coming out in the near future. The Holy Grail will of course to get Sharing built into News, as that is probably the most used Bing app next to Weather. We'll of course keep an eye out for it, as those updates could come out at any time.
Pick up Bing Sports version 3 (3.0.1.121) here in the Store or scan the QR code below. Let us know in comments if you see anything else that's different.
Via: WPCentral Forums; Thanks, Arpit M., for the tip!
Daniel Rubino is the Executive Editor of Windows Central, head reviewer, podcast co-host, and analyst. He has been covering Microsoft here since 2007, back when this site was called WMExperts (and later Windows Phone Central). His interests include Windows, Microsoft Surface, laptops, next-gen computing, and arguing with people on the internet.
Can't wait for Bing news having the share function!!!

Can't wait for WIndows Phone to have Windows 8 like share function!

I can't wait to get a phone call so I can pretend to have friends!

Phone call? I remember those... Thanks for the nostalgia trip.

I'm thinking of replacing all our wireless phones with a single on the kitchen wall, dial model with a 10-ft coil cord. The kids will never be able to figure that out.

Im still waiting for the Bing Reader app...whatever it is called that you can save an article to it and then read it whenever...and when they release it on WP it better sync with w8.1! Therefore while doing my daily business on the toilet I can read articles on my phone that I saved on my w8.1 laptop.

That's more than we wanted to know. Sometimes not sharing is better ;-)

That one sounds like a great feature to pump up the WP8.1 offering, just like W8.1.

You bring up a good point. Why isn't the windows 8.1 Reading List app or something similar baked into Bing apps, on Bing.com (web), and on Windows Phone?

How did this not have it in the first place. Its on RT.

I want Heath & Fitness and Foods & Drinks to be released.

Bing Weather always defaults me to the ski slope nearby. I wish that was fixed, because that slope is not really that close to me.

How about that local sports team?

I've heard they're playing as well as can be expected :P

i just wish you could add a team which wasnt related to football. for example if i add 'Ferrari' relating to the formula 1 team Bing Sports thinks it dosent exist. it seems such a obvious feature that isnt used properly.

How is it prohibitive for SMS or Facebook?!! Also as long as I can edit why would Bing Apps not want me to share it on Twitter? I thought more clicks = more money, even for Microsoft.

See the example image posted above of why. It's basically too long.

Microsoft forget how to truncate text at about 100 characters and include a short URL? Of course, for Microsoft a short URL means using a GUID, so they better truncate that news blip to about 13 characters.

But you could edit and just SMS link or post the whole sizzle to Facebook right? Or is editing a no no?

Can't they just share the web page of the article instead of a Bing app uri? What if I want to share to somebody who doesn't have Windows (Phone) 8?

Share only via email? Incredibly lame. Also, I wish it was possible to copy text.

Well share on facebook would be nice. The share threw email is kind if odd. can't even share to SMS what gives?

still needs a lot of work, NHL, F1, Tennis sections are a mess

Its getting better. f1 would be nice I would like to see more video. A share to WiFi tv's would be great

I get email, messaging and social apps as sharing options.

Wish they would update Bing Weather with a Metro style option (like Weather Flow). The way it looks now seems slightly out of place with the rest of the Phone. Given Microsoft's update speed even with their own Apps, i won't hold my breath on that one.

Well, you want them to redesign it to un-match the Windows 8 version. So yeah, don't hold your breath. I understand you want it to be different, but there are alternatives out there, as you mention. I wouldn't lament their update record though, as these apps have been getting some good treatment from them.

The only missing feature for me on Weather is the option to use Bing Image of The Day in the screenlock. I dont want to see everyday a picture with the same weather condition. Maybe switch between these two in a specific time (every 2h switch from Bing Image Of The Day to Weather Picture and so on)...

I would guess the Bing apps are a look at the future of the modern interface.

I like Bing Finance! Gives me an idea of how the Philippine stock market is doing.

Does anyone know of a decent boxing app? I was hoping this would include boxing but sadly it doesn't...

The live tile is much improved. If you have favorite teams saved in the app, the live tile now shows upcoming matches for your favorites on the back side of the tile. The front side now shows a caption under the main photo. (This describes the wide tile.)

Are you sure you're looking at Bing Sports? My live tile is still the same. But I remember some other sports app had it like that, ESPN maybe.

Yep, I'm sure. Try unpinning, then repinning the live tile. Or try adding a favorite team, if you haven't already.

I did that, and I have favorite teams, one of which plays on Thursday.

Perhaps upcoming games are only for certain leagues. I'm seeing an upcoming game for a team I saved in the NHL.

Must be certain leagues, or within a certain time? I added Miami Heat as a favorite team (they're playing tonight), and now the tile behaves as you describe. Maybe it doesn't work for NCAA Basketball, or maybe it needs to be closer. We'll see, I guess.

Perhaps it's time based. The NHL game that I'm seeing is tonight as well.

I added an NCAA Basketball team that plays tonight (Uconn) and there is no tile for that. So it's probably league specific. Bummer. Wish everything didn't have to be half assed.

Did that, also have 6 teams selected as favorites... nothing different with the live tile.

Looks like it no longer launches the Fox Sports website for game summary. Everything stays native within the app. That was by far my biggest complaint with this app.

That is a great improvement, if that's the case.

Actually I just tested it again. NBA stays native but NHL and NCAA Basketball launched the browser but it is a more mobile friendly gametrax site and not the original foxsports site which was brutal. So even though it still launches browser on occasion it is still a big improvement. Hope in the next update everything stays native.

Still launches full browser page for Formula 1, not such an issue with the ESPN app but makes for an inconsistent experience. Same thing with some stories for the Washington Redskins.

Yes for all sports all "articles" launch in full browser because they link to various websites. Hopefully the next update will include a reader to keep everything native. Still an impressive update. We are getting there hopefully...

Not true.
Some articles from various news sources open within the app.

Not sure if this is a new feature or not, altought I'm sure it wasn't present on the first release of the app, is the option to change region/language. I have been waiting this for so long, hope the rest of the suite have this option available soon.

Daniel, when I tap the Share button, I get options for Email, Messaging and SNS unlike what you have detailed above. The Messaging and SNS options just mention the headline and a link to the article. Also, there is an option now to change the region settings within the app. Something that I have been waiting for and what has been in the desktop version since the beginning. Not sure if these changes are region specific (don't get the need to be so either). L920 user with GDR3+Black, India. Edit - Performance still feels sluggish at times.

Mine only has email. In the US. Edit: except when I tried an article from SB Nation, it allowed the options you mentioned. Apparently it's provider-specific.

Not being able to share was the first thing I noticed in the Bing news AP. I share news with the fox news app and the drudge app all the time.

They might as well call this BETA LIKE THE OTHERS

Seems full featured to me.

Looking forward to News on WP getting share functionality, if for no other reason than to send myself a link for later reading.

Some articles are ok to share to social networks.. I just did

Another trick
Once you load the page,tap on ... SHARE THE PAGE
TAP SOCIAL NETWORKS!!
BOOM

One more thing I noticed
If the article is from SB NATION..
IT LET YOU SHARE TO SOCIAL NETWORKS WITHOUT SHARING THE PAGE..

Yep, interesting. When I chose an article from other sources it only allowed email, but SB Nation does indeed give messaging and social networks options. Wonder why it's like that.

There is an edit option for posts here. No need to make multiple posts one after another.

I can make a comment whenever I want... Don't be jealous..

BING!!! Add Canadian Football League!!!

Just want Bing health and fitness, and Bing food and drink. Some of the best apps on Windows 8.1, now I want them on wp 8 :-\

Yeah! Fitness and heath apps remain!!!

Sweet!!! Patiently awaiting Bing News and sharing

I downloaded and absolutely want to say sharing function do not exist

I hope the next update will add the AFL and NRL competitions for us in Australia in time before they both start in March!

So, when will they make it so it can use your own colour scheme?

Daniel, i played with the app sbc found the following. Try Share with different stories. It seems like the share options are provider specific and depends on how much details have been provided to Bing Sports by each source.
Another big feature is content market and language selector which sits under options.

I hate Bing sports, in cricket matches you can't see the scorecard for the match. Should fire the developer team for leaving such a basic & important feature.

Not sure if this is a new feature, but unlike Bing News, Bing Sports lets you choose the actual region for your news and really works as it should after this version 3 upgrade. Wish they could fix that for Bing News, as even though you go in and select the feeds that you want from your country, the tile still refreshes news from the US. Great upgrade btw! :)

Bing News here in Australia always has local news on the tile, perhaps though we get a slightly different version of the app in our store?
Windows Central Newsletter
Get the best of Windows Central in in your inbox, every day!
Thank you for signing up to Windows Central. You will receive a verification email shortly.
There was a problem. Please refresh the page and try again.