Bizview is a new Google Analytics client for Windows Phone you'll want to download
For those who have been eagerly awaiting a new Google Analytics client to surface on the Windows Phone Store, bizview is a new release that is well worth checking out.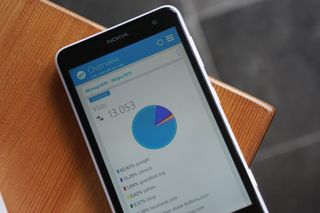 There have been a lack of clients that connect to Google's analytics platform. I've pointed this out on numerous occasions as Windows Phone matured through major releases. InTheKnow was an amazing app that was left to rot away and there wasn't a solution that I felt was a worthy successor. That is until we discovered bizview.
It's a Google Analytics client for Windows Phone that's both convenient and fast to use, as well as being compatible with the latest version of the OS. Simply sign into your Google Account and you're good to go. The app will pull down all the web properties you have stored on your account for further inspection. Charts and data are presented in a way that reflects the Modern UI.
Bizview is a neat app and one I recommend anyone with a website (and who uses Google Analytics) to download. There's nothing better than being mobile with the ability to check on your websites to see how they're performing in terms of visitors and how they interact with your online content.
It's available for free, so there's really no reason not to try the app out. Should you download bizview let us know how you get on in the comments.
Download bizview for Windows Phone (Free)
Via: Reddit
Windows Central Newsletter
Get the best of Windows Central in in your inbox, every day!
Rich Edmonds was formerly a Senior Editor of PC hardware at Windows Central, covering everything related to PC components and NAS. He's been involved in technology for more than a decade and knows a thing or two about the magic inside a PC chassis. You can follow him on Twitter at @RichEdmonds.
Reading the title I thought google was provide some app support on windows phone store:P

It said Google analytics CLIENT. Don't get your hopes up. Google will never support WP. It's their strategy of growing Android (and weakening WP) by limiting services.

How likely is it they'll try to file a lawsuit to get this App removed?

Unlikely. There are third-party clients for Analytics on Android and iOS as well.

How much they would grow. The money on android is earned by microsoft. I think sure google has a plan again to highjack Windows 10 app store which microsoft shouldn't let do them snd they would get fucked up.

"I think sure google has a plan again to highjack Windows 10 app store" Wow dude....just wow.

I avoid every google service possible barring Google Analytics and AdWords. Good to see the app, this will help people glance at page analytics.

I block all google services period.

I don't subject my web visitors to Google's invasive tracking.

I agree. I used to have Google Analytics on my website many years ago but I decided that if I am not willing to give them my data I should not be willing to give them my user's data either. I removed it. It's not like there aren't tons of ways to do website analysis. I also block their little scripts in whatever websites that have them deployed.

Care to share your method for blocking their scripts? I'd like to use them as well.

Ghostery is your friend. :)

Well it works and it looks good.

At last analytics on WP :D

I hate Google and everything they provide. I think this is just another spyware to advance their service(Android). To hell with them Microsoft provides every service that Google offers and better.

what is an alternative to Google Analytics provided by Microsoft. I am not a Google aupporter, but this is one service that is actually very good and I am not aware any such Microsoft tool, is it Microsoft Dynamics, i don't think so.

Clicky and Mixpanel are good substitute. Microsoft might not have this one but I'll rather use a service that does not spy on your data. My wife was on Google drive and had to come off because people was liking her private pictures (she saw likes on her photos) that got uploaded from her phone. Also they are very mean with their products when it comes to windows phone.

No disrespect to anyone here, but I won't be dowloading anything google on my phone.

The only google service I still have is Gmail, and that's only because I stupidly used it for my Microsoft account ID back in the early days of Windows 8.

Just change it than. I managed to merge Xbox live & MSFT accounts into one along with an email change. It took awhile but at the end I even got two Xbox live vouchers for being patient :)

Wow I'm amazed. Installed it and love the interface. Live tile is great for psychos like me comparing todays traffic to yesterdays. Great stuff. Already dropped easy analytics and analytics pro :-)

Ditto... This works well.. However if Microsoft would offer an alternative solution I'd jump on it in a heartbeat.

Uh oh login problems already on this end. Anybody else with this problem?

Hi Charles Brown8, login problems stemmed from google. Now everything works.

Doesn't work for me. First time I logged in I got to choose which view I wanted, then it crashed. Second time, I had to log in again. Then it crashed before I even got to choose a view. Ever since then, whenever I run the app, it immediately crashes. Uninstalled, reinstalled, tried again. Same problem. Oh, and then I received an email from Google informing me that I had logged in to an app - an Android app. Weird.

Hi awj, login problems stemmed from google. Now everything works. Google informed you that is an Android app because for google does not exists Windows Phone :) It's nromal ;) reinstall e use the application without any problem...it's amazing

Google. Absolutely I knew it

Hi guys, bizview is a free application and very very nice. Support bizview sharing it with friends and family who may be interested in ... rate it with a positive review... so it remains free ... Congratulations to developers
Windows Central Newsletter
Thank you for signing up to Windows Central. You will receive a verification email shortly.
There was a problem. Please refresh the page and try again.