Blizzard announces sizable Gamescom offering, including a new World of Warcraft expansion
PC gaming heavy-weight, Blizzard Entertainment, has outlined its plans for Gamescom 2015.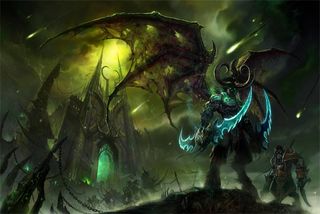 Blizzard typically brings a solid offering to the annual Gamescom convention, but this year it's joining the likes of EA and Xbox to deliver a live press conference. The press conference will be next week on Thursday, August 6 at 9:00 a.m. PDT, during which they'll announce the 6th expansion for World of Warcraft.
World of Warcraft's current expansion, Warlords of Draenor. has been a mixed bag. While initially cashing-in heavily on nostalgia by re-introducing characters from the Warcraft RTS games, active subscriber numbers fell sharply by 2.9 million players shortly after launch. It's hard to put a finger on why WoW slipped so far from its 12 million+ subscriber peak, but I'd blame a combination of linearity, dumbing-down and pandaring (pun intended). Regardless, WoW is still the #1 subscription-based MMO in the world.
WoW has a big opportunity to bring players back to the aging MMO, as a big budget Warcraft movie is set to land in 2016. Blizzard may have recently registered the trademark 'Council of Glades', which could indicate an expansion based around the Council of Tirisfal. The Council of Tirisfal were a mage collective who resided in Warcraft's Tirisfal Glades. They were set up specifically to battle the Warcraft universes' big evil - Sargeras, who's demonic Burning Legion army has hounded Warcraft players since the beginning.
Blizzard's full Gamescom 2015 offering is detailed below. If you're unable to attend, Blizzard are streaming the event at www.blizzgc.com from 18:00 CEST Thursday to Saturday, and 17:00 CEST on Sunday.
Warcraft
Fight against the formidable Iron Horde in World of Warcraft: Warlords of Draenor
See top guilds battling it out in live raids and racing through Challenge Mode dungeons
Show us your moves in the World of Warcraft dance contest
Representing the World of Warcraft development team: Executive Producer J. Allen Brack, Game Director Tom Chilton, Creative Director Alex Afrasiabi, and Lead Game Designer Ion Hazzikostas
See the next expansion unveiled on Thursday, August 6 at 18:00 CEST
Watch the live-streamed show on Sunday, August 9 at 17:00 CEST, featuring exclusive World of Warcraft content and developer interviews
StarCraft
Try out StarCraft II: Legacy of the Void, with the new co-operative mode, Allied Commanders, playable for the first time
See pro players display their skills in show matches
Representing the StarCraft II development team: Senior Game Designer David Kim and Lead Game Producer Tim Morten
Watch the live-streamed show on Saturday, August 8 at 18:00 CEST, featuring exclusive Legacy of the Void content and developer interviews
Diablo
Lead Character Artist Paul Warzecha will bring the world of Sanctuary to life with live 3D modelling exhibitions on our main stage
Hearthstone
Play Hearthstone on PC and tablet, including some new cards from the upcoming expansion, The Grand Tournament
See some of your favorite Hearthstone personalities, including Kripparrian, sling cards in show matches at our booth
Representing the Hearthstone development team: Executive Producer Hamilton Chu, Senior Game Designer Mike Donais, and Senior Director of Business Operations Walter Kong
Watch the live-streamed show on Friday, August 7 at 18:00 CEST, featuring exclusive Hearthstone content and developer interviews
Heroes of the Storm
Battle it out in Blizzard's new team brawler of heroic proportions, with a few surprises
See some of your favorite YouTubers clash in show matches
Representing the Heroes of the Storm development team: Game Director Dustin Browder and Lead Game Producer Kaeo Milker
Watch the live-streamed show on Friday, August 7 at 18:00 CEST, featuring exclusive Heroes of the Storm content and developer interviews
Overwatch
Try out Blizzard's upcoming team-based shooter, playable for the first time in Europe
See Overwatch cosplayers display their creations
Representing the Overwatch development team: Game Director Jeff Kaplan, VFX Supervisor Jeff Chamberlain, Senior Game Designer Michael Chu, and Senior Game Producer Matthew Hawley
Watch the live-streamed show on Saturday, August 8 at 18:00 CEST, featuring exclusive Overwatch content and developer interviews
Be sure to keep your eye on WindowsCentral.com for all the latest Xbox and PC gaming news emerging from Gamescom 2015.
Now readers, I humbly ask: what would Blizzard have to put in the next WoW expansion to get you to re-subscribe / give WoW a try?
Source: BlizzGC.com
Jez Corden is the Managing Editor for Windows Central, focusing primarily on all things Xbox and gaming. Jez is known for breaking exclusive news and analysis as relates to the Microsoft ecosystem while being powered by caffeine. Follow on Twitter @JezCorden and listen to his Xbox Two podcast, all about, you guessed it, Xbox!
While RTS games are some of my favorites, I could never get into Starcraft - I would far more desire more Total Annihilation, Z, or a proper AoE over more Stalecraft. Similarly, I have never found WoW to be an appealing or interesting MMO, I'll take Neverwinter and even ESO over it. Diablo on the other hand is something I could play for days, more of this is needed.

I like Diablo because it's a little more serious than WoW. Warcraft definitely went down the Disney-route after the Pandaria expansion.

MoP was actually decent. WoD on the other hand... promissed too much, and failed too hard. Still, it's fun to play from time to time. We'll see what the next expansion brings.

I enjoyed MoP generally, but tone-wise it was a bit of a departure. The booze dungeon (can't remember the name) was ridiculous, if awesome, haha. Was also shamefully addicted to the tiller's farm stuff... I skipped WoD until recently, what kind of stuff did they promise?

The writing, even in the expansion prior, went waaaaay down in quality. Most of the dialog reads like a 13 year old wrote it, and I'm being generous. Warlords was the worst, of course, and it had multiple other issues (no replay-ability, for instance). Diablo... I'm doing more Diablo on the XB1 than PC. Hopefully an expansion comes for that too and hits the Xbox as well.

Stalecraft? Probably the best most balanced RTS of all time...

I want another Diablo for Xbox One. Reaper of souls awesome esp after the patches that enhanced replay-ability. Hopefully no more Russian swords in next one.

Seconded, hopefully we'll hear more about the future of Diablo at Blizzcon.

Disappointed. Blizzard hasn't done much since Diablo 3...

World of Warcraft is like a drug, once you start to play, you forget about your real life, this happened to me twice in my life, first in 2005 with Vanilla (addiction lasted about 1 year), then stopped playing until 2011 when I started playing again with Lich King and Cataclysm expansions and lasted about 1 year and a half. Haven't tried Warlords of Draenor yet, I'm afraid I can fall into addiction again. No other video game is such addicting as this one, be careful.

I think it's the result of the hard work Blizzard put in this game, they created a world that make a forget about the real one, and that's awesome(not the fact that some become adicted to it and live just in wow)!

Agreed. I liken it to the crack cocaine of gaming. I lost 2 years to it until I realized sleep is something you shouldn't be shockingly short of. I quit and it freed up time for other games and friends. It's a great game, but the biggest time sink ever.

Blizzard will continue to do very little as they are making 30+million a month on WOW which they seem to be happy with. Once WOW starts to decline more they will get back on track let's just hope all their creativity isn't lost by then.

BRING US A NEW DIABLO EXPANSION!!!

I am still having fun with the current one! If there's yet another expansion then I hope it comes in a year or so.

I don't think they've ever released a 2nd expansion to a diablo game, have they?

I hope they remove dailies in the next expansion. I left the game at the Twitter patch. It felt like work.

I'd like to see all the Old cities become active again, having unique reasons to go to each one and not going to an empty city. Also, there's not much to do aside from dailies once you complete all the content, like a main hangout city where it has places for fun PVP battles and reading and chatting and showcasing pets and blah blah. One main, new, hangout city made of all real people. The biggest coolest thing would be houses. If us players could own and could and decorate our own home with pictures on the walls of selected screenshots or putting epic items on display from old times that are too cool to get rid of and too under powered to be used. This real player city could have its foundation laid down and every new home could be added and stacked on top with preaches to land your flying mounts that don't disappear but stay chained in front of your home with walkways and pathways leading throughout the city... I think they could really do some cool stuff with real player owned homes. I was a huge player and highly addicted in 2004 for about five years straight then on and off after that where I've completed every expansion except for the most recent Pandora one unless lords of draenor is new then there's two I haven't completed... I'll join back once the next xpack is launched I just needed a good break after my guild disbanded after a huge fallout, wasn't the first time lol. Oh and lich king, northrend, was the best and most beautiful in my opinion.

All I want is another Warcraft RTS, MMO's do nothing for me.

My mother in-law recently got a new B M W just by parttime work from a pc online. why not look here >>> +__+__+__+__+_+__+ WWW.NetPro8.com

Not too excited for new expansion, i still think we should stick to wotlk a little more.
Cata was game changer and wod is simply...you know, too much things at once don't get people exited for long.

In answer to your last question, the only thing that would bring me back to WoW would be a switch to a non-subscription format. After seven years of paying $12-$15/month for game time, I finally had enough. I now play Guild Wars 2. I like the fact that I can play when I want, as often (or not) as I want without feeling like "I have to play because I paid for it AGAIN this month". ArenaNet has probably made as much money off of me with in-game purchases as WoW ever did. But those were purchases I made by choice, not just for the priveledge of playing. If WoW drops the subscription model, I'll be in line to start playing it again.

I'm also over the sub, content is simply too slow to be paying $15 per month for it.

Yeah indeed! For the same price i can buy bundles of games each month again and play then whenever i want! Besides..having in game purchases feels unfair when You already pay to play

I've been playing wow for almost 10 yrs now, I cancelled my sub just the other day as I simply am bored in the game. It was and is a great game however contect is too slow. Each expansion last maybe 6 months before I get bored enough to cancel.

WoW just a really bad game that is popular, there are truly f2p games that are better and never got so much attention. oh humans. at least they will get a new expansion jus to keep players happy and paying.

They should have long since created another WoW, like what SquareEnix with FFXI and FFXIV, with the sequel taking advantage of all of the improvements MMOs have gained in the past decade or so.
Windows Central Newsletter
Thank you for signing up to Windows Central. You will receive a verification email shortly.
There was a problem. Please refresh the page and try again.