Briefcase, a customizable file manager for Windows Phone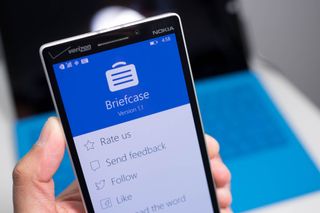 Microsoft already has an official file manager, called Files, but there are third-party apps you can check out. A newcomer is called Briefcase. It can manage both local and OneDrive files. It has your typical cut, move, copy and paste functions, and provide other features that you might like over the official offering from Microsoft.
Here's a video from the developers:
Briefcase features:
Typical clipboard operations.
Compress files and extract them.
Pin your favorite files or folders to device start screen.
Customize the app with your favorite color or match to device theme.
Batch uploads or downloads from OneDrive.
Offline access to all your OneDrive files.
Quick options via long press.
When you open Briefcase, the main screen displays folders from your local storage. You can add new folders by tapping the 'Add New' button. Tapping a folder or file opens them, while long-pressing gives you the options to pin to the Start screen or delete.
At the bottom of the main screen, you have a toolbar that gives you access to recent files, favorites, OneDrive files and settings. You'll need to give the app permission to access your OneDrive files before you can access them.
An interesting feature is the ability to compress files, but there's a problem with it. Selecting more than one file is not allowed, therefore defeating the purpose.
Briefcase comes in a default blue color theme, but you can change this. The settings page lets you choose a different color or match with your device's theme. The app needs to restart for the change to take effect.
Briefcase is a free download from the Windows Phone Store. We still prefer using the official apps, but we all have different tastes. You might like this one.
Will this be your default file manager app or do you prefer something else? Let us know in the comments!
Prefer Pocket Explorer, for simplicity :)

You haven't even tried this one.

Yes I have. It's nice and fast, I just prefer Pocket Explorer where I can set my background etc.

No you haven't and you know it

It's nice to have choices you know.

Well, Mark asked for our opinion, and I comment with my preference. I'm not complaining about the app.

All of them are crap compared to File Manager.

Sad how "customization" mostly means change theme color only for most WP apps. :(

I prefer to change colors only and have a fast OS... Than have a bunch of options and a lagdroid os.

One thing they should add at the very least is dark theme. White kills my eyes lol

Does the white theme really kill the battery? I really want to know.

Depends on what device. If I choose light theme Windows Phone let me know that my phone it's not appropriated to use this theme. 930.

And still I rebel and use white anyway. Because I am OCD'd to have everything same background. With Skype, Facebook, MSN apps all opting for white background it ruins if my phone is black background. So just use white on my Lumia 930. Battery takes about an hour or two's hit max nothing drastic.

Hummm I'm gonna try then. Thanks rocks.

wrong point. unless you have a LED display powered phone, white does not consume more energy than black. (actually for LCD some say it's a little viceversa)

Really need a network capable file manager on my phones.

Like FTP? Pocket File Manager and Metro File Manager and File Downloader have ftp support.

Dunno about the other two but Pocket File Manager is FTP server only, not a FTP client. Who the hell needs a FTP server on their phone? My FTP servers are at fixed locations, a mobile needs a client not a server. File Manager has a client as common sense would dictate.

FTP server on the phone is an interesting alternative to other ways of wireless transfer of files between devices. I know, it is not ideal, there are other ways, but it is one thing you can try in case everything else fails in a situation where you need to copy over music from the computer to the phone for offline music playback. Yes, there are other ways to do that, but in some cases one might prefer the FTP management interface. It is an old standard with tons of desktop clients, for an almost endless amount of compatible operating system versions out there. Of course, SFTP or FTP Secure (FTPS) would be perfect. Using plain-text FTP unencrypted is not recommended in terms of security.

Yes, I know exactly what FTP is. An FTP server on a phone is monumentally stupid. You need a FTP client on the phone, not a server. An FTP server on a phone only lets you copy files across the LAN in your house. A client would enable you to get the files on your phone from across the planet.

I use ShareFolder Explorer to access my Windows shares and move files to/from them. Works like a charm!

Loaded with ads sadly. Wait I'm missing something ? 4.9 rating? Now this is something.

Where are the ads? I don't see any... I just downloaded to give it a try. So far I see it's fast, smooth and with great UI

Looks very interesting. Like the design and simplicity of the app

Try Metro File Manager! I'm currently use it and its AWESOME!

Its not bad but the ad bar kills it for me. Uninstalled.

Briefcase/binder the good ole days

Doesn't seem to have SD card access.

Network shares would be nice

Looks good to me but I don't see SD card things, but didn't explore much , may be it's there I couldn't find it yet ! Very fast and smooth

Why is it so simple? Where are the other options? On every file or folder that I hold my finger, it just shows 2 options: 1.pin to start 2.Delete
Update: I found the other options. But its a little uncomfortable.
First you must click on "Select" in the bottom. Then mark the desired file or folder, then you'll see the options in the bottom.

Root directory would be nice like Aerize Explorer. Aerize fetches PDF from email and downloads them to root directory but doesn't have online storage. There really isn't a perfect file explorer for WP yet. Pocket File Manager does everything but the UI looks like crap.

Pocket Explorer is nice but doesn't download PDF from email to root directory so I can re send as attachment.

Super fast.
I'm satisfied with this app.

better than pocket file manager?

Offline OneDrive access? Just like in PC? Wow.

Yeah, I want to know how this could possibly work.

Looks nice. The icons look like Windows 10, too. We'll definitely give it a try.

LOL haha I remember it from Windows XP, but can't recall if it's on Windows 7.

If it could lock files and or folders. It would have been similar to Microsoft old briefcase application

Wait, What is that at the top right of the screen? A hamburger you say? YUM!

Check again it's a three line sign ,used on App's logo too :P

And its Free? How could this be free? Very nice app dev. Thanks. Grabbing this one with a quickness.

ok it replaced my default app what next :)

To the developer, if you are watching, this app is nice but it needs two things. 1.Transparant tile 2. and most important, a secure pin. Similar to the pin used to connect to OneDrive from Windows Phone. But I have to say, this puppy is fast..

Better write this on store review,as number Of reviews on this app is limited you'll definitely receive a reply from developer .

That's what I said but so far, no ads. If any begin to appear after some update, its the last ad I'll see from this app. I don't play ads.

I noticed some dev releases their new apps for free for a limited time before starting charging money

How do you get it to find everything on you phone? Everything is empty.

Can't get it to see anything on my phone.

Matro file manager... Super fast... Faster thn files...

NIce one, but i prefer Total Commander. It has tons of options and dark background :))))

Could anyone please tell me how to add SD card folder if using windows 10 preview?
Whenever I hit add option in this app Win 10 new file explorer is opening and there is no SD card showing? Any help please.

This is a very nice app. Thank you dev.

Wont let me batch upload music files to my OneDrive, only pictures?????

I prefer using Total Commander, which is a product and from a developer that both earned my respect since the 16 bit Windows days.

Is there an option to move/copy folders to other locations instead of opening the folder and moving/copying the files to a duplicate folder in another location as with Files? Curious to know before downloading.

Metro Commander Pro is a good alternative.
Windows Central Newsletter
Thank you for signing up to Windows Central. You will receive a verification email shortly.
There was a problem. Please refresh the page and try again.