Building an affordable NAS
Building your own Network Attached Storage doesn't have to be an expensive endeavor. We're going to run a through a few affordable options.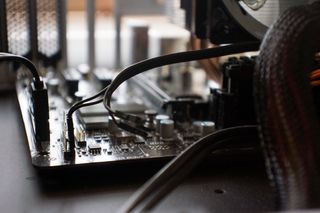 The best part about a Network Attached Storage device is it's essentially a PC and that means you don't necessarily need to pick up a pre-built unit to take advantage of the functionality offered by such a solution. By putting together various components and a cheap, compact PC case means you can save some pennies and create a NAS that can be easily upgraded at a later date.
Before we go into affordable choices for a home NAS project, we've already taken a look at the best NAS solutions available for purchase, some beyond $200, and these are a perfect option for those without knowledge and experience of putting a PC together or do not wish to get cracking. We recommend taking a gander if you're not interested in building your own.
If you'd prefer to take on the challenge, here are a few examples of builds that will work just fine as home NAS solutions.
Under $400
Our first configuration includes a capable CPU that's more than powerful for storing media and streaming files and content to multiple devices around the home or office.
Swipe to scroll horizontally
Under $600
Bumping the RAM up to 16GB and replacing the Intel Celeron CPU with a newer Core i3-7100 will unlock more power and allow for advanced transcoding.
Swipe to scroll horizontally
Choice is yours
Cases like Fractal Design's Core 500 allow for extensive upgrades and powerful components. While this case, in particular, can only house an ITX motherboard, it's possible to install a GPU and a larger cooler. It's even possible to throw in a 280mm radiator. Up to three 3.5-inch hard drives can be installed, alongside three 2.5-inch SSDs. There's plenty of room for upgrades.
Have your own configuration you wish to purchase and share with everyone? Let us know what components you've selected for a NAS unit in the comments!
Get the Windows Central Newsletter
All the latest news, reviews, and guides for Windows and Xbox diehards.
Rich Edmonds was formerly a Senior Editor of PC hardware at Windows Central, covering everything related to PC components and NAS. He's been involved in technology for more than a decade and knows a thing or two about the magic inside a PC chassis. You can follow him on Twitter at @RichEdmonds.
I would never build by myself a NAS device that has tremendous role in modern life. Raid 1/5 is essential for protecting hw failures and commercial products are the only one to trust completely. Synology is the only choose. Believe me.

I have a Synology DS214Play. It had features I didn't know I wanted or needed. It has allowed me to keep my stuff backed up in multiple places in multiple ways and multiple formats. However, their support is shoddy. I had a failure of the NAS hardware once. (Ethernet port failed). It took weeks to get a response from Synology (as support relied on a serial number that was invalid) and once they did get back to me, were rude. The replaement wasn't much better (it worked, but the ethernet lights would never turn on). Also, they have a bit of a learning curve. It is a different OS (some cusotm Linux distro). It is powerful, but clunky. I have had the system automatically update, but fial to update the underlying packages (despite being set to automatically update) causing hundreds of GB of data to not be properly backed up for months until I caught the problem. Also there is no way to just remote-desktop. I noticed QNAP has models that let you just plug into the drive and start moving files around just like you can on a desktop. Home NAS is not a pancea. It is better than nothing, but not for the technically inexperienced... Were it not for cost, I'd recomend some kind of microsoft based system instead. I miss my WHS box.

Yep, I have a QNAP TS-453A and it was essentially just a matter of plugging in the drives. It has tonnes of features, I assume very similar to Synology. It allows you to run different OS's (via VM) out of the box such as Windows or Linux... but so far I have just stuck with the onboard OS. It really was "plug and play", although it still takes time to figure out all the settings, how to use Plex/Kodi etc, best way to organise backups/files/media etc. After 10 months I haven't had any issues at all. It also plugs directly into my TV / Home Theatre system via HDMI so I don't need another PC / console to connect to it. Although, to be honest it doesn't always display things properly (apps appear bigger than the actual screen, might be an issue with my older TV) so I tend to use Plex on the Xbox One in the other loungeroom, or just remotely connect via PC/tablet etc. I did a lot of research before I bought it, and actually planned on buying 1 x Qnap and 1 x Synology (for physical separation of backups, one near my PC, one near my main TV). I had 8 x 4 TB WD Red drives ready to go, bought the QNAP (after a lot of research & finding a good deal) and use 4 of the drives. I kept researching Synology's but couldn't find any good deals for the ones I wanted. I was also building a new gaming rig at the time, and ended up deciding to just stick with the single NAS for backups and putting the 4 x 4 TB in my gaming PC (in RAID) for general storage and localised backups (that essentially get synched with the QNAP, in a similar way to how the Synology & QNAP would Sync). In hindsight, I'm glad I didn't buy a second NAS as it would've been overkill... I am very happy with my QNAP, but I would consider a Synology in the future just to try it out. I doubt that'll be anytime soon, as the QNAP does everything I need currently.

I agree with the RAID option. It's essential. Else I would use a portable HDD. Well I had a Supermicro Atom 2550 mini itx beautiful mother/cpu combo with 16gb ECC and I found laying around two WD HDDs 2tb each (black & blue) and have a compact coolmaster case so.. I bit the bullet. I already have a mybooklive but this server should allow for cool services like owncloud and Aria2. And maybe some docker/vm. I started with Freenas 9 then Corral but.. moved to bare Debian 8.

I use HP MicroServer Gen8, you can but it for 250€ in Europe. I replace Intel Celeron G1610T with used Intel Xeon E3-1230 V2, and 4GB ECC DDR3 RAM for new 16GB ECC DDR3. That cost me additional 100€. To boot FreeNAS Corral I use Intel 24GB SSD and for storage I have 4x WD Red 4TB.

The Gen8 Microserver is possibly the best choice for a DIY NAS in this price range, though I understand it's considerably more expensive in the US. Too bad, in Europe it's regularly around €200 even, and makes for a far superior file server than the configurations listed here.

Sorry but I think some of your choices should have been thought out more considering this is supposed to be a NAS. Primary concern for NAS: storage capabilities. The mini ITX board you chose only has 4 SATA ports and no RAID support at all. Then you only have one 2TB hdd which will not hold very much when it comes to high quality blue ray rips. You need to put a better motherboard in there with at least 6 SATA ports and RAID support. Then you should have at least 2 HDD's from the very start preferrably 3TB or larger.

Onboard RAID controllers usualy are not very good. If you run FreeNAS you don't need HW RAID.

I wont disagree with you on the onboard RAID controllers but they can and do get the job done for simple RAID setups like RAID 1. Plus at least having the option would be nice.
I think the real killer is the limited storage options that board provides.
I built a cheap NAS and quickly realized that as my HDD's fill up I want to easily expand storage and having an ample amount of storage ports on your motherboard is essential.

Also, 500 W power supply? Aftermarket cooler? 16 GB of RAM also seems rather pointless for a NAS + Plex machine, transcoding is mainly CPU-intensive. This isn't a guide to build a NAS, but rather an HTPC.

I built my NAS in 2012 and it's run pretty much 24x7 since then. I used a SuperMicro server case with 8 hot-plug 3.5" bays and added an additional 4 hot plug bays in the 5.25" slots for a total of 12 drive bays. It's currently configured with 3TB drives and with a 4-drive expansion box I'm up to 16x3TB drives to store my media collection. Since it's serving other Windows machines I installed Windows 8 Pro (subsequently upgraded to Windows 10). The only issue I've ever had with it was when a lightning strike at my house got into the network and blew the onboard GigE interface so I had to install a PCIe card.

I want something smaller along the lines of an Asustor As3102t. I miss the WHS days. We had such nice choice like the Asus TS Mini server. Everybody keeps pushing their Linux based OS. I just want a barebone model and put my own W10 on it.

I'd love to read the how-to of a NAS setup. And the comparison of software and (good or bad) hardware controllers.

I use my main machine for everything: Game, NAS, TV server, web-browsing... And backup everything to a hdd pluged-in a router. Use Windows File History to make automatic backups. Takes a few days for the tirar backup (some 5 TB), but after that, everything Works smooth. And like that, I only have to manage one machine. And don't forget: Raid is not the same as backup...

I use my Raspberry PI Model B+ and a 1 TB HDD with a USB to SATA adapter as a NAS. Installed Samba and hdparm on it, and it works as It should. So nice to finally have a place to put files on and organize them and not having to store everything, literally everything on my laptop.