Building a Home Theater PC — What you need to know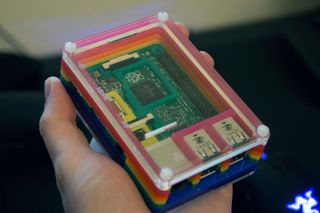 (Image credit: Windows Central)
Building a media or Home Theatre PC (HTPC) is an ideal project for anyone wanting to stream and enjoy content in the living room. A smaller chassis and less powerful machine helps keeps cost down as well as foot print, perfect for when locating a free spot near the TV. Here's a look at a few things to consider when thinking about building one yourself.
One factor to consider carefully is what you want to do with the HTPC. Do you want to enjoy 4K content? Do a little gaming on the side? Or are you simply wanting to stream music and YouTube videos? You'll need to pick and choose components accordingly, depending on how much computing power you'll require.
On a tight budget
Should you be on a budget or don't require much in terms of features and capabilities, you're going to want to look at low-powered options such as a PC Compute Stick or something like a Raspberry Pi. After playing around with the Raspberry Pi for a while, I believe this to be an ideal option for many. All you need to do is pick up the board itself (there are some packages available), a case, microSD card, and some cabling and you're good to go.
The system itself, sporting an ARM CPU, can play Blu-ray content with H.264. You will need to do a little tweaking to get everything setup with an OS. Luckily, the team at Raspberry have made it super-easy with a NOOBS installer for Raspbian or third-party OS. You could even load Windows 10 Internet of Things, if you so wish. I opted for OSMC, which is a neat interface.
World of Windows 10
Next up we'll be throwing Windows 10 into the mix. To run the OS and any media we'll be consuming on the big screen, we're going to need to build a machine from scratch with more than a single logic board. Here's an example of the components we'll require:
Swipe to scroll horizontally
Note that you can mix up the above list with your preferred components — it's a PC, so practically everything's interchangeable. There are also some Linux distributions that would work wonders if you don't wish to fork out on a Window 10 license. This is an ideal setup for those seeking a little more than simply 1080p output.
VR and 4K? No problem
Both VR and 4K are still some time away before there's enough content available to warrant an HTPC to be built for the big screen. There is the NVIDIA Shield (opens in new tab), which will allow for 4K shows and movies, as well as HDR support and some great gaming experiences. If you wish to go it alone, enjoy some gaming, high-quality video and future proof the system, this build will ensure just that.
Swipe to scroll horizontally
You may need to invest in a case fan or two, as well as a TV tuner to really take advantage of a feature-rich experience.
What say you?
What do you have inside your HTPC? Let us know in the comments what components you usually go for and if you take the system to its limits when it comes to gaming and media consumption.
Windows Central Newsletter
Get the best of Windows Central in in your inbox, every day!
Rich Edmonds was formerly a Senior Editor of PC hardware at Windows Central, covering everything related to PC components and NAS. He's been involved in technology for more than a decade and knows a thing or two about the magic inside a PC chassis. You can follow him on Twitter at @RichEdmonds.
5 years ago I bought a refurb 'puter with a first gen. amd apu (a6-3620),. Upgraded the ram to 8 gb, added a TV tuner card, ssd for the OS, formatted the hdd for storage, and scrounged a wireless keyboard/mouse for remote. Sound through my stereo. Running Netflix, Hulu and have 300some movies on the HDD. Windows MC is awesome for recording OTA tv. Computer cost was $500 approx., however I did mods over the course of a year. Wife swears she will never go back to satellite TV. IT PAID FOR ITSELF IN THE FIRST YEAR! That's factoring in higher speed internet, and subscription costs compared to satellite tv.

Also, really needs to get cable and act as a DVR, in my opinion, to be counted as an HTPC proper. That's where things get trickier. Otherwise, just get a Roku or, for that matter, a smart TV.

This is a very poorly written article.
For someone starting out it tells them nothing.
Why waste space with this?

What about someone not just starting out, but without all the time in the world to research different configurations? I thought it was very useful

I agree.. It shows the hardware but what about the software aspect? What about the live TV if you so choose? I have skipped upgrading my HTPC to Windows 10 due to the Media Center aspect. I have tried all the alternatives but none of them have the range of MCE..

I guess dan is not editor in chief any longer!

Can you post a public link to an article you've written. I'd like to read it and offer my criticism.

I've been using a television as my monitor for my computers since 2005 when I bought a TV for my Xbox 360. I guess you can call me a true cord cutter since I haven't had cable or an antenna ever since. My motto is, if it's not available online to watch, I ain't watching it period! So It's been 11 years and I only pay for internet.

Me too. But about 6 years now.

5 yeras. But did not watch TV since 10 years. What i'm still missing is a test of TV's used as Computer Screen for Streaming and Gaming.

True cord-cutter? How are you accessing the internet?

WiFi only internet is available from providers in London.

You're saying home internet access is via someone else's router? No wire at all coming into the house with a modem/router attached?

By the definition of cord cutter it specifically says forgoing cable and land line phone for internet.

And how much does your internet and streaming cost monthly? If its anywhere above $80 its foolish. I have a freind who does this and he spends ( Netflix $12/Hulu $12/HBONow $15/ESPNmore $15/Internet $60=$114) than I do with cable monthly ($96 cable/internet) and gets much less.

Tis what I was saying down below.

I'm not paying for any subscription but Amazon Prime. So $62.

My htpc cost over 1.5k. It has a 4th gen i7, hp WiFi card, TV tuner, 16tb of storage (12tb usable) and runs in Omaura's TF8 case.

And you get the 'Crappiest Braggadacio' award of 2016 ! 👏👏

can you show a configuration with a Mini-Box M350 Universal Mini-ITX

I use my Xbox One for all those needs haha It's almost on 24/7 actually xD haha

My HTPC is a Lenovo laptop. I undock it if I need to use it as a computer (which I barely do anymore, since I bought SP3 a couple of years ago). Even though my solution is not ideal and expensive, but it didn't start out as a HTPC. The computers in this article are not cheap solutions either. For basic videos etc, buy a $150 Jadoo 4 with air mouse. Install your choice of launcher (it's Android). Install whatever apps you want for watching movies or videos. This is especially good if your TV is not smart TV. This will run more content then a smart TV.

I run an Xbox One as my media front end and I'll explain why (and why I love it): I ran an HTPC for a while, but I got tired of the continued maintenance. When I get home from work, especially, I just want to sit and relax, watch some TV and play games, rather than figure out why X driver, or X game is not working, why Kodi or it's plugins are broken, or various sound or video related issues, etc. Don't get me wrong, most of the time everything worked and worked well. But a PC is not without need of maintenance, and when it didn't work, it was maddening to come home to and spend time troubleshooting. Since I already have a storage server for all my media, I made the switch from Kodi to Plex, replaced my HTPC with an Xbox One and have not looked back. I find that this is a much simpler and mostly maintenance free setup. There are some trade-offs but they're minor in my mind, and overall I feel that it's worth it to me to know that there's a 99% chance I won't have to dig into issues when I get home. Additionally, the Xbox enables a much simpler setup for using a remote. I picked up the official Xbox One Media Remote, an IR blaster cable, and input the code for my receiver and TV. This setup works very well for simple volume control and the Xbox toggles the devices on or off when powering up or down. - Try doing anything on a HTPC without a mouse and keyboard and your thoughts may quickly turn to obsession over what remotes exist, how to use them with certain programs, to how to program controllers to switch between apps, etc. These things can be done but not easily. And lets not forget that other thing the Xbox also can do, gaming! - Sure, a HTPC can do that too but there is compromise on both sides of the fence on this one. YMMV

Logitech K400 works perfectly fine as a remote. The only issue I have had with our HTPC (an old SFF Dell C2D which was basically free), is the Anniversary update won't install and occasionally Windows decides to install it even though we told it not to. Then we have to fall back to the Chromecast until the update finally fails and it reverts. As you said, this is very frustrating.

Indeed software updates, especially forced ones, are the bane of HTPC existence. And while I agree the K400 is a fine "remote," not all of us care to use a keyboard and mouse/trackpad from the couch.

That's what I'd like to do as well. May I ask what you use for the media storage?

I currently have a Windows 10 pc on my network, setup with Storage Spaces to store all of my media. I also have a battery backup unit in case of power failure. The current HDD configuration is eight (8) 2TB Hitachi/HGST Ultrastar drives in a parity array. The raw space is around 14TB, 12.7TB Usable space. All you really need is Plex Server installed to manage and serve your saved media to other devices.

Can I ask what you use (if anything) to back up your media? I have been searching for a better way to back up my video media (not really necessary except for stuff like home moves that I can't download/rip again) but I'd rather have it all backed up in one place and I can't seem to decide on what storage I want to go with. Cloud is expensive when you get in the multi TB and hard storage is not without it's flaws.

I'll be completely transparent here; I currently don't have a backup solution in place for TV and Movies. Although I should, and likely will in the future, everything I have currently acquired I can always re-rip. Any home movies or photos or other personal items of importance are already backed up to my OneDrive with 1TB / Office365 subscription. Not sure what to use for more than 1TB, thankfully it's more than I need.

Yeah that's my current situation. My music is probably the biggest thing to worry about (that's backed up) I can always get the movies again, but it's a pain. Music I'd never be able to get a list of what I had and find it all again. I lost a lot of CD's over the years.

One thing I have done in the past is screenshot the folders or the music app listings. That way if anything is lost, at least you know what's missing. Not always ideal if you add alot of music frequently, but better than not doing it. This only works of your music is properly tagged and organized, though. You could also keep a running spreadsheet of your music 'inventory,' but again this is a very manual process.

Thank God I **** money and have none of these plebian problems.

Re: Mr. Catfish,
Respectfully, may I ask, what are you trying to say? (Please keep in mind that we can not read your mind.)
Best Wishes

Yes, please enlighten us, MR. CATFISH.

I built a raspberrypi b+ before for a KODI player to stream my video library on my home server to the TV but it stopped working well. I have since built a Gigabyte BRIX and A10 gaming (the red one) it was more than enough for old system emulations of the 90s and 2000s and a great living room PC for 280 total after the 256GB SSD

Gee, I thought the Xbox One was supposed to be the be-all, end-all for this.

Depends. if you literally just want Netflix, there are smaller and cheaper ways than buying an Xbox One.

Does everything in the article except for VR (and it was never advertised to do that) You're on a dumbass streak today again aren't you.

Even the Xbox one is NOT a DVR.... something a lot of people are looking for in HTPC... Something that Windows 7 does perfectly (WMC)

Not a HTPC unless it has a TV Tuner IMO.

And remote
And Windows 8.1
And Windows Media Center
And Shark007
And UPS
And Intel ClearVideo HD
And AV receiver for DTS/Dolby

Totally agree with bguy_1986 and Hiswona. I'll add, Window Media Center set up as a whole house system is the best.
On another topic, people who stop watching TV or drastically limit their choices of what to watch should not be claiming a cord cutting victory. They simply gave up. They haven't truly replaced cable TV.

I disagree. I stopped watching TV for a year before I cut the cord. Not for any reason other than there isn't anything good on (IMO) Nothing on TV holds my interest more than a few episodes that I can't find easily through streaming services. There are also multiple solutions for those that do care about live sports or other live TV options that you may consider "drastically limiting" but if you never watched a channel ever on cable, just because you can't get it through other means, doesn't really count as a limitation for yourself. HBO is a perfect example. I paid for it for (I think) 3 months as part of a promotion. It is no where near of value to me, even deeply discounted. It is impossible for me to get it without a subscription to cable, legally at least, but I don't see it as a limitation since I'll never use it if I pay extra to get access to it.

Surprised this article doesn't mention NUC. I've been considering building one for a while now.

Those are pretty integrated systems. Unless by build you mean "get a barebones kit and add RAM and an OS", I don't know if it's possible to build something that small.

Intel sells a barebones kit as well as a few other manufacturers.http://www.newegg.com/Product/ProductList.aspx?Description=intel%20nuc&S...
Just need ram, hdd, and OS.

I'm still stuck with just plugging in my hdd to the TV, the Samsung OS is horrible though, there's no way to play a movie from the beginning so you always end up starting from where it last stopped and the only fast forward / rewind option is to skip about 30 seconds at a time. I picked up a Raspberry Pi 3 with Windows 10 IoT installed but so far haven't had time to set it up as a media server. Still deciding what route to go, I could get Xbox One, a half decent compute stick, do the raspberry pi or build a medium spec HTPC but really none of those options seems ideal to me. What I really want is a TV with the Xbox UI with apps for Netflix, Amazon and Microsoft Film.and TV, not interested in gaming so the Xbox seems like a high cost to pay when not using it at all for games.

Another option: just pay the damn cable bill.

First off, I do. Secondly, the idea of paying a bunch of money to watch shows and movies with tons of adverts interrupting every 10 minutes is frustrating at best. I much prefer on demand content.

Well, this is the world we live in. You cannot always have your cake and eat it too. You can try to find a balance, but I can assure you that the time spent chasing this pipedream can be better utilized aka earning more and paying the bill. The telecoms have thought this through - trust me. I know some execs and we have had these discussions.

Ok let's just live with it like that forever. I'm gonna go eat some cake.

Enjoy your maintenance and lost time that could be better spent with that family in your avatar if that is indeed your family.

Me and my son are eating cake, watching Disney Chanel and playing with hot wheels right now. If only I had enough money to buy another cake and eat it :(

Personally I think your best option would be something a long the lines of a Fire stick/FireTV, I'm not familiar enough with the new Rasp Pi to say if it's better or not (my RaspPi 2 overheated and died so I'm weary) Other than the Microsoft film and tv the Amazon stick should get you all you need, especially with the ability to install Kodi or Plex for all your media streaming. The PC stick is certainly a good plan, but the Fire is cheaper, and depending on your technical knowhow/drive, more customizable. I do agree though, if MS made a streaming stick that would be awesome. I think there was a rumor of it but it got killed.

Also, if you have Plex and a proper AVR you can make the two work together for streaming your personal library needs.

Yeah I was looking at the fire stick recently after being very impressed with the Fire HD 7. I have some ideas for the Pi but finding time to develop for it is very difficult. I'm still hoping Microsoft will make the Xbox OS installable on any compatible hardware, I think that would be my ideal just having a decent spec HTPC with Xbox OS, I'd happily pay a license for that. To be honest I'd happily pay for a Surface TV with it all built in that would be the ultimate.

I don't mean to be disrespectful, but as a reader I don't think this is the place to recommend installing a Linux distribution. Let's keep it Windows oriented, please.

I've been using an inexpensive (~$300) HP tower from Best Buy as my NAS. It came with 1TB of storage, but I swapped that for a 5TB drive I had laying around. I tried using a kangaroo PC + an external drive, but that was way too slow even as a basic Netflix/Hulu client, so I'd stay away from the stick PC's that have the same specs. Save money and frustration and get a Chromecast if you're considering a low power system. I just ordered parts last night to make a high end gaming rig, so that will also serve as my NAS. Maybe a little overkill when I'm not gaming, but I'd rather have just one device.

My HTPC is still based on Windows Media Center with Windows 8.1 because my cable provider copy protects all content from cable channels, and WMC is currently the only PC software that can record and playback DRM television content. I tried out PS Vue and looked into other streaming solutions, but it's a no-go for two big reasons. 1. They don't support live local broadcasts in my market, so any sporting event that airs on an over-the-air broadcast like NFL Sunday Football or the World Series on FOX would not be available to me. 2. I don't always watch scripted series in a timely manner, so my next episode to watch is often already expired from the on-demand services by the time I am ready to watch it. Some networks are getting better in this regard where they keep the entire current season available online, or even better their entire catalog of shows, but we've still not come to a point where I can rely on streaming services to cover all the TV I wish to watch.

Re: poit57,
I agree on each of the points you make. Also, I've seen more and more, older episodes being removed from streaming services. Windows Media Center (WMC) records what I want, I watch it when I want, I keep it as long as I want. I can watch from any TV in the house. It's convenient.

It's all depending on what you need. If your looking for a PC to replace the cable box DVR that costs you $10-20 per month, Windows Media Center is still the best option for this. Even more if your looking for premium channels (HBO, SKINAMAX, showtime, etc), as most of them are protected content, so any PC off the shelf will not be able to show them. Windows Media Center still works perfectly, It has an awsome guide, 3rd party apps are fading but, there is still a lot that out there. Even better, if your looking for just a 1080p setup, you could take a 5 year old PC and in most cases you can get that with no problem, even better use a Windows 7 machine (the best OS for WMC, as the 8.1 version was the 7 version with stripped features). And the best thing...use your old Xbox 360 as a Media Center extender, access most content in any other room in your house

I run a plex media server out of an old tower PC, I also pay for cable including HBO and Netflix. I use the Xbox One as the front end for all of them. Cable box is connected on the Xbox, the HBO Go app has all the HBO content available on demand, Netflix for its content, and all my other media are on Plex. I have the xbox set up to control the TV as well, so access to all these media is 1 click away (or no clicks if I use kinect and voice commands)

big NAS box with plex,and a Xbox,and either sling TV or new Xbox app....to get walking dead :)

I'm getting a fanless stick today. The plan is to use that with an IR remote to watch YouTube videos, listen to music, and stream my Steam Library. Also do a a bit of oldschool gaming. If it does that well, it'll be a success to me.

Ok, maybe not the best solution. Think I'll go back to the Shield TV(traded it in cause it seems Android TV is dead, but still think better solution for my needs/wants). Got the BSOD, hadn't seen that for like ever...Sound issues, etc on that Stick.

Regarding streaming, data is getting more expensive and it seems like I'm using more and more data. Comcast is switching from unlimited to a cap for the same price, or an additional $50 USD for unlimited. Over the air (OTA) TV is still free.

Call me crazy, but my Lumia 950XL in Continuum is a really big surprise as a Media Player/Center ... Im using it a lot that way :)

I'd call it smart. Media Player in smartphones nowadays is great, just one problem: You are using your battery too much, lucky for you is removable.

What a very poor article. There is more, and better information in the comments. AVS Forums, Kodi Forums and Plex forums have plenty of information for those new to HTPCs and cord cutting.

Rich, I guess it's all depends on what you want to do with it.... If your looking to replace your DVR to watch TV, using a remote like your current DVR... Windows 10 cant do it.... Windows 7 with Windows Media Center with a cablecard tuner could replace it... I think the discussion about this should be talking about SOFTWARE for a Home theater PC...

My HTPC is still running Windows 8 (it's old enough that it shipped with Vista), with Media Center, and a tuner card hooked to an antenna. No TV bill for me!

We have Windows Media Center (WMC) providing TV throughout the house to every TV. It is a great solution for our family too.

Some time ago I've grabbed Dell Precision M4600 for $138 on eBay. It configured with top of the line 2nd gen Core i7-2860qm CPU, 8Gb RAM, Quadro 1000m and 320Gb storage. Right after getting this machine, I've upgraded the storage to RAID0 2x1Tb for $70, GPU to Maxwell based Quadro m1000m (similar to 950m) for $90, wireless card to 3x3 MIMO AC for $30. Then, I removed things I don't need, such as display module and palmrest with keyboard. Now, it's thin enough to be placed right between slim VESA wall mount and TV. For just $338 total I have a really decent machine, that can handle any video and any game and is absolutely invisible. Apart from using it as Home Media Center, it functions as my 24/7/365 Server. So here is my advice: if you want to build a decent, powerful and lowcost HTPC - just buy an upgradable laptop with 2nd gen CPU at least (preferably some mobile workstation with lots of ports and slots).

Re: valuxin,
That a great idea!

I haven't tried doing this myself since the Win XP days, it was horrible, but I had a very outdated PC. I think I am too far gone on keeping up with the technology to know half of what you guys are talking about. I would love to try it again, but probably need something prebuilt.

I had an old laptop. Just broke the screen and plugged the laptop with TV. Here, my HTPC.
1 wireless mouse, Windows 8.1.1 with WMC, built in WiFi and Bluetooth.
Windows Central Newsletter
Thank you for signing up to Windows Central. You will receive a verification email shortly.
There was a problem. Please refresh the page and try again.