Buy the Surface Pen from Microsoft for $50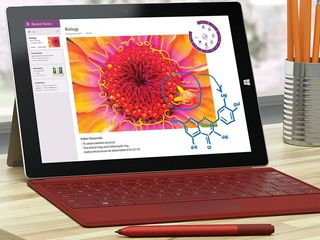 The Surface Pen is now available for purchase from Microsoft directly. Listed as available for shipping on the online store, those who invest in the Surface 3 are able to pick up the optional accessory for $50.
Available in a choice of colors – silver, black, blue and red – the accessory was previously included with the Surface Pro 3, but is now being pushed as an optional extra with the more affordable Surface 3 Windows tablet.
Source: Microsoft (opens in new tab)
Windows Central Newsletter
Get the best of Windows Central in your inbox, every day!
Rich Edmonds was formerly a Senior Editor of PC hardware at Windows Central, covering everything related to PC components and NAS. He's been involved in technology for more than a decade and knows a thing or two about the magic inside a PC chassis. You can follow him on Twitter at @RichEdmonds.
Is this tab better than surface pro 3

No, it is similar in design but it is a lighter version performance wise. It is way better than the Surface 2 RT however.

How could a pen be better than the surface pro 3? Are you April fooling us?

No I am not just wanted to buy a birthday gift for myself this April so was just asking which one is better I think surface 3 is more good than surface pro 3

Unless Microsoft decides to stop calling the Surface a tablet, it won't ever be sold with a keyboard. You just need to get over that. There are reasons they have positioned it as they have. Don't want to pay the $130 for Type Cover? Buy a cheap Bluetooth board instead.

The price, compared to the competition, isn't bad at all (When compared to an ipad)

Not that hard to compare specs online or if dont know not that hard figure its called surface and not surface pro. so logically its lower end

For 80% of people, budget minded consumers, students, companies - yes. You can upgrade to get the pen or keyboard, mouse, docking station later if you think they are useful for you. For professional digital artists, photographers, designers, engineers, the Pro is affordable and slightly better option.

... But the pen ... From Microsoft.... For fifty bucks.... Revolutionary. I'm running win 10 on my SP3. My ten year old son wants an apple laptop. Asked him why. He said "design ... easy ... beautiful ... works". I couldn't argue.

My son never ask for an Apple laptop because he has never seen one...he is looking forward to have My sp3, he loves it but he has to wait till sp4 comes out!

And i think i'd say the same for sp3 "design...easy...beautiful...works...and...touch". Apple laptop no touch? Still in 2015? And Your son want it?

I can easily say that touch on something like a Surface is great, or on a 2-in-1, but touch on a conventional laptop is extremely useless and not worth the cost. Just my opinion, though.

In my opinion it is the opposite. With a laptop actually on your lap it is so much more natural to reach up and tap the screen for a quick selection than to use the cursor

Worth the cost, I can't say one way or the other, but I can say it's becoming expected. I have a work issued conventional laptop and it happens often that when I show someone info on my screen during a meeting they try to touch the screen to scroll through our zoom in on data. Now if the laptop is sitting on my desk no one does that. But away from a desk setting I think touch screens feel natural.

You and your son both speak with a lot of ellipses in your conversations. I bet it's really annoying to converse with you IRL. I'm trying to figure out what the point of your comment is. Are you being sarcastic about the pen?

You're showing your true colours! Please stop being nasty as there's no need.

He should visit the Apple support forums where 'it works' doesn't seem to work there. P.s. He's 10 and obviously been listening to someone that's influencing him. They should stop.

I like design where function is part of design, not design for design sake alone. The Samsung laptop came out in January has tons of ports and thinner than Apple MacBook, nobody cares, Apple release a "practically" proprietary ports-less laptop and everybody pisses themselves.

No....I don't need to buy a pen thanks. But I'm glad you didn't knock on my door and tell me to buy it. I guess that is a "+1"

Hopefully Microsoft bring down the Pro prices by $50 and give people the option without pen. It's a nice to have but unfortunately most people don't use it. It's a bit like the Xbox pricing strategy, you got to have Kinect and pay more. But most people want to pay less. I have a Pro and I use the pen once a week.

The pen has been available for sale separately since the SP3 was released... Only the new colours were added and those are still showing as available only on 7th of May. Posted via the Windows Central App for Android

The silver pen is available now, and the colored ones will "ship by" May 5th in the US.

edit. The silver pen HAS been available since tne sp3 was released and the color pens will be available...

So what should I buy surface pro 3 or surface 3, which is more better in performance and budget wise
Please do comment
Thanks

Pro 3 is better performance wise, but the surface 3 is better budget wise. ;)

The i3 should have been quite fast so maybe your choice of software bogged the machine down

I'd say use your student account, or find a student and buy a i5 SP3... I went hardcore with a i7 256gb SP3 and I thinks its overkill, but I'm satisfied lol

So u wanna say surface 3 is not as good as pro 3 but what to do as I'm a student going for higher education in university so I thought I should buy surface 3 low budget

As a fellow Indian, I would say neither. Way way too overpriced !! Plenty of good alternatives out there, some being sold on MS store itself ...

I'm glad they give you a choice of colours as I would love to get a blue one alongside my blue keyboard. :D

NO, this is the same pen technology as is in the SP3 which is N-Trig the pen company that MicorSoft purchasd.

Nope. Wacom doesn't like MS putting their technology in tablets that are cheaper than their ludicrously expensive Cintiq tablets.

It's better than a budget version of Wacom but not as good as professional Wacom Cintiq or Intuous. Wacom in Samsung Note and Surface Pro 1/2 are budget Wacom and it wasn't great due to calibration issues. But the new pen is better and has a Bluetooth trigger button which FYI, can be reprogrammed for ANYTHING in Windows, not just turning on OneNote.

Is it aprils fools joke to ask for 50$ for a pen?

I'm thinking that you don't know much about the tech when it comes to the 'pen'.

I put in my preorder for the S3, and I would like the pen, but $50 is a bit steep. I mean, I could buy an adapter that lets me use all of my accessories with my apple laptop for that kind of money. I kid, but seriously, I feel the S3 price is fair, however they're kinda gouging us on accessories.

Not for that pen. It's an active stylus that supports pressure sensitivity. Don't confuse it with things like the bamboo stylus or the $10 specials from Best Buy.

No, definitely not comparing it to that. $35 is a reasonable price for an active stylus, but that's just one guy's opinion

It's a fair price. Most pen on the market are completely passive or use horrible Bluetooth and extra infrared tracking which adds bulk. This is a great pen.

Someone will be burnt or 2 billion dollars down the drain......