Call of Cthulhu's Depths of Madness brings Lovecraftian terror to Xbox One
Something malevolent is waiting for you in Darkwater.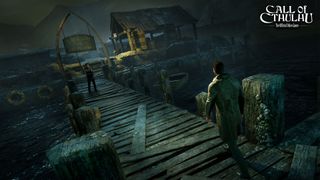 The dark and creeping madness of Cthulhu is coming to Xbox One later this year in a new investigative RPG from Cyanide Studios. Whether you're already a fan of Cthulhu and HP Lovecraft's other assorted works, or you just like creepy games, this is most definitely going to be one to watch. While there aren't many details just yet, we have a preview of what to expect.
Private Detective Edward Pierce is called in to investigate the death of an affluent artist and her family. Located on Darkwater Island, things are definitely not normal there. Dead whales have been showing up beached with hideous wounds, and there is more wrong here than it looks like on the surface. As Pierce begins to explore the mystery behind the murders on the island, he starts to slowly devolve into madness. Trying to tell the real from the imagined will be difficult in a place that seems to be breeding despair so thick it engenders madness.
As Pierce, you need to explore and uncover what is going on on Darkwater Island and uncover the mysteries that are hidden there. You'll interact with members of the town and try to unveil the various mysteries lurking nearby. And the dark, emotive environments look like they'll really bring Lovecraft's world to life in all of its creepy glory.
We don't have an official release date yet, but Call of Cthulhu's Depths of Madness is expected to be released on both PC and Xbox One later in 2017.
Get the Windows Central Newsletter
All the latest news, reviews, and guides for Windows and Xbox diehards.
Is this the same game as the OG Xbox one? Or a new story, etc?

From everythign I've seen it's something new and delightfully lovecraftian.

This sounds right up my alley.

hmm, reminds me Fahrenheit: Indigo Prophecy. Looks good

Same here, I can't wait to get my hands on this. I love HP Lovecraft themed games! Especially when those games nail the themes that HP dealt with well.

Now this is a game I'm looking forward to know about it.

It's a good Metallica song too