Call of Duty: Infinite Warfare and Modern Warfare Remastered multiplayer revealed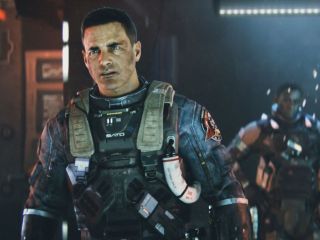 At today's Call of Duty XP event, Activision showed off the first multiplayer footage of Infinite Warfare and the Modern Warfare Remastered games that are both being released on November 4 for the PC, Xbox One and PlayStation 4 platforms
Image 1 of 2
The Infinite Warfare trailers, as posted on the Call of Duty YouTube channel, show that the sci-fi themed game will have six basic player classes called Combat Rigs. Each rig will come with a choice of weapons payload and skill perks called Traits. Players can also craft their own personalized and prototype weapons in the game and Kill Streaks will unlock new weapons and equipment.
Activision will hold a multiplayer beta for Call of Duty: Infinite Warfare on October 14, first for the PlayStation 4, with the Xbox One to follow at a future date.
The Call of Duty XP opening keynote also revealed a new campaign section from Infinite Warfare, along with the first multiplayer footage from Modern Warfare Remastered, the graphical remake of Call of Duty 4: Modern Warfare that's being included with the $79.99 Legacy Edition of Infinite Warfare. Activision also announced that Modern Warfare Remastered will now have all 16 multiplayer maps from the original game, with the first 10 coming at launch, and the final six to be added for free in December.
See at Microsoft Store (opens in new tab)
Windows Central Newsletter
Get the best of Windows Central in your inbox, every day!
Pre ordered mine at my local Microsoft Store.

Really hoping for One in the Chamber to return but still looking forward to playing both games in the Legacy Edition.

Watching Swiftor's live stream. It looks pretty good! Posted with the Nexus 6, Nexus 5, or Surface Pro 3

Beta only for those who preorder and not even available for PC
Battlefield 1 beside the ****** way EA sold DLC has pretty mush win the game


I still have much to play

Modern Warfare Remastered is the only part to look forward to

Wow, it's like puking every other FPS's ideas into a pot. Defender's just Halo's Oddball. Still taking Titanfall's wall running out for a spin. Going with class-based stuff like other games already did (Overwatch, Battleborn). Creating tiers of weapons like so many character-based things (Borderlands, Destiny, Defiance, every MMO). Not sure why CoD is so afraid of building its own identity. It did fine with the first MW and BO games, but now it's just grabbing everything from the competitors and throwing it in, never quite making sense.

It's because the two people who made CoD, Jason West and Vince Zampella, were fired by that paper pushing punk called Bobby Kotick, a businessman that has no clue about the games industry!!!

Except those two went on to make Titanfall which has some of the absolute worst Aim Assist I've ever seen, in addition to a total waste-of-time "Campaign" and mediocre map design. I loved the Titan encounters, but the rest of the game was just an exercise in frustration and uneven play.

You say this like this like it's new. I lost interest between WaW and MW2

It's somewhat new. Rather, it wasn't just stealing everything at the time you mentioned (which was between one game I didn't like AT ALL, and another that was good for its time, but really bad in hindsight).