Celebrate the Xbox Live 10 Year Anniversary with a free Xbox Live Arcade game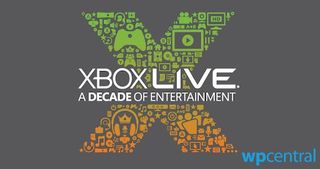 It might seem like only yesterday for some of us, but Microsoft's Xbox Live service launched 10 years ago this month – a year after the original Xbox debuted. Xbox live was a major differentiator between the Xbox and the Playstation 2 and GameCube. Some PS2 games could connect to the internet via optional modem, but Sony's console lacked a proper online system. Nintendo's GameCube had only a handful of online games, something the big N did little (virtually nothing) to rectify with the GameCube's successor, the Wii. Only the Xbox had a fairly standardized online system with each game required to support voice chat.
Ten years later, the Xbox 360 is the world's most popular console (especially in North America) and the Xbox Live service extends to Windows Phone and Windows 8 games. Read on to discover Microsoft's plans to celebrate the anniversary, including giving everyone a free XBLA game!
Free game!
The best part of this celebration is undoubtedly the free downloadable game for Xbox 360: Wreckateer from Iron Galaxy Studios. Wreckateer is a 3D castle-destroying game (similar to Angry Birds, but with a different perspective) that requires the Kinect peripheral. It's 2-player and supports avatars to boot.
Now, even if you don't have a Kinect, it's a smart idea to download it so that you'll have the game should you ever pick up Microsoft's motion-sensing peripheral. Plus, multiple sources claim the next Xbox console will come with a next-gen Kinect by default. As long as that console and Kinect-successor support backwards compatibility, you'll be all set to play the game. Windows Phone Central interviewed Iron Galaxy about Wreckateer and their upcoming WP7 Ms. Splosion Man support a few months ago; check it out here.
Wreckateer is free today only, so grab it from Xbox.com (opens in new tab) right away. Note that the free game promotion is valid in the US and Japan, but may not apply to all regions. Search your own country's website to find out for sure.
Xbox Live Arcade sale
A bevy of high-quality XBLA games are on sale for half off through November 22nd, including:
Bastion – 600 MS Points – Store Link (opens in new tab)
One of the finest action-RPGs in recent memory, Bastion sports a beautiful soundtrack and fully-voiced narration throughout the entire game. If you like the genre, you should own it.
Battlefield 1943 – 600 MS Points – Store Link (opens in new tab)
A downloadable version of the popular military shooter series with large-scale online battles and easy Achievements.
Castle Crashers – 600 MS Points – Store Link – Co-Optimus review
Many consider The behemoth's Castle Crashers to be the best beat-em-up ever. With 4-player co-op (online or offline), wonderful artwork, a great sense of humor, and plenty of replay value, it's another must-have game.
Fruit Ninja Kinect – 400 MS Points – Store Link (opens in new tab)
The popular Windows Phone game brought to life with HD graphics and Kinect controls, plus a 2-player mode. Definitely a great Kinect game, other than the crummy motion-controlled menus. Check out my first impressions here and DLC impressions here.
Full House Poker – 400 MS Points – Store Link (opens in new tab)
The big-screen version of the Windows Phone game packs impressive visuals and online play, though the actual online code is pretty bad, and way too many people play recklessly. But if you have the phone game, you might as well get this one since they share progress with each other. Speaking of Full House Poker on Windows Phone, it has been pulled from the WP Store due to WP8 incompatibility, much like Big Buck Hunter Pro and several other games. Hopefully it returns soon.
Geometry Wars: Retro Evolved – 200 MS Points – Store Link (opens in new tab)
One of the very first XBLA games, this twin-stick shooter popularized the neon-colored geometric shapes art style later seen in the geoDefense series on Windows Phone. Geometry Wars 2 is so much better than part one, but the first game is still worth a buy if you're short on MS Points.
Peggle – 400 MS Points – Store Link (opens in new tab)
We keep asking PopCap to bring Peggle to Windows Phone (it's already on iOS), but the XBLA version is certainly a fair substitute for now. Peggle combines pachinko and pool, allowing gamers to fire balls into the field and watch as they bounce from target to target. It's extremely fun and has great sound, so definitely buy it if you're a PopCap fan.
Other celebratory stuff
On top of the free game and XBLA sale, Microsoft also has a contest going to win a custom Xbox 360. You can enter by downloading this GamerPic (opens in new tab), and being an Xbox Live Rewards member gets you another entry.
Finally, in thanks for their years of support, many long-time Xbox Live members have recently received a free avatar prop by email or Xbox Live message. It's okay, if you like props that cover your avatar's face (I don't).
For more details on the anniversary celebration, check out the Xbox Anniversary page (opens in new tab) at Xbox.com.
Windows Central Newsletter
Get the best of Windows Central in in your inbox, every day!
Paul Acevedo is the Games Editor at Windows Central. A lifelong gamer, he has written about videogames for over 15 years and reviewed over 350 games for our site. Follow him on Twitter @PaulRAcevedo. Don't hate. Appreciate!
Haha oh yeah! Forgot that Ms Splosion Man is supposed to come to WP7. Don't see that happening anymore, will probably just be released for 8.

Hey, we're still seeing WP7 releases, so as long as the game started in WP7, it'll still happen. I'm 99% sure Pinball FX2 will be WP8 though, as they haven't been actively working on it.

I'm a sad panda. (Unless I win a new Windows 8 phone from the Mobile Nation contest.)

I don't like complaining about free stuff but why give a Kinect game most real gamers barley use it daily. They probably should have gave us 400 or 600 points so we can get whatever we want.

This certainly provides another reason to use the peripheral. Points would be nice too though.

Well you are right in my case. I have the Kinect and rarely use it, but this free game will get me using it, LOL.

Because they're trying to promote their latest exclusive innovation and add value for people who did. (They sold millions.) Whenever they've given away free games somebody always complains it wasn't the type of game they play. Carcassone, I don't play strategy games. Undertow, I don't play online multiplayer. Etc.

Thanks, Paul! Will download when I get home.

I wish the free game wasn't for Kinect. But I guess you can't complain about free. I have a Kinect but no where in my apartment is it big enough to play any game comfortably. Maybe this is incentive to get that house my wife had been bugging me about.

Don't forget you can log into your account on the PC and queue the download... when you power on your xbox and sign in... it'll automagically start the download.


Omg I want geometry wars for wp8

America only it seems *sigh*

Japan gets it too.. Perhaps some other regions don't, though.

Nope, works fine in Australia

Wreckateer a game out months ago that plenty of people bought already. Thanks Microsoft!

Not at all. Just not surprised. Having been a Xbox LIVE user for 5+ years its not uncommon for Microsoft to do stuff like this, especially for a semi popular arcade game.

Kinect and Smart glass are amazing. Especially paired with Xbox music. Really enjoying the setup. I also really like that I can check on my phone whether or not my kids are playing games and which ones instead of doing their homework before I get home. And that I can talk to them on their Xbox from my Windows Phone even though they are too young to have their own phone. Slick setup. Thank you Microsoft!

It's always restricted to the US, thos ain't fair to some of us. But still got the game.

My only complaint was it was just on sale a couple weeks ago and i bought it! :D most who wanted it probably bought it. it is still cool it is free for everyone though!

Yeah I thought that sale last week was quite suspicious. Microsoft never puts anything on sale that early. Literally two months after release. Here we see why. Wanted to get some last money from it before everyone got it for free.

I don't have the free game so I picked it up. Now just need a Kinect :)

This offer sucks! Why offer a game that requires Kinect? They should have offered a real sale instead.

A "real" sale? You mean like all the other tiles, which are not necessarily Kinect games, that have price drops? Grow up.

Can't say I blame the guy. If I didn't have a Kinect, I'd probably say the same thing too, lol

If the Xbox 360 is the most popular console, then Windows Phone is the most popular mobile OS too... :|

No, the 360 has outsold the PS3 consistently for about a year now.

What about the Wii and the Wii U ? The DS ? The Xbox 360 and PS3 are on par but the real winner of this generation is Nintendo. But i still like my 360 and its paid online :-)

Nope the 360 caught up and passed the Wii

The DS is a portable, and the Wii being on par in popularity with the 360 and PS3 is highly debatable. It did outsell them in hardware for a long time, but never software, and the hardware sales have long since dried up.

You forgot to Mention that some (eh-um like myself) Have also recieved a limited edition Xbox 360...

Congrats, man! Yes, I did leave that out as I didn't have enough info on it.

Wreckateer is a cool game, It's like a 3D angry birds with Kinect. If you have your Kinect just collecting dust or you want to try something different, check it out, it's pretty fun
Windows Central Newsletter
Thank you for signing up to Windows Central. You will receive a verification email shortly.
There was a problem. Please refresh the page and try again.