Celio Redfly Temporarily Reduced to $199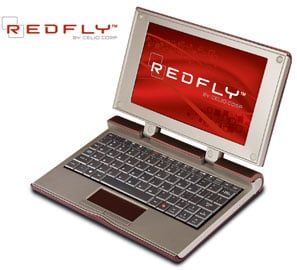 We've just received word that Celio and the WMExperts Store have reduced the price of the Redfly to $199.95. It's a temporary price reduction through the rest of September and October and they're telling us that the deal will only last as long as they have supplies of "seed units." What Celio is aiming for is getting the Redfly into the hands of users, they mentioned at CTIA that they really feel that once they get enough of the devices out there, the gadget's popularity will grow. Here's what they told us:
So does their 'seed program' plant a seed in your mind? Interested in a Redfly? You can buy the Redfly right now for $199.95. You can also check out the Redfly Developer Forum in our forums if you have any questions.
Windows Central Newsletter
Get the best of Windows Central in your inbox, every day!
If I were this dude I'd be pissed:
http://cgi.ebay.com/REDFLY-C8-Mobile-Companion-Screen-kb-for-Smartphone_...

I'm thinking they lowered the price because of the netbook rage that's going on now. I have the MSI Wind and think it's a great product. It makes the redfly look redundant and obselete, though one can argue they are catering to two different crowds. Plus, smartphones are getting higher res screens so simply having a redfly connected to, say, an HTC Touch HD isn't going to do much for extended functionality on the screen alone.
--James

I'm defenately buying one now. $199 is what its worth. I had a chance to test it out, and I really like it, but I would never pay $400 for it.

I almost wet myself. A week or so ago, I sent an email to celio saying that I think this is a great device, but a bit out of the price range of prosumers (like us) and other techies. I suggested $150 cheaper would make me move on this.
Low and behold, they dropped the price $200 for people like us. I was laying in bed, reading the WMExperts RSS when I saw it. I couldn't get downstairs to the computer fast enough to buy one. I guess Celio wanted to make sure to remove the only excuse I had (and for the many others just like me)
The only sad thing is, next week I gotta travel, and the shipment will arrive mid-next week. Man, I could have really used that next week!
When the wife saw this (when I was first looking at it months ago), we agreed that it would be perfect for her to carry around. I bought just 1 until I can properly test it (I'm the wife's beta tester). If its as good as it looks (which it should be by all accounts), I hope there'll be some left for me to buy a second one!