Chivalry: Medieval Warfare slices its way to the Xbox One on Dec. 1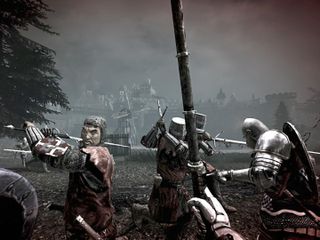 Activision is about to publish a different kind of multiplayer first-person action game for the Xbox One and PlayStation 4. December 1 will see the release of Chivalry: Medieval Warfare for both consoles, after its previous release on the PC, Xbox 360 and PlayStation 3 platforms.
The game was originally developed by Torn Banner Studios, and the Xbox One and PlayStation 4 versions were ported by Hardsuit Labs. Here's a quick description:
The full game supports up to 24 players in online multiplayer, with 25 maps and a new horde mode where up to six players battle waves of enemies and monsters. The game will go on sale December 1 for $19.99, and there will also be a version with extra cosmetic weapon, armor and character skin packs for $29.99.
Source: Chivalry: Medieval Warfare
Windows Central Newsletter
Get the best of Windows Central in in your inbox, every day!
I might actually buy this sounds like a good, fun game

Graphics are actually very bad for an XBOX One title ..

Having played the PC version, I can tell you that the gameplay makes up for the Graphical shortcomings.

Indeed. I played it when it first came out on the PC. It's very entertaining and frustrating at the same time. It runs on the UE3 engine so that's why it looks dated.

This game is super fun on PC. Very casual and hysterical when you're charging, yelling and then decapitate and enemy. Easy to play, not too tough to master. It's all timing.

This game is awesome. Has a high learning curve but I suggest buying it on PC. It's much better on PC.

Looks like skyrim's graphics.."headache incoming"

Play this game with a group of friends every Friday night on my PC. Really cool game to blow off a week's worth of stress. It's always better with a few drinks too. :) Posted via the Windows Central App for Android
Windows Central Newsletter
Thank you for signing up to Windows Central. You will receive a verification email shortly.
There was a problem. Please refresh the page and try again.