Find artwork anywhere in the world with Microsoft's new City Art Search app for Windows 8.1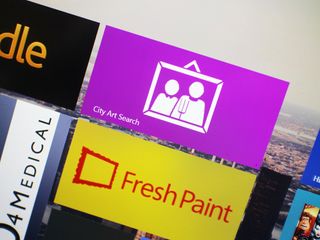 Love art? Then you're going to want to download the new City Art Search app from Microsoft for Windows 8.1. This app turns your computer or tablet display into a portal into the world of art. Grab City Art Search for your Surface Pro 3 if you want to want search over 2,000 famous works of art from around the globe.
This free app allows you to search works of art and results are displayed over Bing Maps. You can then see which city or museum a particular piece can be found. For example, search for Irises by Vincent Van Gogh and you'll see that it's in Los Angeles at the J. Paul Getty Museum. From there, you get quick links to view the image on Wiki Art or buy a print.
Search by work of art, artist, nationality, country, city, gallery, movement, artistic medium, tag, century or a combination of the above.
City Art Search lists the permanent homes of artwork. So if a particular piece is on the move you might not be able to find it.
When would you this tool? A great use case would be traveling. Say for example you're visiting Bruges and want to check out some famous artwork. Just search for Bruges inside City Art Search and you'll be able to find which famous art pieces are in Bruges and where you can find them. An invaluable tool for those who like the arts.
It's a free app in the Windows Store and works with any Windows 8.1 device. Grab it and let us know what you think of City Art Search!
Source: Microsoft (opens in new tab)
Thanks for the tip everyone!
Get the Windows Central Newsletter
All the latest news, reviews, and guides for Windows and Xbox diehards.
Cool (needs to be on WP to be more useful)

Yes, please on Windows phone, i love the concept of the app.

Lets have this on Windows phone so when you're in another city you can look up what you can see then get here maps to find out for you

Yes. After all we wander places with our phones, not toting an open tablet or laptop.

I like "fresh paint" the app, shown on the cover photo. Neat and free.

I don't see myself using this app, but I have to admit that the dev team really nailed the UI based on those screenshots. It looks like just the right amount of information density while keeping true to the modern style guidelines, unlike many of the built-in modern apps which feel very sparse and have lots of wasted space.

I can't find the name of the painting represented on the app's tile.
Otherwise, it's a great app indeed. It should make its way to Windows Phone.

I think it is from a famous picture of a farmer and a wife. It's not a fork fork but a pitchfork.

It's called "American gothic"

Right, painted by Grant Wood in 1930.

Thanks, I was looking for the word.

Looks cool ill get it tonight!

They should work on universal apps for there own software right now.

Hope this doesn't cause art copyright holders (I'm looking at you Getty) conniptions.

Awesome, going to download it now... I wonder if Melbourne has any famous art.

They need to fix the artwork for the music app tbh.

I would love this for Windows Phone. I'd contribute to it if possible from my local museum, The Crocker Art Museum in Sacramento, CA, USA :)

This is a really cool idea IMHO. Also, is this really unavailable on WP? Shouldn't it be a Universal App? I hope it gets ported soon! :-)

Hi folks. I'm the project lead for the City Art Search app. We just rolled out the Windows Phone 8.1 version of the app, and it should be appearing in the store any day now. I'd love to hear people's feedback on both versions of the app – improvements, feature requests, any glaring omissions in terms of famous works of art and galleries. I can be reached at http://brianke@microsoft.com. Thanks.