Build the city of your dreams with City Mania for Windows 10
City Mania delivers a SimCity) style of gaming to Windows 10, in which you build and lead your own city. Strategically manage the cities growth and resources and reach legendary status.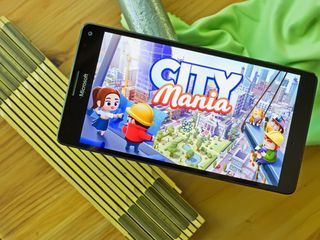 City Mania comes to us by way of Gameloft and offers detailed graphics, easy tap/drag operations and a challenging gaming experience. Along with the day to day construction responsibilities, City Mania also includes a host of cartoon characters that can help your city thrive.
Available for Windows 10 PC and Mobile, City Mania is a free game and if you cannot get enough of city builder games, it is a fun time waster of a game.
City Mania opens up, as most city builders do, with a series of tutorials on creating structures and expanding your city's resources. Once you complete the tutorials and name your city, gameplay is basically an open book.
Gameplay is centered around your city map with various navigational icons surrounding the display. You can view your building menu, view your cartoon citizens, buy loot crates and if you need a little structure with gameplay you can view a To-Do List that is filled with gaming objectives.
Resource statistics run along the top of the city map and include your population count, city mood value, raw material supply, coin count and cash count. City Mania supports Facebook login that allows you to add friends and synchronize gameplay between Windows 10 devices.
In City Mania you play the role of the city's mayor, responsible for managing the city's expansion and growth through the build-out of residential, commercial, industrial and governmental structures. You also must ensure that city services are available such as utilities, fire protection and police services. You can build parks, schools, hospitals, movie theaters, electric car charging stations (for the Tesla fan) and more.
City Mania also has a time management element in that structures and resources are not instantly available. As resources become available, small icons appear above the buildings that can be collected by tapping on them. When a building is available for upgrade, a yellow "up" arrow appears above the building and when you have the required materials a green check-mark appears. One nice feature with City Mania is the ability to fuse or merge together maxed out structures into a single, new building. It helps expand your city and eliminate the need to bulldoze old structures to make way for new.
You also run across a series of cartoon characters who can deliver bonus prizes or assigned to jobs that optimize your city's productivity. There are firefighters who can be assigned to fire stations, foresters who can be assigned to lumber yards, foremen to manage your power plants and more. These characters can be sent out of the city on missions to collect resources or loaned out to friends to help manage their city.
The goal is to create a thriving metropolis that is the envy of the gaming world. As you advance in experience, additional buildings and cartoon characters become available to help you achieve that goal. Items range from huge parks to the Tower of London that can give your city skyline that unique appearance.
Overall Impression
There is no shortage of city builder games in the Windows Store and it is tough for an offering to stand out from the pack. The core gaming experience with City Mania is good with a large variety of buildings to add to your city, the resource management challenges that dictate your cities growth and the never-ending challenge of keeping your population happy.
While the graphics are nicely drawn up with plenty of detail and animations, what sets City Mania apart from other city builders is the cartoon characters. These characters add a bit of flavor to managing your city and depth to the overall gaming experience. There are over 70 characters to attract to your city and their presence gives the neighbor personality. I also enjoyed the simple tap/drag interface City Mania offers. It helps keep the game simple without sacrificing any of the challenges managing a city may present.
Overall, City Mania is a fantastic installment to Gameloft's portfolio and an entertaining game to spend a little down time with. If city builder games are your cup of tea, City Mania is a Windows 10 game well worth trying.
Download City Mania from the Windows Store (opens in new tab)
George is the Reviews Editor at Windows Central, concentrating on Windows 10 PC and Mobile apps. He's been a supporter of the platform since the days of Windows CE and uses his current Windows 10 Mobile phone daily to keep up with life and enjoy a game during down time.
Loot. Instantly means the game keeps you playing via gambling senses in your brain. Instead of being actually a good game.

When it came out, I played it all day 😁 It's surely a great game 😉

How to overcome the " wifi required" message to download large sized apps?
I have unlimited mobile data
Windows Central Newsletter
Thank you for signing up to Windows Central. You will receive a verification email shortly.
There was a problem. Please refresh the page and try again.