Civiballs, a fun physics based puzzle game for Windows Phone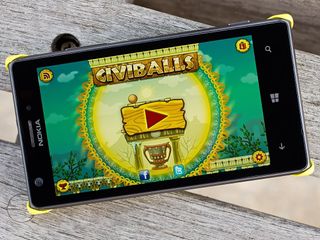 Puzzle games seem to be on the rise in the Windows Phone Store and Civiballs is hoping to make a name for itself with colorful graphics and challenging game play.
You play the role of a young scientist who travels back in time to rescue ancient artifacts from three historic civilizations. The game includes sixty gaming levels set to Roman, Viking and Incan themes. The levels are full of gadgets, gizmos and obstacles to use and overcome in solving each puzzle, challenging your skills at strategy, logic and to a degree, your imagination.
Available for low-memory devices, Civiballs comes across as an appealing game to pass the time with that may only be lacking by the number of gaming levels.
Player profiles and your main menu
When you first launch Civiballs you will need to establish your player name, creating your player profile. Once created the game transitions to the main menu where you will find options in the four corners of the screen that will give you access to the game's setting, the game's Facebook and Twitter pages, achievements/leaderboard, the developer's online message board and a link to other games from the developer. You also have the option to jump into game play (which should be a given).
Settings cover muting the sound, choosing your language support, viewing the help screen and accessing your player profile.
Civiballs will let you maintain two player profiles to allow the game to be shared without sacrificing your gaming progress. There does appear to be a slight bug with the profile management system in that your player name does not appear as you typed it in and I couldn't find a way to delete or edit the player name. With the leaderboard being local, the profile feature may still be a work in progress until an online leaderboard becomes available. These bugs do not affect game play.
Game play consists of sixty gaming levels that are spread across three worlds; Rome, Vikings and Inca. The levels are progressively unlocked and progressively become more challenging. The first level of play will include a few tutorials walking you through the game's mechanics.
Game Play
The game screen for Civiballs has an assortment of information and buttons scattered across the bottom of the screen. They include a link back to the level map, a 'skip' button, your jewel count, a timer and a reset button. Should you run across a level that just leaves you flabbergasted to no ends, Civiballs affords you three skips that will jump you ahead to the next gaming level.
Game play is straightforward with an assortment of colored balls suspended by chains that have to be delivered to their corresponding jar. You also have jewels that are placed throughout the game screen that need to be collected by hitting them with one of the colored balls.
Placed between the balls and jars you will find an assortment of canons, catapults, crossbows, ramps, volcanoes, fountains, platforms and other obstacles that have to be navigated. Iron balls are also present to give your colored balls a little momentum. You put the balls in motion, by swiping at the chain suspending the ball to cut it. The game will test your skills of timing, creativity and logic to get the balls in the correct container.
Speaking of which, you are up against the clock with each level but I've yet to see that become a factor other than impacting your final score (the faster you solve the puzzle the more points you earn). Should the wrong colored ball land in a jar, the game ends. Levels can be replayed to improve your score and collect all the gems.
Overall Impression
Civiballs is a fun and challenging Windows Phone game. Graphics are nicely done and while the game isn't overly complicated, the puzzles will test your wits, imagination and puzzle solving skills.
The game ran smoothly for me with no glitches or bugs experienced, other than the oddities with the player profiles. The only thing really holding the game back is that it only has sixty levels of play. It will take you some time to finish all sixty levels and hopefully the developer is working on more gaming levels for Civiballs.
All totaled, Civiballs is a nice game to pass the time with. Civiballs has yet to receive any reviews (I'd give it a 4, maybe 4.5 star rating) and if you give Civiballs a try be sure to visit the Windows Phone Store, rate the game and let the developer know what you think of the game.
Civiballs – Windows Phone 8 – 39MB – Trial/$1.99 – Store Link
Windows Central Newsletter
Get the best of Windows Central in your inbox, every day!
George is the Reviews Editor at Windows Central, concentrating on Windows 10 PC and Mobile apps. He's been a supporter of the platform since the days of Windows CE and uses his current Windows 10 Mobile phone daily to keep up with life and enjoy a game during down time.
Looks much like cut the rope....

Looks a lot like Cut the Rope

You had me at PHYSICS game George. Here is my 2 bucks. Thanks.

Ugh, I become poor person now. Spend every time on every app.

Man, I hope 2 bucks don't ever become a burdon on me like that.

I guess I will skip this...

Dunno, just get a slightly uncomfortable feeling from the though of cutting off balls.

Skipping this just because it's paid