Cloud for iDevice is an attractive way to access iCloud on Windows 10
If you want to access your iCloud content on your PC, you need to make sure to have the right tools.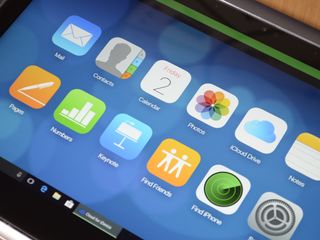 It's fairly common these days to have devices from multiple operating systems. If you use the iCloud on your iOS or MacOS device and also have a PC powered by Windows 10, Cloud for iDevice allows you to continue your work across devices.
The app features a good-looking and familiar design that lets you access your iCloud content on your PC.
The app is available for $1.99 on Windows 10 and HoloLens.
See in Microsoft Store (opens in new tab)
Attractive layout
Cloud for iDevice will look familiar to anyone who has used Apple's services. It has a home area with square icons in two neat rows. It's a simple to use interface that can't be customized. This makes it easy to get started, even if it can't be tweaked that much.
Using the app is very simple, you just login once to your iCloud account and then every service that you use can be opened up in the app, including Mail, Contacts, Photos, Pages, Numbers, and more.
Editing your calendar, browsing through photos, and jumping around other content in the cloud feels natural and very similar to if you were on an Apple device.
Issues
While the app is attractive, it does have some issues that hold it back. It runs into some issues that make it obvious that you aren't using a first-party app. The biggest issue is that if you try to use a service that you haven't setup in the past, instead of getting a message directing you to a signup page, you just get a weird mess of a page that is unusable.
In the example above, I tried opening up Numbers, a service which I admittedly don't use, and ran into this issue. It's understandable that the app could get confused trying to use Numbers when I don't have any files that run in it, but I'd expect a proper explination rather than some text and a graph cutoff in the corner and half a continue button that doesn't help.
There were also some general loading issues with the app. Opening photos failed once in my testing but worked on multiple other occasion.
These issues are very noticeable but you won't run into them often, or at all, if you stick to using services that you've already setup on your iCloud. That isn't a perfect fix but as an example, using Calendar and Reminders had zero issues for me.
Overall thoughts
Cloud for iDevice provides an attractive interface for accessing your iCloud content on Windows 10. Using it feels more like an extension of your iOS device than using Windows 10's File Explorer. It works fairly well, but has flaws that hold it back, including some performance issues and a price that is higher than Apple's own iCloud software (opens in new tab) for Windows.
Utlitmately, Cloud for iDevice is a good-looking app that is worth looking into if you have an Apple device as well as a Windows 10 PC.
Pros
Attractive layout
Login once to access all iCloud content
Cons
Performance issues
Costs money compared to free competition
See in Microsoft Store (opens in new tab)
News Writer and apps editor
Sean Endicott brings nearly a decade of experience covering Microsoft and Windows news to Windows Central. He joined our team in 2017 as an app reviewer and now heads up our day-to-day news coverage. If you have a news tip or an app to review, hit him up at sean.endicott@futurenet.com (opens in new tab).
This looks like it's just a web wrapper for apple's icloud.com. Why would I pay $2 for something that is free?

You could say that about many, many apps, on all platforms, no?

Yup. Just displays the web content.

If I had an iPhone, I am not sure there would be a reason for me to use iCloud. I would prefer OneDrive because I would be editing most of my documents on a Windows computer and I would rather have the native cloud storage for my computers than for my phone.

The reason I use iCloud is that it default auto-downloads originals (photos) to my iPhone and iPad unlike OneDrive which compresses them. I think OneDrive Premium can do originals but you have to explicitly download them.

Seems like a pointless waste of $2. Just sign in to iCloud using Edge instead. Am I missing something?

Sorry Windows Central, but your quality is slipping a lot. OK, first, let's assume that this app is useful and attractive and worth reviewing -- at least assign the article to someone who uses iCloud! This is no more information than I could learn by downloading the app and installing it myself. Secondly, this isn't even a good app. This doesn't use the UWP platform, doesn't have any extra features to speak of, isn't even a well-done web wrapper. The UI along the top is terrible, and the app 'content' is literally just a frame of icloud.com. This app has absolutely no redeeming features and certainly shouldn't be featured on a prominent Windows review website.

HAHAHAHA!!! You just reviewed a Website wrapped!! XD What a waste of time, effort and space in your Website... 🤣🤣🤣

I don't trust a third party with my ios credentials. Nope

This is literally a $2 Edge window that loads iCloud.com... The "attractive interface" is Apple's iCloud website. Sigh.

This is extremely funny to read xD
Windows Central Newsletter
Thank you for signing up to Windows Central. You will receive a verification email shortly.
There was a problem. Please refresh the page and try again.