ColorWare's limited edition Xbox One Elite Titan Controller costs almost as much as the console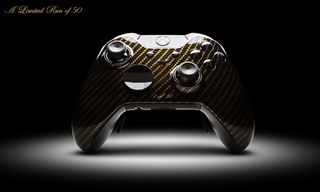 ColorWare's Xbox One Elite Titan Controller is a thing of beauty. It features a custom gold carbon fiber graphic at the front, and a jet black gloss finish at the back. Production is limited to a run of just 50 units. The standard Xbox One Elite Controller retails for $150 (opens in new tab), but the custom paint job and the exclusivity of ColorWare's offering means that its Titan Controller is available for $299.
ColorWare describes the controller thusly:
Interested? Head down to ColorWare to check out the Titan Controller in all its magnificence.
Thanks Tanzim!
Windows Central Newsletter
Get the best of Windows Central in in your inbox, every day!
Harish Jonnalagadda is a Senior Editor overseeing Asia for Android Central, Windows Central's sister site. When not reviewing phones, he's testing PC hardware, including video cards, motherboards, gaming accessories, and keyboards.
Any giveaway for this XD !!

Let us know when they mold one using carbon fiber.

Oh it's not officially made by Microsoft! No thanks!

It is...It's a controller, gutted, painted and put back together....Then charger $150 more.... gota love it...

So, to sum this up, it's basically an Xbox One Elite Controller with a $299 paint job. Talk about a waste of money!!!!

Yea it's not actually made OF carbon fibre. What a rip off

Exactly! Its a carbon fibre graphic, not actually carbon fiber

looks sweet, i mean it looks awesome! 300... thats too much for me :( maybe in my next life whoever can afford this, should buy it right away!

Not worth. I would prefer other colors. Posted via the Windows Central App for BlackBerry Passport

It looked a hell of a lot better in the low lighting photo than in the video.

pull the control apart, hydrodip it, put it back together, jack the price up... brilliant.

Those who have a playstation are missing out

What a rip! Make it out of real carbon fiber and lets talk. But a graphic? I'd rather my 10 year old paint mine. At least it would be unique and exclusive and only cost me an ice cream cone.

Listen kid, do NOT put the ice cream cone down and back away from the controller slowly, and nobody gets hurt!

Yea, thinking of that, just get something to seal the paint.... For the price, I agree with you, if it was made out of real carbon fiber, then I could see the $300 price tag ($340 or so after taxes and shipping I am sure)

Nice looking controller, one has to wonder... You can pull a Xbox one controller apart and the face comes completely off. Take it off, bring it an auto painting place and see how much they would charge to do something like this. Even better, have someone create one in carbon fibre...

I pitty the fool that wastes 300$ on this. AND I bet the app isn't for Windows Phone

OHHH MYYY GODDDDDDDD!!!! I LOVE IT
Windows Central Newsletter
Thank you for signing up to Windows Central. You will receive a verification email shortly.
There was a problem. Please refresh the page and try again.