Comparing the iPhone 6 to the top Windows Phones, including Lumia 1020, HTC One and Lumia 1520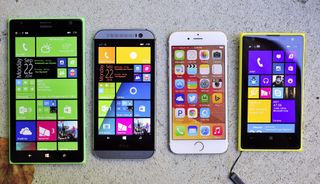 In case you have not heard, the iPhone 6 and its larger cousin the iPhone 6 Plus launched over the weekend. Apple reportedly sold over 10 million of the new phones to consumers, breaking yet another record. Regardless of your opinion of the iPhone, any smartphone that can sell that much in three days sets the bar for the industry.
How does the iPhone 6 stack up against some of the top Windows Phones? It is a valid question, especially if you are in the market for a new phone, considering switching, or a just curious as to where Apple is still leading.
I managed to pick up the iPhone 6 this weekend, like millions of others. In the following video, I give my impressions of the phone as compared to the Lumia 1020, Lumia 1520, and HTC One for Windows (the Lumia 925 and Lumia 930 also appear).
Before we get to the video, let us take a look at specifications.
Specifications
The chart above lays out all the hardware specs between the various devices in this article. All modern high-end smartphones perform relatively on a similar level. So even though the iPhone has less RAM than a Lumia 1520, in the end it is not pertinent from a performance perspective (although maybe for the price).
The HTC One for Windows and Lumia 930 are the closest in terms of size and hardware to the iPhone 6, although there are some substantial differences. Both Windows Phones have higher PPI counts (441 versus 326) due to the increased screen resolution (1920 x 1080 versus 1334 x 750), even with the 0.3-inch larger displays on the Windows Phones. Likewise, the Lumia 930 has a better camera with a 20 MP sensor and optical-image stabilization.
In terms of size, the iPhone 6 is easily the thinnest and lightest coming in at 129 grams and just 6.9 mm for thickness. The Lumia 930, by comparison, is a chunky fella at 167 grams and 9.8 mm. The HTC One fairs slightly better at 160 grams and 9.4 mm.
For value, Windows Phone is possibly the winner especially since the HTC One for Windows and Lumia 930 coming with 32 GB of internal storage (the One also has micro SD for expansion). Consumers also get a slightly larger, better display and at least for the Lumia 930, a superior rear camera and Qi wireless charging.
The bottom line: the iPhone 6 does not excel in any specifications, but arguably, it is good enough all-around, which is what makes it so desirable. The HTC One and especially the Lumia 930 clearly can do many things better – and for some this is a selling point – but it comes at a cost of being significantly heavier and thicker. There is little doubt that this affects perception and sales of the Windows Phones.
In theory, I have no qualms with the HTC One and Lumia 930, in fact, I use the HTC One (and Lumia 1520) as my everyday phones by choice. However, the issue is more complicated than that as Microsoft currently does not have that best all-around flagship level phone that is thin, light and yet does not compromise on much.
Ironically, the Lumia 830 is looking more and more like a contender. The display is a slightly less being just 1280 x 720 (iPhone 6 is 1334 x 750) but this is attributable to the iPhone's odd ratio. The Lumia 830 also shaves 1.3 mm off its thickness and drops 17 grams to just 150. Neither number come close to the iPhone 6, but it is undisputedly better. Finally, with the Lumia 830 you are getting micro SD expansion, Qi wireless charging, changeable back plates, and a much better 10 MP PureView camera with optical-image stabilization. The Lumia 830's only weakness may be its comparatively anemic processor, which is a lower-end Snapdragon 400 clocked at 1.2 GHz, far below the 2.2 GHz Snapdragon 800-series used in premium Windows Phones. Windows Phone as an OS already is criticized for longer loading times and its animations, and the 830's processor may not change that perception.
Comparisons
Just for background, I would not classify myself as a regular Apple user, although I am familiar with their various bits of the hardware. For instance, I have an Apple TV, iPhone 5s, and an iPad Mini Retina. Up until recently, I did have a 2011 MacBook Air, but since it was collecting dust, I traded it in for a Core i7 Surface Pro 3, which I detailed in this article. Point is, my thoughts on Apple's wares is not from a complete novice, although given the choice between Windows/Windows Phone and OS X/iOS and I always opt for the former.
How does each of the phones holdup in my arbitrary first impressions?
Display
The iPhone 6 does have a stellar display. It is sharp, text looks great; viewing angles are fantastic, and colors are accurate. However, each of the phones listed here also have great looking screens, and the Lumias in particular bring some unique features.
As an example, the Lumia 1520 has unique Assertive Display Technology where each pixel dynamically adjusts to the current environment. All of the Lumias here also have ClearBlack dual-layer polarizers, Sunlight readability mode, Super-sensitive Touch, and Glance (except for the Lumia 930). Those features are not gimmicks, in my opinion, but significant technologies that solve real-world problems when using a smartphone outside. The fact that reviews fail to give credit to Nokia (now Microsoft) for adopting those innovations is frustrating.
Overall, all the displays listed here are great looking, but the Lumia 1520 has the best of everything, assuming you can accept its 6-inch size. The Lumia 930 suffers from a lack of Glance, and, for some being OLED instead of LCD is a turnoff. The HTC One looks great for an LCD, but lacks the Lumia innovations and the 1020 just still looks great with its AMOLED, even if only 4.5-inches and 1280 x 768 resolution.
Camera
The iPhone 5s and even 6 have exquisite cameras, but they do not approach the level of PureViews. Nevertheless, because Apple's camera app has more consumer-friendly features, like HDR, panorama, square, live filters, slo-mo video and time lapse, it is arguably better for everyday usage. Likewise, Apple's camera is faster for launching and snapping photos, something that the forthcoming Lumia Denim update is supposed to address.
If we are talking about straight image quality, the Lumia 1020 is still the king, followed closely by the Lumia 1520/Lumia 930, and even the HTC One is decent so long as you do not crop. The iPhone 6 is better than the HTC One but does not quite match the other Lumias, not by a long shot.
Still, as the best all-around camera, an iPhone for your average consumer is more than good enough, with some outstanding image quality, ease of use and speed.
Build Quality
The iPhone 6 has an aluminum body with a front glass layer. It certainly looks more Samsung-ish than prior releases. In terms of fit and finish, it does feel great to hold even if it is almost too thin at times. In fact, the Lumia 920, Lumia 730 and to a lesser extent Lumia 830, all seem a better due to their rounded backs, which cups nicely in the hand. The iPhone 6 is just flat on both sides, being very slab-like, with nothing exciting or inspiring about its design. Which is a better design is of course user preference.
I have noticed metal phones like the HTC One, iPhone 6 and to the extent the Lumia 925, tend to have a "quality bias" with them. Cool-to-the-touch metal feels more premium than polycarbonate, even if the latter may be more practical (see Apple's #BentGate). Indeed, the HTC One is a beautiful piece of hardware with its unibody metal design and brushed aluminum finish. Honestly, I would give the edge here to HTC for the One's outstanding design, which looks amazing and feels great to hold ( although it is slippery). The iPhone 6 is also exquisitely designed, as are all the Lumias. However, the Lumia 930 and Lumia 1020 stand out as being less-than-elegant (the Lumia 1020 is certainly more function over form though with its 41 MP camera).
I have said before that Microsoft should make a Lumia 925 successor with updated hardware, and I stand by that assertion. The Lumia 925 was arguably a great all-around Windows Phone, but due to an oddly timed release, and limited carrier availability, it did not get the appreciation it deserved. The Lumia 925 had it all, including a great metal body, polycarbonate back, excellent PureView camera, and a solid chipset. If you give the Lumia 925 a Snapdragon 805 processor, a 4.7-inch display and a PureView camera with more megapixels, such a phone could be a tempting buy, especially after the so-far lukewarm Lumia 930 launch. Let us just say the Lumia 930 is not living up to the near-legendary Lumia 920.
Conclusion
The iPhone 6 is certainly a fantastic smartphone, and it is hard not to see why Apple gets some much credit for their refined designs. Of course, it is beyond overhyped as well as I cannot say I am a convert after using one.
As far as iOS 8, there are some fantastic features like actionable notifications, sharing of user accounts (app purchases) with family, and more. However, the OS design still feels static and undeniably boring compared to the Live Tiles on Windows Phone. Often I turn on the iPhone, and there is nothing to look at, just icons with no information. As a result, the iPhone is 'app everything' for usage where I feel like I need to launch an app to get even the most basic information.
For Lumia 1520, Lumia 1020 and Lumia 930 owners, you still have the best cameras around for image quality, even if slower, and a very interesting device. The HTC One, especially for elegance, is an excellent contender, even if it comes across as an Android has-been.
Finally, for Microsoft, I still think there is a premium middle ground that they need to fill if they want to compete with the iPhone in a general sense. The Lumia 830 is close, but I still cannot help but think that they can do better with a Lumia 925 follow-up and widespread, simultaneous carrier release. Thin, metal, great camera and moderate display size are needed for the winning recipe.
Have you tried the iPhone 6? What do you think are the important lessons for Microsoft?
Get the Windows Central Newsletter
All the latest news, reviews, and guides for Windows and Xbox diehards.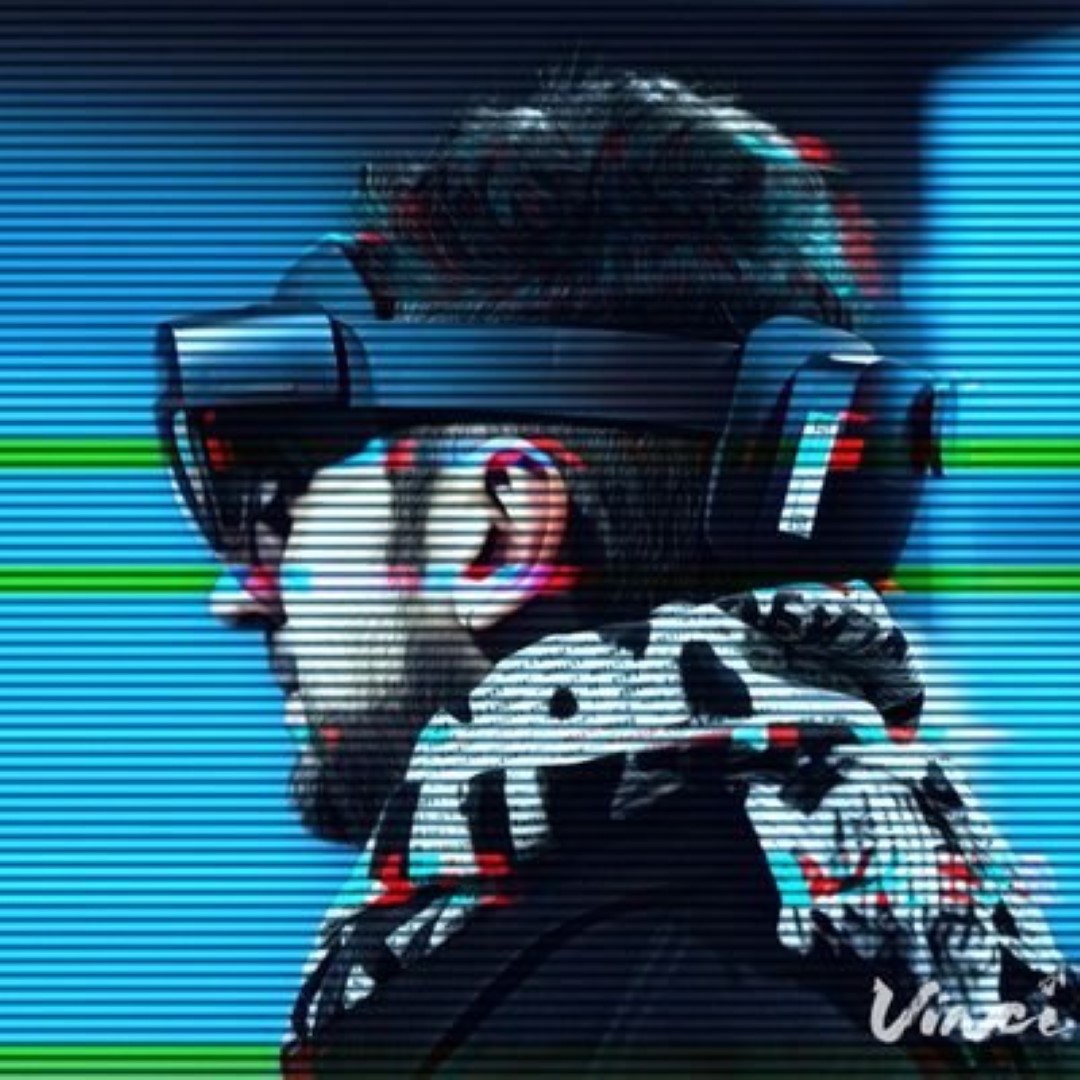 Daniel Rubino is the Editor-in-chief of Windows Central. He is also the head reviewer, podcast co-host, and analyst. He has been covering Microsoft since 2007, when this site was called WMExperts (and later Windows Phone Central). His interests include Windows, laptops, next-gen computing, and watches. He has been reviewing laptops since 2015 and is particularly fond of 2-in-1 convertibles, ARM processors, new form factors, and thin-and-light PCs. Before all this tech stuff, he worked on a Ph.D. in linguistics, watched people sleep (for medical purposes!), and ran the projectors at movie theaters because it was fun.