Comparing the iPhone 6 to the top Windows Phones, including Lumia 1020, HTC One and Lumia 1520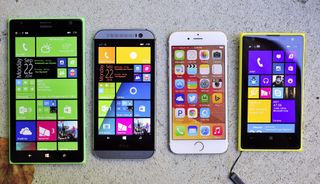 In case you have not heard, the iPhone 6 and its larger cousin the iPhone 6 Plus launched over the weekend. Apple reportedly sold over 10 million of the new phones to consumers, breaking yet another record. Regardless of your opinion of the iPhone, any smartphone that can sell that much in three days sets the bar for the industry.
How does the iPhone 6 stack up against some of the top Windows Phones? It is a valid question, especially if you are in the market for a new phone, considering switching, or a just curious as to where Apple is still leading.
I managed to pick up the iPhone 6 this weekend, like millions of others. In the following video, I give my impressions of the phone as compared to the Lumia 1020, Lumia 1520, and HTC One for Windows (the Lumia 925 and Lumia 930 also appear).
Before we get to the video, let us take a look at specifications.
Specifications
The chart above lays out all the hardware specs between the various devices in this article. All modern high-end smartphones perform relatively on a similar level. So even though the iPhone has less RAM than a Lumia 1520, in the end it is not pertinent from a performance perspective (although maybe for the price).
The HTC One for Windows and Lumia 930 are the closest in terms of size and hardware to the iPhone 6, although there are some substantial differences. Both Windows Phones have higher PPI counts (441 versus 326) due to the increased screen resolution (1920 x 1080 versus 1334 x 750), even with the 0.3-inch larger displays on the Windows Phones. Likewise, the Lumia 930 has a better camera with a 20 MP sensor and optical-image stabilization.
In terms of size, the iPhone 6 is easily the thinnest and lightest coming in at 129 grams and just 6.9 mm for thickness. The Lumia 930, by comparison, is a chunky fella at 167 grams and 9.8 mm. The HTC One fairs slightly better at 160 grams and 9.4 mm.
For value, Windows Phone is possibly the winner especially since the HTC One for Windows and Lumia 930 coming with 32 GB of internal storage (the One also has micro SD for expansion). Consumers also get a slightly larger, better display and at least for the Lumia 930, a superior rear camera and Qi wireless charging.
The bottom line: the iPhone 6 does not excel in any specifications, but arguably, it is good enough all-around, which is what makes it so desirable. The HTC One and especially the Lumia 930 clearly can do many things better – and for some this is a selling point – but it comes at a cost of being significantly heavier and thicker. There is little doubt that this affects perception and sales of the Windows Phones.
In theory, I have no qualms with the HTC One and Lumia 930, in fact, I use the HTC One (and Lumia 1520) as my everyday phones by choice. However, the issue is more complicated than that as Microsoft currently does not have that best all-around flagship level phone that is thin, light and yet does not compromise on much.
Ironically, the Lumia 830 is looking more and more like a contender. The display is a slightly less being just 1280 x 720 (iPhone 6 is 1334 x 750) but this is attributable to the iPhone's odd ratio. The Lumia 830 also shaves 1.3 mm off its thickness and drops 17 grams to just 150. Neither number come close to the iPhone 6, but it is undisputedly better. Finally, with the Lumia 830 you are getting micro SD expansion, Qi wireless charging, changeable back plates, and a much better 10 MP PureView camera with optical-image stabilization. The Lumia 830's only weakness may be its comparatively anemic processor, which is a lower-end Snapdragon 400 clocked at 1.2 GHz, far below the 2.2 GHz Snapdragon 800-series used in premium Windows Phones. Windows Phone as an OS already is criticized for longer loading times and its animations, and the 830's processor may not change that perception.
Comparisons
Just for background, I would not classify myself as a regular Apple user, although I am familiar with their various bits of the hardware. For instance, I have an Apple TV, iPhone 5s, and an iPad Mini Retina. Up until recently, I did have a 2011 MacBook Air, but since it was collecting dust, I traded it in for a Core i7 Surface Pro 3, which I detailed in this article. Point is, my thoughts on Apple's wares is not from a complete novice, although given the choice between Windows/Windows Phone and OS X/iOS and I always opt for the former.
How does each of the phones holdup in my arbitrary first impressions?
Display
The iPhone 6 does have a stellar display. It is sharp, text looks great; viewing angles are fantastic, and colors are accurate. However, each of the phones listed here also have great looking screens, and the Lumias in particular bring some unique features.
As an example, the Lumia 1520 has unique Assertive Display Technology where each pixel dynamically adjusts to the current environment. All of the Lumias here also have ClearBlack dual-layer polarizers, Sunlight readability mode, Super-sensitive Touch, and Glance (except for the Lumia 930). Those features are not gimmicks, in my opinion, but significant technologies that solve real-world problems when using a smartphone outside. The fact that reviews fail to give credit to Nokia (now Microsoft) for adopting those innovations is frustrating.
Overall, all the displays listed here are great looking, but the Lumia 1520 has the best of everything, assuming you can accept its 6-inch size. The Lumia 930 suffers from a lack of Glance, and, for some being OLED instead of LCD is a turnoff. The HTC One looks great for an LCD, but lacks the Lumia innovations and the 1020 just still looks great with its AMOLED, even if only 4.5-inches and 1280 x 768 resolution.
Camera
The iPhone 5s and even 6 have exquisite cameras, but they do not approach the level of PureViews. Nevertheless, because Apple's camera app has more consumer-friendly features, like HDR, panorama, square, live filters, slo-mo video and time lapse, it is arguably better for everyday usage. Likewise, Apple's camera is faster for launching and snapping photos, something that the forthcoming Lumia Denim update is supposed to address.
If we are talking about straight image quality, the Lumia 1020 is still the king, followed closely by the Lumia 1520/Lumia 930, and even the HTC One is decent so long as you do not crop. The iPhone 6 is better than the HTC One but does not quite match the other Lumias, not by a long shot.
Still, as the best all-around camera, an iPhone for your average consumer is more than good enough, with some outstanding image quality, ease of use and speed.
Build Quality
The iPhone 6 has an aluminum body with a front glass layer. It certainly looks more Samsung-ish than prior releases. In terms of fit and finish, it does feel great to hold even if it is almost too thin at times. In fact, the Lumia 920, Lumia 730 and to a lesser extent Lumia 830, all seem a better due to their rounded backs, which cups nicely in the hand. The iPhone 6 is just flat on both sides, being very slab-like, with nothing exciting or inspiring about its design. Which is a better design is of course user preference.
I have noticed metal phones like the HTC One, iPhone 6 and to the extent the Lumia 925, tend to have a "quality bias" with them. Cool-to-the-touch metal feels more premium than polycarbonate, even if the latter may be more practical (see Apple's #BentGate). Indeed, the HTC One is a beautiful piece of hardware with its unibody metal design and brushed aluminum finish. Honestly, I would give the edge here to HTC for the One's outstanding design, which looks amazing and feels great to hold ( although it is slippery). The iPhone 6 is also exquisitely designed, as are all the Lumias. However, the Lumia 930 and Lumia 1020 stand out as being less-than-elegant (the Lumia 1020 is certainly more function over form though with its 41 MP camera).
I have said before that Microsoft should make a Lumia 925 successor with updated hardware, and I stand by that assertion. The Lumia 925 was arguably a great all-around Windows Phone, but due to an oddly timed release, and limited carrier availability, it did not get the appreciation it deserved. The Lumia 925 had it all, including a great metal body, polycarbonate back, excellent PureView camera, and a solid chipset. If you give the Lumia 925 a Snapdragon 805 processor, a 4.7-inch display and a PureView camera with more megapixels, such a phone could be a tempting buy, especially after the so-far lukewarm Lumia 930 launch. Let us just say the Lumia 930 is not living up to the near-legendary Lumia 920.
Conclusion
The iPhone 6 is certainly a fantastic smartphone, and it is hard not to see why Apple gets some much credit for their refined designs. Of course, it is beyond overhyped as well as I cannot say I am a convert after using one.
As far as iOS 8, there are some fantastic features like actionable notifications, sharing of user accounts (app purchases) with family, and more. However, the OS design still feels static and undeniably boring compared to the Live Tiles on Windows Phone. Often I turn on the iPhone, and there is nothing to look at, just icons with no information. As a result, the iPhone is 'app everything' for usage where I feel like I need to launch an app to get even the most basic information.
For Lumia 1520, Lumia 1020 and Lumia 930 owners, you still have the best cameras around for image quality, even if slower, and a very interesting device. The HTC One, especially for elegance, is an excellent contender, even if it comes across as an Android has-been.
Finally, for Microsoft, I still think there is a premium middle ground that they need to fill if they want to compete with the iPhone in a general sense. The Lumia 830 is close, but I still cannot help but think that they can do better with a Lumia 925 follow-up and widespread, simultaneous carrier release. Thin, metal, great camera and moderate display size are needed for the winning recipe.
Have you tried the iPhone 6? What do you think are the important lessons for Microsoft?
Windows Central Newsletter
Get the best of Windows Central in in your inbox, every day!
Daniel Rubino is the Editor-in-chief of Windows Central, head reviewer, podcast co-host, and analyst. He has been covering Microsoft since 2007 when this site was called WMExperts (and later Windows Phone Central). His interests include Windows, laptops, next-gen computing, and for some reason, watches. Before all this tech stuff, he worked on a Ph.D. in linguistics, watched people sleep (for medical purposes!), and ran the projectors at movie theaters because it was fun.
Windows Phone all the way.

1530 and 1030 please thanks bye

Only thing i miss in windows phone is '3G only'

You mean the option to force and prevent it from switching to a lower generation network when the network gets weaker, etc? Yeah, that is true. You can't select a minimum speed network in other words. You can only select a maximum.

Eh, but you CAN. Just go to settings => cellular => SIM settings and select from the dropdown "highest connection speed". A year ago I used this feature whenever I travelled as 4G coverage was very spotty in rural areas between cities in Norway and it helped conserve battery. Now I no longer need it as 4G is well established in pretty much all areas I travel to or through. :)

Huh???3G only??? Dude this feature is very much there

Just dial ##3282#, accept the warning, tap ..., then settings, and select Auto, 2G, 3G, or 4G. I use it all the time on AT&T.

Dude that thing no longer works. What OS version are you on

Dude, that thing does work. I'm on AT&T with the latest OS and Cyan.

Wow this thing works again????????? Awesome!!!!!!!!!!!

This Option is in the Settings Menu but a little bit hidden. Go to Settings -> Cellular+SIM -> SIM settings -> Highest connection speed

airb, with that option you can only select the highest speed, but not the lowest...

iphone 6 bent test watch this http://youtu.be/znK652H6yQM?list=UUsTcErHg8oDvUnTzoqsYeNw

He/She means she iss "3G" and got "LTE".

Hey gizzmo you forget to mention 935

935....an updated version of the 925...or maybe you got something else in mind??

Yeah.. I've been thinking about a 935.. That could be a direct competitor to the 6..... Or 6s by the time MS makes one... Lol❗

That'll be like...ummm...lets say a year..don't ya think

Hey! Has anyone ever wondered why a galaxy pocket has an equalizer and a 520 doesn't ??..

The 520 does have an equalizer.. Doesn't it have the same one as the higher end devices?

Ummm no...it doesn't....it only has flip to silence...which is not a bad thing.....but lacking an equalizer...that's not right

Oh.. My 920, and 1520, have them so I thought it was just a Lumia Amber feature for all Lumia's.. My bad..

Well not all lumias :-)....but i hope they will (Ms) somehow make the equalizer available for the 520

You don't need it, I have mine flat and the output is will balanced and sounds very good

You don't ever tell another WP fan that they don't need anything❗ ... What's wrong with you?

I think we all do need things that we want.....imma somehow manage to get a high end phone..like tha 925

my bro's 520 has the Equalizer... dont try to mislead people pls!!

Aright then tell me.... Why will i do something like to mislead people.... Your bro downloaded it somehow.... It's not part of 520's hardware pleease!

What version are you running?

Yo Rodneyej.... Version as in...os version or??

Yes!... Are you on Black, or higher?

Your phone is broken..... Lol. Everyone has the EQ, even my old 920 has it... When I get to work I'll find someone with a 520, and check theirs out. I could be wrong.

Okay I'll be waiting.. What phone do you use now? and nope it's not broken.... Your old 920 used to be Nokia's flagship..so duuhh.. Of course it will have an equalizer

I have the ultimate WP device. The best WP device you can currently get.. The NOKIA LUMIA 1520❗❗❗❗❗❗❗❗❗❗❗❗❗❗❗❗ .... And, I still have my 920.. I love both. Seriously, I love my 920 just as much.. It's iconic.

That's because you have money.... For us who don't...hmmm :-(

I'm not rich.. It's just the way US carriers do business.. They literally give us devices for free, and let us pay them off in small increments with out data plans... I also trade in my "old" devices for $100... With those two phones my bill is $114 with a 2gb plan..

I see..that's cool...which carrier are you on?...at&t i guess

Yeah ATT... They're expensive, but you get what you pay for, and ATT is zero headache.

I see.. That's cool. . But why not buy straight from Nokia.. Or it's expensive that way?

Because the phones are subsidized, or free, with att.. It's the services that are a little more expensive than other carriers.. Not too much more expensive than others, but mobile is just expensive period.... I wouldn't even know how to by direct from Nokia... You mean MS? Lol!

I see..I said that because.. Were i am..... They don't have carrier branding on the phones.. Lemme say neutral... No carrier network

I see... But, here carrier subsidizing is most popular... The carriers have us by the balls.

By the balls...wait but why not buy a phone(windows) without a carrier because there's a Slight chance you may not get updates released yeah...no carrier phones get updates no matter what

I haven't had any issues lately since MS started to grow some balls.

Not if you switch to Cricket they dont! No contract and my Lumia 630 was free. 5 lines of unlimted talk and text plus 1GB of data on each line for $100 a month.

Dude,, old article.. Let it go.. Lol!!!!!

Who forgot to mention anything... It doesn't exist and we have not seen any leaks.

So you wanna see a leak before you'll think it exists?

I'm saying it likely does not exist or is not near production because we are privy to seeing leaks. I hope I am wrong.

This article is spot on in many ways. MS can continue to build phone the way they want and sell 1million per year or they can build the way the masses want and sell 20million a year. 20million a year helps create a much better ecosystem for all of us.

Well, maybe they should launch said phone with a completed phone like Apple rather than beta this, developer preview that all the time that does not run as well as it could. Deleting features they advertised so hard, making betas available to everybody and their brother and taking forever to release the final version, replacing a good audio player with a terrible one and patching the heck out of it, continuing to release 512 mb devices with no front facing camera and pushing those to death while along everybody posting here to lament MS' laziness about putting out the successors of higher end phones-I'm sorry, but MS need to get off their lazy behinds and make a new version of the 1020 with a more powerful processor so the phone can work with images faster. It's easy to see why Apple does so well. They don't screw around with their fan base like MS has. I'm sorry to be dogging MS and Windows Phone so hard. I've owned a 521 for a year now and have watched MS fumble around. I've gotten to be really jaded these days about the platform.

Well, in MS's defense,,, they do have more than 2 devices to update a year, and they also have other OEM's to deal with... We're talking about at least 50 different devices.. So, while not as bad as Android, it's probably not likely that MS could achieve what Apple does at that level of quality... They need beta testers.... But, I do agree that sometimes it feels as though some things about WP are on permanent beta..

I don't understand. You dog the less expensive 512 mb phones, but you own a 521. You are the market that Microsoft is pursuing with their inexpensive lineup of phones. Yet you're lamenting the fact that Microsoft hasn't replaced one of their former high end phones.

L1030 and One M9 for Windows for me.

Not a good attitude to have....
....
You're the same one who has hated Android fans being over biased, and not giving credit where credit is due to WP... Now, you do the same..... Hmmmmmm.

iOS8 and iPhone 6 offer a compelling solution, thanks to the evolution of both MS and Apple. The case for WP is getting thinner by the month. While MS is breaking apart hubs and core into apps while botching 8.1 / Cyan updates, iOS8 brings much of what brought me to WP years ago -- plus no excuses integration with my car, home automation and work applications. MS has evolved from "Windows best/first" to delivering its services on every platform. Apple has evolved from a walled, smug garden to opening up to 3rd parties and listening to its customers. As WP loses US market share and focuses on an elongated 8.1 rollout, Apple sells 10M phones... In a single weekend. And a larger % of its users upgrades its massive installed base to a newer OS on older phones, in a single weekend. For a former HTC HD7, DVP, HTC 8X, Lumia 900/820/928/1020/925 owner and WP apologist, it is getting hard to keep the faith.

I still love WP, and I'm know where near loosing faith, but you sir are absolutely correct... And, you present a TERRIFIC point.. Well said.

WP is quickly becoming a value platform rather than an integrated, innovative one. The sad truth is today's Ben the PC Guy would get "Smoked By Windows Phone 7." We are in the Android-oriented feature comparison mode (the essence of this article) rather than looking at the whole, cohesive package -- as we used to. They've compromised the platform while iOS8 caught up and is now less app-centric than ever before.

True, but it's just a slight setback to having to fill some huge gaps.... Small setback for a major comeback...

You should work at Microsoft. Doesn't anyone at MS realize what's going on? They need to start supporting WP 110%. Release a Surface Lumia, a true competitor to the iPhone and Galaxy S. With the build quality of the Surface Pro 3, in 2 or 3 sizes. Fill it with exclusive software and top-of-the-line technology. It will sell. It will sell well.

I fear it is already too late. Many of us defected from Android because MS committed OS support to all the devices that conformed to the WP standard and bypassed the carrier ownership of the OS. We got the support and uniformity Apple users had without entering the smug walled-garden. And we got the completeness of a platform and cloud services that Google users had without being left in the dust by our indifferent carrier when updates came about. We know how it has played out since - WP is managed much more like Android than it is iOS - fragmented, relaxed standards, carrier-controlled upgrades, abandoned phones. And worse, the deep integration with Windows hasn't panned out. All we've gotten so far is browser tabs and color schemes. There is no distinctive integration with MS's cloud services either. What happened instead is MS's teams were busy building world-class iOS/Android clients to their services (Skype updates anyone?) while Apple was busy creating a more fluid, flat WP7-like experience and Google created a whole line of vanilla, carrier-agnostic and supported devices. What is WP's advantage again??? Fast forward to last week... Nadella gets asked about WP marketshare and he offers up a statement about MS icons on competitor home screens. It's time to acknowledge the truth: WP is on the verge of being beta-maxed. Microsoft has all but told us with their actions ... this platform is burning. It has never been profitable and doesn't do anything to lift their brand. Even with a 41mp sensor and Cortana and live tiles and $49 phones.

Ballmer will be back, just like Steve Jobs to Apple.

Ballmer is no visionary like Jobs. He was a complete for-profit guy. Everything was about "will it raise our income?".

You have it backwards there man. Ballmer was the visionary and spent billions doing it. Nadella on the other hand is streamlining everything, cutting and or revamping unprofitable divisions and will likely keep doing so since the shareholders of Microsoft are responding positivly to it.

Yes it's sad to admit this but the mobile Office, Skype, SharePoint and OneDrive experience is no better on Windows Phone than it is on an Android or iOS phone. I too ask myself what is Window Phone's advantage and it's hard to come up with an answer besides the low price of their discount models.

Thus far, "customizable experience" is all the koolaid drinkers can muster. That's.....it. Gotta go, my XBox Music app needs to be restarted while I pray my phone made the Developer Preview cut.

I really do wish that people would stop comparing real world smartphones to whatever the latest crappy Apple iPhone has just been released.
All you are doing is giving Apple free advertising just by mentioning their sub-par offerings. Please stop it.

That's the most immature comment I've ever heard... I guess that's what you get when you get a trolling Android fan turned extremely biased WP fan.... SMH.

Wow Rodney you're givin' em hell today aren't ya?

Lol❗❗❗❗❗❗❗❗❗❗❗❗❗❗❗❗❗❗ Yep❗

And yet with its sub par hardware it runs just as good or better than my 521 did before the 8.1 developer preview.

@Twitter johnB 123 I'm sorry but you either like a platform/OS or you don't. You don't just simply switch just because a manufacturer has a better marketing strategy than the competition.
I suppose that is what drives the mobile phone industry these days which is who has the strongest advertising campaign.

This isn't marketing, it is a fundamental difference in approach. What is compelling about WP today? Its advantages over other platforms have eroded immensely, and while the app gap has shrunk, it gets the ass end of updates from developers. Worse, the concept of "every phone gets an update" has become a joke. It's fragmented under the false guise of uniformity. People centric has been replaced with app centric. With Apple getting every bit of Office and Skype and OneDrive, why am I doing this again??

Whats compelling to me is still what has always been compelling about WP for me - a cleaner, more powerful, customizable user experience. WP is still the perfect balance between constricted iOS and the chaos of Android. Closing the app gap will continue to make WP a more compelling option. Over and over, I hear people talk about how they like WP, but need certain apps.

Hey dude, just get what you want. For me using an iPhone makes me angry, so I have WP which makes me happy.

Joe Bilifired, "you get what I give you, not what you want." Wp's lead mentality.

For me using an iPhone makes me angry ...

Psychotherapy isn't that expensive. It's just a phone.

I whole heartedly agree! I'm getting sick of playing the waiting game with Microsoft. It isn't hard to please the masses of u just listen to them. It seems the whole "user voice" program falls on deaf ears!!!

Twitter John, you have to be kidding right???? Thinner by the month????? Maybe I am blind or ignorant but I see an ecosystem growing weekly this is not about Windows phone only. I see Microsoft pointing it's arrows in the right direction in a much faster paste I have seen them before. Just think about what happened the past 6 months only. Microsoft has full control over Nokia only a little over 5 months. Give them a break please. We will get out flagship devices (for me the 1520.3 cv is the best device I ever owned). Since you are a self claimed apologist I expect a little more patience. Why are we in such a rush??? All devices can run 8.1 ( a true upgrade) Microsoft is preparing for the future, isn't that clear to you????. Stop complaining and you will see what the future brings. For now I am a very happy camper and above that I really think Microsoft is outpacing itself compared to 2 years ago and I have nothing to complain. Glad to be here and Apple, Android (Google) and blackberry can kiss my you know what (I did like blackberry).
If pictures need to be taken @work for commercial purposes or quality images to post on face book or twitter people come to me because they know the power of my preview camera and that is a fact!!!! I will wait until the next "flagship" phone comes out but until then there is nothing better then my 1520.3 or my 1020

The problem is that WP's advantages have waned faster than its disadvantages. And they got into the game with the assumption that there were enough BBerry+feature phone users left to capture. But it didn't happen. Microsoft is already hedging, which makes the sale that much harder. Their best argument is this notion that people cycle through different cell phones ("multiple times in a given year") and that presumably, at some point they'll try WP (or is it just "W"?). 1. No, that doesn't happen -- once every year or two on average. 2. Platform changes are like religion changes. They happen, but it is rare - and usually once in a technical lifetime. The reasons are varied, but are rooted in app investment, disruption, and a lack of rationale to actually migrate. 3. Even if someone did migrate and try out WP, they'll inevitably find the persistent and pesky app gap. Perhaps their app of choice is there, it is woefully out of date. Look at the banking apps - many don't even have check deposit, for example. Worse, there is an integration gap that's an increasing problem with things like new cars that have functionality exclusive to iOS/Android. Hell, Ford had Microsoft create Sync yet integration with WP is limited. Guess what? No MyFordMobile app for it either. New thermostat? Unless it's an insteon, tough luck. 4. Assuming said user migrated, tried out WP and decided they could stomach the app gap (features or otherwise). What advantage are they finding? What deep OS or cloud integration does WP offer that you can't get anywhere else? Yes, the story gets thinner by the month. iOS8 is a massive leap forward and represents an enlightened Apple. MS? Waffling, buckling, treading water. The 830 will sell about as much as the Icon or the 1520 or any of the other phones. No more, probably less.

1 i change phones about at least 2x a year i like finding stuff on craigslist 2 just this year alone i went from WP to android to iphone and now no phone waiting for a decent WP on sprint... i had to sell my iphone it was horrible i hated the dam thing everyone tells you apple has everything but i found myself doing nothing with the dam thing so i sold it got a few games for the amount i got for it and once again waiting for a wp on sprint i really want a lumia... ugh the wait 3 uhm not sure i care about apps as much as other people do, but i have sync on my wifes car and i love it it can read my ZuneHD now thats rare but it works trough USB sync and thats all i need

Sync does more stuff with an iPhone than you can see with WP. Go look at Ford's website and you'll find a few missing feature checkboxes. You and I are in the minority... most folks rarely change phones and those that do, stay on their platform or choose Android/iOS. Reference the dwindling WP marketshare and the 10M phones Apple sold over one weekend. I'm sorry you can't see what's right in front of your face. Perhaps you'll get the joke once MS abandons this platform, first by dropping "Phone" to grant them a graceful exit.

Massive leap forward? Would like some of what you're smoking... Maybe you need specific functions and apps and even if MS brought them you sound like the type who would probably still find somethng to critize...and yeah WP will probably be in 3rd place forever even IF MS brought all the functions you think everyone needs. And regarding iOS in general Dan put it best at the beginning of the article: "However, the OS design still feels static and undeniably boring compared to the Live Tiles on Windows Phone. Often I turn on the iPhone, and there is nothing to look at, just icons with no information."

Exactly. I didn't see a single thing compelling or new that Apple has brought with iOS8. The App gap argument is immature and old. When I left iOS I had some great apps I used all the time that weren't on WP8. Guess what, I survived just fine and still love my Lumia. I moved to other comparable apps or just moved on period. It's incredible to me how people think apps are this magic fruit that they can't live without now. My phone is used for calls, texting, picture-taking, and a small handful of apps such as checking the weather and Spotify. Why do I need a 2million count app store? Ridiculous.

The thing I found tacky and odd was the 6+ and just 4 columns of icons with a wasteland inbetween. allowable for the 6 but not the 6+ tiny little icons on a big display ... Honestly that was very poor. Honestly, I look at a iphone and get symbian flashbacks. And lets be honest symbian had a good reason to keep the interface a grid of icons.

Study up. This is their biggest update since 2008. iOS8 brings widgets to the notification center. Docs and browser sessions persist across screens. Apps can now interoperate with one another. Icons that were static, like the clock, now animate. Third parties can interact with traditionally walled off core apps, like the keyboard and TouchID. Are you getting it yet? iOS is becoming was WP was designed to be. How many versions away are they from having those widgets (which look eerily like live tiles) on the home screen? You're not in on the joke with WP yet, and I suspect many of us are waking up. When Nadella was asked "what are you doing about WP marketshare?", he didn't respond with "we have a fresh, innovative platform," "we offer a consistent interface across desktop and cloud," "our platforms are people centric not app centric," etc. Instead, his answer said "we will be where the people are and our icons will be on their home screens." Read it for yourself before you flame me back. Hell, any of us have probably mounted a stronger defense for WP in our interactions. Here are a few more tells: 1. "One interface for everything in your life." That marketing, which I thought was the best argument for WP, died a few months ago. I suspect it was killed when the Win9 interface was iced down. 2. Spec wars. Remember when it didn't matter what processor or RAM we had on our phones - everything was fast and fluid? I miss that. 3. Feature wars. The platform has devolved from a holisticallydesigned experience to a fragmented mess. WP was/is the better interface. App interoperability, carrier-independent OS support, hubs that put people first/apps second, XBox Music and a concept of "many screens, one cloud." All of that has been watered down to the point that instead of saying 'yeah, but our total experience trumps that missing feature' to pointing to iOS/iPhone and saying 'yeah, but we have more pixels.' The shoe is on the other foot. 4. Marketshare. Amidst all the change and retrofitting and 8.1 and Cortana, marketshare for WP dropped. 5. Body count. Nokia had THOUSANDS of people working on WP hardware, propping up this platform. Where are they? Repurposed for the new Nokia? Working on the next-gen 1040? Dreaming up new cool apps? No, they've gotten pink slips and will be replaced by the good folks at BLU to make more $50 phones. Open your eyes. The writing is on the wall. If Apple's 10M phones in one weekend isn't a wakeup call, take an honest look at Microsoft's words and deeds on the platform.

Thanks for this post. it has made me feel guilty for upvoting Twitter JohnB_123 other posts. :)

Have you read about the issues that people are experiencing with iOS8?

Numerous. Already some people have bent and broke their phone due to being so thin. Must not have much meat inside. My 1520-heavier but solid no way can it be bent.
Also read ios8 causing Facebook and dropbox to to crash..and it doesn't run too well on older models.

Perhaps the 1520 won't noticably bend, but it is possible that problems with screen tap/swipe are being caused by the phone bending slightly.

I basically agree. As a former HTC HD7, soon to be former Lumia 920 user, I've grown tired of trying to defend Microsoft's poor strategies.

I am done with MS as far as the phone goes. Will make the jump to either an 6 or 5S, not sure yet. Apple or Android is the decision. While I am not a huge app user I do wish that I could control my thermostat with my phone, that I could get better phone/car intergration, that the battery did not have a mind of it's own. My love for my Lumia 920 ends at how cool, I think, the interface is. Beyond that the phone(I am on my 5th one) and operating system and app store simply lack polish. I just want things to work smoothly. Thought that MS would provide that and I was wrong.

This. And in-car tech continues to wrap around mobile devices, with the immediate next gen displaying what's on your device. MS doesn't even have a seat at that table; hell, Windows Phones don't even charge off our 2014 cars' USB ports much less integrate with the Pandora/Stitcher apps. While the app gap narrows somewhat (again, getting the ass-end of developers updates- even Skype!), the integration gap widens.

How does defending MS's strategies affect your life really? Use a great Lumia if it works for you (my instinct is it will for 99% of people) or switch to an over-priced, highly breakable phone with a completely boring OS of the "i" type. Who cares..


Sorry, but you lost me at "smug".

Being a WP enthusiast is becoming harder and harder as MS even want his fun base to beg them for basic smartphone features like static IP option via uservoice (I know a recent update claims to bring it to some phones but I've known ppl who have had it b4 black and WP8.1) MS has to be up and doing if they want to make head way.... Also I understand the MS' over concentration on the US market as it is absolutely clear they love android and IOS.... MS, u have a lot of market outside US

Great article Daniel!
Could not agree more with 925 follow-up and your conclusion. Well done.

Only problem i have with my Windows Phones is that, over the last 2 years, they've gone from having fast booting cameras to now sloooow and in most cases not good for taking spur of the moment pics. Cameras in the whole Lumia range have become sooo slow, that even the Microsoft camera is faster, but still slow compared to almost every other phone out there. Pro Cam? Sooo slowwww!!!! I ditched my Lumia 1020 because it was great for planned pics, but day to day pics, i just gave up. Boot to camera could easily be between 2-6 seconds and the actual proces of taking the picture, was painful. ¨The 1520, 930 and actually 630 are faster, but still not remotely close to the top Android or Apple phones.

I use the Nokia Cam on my 1520 and it's fast as heck. A lot faster than my previous iPhone was. The MS camera app blows though, slow and rarely focuses properly but the Nokia Cam blazes. I did notice the speed increased even more after 8.1 was installed, maybe you should have waited. Still, I can't imagine anyone actually switching to an iDevice just because they think the camera runs quicker.

Did you see my last 2 lines? I know the 1520 is faster for sure, yet.....You cannot do 10 manual shots in 5 seconds like on the Htc M8 or the iphone 4/5/6. Also I just wish Nokia Pro Cam had touch to capture instead oftouch o focus and then shutter button.

Daniel I think that for the processor the windows phone and the ram beat the iPhone 6

Sure, on paper. In usage, the iPhone 6 is fast, smooth and plays games very well, likely even better than Windows Phone.

See.. That's what I keep telling these guys... But, the truth is that most WP fans can't give credit where credit is due.... Most WP fans are no different than iDroid overly biased sheep, and its sad... It's no use trying to get them to set aside WP for a minute and judge a product for what it is.....
...............
Seems kinda self-righteous, and hypocritical, in my book..
Especially when you'd think that after the way WP, and it's fans, have been treated we would at least try not to be like the others.... But, no.... We obviously didn't learn anything...
...........
And, like I said yesterday PEOPLE.... "THE IPHONE 6 SETS THE BAR FOR THE INDUSTRY"
................
Argue that with Daniel.... Lol❗❗

Agree with you Rodneyej. But I just don't like Apple. I just don't. And maybe it's not Apple itself, but those writers who overly hype the product. And yes, I have an iPhone 5s. And I just don't get what all the hype was all about. My daily driver is my Lumia. But as you say, I can recognize when something good is done by another brand. But I just don't want to give Apple any credit, because I just don't. :) But I won't go out of my way to bad mouth them either.

Understood.... But, it's not about whether we like them or not.. It's about what MS can learn from Apples success.. Lol❗❗
.......
Nevertheless, I'm glad to see you understand the concept of giving credit where due even if you choose to just "not say anything at all".

"Understand the concept of giving credit..." Here's my understanding of giving credit in regards to Windows Phone. Visit your local carrier and see what phone(s) they push? Read most of the tech sites and see how they bash WP and by bashing I mean write stuff about WP that most WP users would recognize as false. This is 2014 most carrier employees only have a negative connotation about Windows and Microsoft in general therefore they won't talk up the product. I love reading Windows Phone news on Bing. But sometimes half of the artiicles are negative towards WP. I'm here to tell you in all likelyhood no matter how creative or innovative WP gets or how solid their phones are there will be the mindset of Windows/Microsoft being lame and Apple/Android being King in some minds. I'm not saying Apple hasn't created some decent things I'm just saying it's not that mind blowing to "ME". Give me my WP device everyday!

Ok.. So, what's the solution?
..........
To start... Everything you said is MS's fault... Now, let's go from there.

Well, if that's your take I guess you really don't understand the nuance of the problem.

The explain to me what it is.. And, I don't want to hear the iDroid is huge excuse...

I feel like anyone who thinks the iPhone 6 is more than just an overhyped spec bump has drank some of that coolaid. Can anyone tell me aside from the screen size, what has apple done over the 5s that is actually new? Dont worry ill wait. Apple hasn't done something well, they DID something well and that's what keeps driving them

... But I just don't like Apple.

I can understand that. I feel much the same way about Google. Android is getting better and better, but Google is not. I still find them creepy. I don't like being the product they sell to their advertisers.

I think the message here is that it's not about Apple, or Google... Nobody cares if you like Apple, and nobody expects you to here....
............
You guys can be on the defensive until you're blue in the face, but the fact remains that the iPhone is extremely appealing to the average consumer, and we should question why MS doesn't have a similar product doing well in the market....... Quit talking about what you don't like because in the grand scheme of things it doesn't really matter what WP fans opinion about a smartphone is.... Yet!

I think the message here is that it's not about Apple, or Google... Nobody cares if you like Apple, and nobody expects you to here....

Actually, I WANT to hear about the competition. I want to hear about alternatives. I want to hear about how Windows Phone compares to other phones. What I don't want is a simple choir echoing the statements made by the minister.

Choir? I wish there was a choir extolling the virtues of WP. What we have are solo artist attempting to do the job. Unfortunately, the "choir" are the ones singing the loudest on the behalf of Apple and Android.

That reply is seriously off context to what I posted... Now you're confusing yourself..
.........
Who ever said that we shouldn't hear about the competition?... I think we're on different levels.. You should discuss your issues with someone else..

What up Rod?.. iSheep are no different. In the end it's all what appeals to the individual.

I don't care what iDroid sheep are like, rather I care what my fellow fans are like... WP fans are supposed to be better than that...
..........
And, I totally agree with your second point.

You are are right for example the HTC for windows phone is really more powerfull

Please stop the name calling.

Ha ha I like this Rodney guy. Seriously anybody that blindly dismisses the iPhone 6 as crap has not ventured into the Apple store to try one out. I went there the other day and came out almost believing I would get one.lol Plus the entertainment value and design of their iTunes store and Apps and Games stores are flawless. The only thing questionable so far from my hands on experience was the speaker quality.

but come on, plz, I can get unlocked 930 for the contract price of iP6P (ew) my point is only the price, I have always admired android for its copleteness, but the price :/

You get what you pay for, and for years WP devices offered less, and cost less... They still technically don't provide the all around best experience, and they still cost less on average....
..........
Do you see a pattern here?.....
The point is that while WP is great some of you guys heads have wrongfully gotten to big, and you need to humble yourselves.. WP is still more of a work in progress than iDroid, and if I'm the biggest WP fan in the world, and can admit it then it's true..... Quit talking about price... We are not talking about the low end here...

... I can get unlocked 930 ...

Just curious, do you live in the United States? I understand that the 930 does not work well with AT&T or T-Mobile's 4G networks. That stopped me from even considering a 930.

The iPhone 6 is a great phone, without a doubt, but the problem with your statement, and every Apple-lover for that matter, is that it does not set the bar. It is basically the same phone with a bigger screen and return to it's original shape/Galaxy S3. I was a dedicated iPhone user, and an iPad purchase is what made me rethink my phone usage. That's when I discovered Windows Phone's communication centric features - the ability to do all messaging, chatting, sharing, etc from one interface. Phones should be communication devices first, and it was the best. But as it has been brought out here, WP has changed that approach, and went more Apple (app centric for integration), and Apple has adopted the original WP approach. I think WP was indirectly hurting app adoption with it's own API integration, hence the change in direction. Perception is mutha. To set the bar, you have to achieve a level that has yet to be measured. The iPhone is just the most popular phone right now, and the company behind it, Apple, is very good.

I think it does... Read the article, then argue with Daniel about it.. It's been two days for me, and I'm tired..... But, I will ask you this. What phone does set the bar❓ ...... The GS5?

The iPhone 6 is a great phone, without a doubt, but the problem with your statement, and every Apple-lover for that matter, is that it does not set the bar.

Personally, what keeps my interest in the iPhone is the Touch ID. Nobody else is doing anything anywhere near as well. Combine that with the new Apple Pay system and you've got a pretty good solution. That most definitely "sets the bar".

Android had fingerprint capabilities prior to Touch ID (which even after the the release of the iPhone 6, still has vulnerability issues), and you are on a Windows Phone site commenting on Apple Pay setting a bar when WP already had Wallet. Apple just has greater support because of install base. And that's the point, everything is "new" and "innovative" and "magical" when Apple does it, not when it is initially introduced. I think Apple is a great company, and makes excellent hardware, but they aren't as innovative and cutting edge as the majority give them credit of being.

when WP already had Wallet. Apple just has greater support because of install base.

Did you use Wallet? I doubt anybody did. It's not that Apple invented something that nobody else has tried, it's that they found a way to make it work. The new Touch ID fingerprint reader along with the way they've secured that information is way better than the competition. Now add in how well Apple Pay has been implemented, Yep, others have tried to use NFC as a payment mechanism before. All implementations have sucked. And none have been tied to a fingerprint reader like this. What I see is that Apple has done something better than Microsoft and you're pissed about it.

This is true, and that's my point about MS.. They keep missing the train time, after time.. It's getting old.

Lol! So, you know me now? I'm pissed, but you direct a personal statement toward me? BWAAHAAAHAAAA!!!! - excuse me. Good try. Like I said, it's not innovation. I don't care about it either way. I respect both companies; I just called out the lie about such functionality setting the bar in innovation. It doesn't. No opinion. Can't invent the light bulb twice. Someone did it first. I agree you can make it better, and you can set the bar in other areas, but it won't be inventive innovation. I think you make my point for me. It doesn't matter how good any of these other companies' version of such technology is without acceptance and user base. That's why Apple Pay will succeed. People don't even care about the security breach exposing iCloud accounts of celebrities. They just will use it because Apple says it works. All Apple is doing is leveraging their install base, and that is great and smart, but call it that.

Man!!!! I am starting to like you.... I've been doing the samething for years, and pitching the tent for WP since debut. But I have been let down time n again by MS.

I leave for one minute and Rodney drinks the Kool-Aid. Ughhhh.

Ohhh, I'm on these guys like white on rice.....
..........
MS IS READING EVERY COMMENT ON THIS PARTICULAR ARTICLE!
..........
So, it my opportunity to take advantage of that, and tell it like it is.. I'm not holding back, and I'm not holding MS's hand this time.... The future of WP depends on our feedback❗❗❗
..........
And, MS if you're listening,, please make Cortana able to speak out the time, and date... After Blue it's not going to make much sense for me to ask Cortana what the date is, or what day it is if I've been drinking, from across the room if she just displays it on the screen.... Cortana is just going to have to get more vocal❗❗❗❗

What is really needed is for the whole WP start screen to orientate to landscape when you tilt your phone. Windows 8 does on a Surface but the WP Start screen doesn't. This is especially annoying with a 1520 that has a case with a built in kickstand or any phone. Just weird and needs to be fixed. In fact it would be cool if when you turned it landscape that it switched to Windows RT.

Yes please. Wish we had RT look.

After many years of using the iPad, I've found that I have become accustomed to a 4:3 tablet in portrait mode. I tried the Surface 2 and found I didn't like the long/wide screen in landscape mode.

Apple iPhones don't set the bar. Not for a few years. Other phone companies have had huge success with also have better specs and more features for a few years now. Apple only sets records because it's the only device that has IOS on it. It's the one alternative to android that gives a decent experience.

Daniel, do you think you could pitch the idea of upgrading the 925 to anyone at MSFT :D

I know they are reading this, so consider it pitched ;)

Daniel, first of all I want to complement you on another hard article to produce, finding the right balance is a b***h but you did it. I mostly like how you pointed out that the innovations of Nokia/Microsoft are sort of conveniently forgotten by the "tech reviewers" out there and that is actually really frustrating if you really like the devices you work with and love. I did listen to you and purchased the 1520.3, added a 128gb sd card and I will be in heaven until the next quality PRODUCT comes out, I feel a much better 925 is in the making (that must be) and Microsoft will surprise us all. It's a good thing you pitch (because you are an important link in the chain) and I am sure many of us follow your opinions for that reason. Keep up the good work!!!
t

And what would be really nice when they announce that surprise product, would be to say it would be available from all carriers within 2 weeks.

Lol!!. I just hope they don't think I'm turning on them...... Because I'm not. I'm just being realistic..

We know you're true intentions now.

Finally, someone else stepped away from the cool-aid dispenser.... Lol It's time people stop being apologists for Microsoft and the platform. There are way too many ultra Microsoft fanatics who believe ever excuse given and defend to the death by shouting down those who dare speak out against them. Nadella has been drinking too much of his own cool-aid and doesn't have the capability of making WP a real priority. They steadfastly refuse to to believe in their own phones. Excuses to just wait until the next update or patch is no longer acceptable. I tried my best to drink the cool-aid last March and wanted to believe that total integration of all the platforms was at hand only to see the reality of what it is now. It pales by comparison to the other platforms, and then when Apple does have record sales those buying one is called a isheep... Until Microsoft puts WP under new directors that can get the software situation under 1roof the platform won't ever get enough traction to pull out of the rut the leadership of Microsoft has dug for themselves. I wished that the board of directors of Microsoft would come here and read what is being said and know that many Android and IPhone users would use a WP, but not as it is nor not with the phone choices on exclusive deals with the carriers. Posted via the Windows Phone Central App for Android

Very good❗❗ Well said....

Then can we consider a damn Surface phone pitched as well?

You know what I was thinking❓❓❓❓❓
If MS does make a Surface Phone then it would be cool if the camera bezel in the middle of the device was a glass Windows logo,, kinda mocking the Apple on the back of iPhones...
......... Don't know how they would pull it off, but it's possible, and a cool idea.

It's no secret that we would all love a Surface phone with a gold, glass or backlit Windows logo. I would prefer backlit and have it glow when the phone is flipped over and a call comes in.

Yeah, something exciting for a chance..

Thank you for the same thoughts.

Daniel For example the HTC one windows phone I really I love WP 8.1 is fast is great is every thing but if developers can make the right apps for us they can see the benefits of windows phone fast and never lags

I know they are reading this, so consider it pitched ;)

To Microsoft - my one bit of advice. Faster, please. Seriously, you are simply taking too long to accomplish anything. I'm particularly disappointed in the fact that you haven't released an upgraded high end phone for AT&T or T-Mobile this year. This is unacceptable. Get off your butts. If you don't release at least 12 new phones over the next 12 months, you're failing. In the US anyway,

you

are Windows Phone (Lumia). You don't have 100 partners to fill in for you. You must act. You must make the market. And you need to do it quickly. I suspect you're going to try to fall back on that bit about not wanting to upset your OEM partners... That's weak. Don't even try that nonsense. And stop trying to find the perfect phone/brand/solution. Release new Lumia phones. Release Surface branded phones. Heck, release Asha phones. Just get your butt in gear. If I can be more specific, I'd like to see you release a single 5" high-end Surface branded phone as soon as possible. You need to produce this yourself. Do NOT depend on the carriers to support it. Provide all firmware/software updates yourself - downloadable from Microsoft servers. Do not allow carriers to dictate the update schedule. Take them as far out of the loop as possible. From a strictly consumer view, this is what makes Apple succcessful. This is why nearly half of all iPhones are already on iOS 8.

935 should've been launched day before iPhone 6... I have a 925 and will only switch to something similar... None of the current WP phones appeal to me... I want a 925 with full HD Glance screen, best processor available, 2gb ram, 64gb internal storage (no SD if it's going to affect thickness), 20 mpx pure view 4 k video recording and xenon flash and 5 mpx ffc, same form factor but all aluminum (back included), wireless charging (again, if not affecting thickness), waterproof, IR (and make Logitech develop a Harmony remote app for WP), keep it thin and top 150 grs... Deliver multicarrier worldwide

Or after with a huge launch.....

Unbiased opinion ...if you want it all you go Droid. If you want someone telling you what you like you go Apple. And if you love the Microsoft and Windows ecosystem then you go WP.

That is entirely opinion what you said about Apple telling us what we want. If I don't like it, I'll just go WP or android, not to mention their own integration with all their devices.

I think at the core, iOS and WP 8.x are equal when it comes to efficiency and smoothness. What I think gives Apple an edge is they have a tighter noose on component selection, and they still enjoy a top spot in most game developer's priority for game releases. What this means is that other platforms are often a "port" of the iOS game. That nearly always means the performance is less optimized. While on the iPhone it's also a known quantity with far less hardware variance. The iPhone line is about the closest thing to developiing for a game console. Locked specs and known performance characteristics. So while WP enjoys a larger range of price points, it means developers sometimes struggle to add 512k support for models like the successful Lumia 520. Great tools like Unity allow for true cross-platform games. But not all game devs are using something like Unity. Android has an even larger spread of performance challenges (hardware variation, etc). But at least they have the marketshare clout to demand attention from app/game devs. Don't get me wrong. WP app/games selection has most definitely improved in the last couple years. I'm just pointing out the iPhone effect when it comes to performance and smoothness.

930 is AMOLED, not OLED as the specs list

Nice Posted via Windows Phone Central App

Awesome stuff, thank you!

Nice to see my 1020 still considered a top phone. Even after Ms has basically dumped it

No, MS still sells it in stores... You might be talking about carriers, but you shouldn't blame them.. They have other new devices to sell, and time keeps on ticking.... As for the 1020, I can't see how MS had dumped it, or any other Lumia.. Lumia devices have some of the best support in the industry.....

You can't see how MS has dumped the 1020? It has reached End Of Life status, meaning they don't produce any new ones, only selling old stock. Essentially, the 1020 is dead in the eyes of MS. Hope they drop that 1030 soon, as I can't go back to a lessor camera now.

They still support it... You can't expect them to build them up until the day the new one comes out.... That's not dumping it...

you need to understand the difference between end-of-sale (EoS) and end-of-life (EoL)

Rod, you are all over the place man and sometimes I don't follow your intentions. I know your heart is in a good place towards WP because I do read a lot of your comments. Just imagine me being a new wpc member and then reading some of the rants you put out here, you scare the s**t out of me, I am sure that is not your intention, is it? I know you are passionate for the obvious reasons but temper yourself a little ;-)
regards
t

Never❗❗❗ .. Lol. No. Don't be scared, young ladybug...

Rodney, put down that Red Bull❕❗
Now, at once ❗

Oh no, it's escalating. Try a coke instead (no, not that one!) ;)

The Lumia 830's only weakness may be its comparatively anemic processor...

And the

0.9

MP FF camera. Yes, you read that right.

0.9

MP. http://www.microsoft.com/en/mobile/phone/lumia830/specifications/

So? My point was the statement about the only weakness being the processor. This wasn't a price discussion.

When you're talking about spec strenghs and weaknesses, price IS the discussion. You can't say well a Honda's leather isn't as good as a Ferrari's..

Doesn't the iphone 6 have a 1.3 mp FFC? Probably still comparable IMO. Guess we'll have to wait and see.

Sorry, 1.2 mp actually, but both cameras have 720p video.

If the 830 had an 600 processor it would've been perfect mid range phone.

well, since the iphone 6 comes at more than double its price with a 1.2 mpx FFC, I don't see this as weakness for an "affordable high end phone"

Well said, Windows Phone Hype

Ok.. Lets continue this discussion from yesterday... Where are you guys at❓❓❓❓❓
........
NIST❓❓❓❓❓

9.8mm? Dear god in heaven! How does anyone fit such a beast in their pocket?!

You are talking like you have 1 mm thick phone.

You are talking like you don't understand sarcasm.

Not to mention 167 grams! You got to be Arnold Schwarzenegger to lift that phone to your ear!!

Personally it's size first. So I'd compare with a Lumia 735. About the same dimensions and weight and with the same size screen and about the same PPI. Double the price, so it has to be at least twice as good. Easy answer: it isn't. And it even lacks wireless charging. Easy win for the Lumia 735. it is good enough all-around, which is what makes a Lumia 735 so desirable

No camera button is a deal breaker.

IPhone basically offers the same and worse specs, than the best windows phones, for nearly twice as price, something unjustified

It's justifiable to a Android fan because it has the experience they like, and are accustomed to, and the hardware is superb.....
..........
We can't talk because it's not like if Lumia devices cost much more than we would switch to Android..... Some of you WP fans are just like bad Android fans... Just spitting the same old lame arguments year after year..

I'm saying what I see. I can get a Lumia for better specs than iPhone 6, with a lot lot less money, and that's what is going to make someone's mind, not a u2 free album offer as a crow

But, it doesn't work that way with the iPhone... Do you not understand how big the user base is Already for the iPhone?... Those fans don't care what WP has to offer, even if it is technically better, because Apple has them the same way MS has us.. What don't you guys understand about this?... They love their iPhones the same way you love your WP's, and they have the right to..... I'm sorry, but I would've paid $299.00 on contracting for this 1520 if I couldn't get it for any cheaper, so why would I say that it's wrong for a iPhone fan to do the same????
...............
Think❗

this article seems to me as a bait by you and Dan, to lure the troll out of us the Win fans and then TROLL US by saying trolling is not right :P good job ;) :p truly

Lol❗❗❗❗ good one... You might be right❗❗

Rod, suppose you have $99.00 to spend max on a smart phone per kid would you get yourself into a payment plan to give your kids the newest iPhone? NOT happening here, I can tell you that,. Apple might have got themselves a nice 10 million sold phones weekend but things will change, apple lover or not, you have to pay the bills, they are getting more expensive instead of cheaper, rowing in the wrong direction if you ask me, I am even further away of getting kids an iPhone (unless they pay themselves of course)

I can't argue with what problems Apple MIGHT have in the future, but we can definitely confirm what problems MS DOES have now....
.........
Bottom line... Whether you decide to by an iPhone, or not, Apple is still going to sale 50 million by 2015..... Lol.
........
Continuing to justify WP is not helping the platform... MS is just as capable a company as Apple and you should expect more..

I think torajji described it really well, that's how it goes

Finally someone has said what I've been thinking all along. MS shouldn't be focusing on luring iPhone or android fans to WP. That's like trying to lure a Chevy lover to buy a Ford and vice versa. Not gonna happen. WP has to build up it's own fan base, step by step, inch by inch, ... People are creatures of habit. They get used to a system and either aren't interested or are afraid to change to something out of their comfort zone. I'm the same way, I've been using a WP since winmobile. No way I'm switching to an iPhone, android maybe, but only if I have too. The marketing sucks for WP. You can advertise all you want on TV, show how Cortana is better than Siri, etc.., while those commercials are funny, they're not going to convince an android or apple fan to switch. MS marketing needs to focus on getting "ALL" the major carriers to support their phones, not just 2 out of the 4 major carriers. Try going into a TM or Sprint store and ask to see a WP, you'll get stares like you spoke in some foreigh language. Their product, all tiers, not just the low level phones, need to be available in all carrier stores and retailers for people to see and try. The salespeople at the carrier stores that I visited a few weeks ago, TM & Sprint, don't even mention WP. The only thing they do mention about WP when asked why they don't carry more is "they aren't in demand". And good luck finding one on display, it's like finding that mangy mutt in the pet store, all the way in the back, in the darkest corner of the store.

If its about specs the iPhones processor is alot more powerful then anything WP has, even though like WP it really doesn't need so much power to run the OS. The 8 mp camera on the iPhone is still better than alot of 10, 13, 16, 20 mp camera phones out there, so if your looking for a Lumia phone with specs near the iPhones your options are the 1520 or icon/ 930. I'm not a apple fan or an android fan I've been using Microsoft's mobile operating system since 2007 ( HTC Tilt) but I have used alot of phones these last years and every OS has something I like.

You've said that several times already on this article, we heard you the first time. Some WP fans are like bad Android fans, just like some Android fans are like bad Apple fans. Repeatedly pointing out the obvious doesn't make you sound any smarter or prove your point any better. I like the iPhone 6/Plus, except that its WAY too expensive and honestly, not very attractive. WP fans get defensive about Apple especially because the hype around their products is way over done. We all know that WP has plenty of it's own faults, but the attention and credit Apple gets for the basic features Android and WP have had, or other features in general is absurd. That's why I don't buy Apple. Not because I don't like their products, but because I don't like the ora around using their products. Just like I won't buy a BMW. It is literally the car of doucebags.

You had me until the stupidity about BMWs... Maybe in your country BMWs are driven by doucebags, but that's generally not the case in mine

BMW drivers in Europe are completely different from those in the US. I like some BMWs, especially older E30/36 and E46. I have friends that drive BMWs. But personally I'm not interested in owning one. To me the brand just stands for fresh money pricks that drive like ass holes. That's not to say that there aren't normal people that drive BMWs.

You are seriously calling iPhone fans douchebags? I worked with a guy who was the biggest douchebag I ever met, and he was a WP fan boy. According to him, everything MS touched turned into gold. He converted several people over to WPs, but now those people have gone back to their iPhones cause they hated the platform. Point is every platform has them.

No, I'm simply saying there is an association with the Apple brand I don't care to be a part of. And I was comparing that to the association I have with BMW drivers. Not that the association is the same, but that a negative association is what steers me away from them. I own an iPhone BTW. Just don't use it. :)

Which brings me to my 4 year argument that MARKETING IS WP'S BIGGEST ISSUE!
........
It doesn't matter how good WP is if nobody knows about it.... And, if Apple is TERRIFIC about building hype about the worst phone then they deserve the credit, and the public attention, that they get.... You guys need to quit whining about what Apple, and its fans do, and start criticizing what MS doesn't do... And, then things will get better for WP.... Apple invented NFC, and that's what the average consumer is going to believe...
Is it MS's fault, or Apples fault, that after less than a week everyone knows about the iOS payment system, and after 3 years nobody knows that WP has a wallet, or even knows what WP is❓ ..... I'm sorry.. I'm not buying it.. I'm not new to this... Lol!

Also considers that a new iPhone will be available in a year. Apple originally wanted you to buy an iPhone on two year contract. So what? Next year you buy iPhone 7 on three year contract on the price of iPhone 6 or more and keeps going...I mean, who even needs a new phone every year? If that's not capitalism and the need to"stay in fashion" what is it? Because I think iPhone is probably only for business men or people that want a luxury phone. I'm happy with my Lumia 520, and if I want to upgrade, I'll take a gorgeous 930, or 940 ;)

i agree with all your points here, but you know another problem with WP aside from marketing? the reviews and the forums. almost every review of WP i've ever read is discouraging. and the fans aren't helping either, i mean look at the 830 launch and how the WPC commenters have reacted to it like satan made this phone. i guess i just wish WP fans would be more cool than droid and apple fans. i used to vehemently detest apple but it's mainly because of the price, but i think when it comes to build quality they really set the bar (except the iphone 6..that shit looks whack). i also used to be and android fan, but got tired of how laggy it is in low to mid range phones. to be fair both OS has their advantages, i know that. but i got swayed to WP by my friend who ditched her mid range android because her 520 from work gives her a smoother experience. my experience on my 525 has convinced me of this platform and i'm looking to upgrade to an 830 for myself and the 730 for my mom. imagine how jealous would her friends get when they find out she has a selfie phone! and to those bitching about the lack of a real flagship, i think that's bull. 930 and HTC W8 is there for those who are design conscious, and 1520 is there for the spec whores. 830 and 730 is perfect for those of us who want a decent phone at a decent price. the 530 and 630 is there for the budget conscious. sorry but I think MS has a good lineup for now. and they know that they can get more market share at the lower models because that's how android grew. that's how they got me, by providing a lag-free experince at an amazing price point. just be cool and spread positive word about the platform and stop fanboyism! and stop complaining about the app gap and actually do something about it! send an email to that company who you wish would make a WP app, write a good review on your blog or facebook and make your voice heard where it counts!!! honestly that's what i love about WPC, all the writers here seem really cool and have done really well in representing and growing WP!

1020 has SD card, doesnti it?

But it should have barometer, too. In the chart is not mentioned...

Why? After a year on the market why tell people about a barometer? It has no function, no APIs, no apps, and is completely pointless.

well.... ehm, it was just something I thought it was missed, nobody dies. It's written on the Nokia website Specs, so...
Anyway, I see you corrected the chart....

We listen. Although I still have no idea if the OS uses it or not, making it an odd selling point ;)

The barometer is used for gps lock. Posted via the Windows Phone Central App for Android

How about Infrared on HTC One M8?

I know! To me, the infrared remote function of HTC One is AWESOME & not marketed correctly. I would love my L1520 to have this but maybe I'm in the minority on this one?

Damn how many phones do you have got Daniel? ;)

I'm sure he has a barrel 3/4 full of phones..

Very strong possibility xd

I'm curious as to the total number of units sold for each of the Windows Phones - for the total life of the device not just first few days. Do they even get close to 10 million?

There's only an estimated 50 million active Windows Phone worldwide, for all years. So, 100K?

Yikes!! That puts the 10 million sold into a better perspective, at least for me. That's insane.

Indeed it is insane how many stupid/ignorant people there are in the world willing to pay that much for an iphone. Makes me loose faith in humanity.

Umm. That's their choice. I'm sure some iPhone users would call you stupid/ignorant for choosing something with minuscule market share. It's just a phone dude, get over it.

Sure its their choice to be stupid/ignorant to buy a phone for that price when most of them would definitely be better served with a WP. I would laugh in the face of anyone who says that its something to buy a WP solely because of its low market share, since that is the dumbest argument ever.

They wouldn't be better served by Windows Phone through if the apps they love using were unavailable to them. And who are you to decide that they'd be better served by a Windows Phone anyways?

You are one of the people I was speaking of when I said every platform had its douchebags.

That's how I feels. It's preposterous, I tell ya, Preposterous!

The Lumia 925's design, 930's camera, 735's front camera, 930's display, HTC's front facing speakers, 1520's battery and 2-3 GB ram along with the snapdragon 805. Dream really.

This is what I want, though a screen that supports Glance.

Why not 1020's camera. ??

Then the design won't be like the 925.

Then the phone would cost $1000. Lol

Now that would be the dream phone

And can I get a cup holder while we're at it?

Change that to the same display as the 1520 and you have a deal. No way you'll get the 1520 battery in a 930 sized device.

I wonder why Apple is so desirable. Seriously, people around me pick the latest Apple iPhone even without checking out what's so magical about it apart from being an apple product. They still perceive Windows phone OS to be less functional and restrictive. :/

Combo of many facets, including cultural phenomenon, media bias, market saturation, and they do build good hardware/software, you really cannot say otherwise. What can be said is if you prefer it (I don't).

Also can be said is if you prefer the price. Especially in Europe people buy off contract. Where it is the other way around in the US. Personally the price allready makes it a nogo. From Euro 450 upwards it is starting to get ridiculous for any smartphone. Looking at the current state of technology and what money buys for Euro 450 and downwards.

True,True,True.. Subjective for the hardware/software. I use the iPad Mini and Surface RT daily along with my 1520 (920 retired to drawer) and I personally prefer the Windows 8.1 OS over IOS7 (I haven't updated to IOS8 yet). As far as the hardware goes,the Surface is better to me. Apple's mobile devices seem more fragile for the most part. Took be over a year to break the screen on my 920,and it not only doesn't cut my fingers.. It doesn't miss a beat. But doesn't mean that everyone's experience is the same. Although,the majority of my former iPhone toting coworkers phones suffered tremendous damage in the first week of ownership for a few.

Daniel, I'd love to see an article written about the "cultural phenomenon" you mention. It's something I've always considered the biggest reason Apple is selling boatloads of products right now yet rarely ever mentioned in print as to the reason why. Glad you mentioned that. I look at every suburban mom in my region and they all sport iPhones. I seriously doubt suburban moms compare specs, phone costs or OS integrations before they choose their smartphone...this goes true for many of the teens I see with iPhones also. Many of the arguments in this comment area by twitterjohn and rodneyej are super critical of MS for their terrible marketing and PR strategies while ignoring the OS features Apple has but those things wouldn't change a darn thing in my opinion. You can't compete with Apple being the most popular kid on the block. But knowing technology, in 5-10 years we could very well be talking about Apple like we do Nokia now, "the fallen giant" or something of the like.

Apple does so many things right that MS ignores like iTunes vs. Xbox Music. iTunes will share music across devices with their library/Match system for $25. MS wants $99 a year for a music player that is definately not as good as iTunes for mobile music. I dropped my Surface once it became apparent music playing was substandard and went back to an iPad.

Another facet is platform/ ecosystem investment. Over time, peoples' data and purchases add up. Sometimes its just easier to upgrade rather than switch and migrate. That's why I probably won't switch away from Microsoft no matter how pissed I am about availability, release cycles (now), and exclusivity. My whole family is using the entire stack.

Also, being very good at the right time, in the right place, is the recipe for success... In contrast, where was Microsoft??? Lol.

Like the rest of the market, completely taken by surprise. The whole "where was Microsoft" arguement is ridiculous because the entire market was blown away by the iPhone's release. The only reason Google got in there was because they bought and existing OS that was being worked on and even then what they had compared to iOS was still weak for the first few years. It's simple, Apple took the whole market and flipped it on it's side. The only thing I can really ding MS for, is taking too long to adapt and answer back. Which is something they have recognized and is a reason for the massive change and restructure at that company.

Exactly.. That's why I said where WAS MS... Meaning "at the time"...
...........
Excuses, Excuses..... How much longer?
...........
Sorry, the market isn't going to cut MS any slack because they made some wrong decisions.. And, you shouldn't either..

Jeez man, what do you want seriously? Do you really think Microsoft will magically agree to all your demands and start selling 10MM phones a weekend after listening to your feedback? Not gonna happen. And if they did, I for one would probably look elsewhere because I enjoy not running with the pack, which is why I went WP in the first place. A great phone that not every suburban mom and teenager uses. Regardless, the reason WP does not do better is they cannot compete with the popularity of Apple products. It's not a fault of marketing,missed specs or OS integrations issues like you love to spout off about, it's like a nerd trying to steal the captain of the football team's girlfriend and all your constant barraging of "LOL"s and teen-girl grammar comments aren't going to change that.

You have the wrong attitude, and it in no way helps the WP platform... You're an excuse maker, and quit trying to convince me to be like you.
No, it's all about Marketing❗ Try again.
..............
And, if you don't like what I say then I don't know what to tell you because my points about MS are proven, and valid.. Sorry if you disagree.

Where was Microsoft... really? C'mon dude, look it up. Tech does evolve ya know.

Is it true that many of these iPhone 6's will be sold on the Chinese black market?

Is it true the sun will rise tomorrow? Not sure there is ever a time where a bunch of iPhones aren't sold on the Chinese black market. Or any device for that matter.

I was asking because the large number of two day sales can be misleading if the phones are being purchased just to be resold.

The 10 M number is without sales in China, unlike the previous record last year, which did. So even though black market sales account for some, it is still beating last year's record, even with back channel sales in China.

That's the way 99% of manufacturers record their sales, by units *shipped* not actually sold to end-users.

you could build the greatest phone in the world but don't advertise it and agresssive push it out to the people it will still sell horribly

You could build the greatest phone in the world, advertise the bejeezus out of it, agresssively push it out to the people it will still sell horribly when going up against the most popular brand in the world right now. Sorry, getting tired of these short-termed PR arguments against MS. Apple is the cool kid on the block, no amount of advertising is going to pull a significant amount of people away from them right now. Give it a few more years, 5 or so, keep putting devices into people's hands and slowly but surely people will grow tired of having i-everything and will start to flirt with trying other products. That's how marathons are won friend, too many commenters on here thinks MS blew it because they didn't advertise enough---as Daniel mentioned, Apple is a cultrual phenomenon right now. No amount of dollars thrown at the marketing dept will change that anytime in the near future. But long term, yes.

Yeah I'm well aware of apple being the leader but I can honestly say until recenetly(last few months) I hardly saw any ads about windows phone in stores there was nothing besides the one phone on the shelf now saying that in the last few months it has gotten better but my point still stands Microsoft hasn't done enough in terms of pushing windows phone out there tbh it seems to be changing now for these new models though

Android went up against Apple and won. It's not impossible.

Mostly true. But when you look at actual sales... Samsung went up against Apple and won.

Thoughtful comparison. OM8FW by choice... Sure.
Who's paying him to say that?
It surely isn't HTC, they haven't advertised on Mobile Nations once in the last 18 months. I've been watching almost zero TV lately. Is HTC airing commercials?

"Lumia 925 follow-up and widespread, simultaneous carrier release. Thin, metal, great camera and moderate display size are needed for the winning recipe. " THIS!

I really hope some MS people read this article too.

Too much apple news or comparison on wp central...
Who cares?
Is Apple a sponsor of WP Central? Max

Skip the story then, I don't give a damn. Are you paid by Microsoft for writing this comment? Fair is fair. (And no, Apple is not a sponsor, some of you in comments are beyond reproach).

LOL, i'm not a troll and i'm not paid by MS (unfortunately!! ;D)
That's my own opinion, i forgot the smile in my previous post, if you like
But, i find Apple or maroid news really boring and useless Sorry, my own opnion Another opinion of mine is that with phones like 1520 or 930 iphones or android junk has no reasons to exist
I don't understand how ppl are so crazy to buy an iphone nowadays A friend of mine that live near the NY Apple's store sent me some photos of ppl in the queue to buy i6... We are still laughing watching that Pictures and videos after 3 days Sorry, my own opinion too Anyway when MS enter a market soon or later competitors are "fried" LOL sorry ;-) Max

Genuinely have no idea what you're saying.
All I can say I that while I don't like iPhone's they made well and the software most importantly is slick, even if a little dull for my taste. All the apps are on iOS and everything on it is as smooth as butter in terms of functionality. Not to mention everything being optimised to perfection. I love Windows Phone for the OS design and hardware features. While I have all the apps I could want they really aren't optimised well enough and take a long time to be updated (low market share problem). I'm happy using a Lumia though, but most people just want everything to work. That's what the iPhone does. It just works.

Wow! You made the first reasonable, and unbiased, comment on this article... Good job❗

Commonly pervasive myths friend. Apple has done an excellent job creating and then cultivating those myths. Two previous iPhone owner here and both had ridiculous amounts of lock-ups, hang-ups and shut-downs I can't even count. My wife's work iPhone 5 just last week completely zereod out everything on the phone, won't connect with iTunes and her iCloud back-up is corrupted so everything = gone. My iPad screen went blank after 3 years, sold for parts on eBay for $40. Meanwhile, her 920 is still working with not a single lock-up since Nov 2012 and my current 1520 has shut down on me once, when I upgraded to 8.1. I'm sure my experience is not that uncommon, I just believe most Apple fans will conveniently forget all their quality problems because it's just not cool enough to use another product.

Lol❗❗❗❗❗❗❗❗ That's exactly what I've been saying! Funny.

I agree, but it is necessary for people to remain informed. I am surprised Daniel takes trolling so seriously, though. It comes with the territory. Its like the symbiotic relationship between like celebrities and those idiot paparazzi.

The fact is Daniel will shoot you down if you spout rubbish on his article. I would take it the exact same way and I'm glad he does it because he's usually right in what he says. @ray You say it's necessary for people to stay informed but the fact is, as Daniel, Rodney and myself already said, people in general don't care about specs. If it works that's all they care about.

I guess even Lumia 920 would still do as good as the iPhone 6 or even better...

I definitely want to gather up my best friend and head for one of the malls in our area soon to get to see the new iPhone 6 and 6 Plus up close and personal. I always enjoyed iOS, still do *eyes iPod touch 5th generation to her right* and I have to say that if something were to happen to my Lumia 925, 810 and 920, iPhone would be my main driver again. I also have an HTC One (M7), but I haven't found that anywhere near as good or smoothly functioning as Windows Phone or iOS. I agree with Daniel about how great it would have been if we'd gotten a true successor to the 925. Slightly larger screen, same build quality, slightly improved camera and that very well might have been my next device. Still, the 830 looks mighty sweet.

Apple system better than Windows Phone and beats everything

Apple system is better than Windows phone(at this point I agree).
But Beats everything???.

Bro why are you here then ???

Its all good, that is his opinion that I think you are I do not share

I think ahmeh_salah should start writing tech reviews. This kind of in-depth analysis is rarely seen in today's world.

You've convinced me. I must get rid of my Lumia 1020 and buy an iPhone right now! I don't know how I functioned before Apple invented a 5 inch phone with NFC.

I don't know how I functioned before Apple invented a 5 inch phone with NFC.

Sarcasm aside, Apple hasn't invented a 5" phone with NFC. At least be accurate, it's a 4.7" and 5.5" phone. And NFC, while included, is not generally available for any function other than Apple Pay. And that's the part you left out. I personally think that the new improved Touch ID combined with Apple Pay is going bring big changes to retail sales.

I'll sell my 1520 and get iPhone right now because you said it's the best. And because everybody else has one!

and lumia 1020 has barometer

...which is used for what, again?

The barometer is used for elevation detection and the GPS to obtain a lock faster (one less variable to solve for) , mostly.

Are we sure about this? I have seen no documentation that the OS support this feature.

http://letmebingthatforyou.com/?q=lumia20barometer

This was not helpful. The question I asked was does the OS support pulling data from it? Are there APIs? The answer is no for APIs and I have no evidence the OS utilizes it either.

I bet Microsoft might be able to answer those questions. Know anyone with sources over there?

the barometer was not supported in wp.8 and wp7 ....in 8.1 they give us acces to a lot much more classes wich includes Microsoft.Devices.Sensors where you can get the data from the barometer ...

I tried iPhone 6 plus and absolutely loved the design. So comfortable in hand. However the only thing that's going to iPhone are the apps. Without apps, iPhone is completely useless.

What is the infrared sensor listed in the specs on the iPhone 6's ? Thanks!

I played with the iPhone 6s and am glad that I have my Lumia 1520. While there is really nothing wrong on the iPhone (well, maybe the price), iOS is just a terribly boring OS. I used the 6s for about half an hour, pretty much out of the box so the amount of apps installed was limited. It is really hard not to get bored looking at the screen when you are used for information to be available via live tiles. I'll stick with WP.

Agree, ios has more apps than WP at the moment, but as OS it sound terribly boring and old Here in Italy a lot of old ppl >60 are using iphones, it looks old like them too Max

The notification widgets are a good start, but yes I dont see the draw to iPhone. It really is not as good as the WP OS.

Well said. Will never get tired of live tiles giving me so much info on my home screen. Like Dan said-there is just nothing there on ios (and crapdroid) home screens.

I watched Dan's video and he's obsessing about viewing angles. I actually wish phones had less viewing angles for more privacy. It would be cool if I could be sitting next to someone and they couldn't see my display.

MS applied for a patent on this. Forgot the name and it was shown awhile back. Oh yea, it was called"incognito mode".

It's annoying how people do tend to care so much about wide viewing angles, etc. Who is going to functionally use their phone at a 170° angle? The only sensible viewing angle to use your phone, is looking at it directly. Idgi

I still remember laptops from about 10 years ago with a viewing angle of like 1°. That was annoying as hell as you had to be dead center to the screen to see anything. I guess the whole viewing angle competition between OEM's is something that just stuck from those days.

Nokia Lumia 930 got OTA GDR1 Update this day...

Yesterday and we reported it already. Please don't hijack comments.

Amazing how small the battery capacity is... will be interested to compare real world usage patterns. Then again... stop tempting me. Patiently waiting for an AT&T flagship...

My initial impressions? Battery life is real good on the iPhone 6. Also real good on HTC One.

Everything I've heard from iPhone 6 users is that the battery life is comparable to the iPhone 5s, that being one of the disappointments. Most expected a significant increase in battery life, especially seeing as they have quite an investment to make in new accessories (juicepacks being one of them).

What are you talking about, AT&T still have the 1020 and 1520 don't they? Those are still flagship in my opinion.

My local AT&T corporate store has 0 Windows Phones in stock or on display... 0. You can still get one, if you chase it. Anything else, you can walk out the door with (Fire Phone, 'droid, Apple...)

1520 still definitely flagship. Another month it will be a year old (have had mine since April) and can't see what would be substantially "better" than it.

To each his own. Marketing hype unfortunately seems to outsell to the masses who care less about hardware specs and more so about what works easier for them. While I can respect the craftsmanship and attention to detail on the iPhone I will default to my Nokia 1520 hands down as the best phone for my needs.

"I will default to my Nokia 1520 hands down as the best phone for my needs."

Which is totally fine. The issue I have is there is nothing compelling in the middle for the masses. At Best Buy, I saw women in their 50's discussing which iPhone to get. See if ATT has that problem with their Lumia 1520.

lol, I have never, not once, not ever, hear anybody in any store of any kind dicuss which windows phone to buy. Including microsoft stores. So you're totally right, sadly.

My friends and workmates tell me that it's difficult to use a Windows phone. I always tell them to try it out first. Some of them checks my 920 and they were impressed somehow by the way it looks. Not gonna give up my 920, dropped it many times, fee scratches on the glass because there's no screen shield.

The 920 is a champ. One too many drops on mine and the screen cracked along with the phone receiver speaker which quit working. Get a military suit screen shield works great against scratching.

Hope you'll do the same thing for Android flagships.
I understand the hype about Apple in North America, but not elsewhere. I'm pretty sure half of the world acknowledges the existence of the new iPhones, and that never in History a product has received so much free advertisement.

Depends how I feel. Personally, there are very few Android devices that I find compelling enough to buy.

The LG G3 is the most attractive IMO.

Not with its lag, trying to push that screen with a sd801. Too many pixels to push. Battery life and performance suffers.

I always have this feeling that even having an Android phone with 2-3GB RAM will eventually cause lagging. I always have to wipe cache partition on my 2012 Nexus 7 everytime it slows down. Never did that on my Lumia 920.

My 2013 Nexus 7 is the same way. Starts lagging very soon after reboot/clear cache as well. Haven't had that problem with any of my Windows Phones (900, 920, or 1520).

A 4.5" display, expansible storage and a snapdragon 80(1 or 5) and I'll love it

Microsoft should make a Lumia 935 and lanuch it as soon as possible as it looks like Lumia 1030 is far away at the moment.

If you don't understand why the Iphone sells so well, then you haven't been living the past idk 7 years.

So this means that's it - isn't it? All I read to that is A) A. is better. B) You're fubbbed up. Anyway, this means Game over - also for wpc. You switch - I switch, all Good.

No idea what any of that means.

It just seems like your leaning to or favoring Apple at least. I can understand that but it makes me sad - seems I have to go for Google now.

Simply because I point out strengths of one system over another? The world is not black and white, and if you expect me to take a knee-jerk fanboy reaction to the iPhone, sorry. I pointed out numerous times that even though I have the phone, I don't prefer it. So I am not sure what this 'loss of faith' business is about.

Don't listen to him Daniel, your opinion should have nothing to do with his want to mkve to an Android device. It makes zero sense.

@Dare You need to sort yourself out. Tbh I think we'd be better if you left WPC and went elsewhere. The comments section would certainly be healthier. Just base your phone choice on what it does for you. iPhone sells because it does more for more people. We need a Windows Phone device with that sane philosophy, on the hardware side it will come it's just building up the apps and usable features more now.

But those apps can be really useful that not having them on Windows Phone can be frustrating at times even for somebody like me. I want to buy a Withings watch for fitness but that thing is only IOS compatibl!

To answer your question about what msft could learn from this, I would say that they should do as you mentioned earlier and release a premium phone that has all the high quality specs, such as a 925 successor. And for goodness sake, just release the phone to all carriers and put more advertising behind and support behind their products.

Perhaps comparing the adreno gpus with apples a8 would be a good article.

I am not really a fan of metal phones. Having said that, I would love to see a VaporMG phone. And other than not having Glance, I really love my Icon

Microsoft even gave up on VaporMG due to production issues, if I recall. The new Surface Pro 3 uses some other Mg combo instead. But sure, point stands. Make something to match the Surface.

IPhone 6 has almost the same specs like HTC 8x. So I don't know how could it be much better performer in anything..

Sorry, but this makes no sense. Apple has their own custom CPU and custom OS, built together. It performs brilliantly. It does not matter what the specs are, what matters is if it is fast. Launching apps, camera, games, are also fast and smooth on the iPhone. It is more than just specs, it is the whole picture.

Thanks for clarification. It would be great if Microsoft could do something like that on Windows Phone platform. Maybe there would be no need for quad core processors if phones could work great as the iPhone works on dual core.

In theory, with Microsoft making their own hardware, we will see their Windows Phone be more like a Surface. Not literally, but in terms of custom, unique design and an excellent marriage of OS/hardware.

I just hope that those Surface phones will get great battery life like the Surface has. Sorry if I'm annoying, but could you share a Basemark OS II test result of the iPhone 6, just to get feeling how much is it better than my 8x.

Just to add the obvious hence the Nokia name will be replaced on all coming devices, I think it kinda makes sense for a slow marketing strategy for now from MS ei avoid confusion on later stages (when whole migration is complete) obviously the company has long term goals and future plans.

As Phil Schiller says... "it just works" and he's right. It's their chip, their software, their hardware and a unified product without compromise. They defined the smartphone market and own it. There are alway going to be alternatives but Apple is the one to beat and no one, not even Satya Nadella, would deny it. You can knock and ridicule Apple all you want but at the end of the day their selling the products the public wants and that is all that matters.

There are two things I have to say. One, in a review like this where you f don't really go into small details, you should at least mention the money involved for each device. Two, I never really got the hype around the weight of a phone. My L920 may be a bit too heavy, but I really like the fact that I've got something in my hand. The iPhone 6 to my taste is too thin and light and far too expensive.

Costs are listed in the table.

I dropped my L925 for the 4.7 IPhone 6 and I will probably be going back to WP as soon as something catches my eye (if ATT would have realesed the M8 sooner, i wouldnt have gotten an iPhone). The Good: Its light, its thin. It does have more apps (but ive never been an app person) fingerprint unlock the battery does seem to last longer. The bad: MS integration seems awkward. Siri really isnt as nice as Cortana Everything is hard to reach (i hate having to tap the top of the phone for the address bar in Safari) Integration in to 3rd party services isnt as good (Facebook, LinkedIn, etc). No lock screen weather. The 'Meh': Safari is good. Xbox Music does work better. Overall, the hardware of iPhone is really nice, but the UI just seems messy compared to WP. ill keep it for a year and then get next best WP.

That is odd because my friend who is an iPhone fanatic tells me the Windows Phone OS looks messy. I am not surprised Xbox music works better on an iPhone. :/

crap is just everywhere. To me, it just seems that with a lot of apps, iPhone makes you search for the one you want, while WP has the jump list. Maybe messy isnt a good word. Maybe...less functional?? Its harder to navigate, i know that.

We both know that if iOS 9 comes out with resizable icons that update the information in them, your friend will think it's just amazing and magical!

People think WP looks messy as they're used to something else but for those I've convinced to give WP a try, they've got on with it just fine. They're just not used to that level of customisation and interface.

The author should compare this iPhone with a Lumia 520. I am pretty excited to see how well it stacks up against our mighty and invincible Lumia 520.

Now, thanks for cracking me up, almost broke a rib

I really think that there is only one thing that makes windows phone one step behind iOS and Android. The store apps. Only that BIG problem. In other specs WP is the best. When I compare my Lumia 1520 with other devices (iPhone, Android) I always lose in Apps subject.

I'd argue that it is even less than that, it is the app thing but just perception.

We've gone over this a million times here on the site, so I won't rehash the "quality, quantity, coolness" gap compared to iOS. But I think that it's a problem when companies that DO have apps for WP don't even advertise it or let customers know in the same way they let them know about iOS/Android apps. It would raise awareness immensely for WP, and it's just not happening. That is partly what creates the perception.

Yes, this. It's annoying when I'm using a companies app and see a commercial for said company and they only mention their android and IOS apps.

Apps isn't the problem now, it's more feature parity within the apps. Later release dates doesn't help either but things are still getting better.

Peoples perception of Windows Phone is often misguided. A few examples, don't buy a Windows Phone its like using a computer. How can you be playing Star Wars Commander, its a Windows Phone. I asked the question, name an mainstream app you have on your Iphone that isn't on Windows Phone, lets just say he struggled. I have had phones on other platforms but prefer the WP eco system, not bashing other platforms but WP is certainly more personal. I just wish that the mainstream apps where made at least on par with the other platforms, instead we seem to get a cut down, substandard version finding people using 3rd party apps to compensate. I think also the mobile phone shops don't help in promoting WP, often giving out misleading and often inaccurate information and seem brainwashed into selling you an Iphone.

after facing issues like overheat and lagg... today I started facing this new problem Can't hear callers with my new lumia 1520 today...

I've honestly never felt that weight was a drawback. I like the weight of my 920, though I've never had another smartphone, so I can't say too much about the comparison. But the weight feels nice, I never get tired holding it, and I never wish it was lighter.

Weight can be good, if it is also thin. Or if it is slightly thick but light. I think the danger is if it is thick and heavy, like the 920/930, people will complain.

Well having it be thinner is another thing I never wish for or see the point of. Though that's just me. I can kind of understand people wanting lighter and thinner, but I'm also the one who enjoys having a big beefy laptop rather than something that sacrifices functionality for weight and size.

When I use my 1520 by holding it to my ear, I have the same problem. The caller seems very far away and hard to hear. Fortunately, I use my bluetooth headset in the house, or my car bluetooth when driving. If not for those things, I would be highly annoyed. I am annoyed actually, that a device that is so good is severly lacking in the ONE thing that it should do perfectly... BE A DAMN PHONE!

Then your device is faulty. Get it repaired/replaced.

iPhone 6 can only be compared to Lumia 735, and iPhone 6 Plus to Lumia 830. C'mon! HTC One M8? Lumia 930? Lumia 1520? These ones chew iPhone 6 and Plus like a bubble gum...
This article is an insult to Windows Phone and these models!

...and yet they sold 10 million. Whereas Windows Phone has 3% market share. Should we not try to understand some of the factors that go into that, or is this all just pride?

But as you know, the biggest factor is popular sub-culture and vanity. 70% of iPhone users buy these phones just to say "I've got an iPhone. The most expensive phone." These days, your phone is who you are, right? This is why iPhone has that market share... iPhone was never the best phone. iOS is a great OS. But iPhone is just a luxury phone that drives iOS, that's it.

You can say that people have stupid reasons for buying an iPhone, but the fact is that Apple sells a shit load of iPhones.... All that matters is can MS do the same... GCWCID❗

This article is as relevant as they come. The phone is a combination of the hardware and software working in sync. In that respect no actually iPhone is the best phone as it does everything very well. WP isn't quite there yet.

Man! Daniel has all the phones I crave for!! Even I want all these perks at my job :D

I hope the next premium phones have an sd slot and mega camera

Daniel you forgot to mention,
IPhone 6 plus bends too... Haha
Whereas 1520 doesn't

I mention #BentGate specifically, actually, ;)

iOS had 7 years of development, in each case apple had to make a new hardware to support thar OS, so each user had to buy a new idevice to use the new features. In case of Windows phone, a youth OS, microsoft develop new features thar Really works in your actual device an no necesary to run like zombie to get a new device on major of cases. Sure, there's new nokia devices but same OS. As I see, apple thinks on money, Microsoft thinks on create or solve.

1030 needed to reinforce camera dominance...just make it quicker than the 1020!

The HTC looks the best. Personally, I hate the bright colors of Lumia phones. Just give me black or dark gray...

All of those devices come in black anyway.

Why is the Icon never mentioned? I thought it was a flagship phone with amazing specs?!

I am happy with my Lumia 1520 though that Incredible Hulk would be nice to have :) It is good to see how some of the Windows Phones hold up against the iPhone. Yet we know that hardware is not the problem when it comes to Windows Phones vs the iPhone. The WP app selection must improve and it is time for real marketing plan besides a few Katy Perry videos :)

Icon is a renamed 930/variant...

The Icon and Lumia 930 are the same phone. I mention the 930 numerous times in this article, ergo I mention the Icon numerous times as well.

Same as the 930 but without WP 8.1. And a US Verizon exclusive.

Think Lumia 930, which he mentioned and compared

The iPhone 6 is very nice. Not a fan of the lines all around the back, but most people have covers anyway. At the end of the day, let's be honest- it can have inferior specs compared to every other phone out there, but as long as Apple has developers, they're golden.

Daniel serious question. What was you overall impression on iOS 8? You mentioned a few features in the article but did you notice anything that 'WOWed' you? Just curious...

I like how smooth it is, the animations, the way text looks. I prefer 8.1 Notification Center and Cortana. There's not too much to say about the OS. It does what it does well, but the look of it is terribly drab. Even folder support is 'meh'.

All I need from my WP is to control my home automation via Wink, Sonos, and YNAB. I have tried Divvy, don't bother. I have not tried Phonos, but I really do want first party on this one. If I can get that in 2015 I'm in with WP permanently. If not I'm switching to a damn iPhone 7s+. I have a OnePlus now, fantastic hardware, Cyanogenmod is nice to be able to work sans google account with all my MS apps, but still dealing with occasional crashes and the phone cannot be encrypted (yet) due to some bootloader issue. I got it for free, can't complain, much.

If the 1520 had an IR and metal frame I think it would be the perfect smartphone. I have always said that people can't go wrong picking an iPhone and they have proved it again. For me I'll stick with Windows.

Daniel is there really any evidence that the lumia 930 didn't sell well because of its weight/thickness? Or that people really care that much about having an ultra thin phone? In it not more likely that the 930 didn't sell as well as it should because I had old hardware by the time it was launched and took forever to actually become available. I find that far more plausible. From my limited experience with the 930 I can't fathom anyone actually rejecting it because of its size/weight. It's a stunning device and I think that if it had become available worldwide at the same time the icon did and was proper marketing, it would have sold much more.

Evidence in hard numbers? Certainly not. This is anecdotal from user feedback, inquiries, forum stats, how many are using it to visit our site, etc. The 920 had great acceptance, with many users divided on the 930, in my opinion.

Hmm correct me if i'm wrong but the 920, when it came out, was crucified by the media for being too heavy/thick so opinions where also devided there. You just can't please everyone. I think most people, if given the choice, would prefer a sligly thicker phone with a bigger battery than a thinner one.

Based on this forum, people felt it was an incremental upgrade not something they "had to have". Size/weight seems less important.

MS, please bring me the Surface Phone. Or the 1030. Or the 925 successor that was mentioned. Or anything with a great build quality, 4.7-5" 1080p amoled display, 20+ mp pureview, snapdragon 805, 2750+ mah battery, and expandable storage and I will throw $$ at you. Preferably before the holidays :)

Great article, Daniel! You probably write the most unbiased articles out there.

Thanks. I try to keep a balance between preferring one thing, but recognizing the benefits of something else. The key is to not act like tech reviewer, but rather how ordinary people who go to AT&T, Best Buy or the mall look at phones and tech.

"The key is to not act like tech reviewer, but rather how ordinary people who go to AT&T, Best Buy or the mall look at phones and tech." One of those places is not like the others... only AT&T has Windows phones. :) Ordinary people that go to Best Buy and the mall will never buy any of the Windows Phones in the article because they are nowhere to be found there.

Dude, that's besides the point... Really?? Lol.

I think its good, because people searching for reviews about the iPhone 6 will get exposure to viable windows phone alternatives that get very little attention in the media.

Nice comparison from someone who understands Windows Phone. I give all technology a chance (otherwise I wouldn't be using a Windows Phone!), and you definitely articulated how I feel when I turn on my iPhone 5c - there's nothing going on, and feels completely static. There are plenty of things I like about using the iPhone, but I'm not a heavy app user and just don't see any point in paying more for a product that I'm only lukewarm towards. My "old" Lumia 1020 cost me $450 brand new, unlocked. Taking an iPhone 6 with a less-capable camera and half the storage would cost $200 more than I paid for that. I don't see the value.

Hey Daniel, great article and video! One correction with your article though, it's said that the Denim update will not bring the speed improvements to the 1020 and other similarly older phones due to the chipset inside: http://www.nokiapoweruser.com/2014/09/16/lumia-1020-wont-get-the-camera-speed-improvements-with-lumiadenim

A lot remains to be seen with that update. I was told by Microsoft to expect improvements with the 1020 and Denim.

Maybe they meant not to the same extent? The 1020 is very slow and they have limited hardware to make it work as quickly as something with half the sensor size and a much better CPU.

I don't get the hype around iPhones to be honest :D it's only leading in the US.. Here where I am almost every one lol's at iPhones.. and about the speed, pure Android eats it (4.4.4 Kitkat) .. Android L (Even better ) here I come ! :) - you can check it yourself in the new videos. The only interesting part is the hardware and by that I mean the exterior (aluminium, very thin) design :). However, I have my hands set on Windows Phone. The one and only thing that really pisses me off is the "Loading, loading, loading.." all the time & BIG NAME DEVELOPERS apps. Yet there's just something special about it. I wish that big devs saw the potential of wp.. they make the OS look great after all..

The 'loading' thing changes when devs switch to 8.1 RT apps for Windows Phone. Much, much better performance.

Happy to hear that, Thanks for info. Solved few thoughts on my mind :P

I hope Microsoft is pushing developers to update their apps to avoid "loading, resuming" thing. It's driving me nuts. The other day a friend asked if it was his 520 to blame for slowness of 8.1, and I mentioned it's the few apps that don't follow Fast App Resume, including Skype (which he showed me)! He mentioned it in passing to someone that we were talking about why Windows phone is slow. Felt terrible!

I would be interested in Lumia 935, but don't do screen size bigger than 4.7!!! It's optimal.

REALLY need an early review for the 830 to see west the performance is like.

I completely agree. I think the S400 will hold its own. I love the MicroSD expansion slot.

I was really impressed with the thickness of the iPhone 6 until I saw that they are getting bent in peoples pockets. I hope Microsoft Mobile can make something nearly as thin without the loss of build quality. I'll be sticking with my 1520 until something better comes along since it is still a better device than the iPhone 6.

What is the calendar app used in the photo of these phones?

Daniel rubino. Now, you are biased my boy, talking about games, and now comming like a sheep telling others that phone calls? For real? Apps? What can be fat in apps? And browser?. My 1020 opens almost all online videos, and not only that, they can be played like in a desktop browser, java, and so on. What can a iphone open. Photos? A streep down browser, yeah is faster. But hey, is not even close that fast in front of my 1020 to even worth the sacrifice. Now, talkinng about biased and sheeps.

I'll ignore your comment due to lack of proper English and overall coherency. Seriously, your comment is a mess and if English is your second language, my apologies, but you should hold off on making accusatory comments.

I'll 2nd on Daniel's response

Just don't comment ever again.

I'm not sure its entirely fair to call anything design related 'samsung-esque', especially related to the iPhone. you are right though; Microsoft really needs to set the bar with a serious flagship device. they are quite behind (with pretty much everything) and need to either beat the competitors to the punch or push out more more often. I feel like it's an expense, but one that is necessary to be competitive when coming from so far behind

They already set the bar. Read the specs. Apple is playing catchup.

Microsoft just needs to get in bed with all these app developers and do something to compel them to make apps for the Windows Store. They have the devices, as you can see in the article comparison. They can't waste money creating an amazing device before providing the amazing experience for that device. Windows Phone will grow when the majority of app commercials say "download from the Windows Store", "available on Windows", etc.

Microsoft offers them money, I'm not sure what more you could ask them to do.

Thank you Daniel for an unbiased, quality, in-depth review. The iPhone is a quality device and will suit the needs of its user. For me I appreciate the uniqueness of my red 1520. The size, camera and the way it fits into my windows eco system suits me well. Again, bravo sir on the review.

Thanks, glad you enjoyed it!

Compare the iPhone 6 Plus model! (against Lumia 1520 & Note 4)
The smaller iPhone is stone aged compared to the the Plus model

Search our site, Mark has already done two videos comparisons with the iPhone 6 Plus and 1520.

The best L1520, pois tanto no designer e desempenho sao bastante envolvente em relaçao ao soft , vale a pena !!!!!!!!!!!!

Really want to check out the 830 to see what it's like

you will soon be able to jailbreak ios 8 and get whatever design you want so the design isnt a compromise to me.

I'm very surprised you own an Apple tv, which to me is more useless than the iphone and simply another way for apple to keep its filthy hands in your pocket

It was given to me, I never bought it ;) I also don't like it and bought a Roku 3 (for UFC Fight Pass). That I do like.

ahhh, fair enough. RESPECT!

The reason I love Lumias - Build Quality ! Apple stands nowhere in terms of build quality :)

The problem with Apple and their products is they're closed, hard to customize, lack variety and diversity, slow to changes in the market, and highly overpriced. But if you're not a tech savvy person and want everything done for you its compelling I suppose.

All those people standing in line to buy the iPhone reminded me of something.... Hummm... Rymes with bleep... Ah right... Sheep. My 1520 blows it away.

Being an owner of the Lumia 1520 and long time WP user, I appreciate an honest view of iPhone and WP. I can certainly agree that WP cameras, while they take great pictures, are.very slow to launch and shutter speed tend to be rather slow. Resulting in often missed moments. Hopefully, the Denim update will correct this and add other little tweaks to the OS.

Great Article Daniel!! Very well drafted... Especially like your honestly, giving your opinion about Apples products... I'm not a fan of the Iphone, actually never likes me any of them. But have to admit that it have a great design. But if your like me and most away from the "time emotion", and you chose something that fills your day-to-day use, you definitely going for a Windows phone (My case, a Lumia)

Meh. It doesn't matter how well the current Lumias hold up to the iPhone since the market simply doesn't care about Lumias. Partially because MS themselves can't be bothered to actually advertise them. I can't believe that there is no high end Lumia for this holiday season. All I want right now is a true high end Lumia that is actually worth upgrading to from my 920. On a sidenote that finger print sensor is actually way more useful than I thought it would be. Especially in iOS8 since it's now available to 3rd party apps like 1Password. Hopefully MS implements something like that in the future.

Yeah, the finger ID is pretty cool. I like holding it down/it reads at the same time to unlock. Smart.

Lumia 930 advertised a lot here in the UK as well as 630 and Surface Pro 3. From what I can tell they don't sell too badly here.

I hate number password unlock your phone with a passion!!!! So archaic! MS wake up!

I am a little surprised at how well the 1520 holds up compared to the iPhone 6 Plus, which is brand new hardware and software. The 1520 has a larger screen, expandable storage, an arguably better camera and possibly better battery life. There is nothing about the 6 Plus that seems revolutionary and the UI continues to be minimalist to the point of boring. I do think iPhone is clearly the winner when it comes to number and quality of apps, plus the plethora of accesories available. For me the biggest advantage of the iPhone 6 Plus is that it is available on all carriers where 1520 is exclusive to AT&T. I could save money every month by going with a different carrier.

I want 55 MP sensor and Canon lens!!!!! ;-)
Of Course on a 1520 :-) Max

I couldn't give a stuff if Apple sell 100million, I'm not spending £500 of my hard earned wonga on a phone that smashes when dropped! I'll stay with my 630 fanx.

The only good thing I see from IPhone is the huge amount of apps, but isn't a break deal for me. My Lumia Icon satisfy every need I have. From my camera thru apps and OS. iPhone is too expensive, cheap construction and no storage enough.

I wonder though if Windows Phone will ever have a really killer OS that wows people. A lot of it is catch up, except for Cortana which I think bitch slaps the other assistants. I won't be leaving windows phone but I feel like the next upgrade is just gonna catch up to what ios now offers or android offered a year ago. We don't even have baked in GIF support. I wanna see windows phone succeed.

It takes time and to be honest I think it's the best looking OS out there and offers more function on the start screen. Just needs more feature support and better apps.

Don't forget guys on WP will occur something that'll upset the world. You'll see.

difference between ios and wp. if i buy an iphone i will get all the apps my friends use and games they play. i will get a device that is easy to understand, and works the way i expect. and if the phone doesnt work i can take it to an apple store in a shopping centre no further than 45mins to an hour from me and if i have waranty im likely to get a replaced or have it fixed in a week. as a customer i've just described why i would buy a phone and apple tickes more boxes than the rest.

WP just needs apps, and there actually needs to be phones in stores. WP 8.1.1 is a fantastic OS, so that's no longer the issue. Apps! Phones in stores! There. I solved it!

But seriously, how did apple manage to sell 10mil iPhones in 3 days?

How? They have great manufacturing experience, purchasing experience, a happy user base and more media hype than any other product on the planet.

By dint of iPhone factory workers in China... They are working 18 hours per day and earning 200 dollars per month. Also they win a FREE CANCER in 3 years, and die!

Because Crapple has tons of loyal brainless sheep that buys anything they put out.

I'll probably stay on WP forever. I tried Android an iOS and they just not what I like. Sure, they have tons of apps and support, but os platform is just not so great as I aspected. WP is completely different, fresh and inovative. I hope they succed in the future.

I am pretty sure I read that the iphone 6 has an IPS LCD display as well. Dont think I have ever seen an IPS LED. I could be wrong though. They have also put a polarizer in it so they pretty much have clear black as well. From a platform perspective it is getting harder to stay away from the others. I have been an MS XBOX music, One Note, OneDrive etc user for years. It is now much easier to use them on other platforms than in the past. I love my 1520 but there are apps I need for work that just arent available or are crippled in functionality on WP. For example my company uses Concur for expense management. The app on WP is crippled and this is even more puzzling as MS also uses Concur. I am not a big Google fan and had no interest in the iPhone primarily due to the screen size. This has changed now. My phone is due for an upgrade in January. Unless there is more movement I may switch. If I switch then that means my tablet gets switched as well. Come on MS get your stuff together particularly in North America. Please.........

Apps apps apps. Imagine if they used that $2.5b they flushed down the toilet to buy Minecraft to improve the app situation instead. Imo, this platform is dying. It's sad, but MS has just made so many missteps.

Everyone knows that! The Windows Phone users demand more quality apps, we want that MS put money where they need to spend...but they don't notice that and again...the same problem in every WP version, no apps. They can make the best phone in the world but if there is not a store with apps in use in other OS, it will not work at all. There is the answer for the platform success. I always said that!

I love Windows Phone, but developers seriously need to do more work optimizing apps/minimizing animations to work on speed.

He said that the m8 doesn't have slow motion but it does.

ms needs a 4.7-5" phone with a huge battery and surfaceish design with vaporMG matte finish, that 20mp pureview camera owns the market so no need for more, add a selfie 5mp camera with flash so it can be used as retina scanner beating apple's touchID at the same time, it cant omit lumia features such as glance screen, decent stereo speakers and water-dust resistance would make this an all around EXCELLENT phone, and dont forget the XENON flash, we need the pureview brand to mean something to even the most novice users

I agree with the second to last paragraph. The 925 successor would be much welcomed. The phone it's gorgeous. Best looking Lumia to me. Pictures don't do it justice. Holding it the first time I felt like it was an elegant piece of machinery. Gorgeous AMOLED display. No restrictions. Besides the typical SD Card which is really the killer for this and many other phones. Yes MS, I have recently finally adopted OneDrive. You win.... Now can I have SD support so I don't have to stream songs on my 2G reception from TMO???!!! K thanks!!!

Wow hmm can't wait until I'm one of the last ones too own WP

Great review, but I'll always love my 1020

Great unbiased comparison. I just wish that people would actually get to see these phones in the same places where iPhones are sold.

My daughter switched from a L900➡ 520(temp) to the iPhone 6. She got tired of waiting for something new on ATT and she wanted better app choices. I spent a couple of hours helping her get set up and have a few impressions of the iPhone. It is a compelling device. Thin, light, great build quality which is to be expected from apple. The finger scanner is so functional and the camera is blazing fast. To a current iPhone user there is hardly a reason to switch to another platform if just looking at hardware. If this phone was built for WP all of you in this forum would be gushing.
Having said all that, IOS8 is just stale. I forgot how tedious it is to move around in a menu driven OS. It's kinda of like using Win8 vs Win7. Once your used to using Win8, Win 7 feels antiquated as does IOS8.
My daughter as well as I were astonished at some of the missing functions. For example, the lack of photos in the contact list, no back key, tap and hold actions, and the panoramic screens (side scrolling) not to mention live tiles. We both were struggling to move around until we started ignoring gestures. I know its a matter of what you're used to, but that OS is not modern at all. I have a 1520, and I feel that phone is not even in the same category functionality wise. Add in the app situation though and things change.
To sum it up, my daughter is happy with her purchase even though I reminded her she could of bought the 735 and the 830 for the price of the iPhone. She says she's slowly getting used to the OS but will definitely miss the features that WP offers.

I enjoyed your post. My partner has an iPhone 5S and is convinced I need to join the rest of civilization and get an iPhone 6 Plus, since he knows I like large phones. Iphone sound great until I actually start using one and then I think "why do I want this?" He was very impressed that Siri with iOS8 could identify a song playing on the radio until I did the same thing with Cortana. I have also been reading reports that iPhone 6 Plus can bend in your pocket, which has never happened with my 1520. BTW he is using my phone at the hotel right now because I get 5 signal bars with AT&T and he gets 1 with Sprint and can't make a call.

Near-legendary?
No mate...920 is in fact legen........wait for it.....dary!!!

Honestly, unless you're one of the few ppl (like us) that prefers WP over iOS and Android, theres no reason to get a Lumia over an iPhone. Only the 1020 has a camera that is def better. Wireless charging is nice but not a knockout feature. In every other way, esp in apps and the thumb scanner, life is just a lot easier with an iPhone. Thats just the unfortunate truth.

One thing about iPhone is that specs don't matter that much, what really counts is the user experience. That (and the price) is what I loved so much about Windows Phone, but, sadly, MS seems to be heading towards an Android-like approach :/

The 1520 is the best phone in the world

Im agree with that!!!! Is the BEST!

1020 successor. Now. Go MS, go. :)

I've been waiting for this! I hangout tuff on most tech-$ites but there's a certain comfort when WPCentral comes along to tell me up from down.

Lumia 830 should have had a snapdragon 800. Damn it.

Then it would steal any sales from the 930 cuz it would be better in practically every way

Then it should have been dubbed the "940"

For some unknown reason, the iPhone has never appealed to me. I prefer the stronger build of Lumia, iphone doesn't look so sturdy.

I like the new keyboard options in ios 8

I really wish I could buy 1 million Nokia phones and resell them myself. A lot of people even in my country, Canada, which is considered a rich country don't have the money for iPhones and Windows phone is such a good alternative. A lot of ppl are interested in my Lumias when I sell them for a newer phone, and these were regular people not geeks.

I snickered a bit when you tried to scroll up and down on the iPhone so the screen wouldn't turn off. And you did it two times! Nice lil touch haha Anyway, nice post. It's always tricky judge other platforms when you're so into another but you did a great job at it. To me, there's three great things about the iPhone: Touch responsiveness, Touch ID and the sheer amount of quality apps there is on the App Store. We do have some quality apps on WP (Nextgen Reader, Note+ and even Torch), but compared to the App Store, it's not enough.

I feel with MS, threshold is their last chance to prove themselves. If that isn't successful then WP it whatever MS does with it probably won't ever take off

I disagree. MS has almost unlimited resources. If they can get 10% global share they'd be set. It's within reach. Perhaps another 2-3 years. Its slowed but you can thank the Nokia ms deal partly for that. It'll ramp up.

From 3% to 10% global share in 2-3 yrs? I'd say that's pretty much impossible. Something like 4-5% in three or four years, *maybe*, if Microsoft doesn't pull the plug on mobile before then. The current CEO doesn't seem all that enthused with their own mobile hardware efforts.

While I agree with you, is threshold that MS should really try to take advantage of. It's the perfect plan. And I feel like if within a year after threshold is properly released, if signs aren't looking better, then MS will have wasted the perfect opportunity to dent the market

I should elaborate... I own a 920. Its the best phone I've ever owned, easily. I want the camera power of a 1020 as a photographer hobbyist (particularly astrophotography). I just hope in a few months we see what replaces the 1020. :)

Thanks Daniel. This is a greater comparison. My opinion is Lumia wins. I own a 625, though the display ain't that good i still appreciate what it can do. Loving windows phone WPCENTRAL and all editors changed my perspective about phones settling on Windows phone. Hoping to one day win an high end phone in this contests

The 625 is a really nice device, glad you enjoy it!

Daniel; your writings are a joy to read, even when I don't agree with you or I wished it were not true, you take time to test these things and give detailed recap that one would find hard to argue against. You present features as a well thought out details and you give readers true opportunities to chew on your summary without fan boism (I just coined that, and I like it). But, you know what I love most about your articles, you sound genuine and not afraid to give credit to what I call the opposition(s) when ans where credit is due, you present what you believe are areas of opportuniies for WP if only MSFT wwould listen. Keep up the good work, in my humble opinion, you nailed this one like lots of others I have read.

Thanks, I appreciate the comments!

I really like WP, but I can't see them being around long; There is really no reason to buy one over the top androids and the iPhone 6. Its mainly because of the lack of app support, but WP is also behind with just about everything else. Its like they just don't get it and I guess all the creative nerds work for apple and google. Smh...i really want wp to succeed tho.

I think the observation on the 925 followup is spot on. I would add it should also have microSD support since only WP now allows apps to run off the SD.

I don't get the hype. Yes the iPhone finally caught up with all the current Android & Windows Phones but just barely. In three months time there will be a pile of new phones that surpass the 6s and it'll be another year before another iPhone comes along to catch up again. Lighter and thinner? Big deal, we're not comparing bricks to pebbles here and it's more about splitting hairs. I have a Lumia 925 and I checked the specs. The ip6 is roughly par with my current phone, thus switching in my case wouldn't be an upgrade and looking at the specs of the 930, the 930 beats it in almost every aspect. Again, in three months the iPhone 6's will be already obsolete. Considering the bloated prices, no microSD, moderate cameras, lack of RAM and only dual core CPU (not Quad) there is no interest in switching. Not in the slightest.

"So even though the iPhone has less RAM than a Lumia 1520, in the end it is not pertinent from a performance perspective (although maybe for the price)." It's not about specs, it's about performance. And in that dept, the new iPhone outperforms most phones out there right now. They know how to optimize their software. If specs mattered to me or most people here, we wouldn't be here. We care about the experience, and for the most part, the experience, barring our app situation, is Grrrrrreat!

Interesting article - and it is good to read some sensible consideration of iOs and the iPhone. Not particularly a fan of Apple,but what I really can't stand is the usual dismissal of competing systems from fanatics - from all camps.Thankfully Daniel is above such narrow-mindedness. I have had iPhones, Androids and a Lumia 1020 and to be honest there are pluses and minuses for each. I love the individuality and the hardware of my Lumia, I think Windows phone 8.1 is developing nicely. However there is no doubt that Apple have tuned their OS to work beautifully on their hardware - specs don't tell the whole story. As for Android - what you gain in flexibility (and for me, that's a big gain) you lose in fluidity and security. I guess you pay your money and make your choice. Having said all of that I will probably be buying a Sony Xperia Z3 compact at the weekend. Why? The apps. Apps that I use on my phone either do not work as well, or are completely absent from Windows phone and I can't live with that any longer. For example, Spotify is unstable when compared to the Android version. BBC iPlayer just rubbish. Sky Go non-existent as is HSBC. At £349 including tax and delivery - which a couple of UK based companies are selling it for - the Z3 compact is a bit of a bargain. Windows phone is an excellent platform, but to dismiss what others do well, whether it be marketing, hardware, ecosystem or whatever is foolish in my opinion.

In SlowMo mode the iPhone actually does 120fps at 720p. MS needs to make the 930 thinner, but not compromise on the qi charging like on the 925. I think 8mm is the sweet spot in terms of thickness. I switched to a 930 from a 925 and I kinda miss the rounded edges which were a lot more comfy in my hands. But I am preparing for Hey Cortana, because I want to control my Philips hue with voice commands rather than double tap the screen, unlock the phone then tap it on a NFC tag then put it back on the charging pad when I'm in bed. We really need NFC from lockscreen (for trusted apps), btw. The iPhone is a good phone, but not nearly enough bang for the buck. I mean wth, it's more than double the price of my 930 for the cheapest version...

haha sorry, all those bent iphones are making me laugh. A lot.

Not sure if someone has mentioned this, This link made me laugh not sure if its been proven but looks real (haven't read all the comments sorry so many) (there was mention of this by Daniel too sorry missed the #BentGate reference. http://wmpoweruser.com/who-knew-the-iphone-6-is-bendable-after-all/

O_o I didn't know that was his name. I just know that guy by face, seen him 'round my youtube runs.

Guys, two things not mentioned in the article that need to be discussed... 1) Service contracts. Especially Family Plans. I've got a plan with 7 lines, so whoever has the best option usually gets me shopping their sales floor. At the moment, its Sprint. $100 for talk/text and 20gb of shared data. And I got in when they were offering and extra 2gb per line for free. However, their Windows Phone lineup sucks. So my entire family went from Lumia 920s to 64gb iPhone 6's, except me. My 128gb 6 Plus is on backorder, and its the only thing that could convince me to leave my 1020. (I may actually still carry it around in my bag as a "device"). All of that leads me to Point #2. iMore sucks compared to WPCentral! Even with shared writers. And it sucks I only get to have WPCentral forums, not the entire app on iOS. But that's a personal gripe, which has little to no street value.

Very good article. Been a long time WPCentral reader but not commenter. I used to have nothing but iPhones, switched over to Android for a bit, now am running Windows Phone and loving it. The big problem I see is that Apple takes tech already invented by someone else and just packages it very nicely. 1080p screen, nothing impressive. Apple Pay is at its core just NFC. But they make it work and work well. They are proving stellar hardware doesn't sell a phone, the ecosystem does. I think Windows Phone is awesome but we need more updates and a stronger ecosystem. We need a good flagship phone. Tmobile only has one weak Windows Phone now. People need to see WP OS as being cohesive like iOS (I.e. An integrated platform), and that is where both Google and MS are fumbling.

I would love the 1520 more if I could get it in bright green... Why does it have to be a AT&T Exclusive? But Windows Phone beats iPhone by a long shot.

The numbers don't work either, as a former 800, 720, 1520 and now 1020 owner, I was shown a 610 the other day and couldn't remember which Lumia it was (I live and breath Nokia devices, but the 1020 and 3310 are all I care to remember number-wise now)

Just came from bitching with idiots on Google+ on the verge posting, I've come to realize that Google+ are for nothing android fanboys and Microsoft and Apple hating trolls. Arguing with these idiots over Miracast which wpc posted about over a week ago.

At least Microsoft lets all their phones get updates *cough iPhone 4 cough *

At least Microsoft lets all their phones get updates *cough iPhone 4 cough *

There are some Nokia 810 customers who'd disagree with you...no updates for that one...

I don't understand why so many don't like the 930. In green with metal body it looks awesome. I've had many people comment on what a nice phone it is, especially when they realise the green is not a case. The squareness of it is iphone 5-esque which as a MS fanboi have had to admit that the iphone 5 design was a good one. The round iPhone 6 design is very much a Samsung thing if you ask me so I'm liking the 930 square design a lot. The OLED on the 930 as well is not like other OLED screens. The colours still look very natural and the display on the 930 is one of the best I've seen on any phone, but a always that does come down to preference. I'm spewing MS hasn't pushed the 930 more though it does get a lot of exposure down here in Australia, but I think this is currently the best WP phone out there. CPU and RAM make it super fast and hopefully denim fixes some of the low light photo issues so its on par with the 1520. And I haven't missed glance at all since its gone. Would like it back though.

Not a regular Apple user? You have 3 bits of Apple tech! That makes you pretty regular!

Not if I don't use them, lol. I also have five Surfaces (RT, Pro, Surface 2, 2x Surface Pro 3); Xbox 360, two Xbox Ones, 3 Win laptops, 4 tablets, 27 inch PC and almost every Windows Phone.

My 12 year old son is crazy about the iPhone 6+ and we have both been to the stores multiple times over the past few days. I was an iPhone user for many years and therefore have certain opinions about IOS and their portable appliances. They work well and are mostly reliable. They are well built, but I eventually found them boring. Boring to use and no real innovation in design (hardware of software) since the early days. Having said that, they are selling like hot cakes and Apple is doing something right here. They have again struck an emotional link with purchasers. Microsoft must sit back and learn. Failure to do so will result in the ultimate failure. Where is MS's link with purchasers? The WP fan base is not where their efforts must be directed. Those that have chosen to use a WP have already made a choice to use a different platform for various reasons. The focus must be on the masses. What do the masses want? What they don't care about are specs. Any iPhone / IPad user will tell you this. The firmware runs well on the processors Apple put in their products; that is all that matters. They want simple, seamless androgen free experiences. IPhone customers have a clear choice of model/s. The 6 or 6+ with 3 colours. Nothing more, nothing less. A 4.7 or 5.5 inch phone. That is it. Both have similar build quality and styling. Both give the appearance of solid construction with styling. Both look impressive and expensive. Are you listening MS? When a firmware upgrade is released, everybody can upgrade. Are you listening MS? Apple controls the hardware and software. There is a reason for this. It is past the time where 15 different models with coloured plastic backs will satisfy the markets. Product simplification is needed now. A naming strategy is reunited so that potential purchasers can identify easily with the new offerings. A bla bla lumia 1520 version 3.1 running cyan with a tweak will not cut it with the majority of people who just want a phone. A simple naming protocol is needed with a distinctive styling. Apple had iPhone, iPad, iPod. Windows has Xbox. Why not Xphone? Why not surface? Something. The majority really do not care what the name is. Name it, build it as a piece of jewellery and market it. Are you listening MS? WP is becoming more like android every day. Disjointed, with a mixture of hardware and software intertwined where any clear upgrade paths are corrupted beyond repair.

I hope the next Lumia flagship MS release will have SD card support, coming from an 820 user not having a large memory anyway its good that you can now install on SD card as it didn't take many apps/games to fill before hand, so I worry that if I upgrade to a Lumia with a 32gb memory ill soon run out of room, so hopefully they'll amend this and release future lumias with SD card support.

Well written article. Completely agree. The cameras of Lumias are awesome, but it's not enough. I also think there is too much feature fragmentation between different WPs (e.g. glance/no glance, etc), if they're trying to be like Apple. It somewhat handcuffs their marketing approach (which, overall, is lackluster imho). I love the Surface Pro 3 marketing thus far! It hits upon points that everyone "gets." The WP 'Cortana' marketing...meh. I just don't see the highlighted features being big enough to sway any users. Plus, they don't even talk about the camera! WTH? Why not feature the Blink App? I JUST saw a Samsung commercial feature something similar and it was a great commercial. I'd also like to see an upgraded 925 and upgraded 1520 (thinner and lighter). But, I think MS current approach is too much in-between Apple and Samsung. I think they should be more like Samsung.


It is a shame that Nokia did not market the barometer in the 1020. I had a coworker come to me and say "the iPhone 6 has a barometer!!!! That is amazing!!!" There are 4 of us in IT here that have 1020s....we all have barometers. Nokia once again included hardware and failed to pair it with marketable software. Such a shame. Where is our real world payment system with the Wallet? NFC has been around for years and wasting away in our devices. Why, with Nokia making devices with front facing cameras for about a decade, did we suffer with wasted front facing cameras? I have a coworker that has an Android phone and wanted to buy a iPhone 6 because his wife and daughter have FaceTime and he thought, through Apple marketing and iOS users knowledge that that was the only way to call and see the person. Why isn't Skype auto logged into Windows Phone via the MS account that is already logged into during setup? Why doesn't it behave like iMessage, where I can send video files without compression and notjust video messages in the old skype way? How come it isn't integrated as a part of Messaging, seamless, have the messages turn a different color (blue?) when it is a sMessage (SkypeMessage)? Why isn't Clear Black, Super Sensitive Touch, HAAC Mics, Here Drive, Mix Radio, MS Account Sync and so much more marketed beyond belief. Why doesn't Microsoft over-hype their own products that actually deliver? http://youtu.be/Otm4RusESNU

This is so true. Apple packages up pre-existing tech in a way that makes users think it's new because it's obvious and works. Windows Phone needs to be like this. Xbox Music, if it just "worked" could compete with iTunes and Apple's music system.

Sounds like problems with the OS and Microsoft's lack of marketing rather than anything Nokia failed to do.

@Daniel Nice comparison!
Just a small correction: the iPhone 6 has a 1810 mAh battery :)

Specs specs specs.... Stop it already. It is no longer regarding specs between iPhone and Windows Phones. Both can perform well with rather low end specs. Is the apps which set them apart - between heaven and hell. iOS has ALL the most updated apps with Android to the second, while Windows Phones apps are still not having much developers love. Why Flipboard is still taking its sweet time to release, and Instagram is still in forever BETA?! I'm still not seeing apps supports for the local services in my country for Windows Phones. Even Whatsapp, Facebook and messenger are more well polished on iOS. Yes, iOS has the boring static icons. But the masses are not welcoming live tiles either! It looks like a messy chess board to them and they will rather get Android which has the closest resemblance to iOS. TBH, I really have no idea how much Windows Phones can go on further. Even Microsoft is stripping off the brand "Phones" from it. Things are really not looking good at all imo. And for myself, I have suffered enough of app gaps till now since WP7. I'm going back to the arms of Android with Note 4 when it is released. Nokia has the best camera, but the while user experience is not just about camera alone. It is just sad for Windows Phone.

For the non-insecure person who wants a great smartphone experience, but isn't picky about the progress within the OS and ecosystem, WP is great. I'll admit that if I was rich and had a plethora of devices that work with iPhone/Android apps only, I would buy a really nice Droid or iPhone (now that the screens are big enough). But I don't need an iPhone/Droid, and I love using my Lumia 920. I don't miss much because 95% of what I want is here. I feel like I don't NEED to upgrade so soon and lose more money. I can wait until there are really big advancements on new devices before I decide to upgrade.

Daniel, excellent article, even with your Microsoft bias. Very nice, especially because I switched to the iPhone 6. :)

What Microsoft needs is a top of the line Surface branded Phone with best in class technology and services that people expect to just work! Not the mess that Xbox Music was/is and Skype still is since 3 god damn years! Also MS talks about WinRT, Universal Apps, sharing code bases and how this will empower devs to build better, faster and more reliable Apps for their customers. Yet, Apps of their own Services are not updated to even take advantage of all of this. Xbox Music, Video, Onedrive, Skype and the list goes on. MS is supposed to pioneer and guide Devs by showing them how its done, yet their only focus lays on competitors platforms. Skype was updated to be iOS8 compatible on launch day. WP8.1 was launched in July officially with many people already on DP yet the same optimizations is no where near to be found. "Loading...". And just dont get me started on the whole API debacle, limiting devs in their capabilities by not allowing them access to already common Elements like Videos or the File System is hilarious. Also just take a look at how embarassing the whole update process is, it took MS 3+ Months to push WP 8.1 to 90% of Hardware with actual installs laying at about 40-50%. Yet Apple managed to serve all its Devices in a SINGLE WEEK. MS you have your well established Windows Update Service, frickin use it! There is a reason people are lining up for the iPhone and its certainly not just because of the hardware. /rant I am usually not the guy who likes to rant but dude this really pisses me off.

Regarding your dumb update statement remember MS has FAR more different hardware configs to deploy to. Apple has one. One of MS's problems is they announce an update far too soon. Apple announces an update just before it is ready for release and presto, the idopes think they get updates fast.

Bullshit. iOS8 was announced in the beginning of July, WP in the beginning of April. Your Argument is totally invalid, both Systems have a beta test phase the only difference here is actual shipping takes ages on WP where as on iOS it literally takes a weekend. regarding your "WP has a wider variety of hardware to serve", thats complete BS too. WP is designed to run on different hardware, otherwise things like Developer Preview wouldn't even be possible. The fact that there is already a second update announced while MS couldn't manage to update 50% of current hardware to the last Update in a period of 3 months is quite pathetic. Think about it, Microsoft has 50-70 Million devices to serve and it takes them 3+ months, Apple has about 300-400 Million devices and manages to update them within a weekend!

i think the point here is not about whether iPhone is better than WP or WP is better than Android or vice-versa but the thing is, we often find our phone less likely to be inferior with other phones everytime they launched a new one, but the fact is, that is, what market competition do and how these manufacturers are treating us...every major release brings major improvement and those improvements are somewhat hatched and carried to a different platform which puts every smarpthone alike in some ways including their features and hardware specs. iPhone has merely a 2012 specs (except for its body and fingerprint reader) but then again, its core hardwares are lesser compared current Android and even WP phones. perhaps its the way we look at the perspective of how we want our phones to be than what is available right now which is relatively functional for us from the time we purchased our phones. accept it or not but we bought our phones because there is something on it that makes us decide it is better than another phone but then again, every release is different and we just have to wait for our turn.

Anyone know the name of the calendar app on the 1520?

It is a biased comparison....if included HTC One (wp), you must also include HTC One (Android). You have to put all premium WP to beat one iPhone model....i am not an iPhone fan, I carry 920 but that doesn't mean, I support wp blindly. Play fair game.

All comparisons are biased, this is not a profound observation. And no, I do not need to include Android.

Even if it is so much necessary, Microsoft is not even hinting about a flagship realease! Sometimes, this makes me think that Microsoft might be working on something really awesome!

I am a Lumia 1020 user from its day 1. And no doubt about that it takes better pictures compared to any other smartphones. But what really bothers me is that it has considerable delay between shot to shot. It may be due the oversampling post processing. I even changed the camera settings to take only 5mb jpg formated images but no considerable gain with that. I feel most of the time the user wants to take pictures swiftly rather than intented to do some post production on a smart phone camera image. I know there apps like "Blink" and continous shots settings, but thats not exactly I want. I don't want to fiddle with camera settings while taking the picture or sort through the multiple pictures taken by the blink images. All I want is to take a good picture and the camera is ready for next shot with in 200ms. Composing the image and capturing at the right time, give to the user. Anybody with me?!

I'm with you, I have Lumia 1020 and I'm encountering the same issues

Is there a Nokia Cam app on the 1020 that can handle your shooting needs? I've found on my 1520 the camera speed start-up, focusing and processing is boatloads faster than the MS app, and especially after the 8.1 upgrade, speed increased also.

You know, if WP9 actually does merge WP and WXRT I could see getting a 1520, it would be a lot more useful with full screen rotation, snap and a better Office... Of course that is gonna also require Office Gemini to get finished too.

If there were no Windows Phones, I'd own an iPhone. But my Lumia 1520 doesn't bend like the 6➕ does. I'd be really pissed off about that.

Me too, though I'd probably be dining on Ramen Noodles for a year...

iStuff is dying. Their marketshare is declining over time and soon they will experience what MS had: Post iOS era. Then we will see whether they have what it takes to get back up again. iPhone 6 doesn't seem to buck the trend for now. Android will keep on dominating and eating up the market.

Comparing the iPhone 6 to any new Windows Phone is apples and oranges and yes, that's a pun. For their own good, Microsoft needs to stop the comparisons because buyers aren't objective when they buy a phone - they just want what they want and that's that. In a meeting at work today with all 30 and 40-somethings, ever single person had an iPhone - no joke and three quarters of them were professional, highly paid women. Some had two iPhones [work and personal]. They all use a Wintel box at work and some even have a Surface 3, but they all choose an iPhone. I have a couple of Windows Phones - and am currently using a Lumia 925 which is quite good. I also have an iPhone which I'll be trading in soon for an iPhone 6. Why? Apps. It all comes down to apps for me. How about a Starbucks app for starters? Reuters? BBC News? CBC News? CBC Radio? Tinder? The list goes on... Microsoft has to figure out how to leapfrog its competitors with something only they can offer and it ain't a free copy of Office.

Lumia 930 and Lumia 1520 have lower prices than Lumia 1020 off contract? Really?

I think in terms of os, each os has its own merits. What WP is losing is the variety of apps it has compare to its competitors. It's a chicken and egg thing, when market share low, developers will not spend their time developing and maintaining their app; without support for variety of apps, buyers would choose those more mainstream os. I think MS is trying to get out of this vicious cycle but not successful yet.

Seriously, this kind of articles is getting tiring, boring, irritating. I (We) love windows phones and don't need anyone else telling me what's what. Apple can suck my #!@$ for all I care. I used Windows phone because of Nokia, and fell in love with the system as a whole. Stop the bullshits

It was an article that shows how good Windows Phone is compared to the iPhone, and the author explicitly states that he prefers Windows Phone. It was a damn good article, and nobody forced you to read it.

...and where is the Lumia 930? Often it is forgotten ladyes and gentleman! It is not top WP???

Right there, numerous times in the article ;) Need to move beyond headlines and the photo.

How about energy consumption ?

No more carrier exclusives!

As usual, Daniel covers it all and does it with excellence.

Hey Daniel do you know what's happening with Mexico?? We haven't received the 1520 or 930. We are really forgotten :( I can't change my phone and sadly I will have to go for an iPhone. Thanks!

Just giving my two cents after using a 1020 for a year now and waiting for my pre-ordered iPhone to come in (I was an iPhone user from 2007-2013)... The biggest reason I'm switching back is the apps. There are still a number of apps still missing from the Windows Phone store and I'm not interested in signing up for another year of waiting. The other major reason are actually the integrated apps. The Mail app is horrible and while I absolutely LOVED the People app (and still do even if to a lesser degree) the 8.1 update and the need to open up external apps like Facebook is really taking away from (what I believe to be) the main purpose of the app. I loved the ability to have a one-stop-shop for all my contacts and updates. Instead of taking away functionality, I wish they added to it and opened it up to more 3rd party social apps. Ironically, the final reason I'm switching is the unreliable compatibility between my 1020 and my Surface Pro 3 (which I love). The lack of LTE on the SP3 (my biggest complaint) requires me to tether to my phone. Unfortunately, both the WiFi and Bluetooth connections between the two were painfully unreliable. Some days it would work for hours on end, others I would have to reconnect them every 2 minutes. However, I was able to tether to my old iPad (LTE enabled) without fail. Now, I'll be able to leave the iPad at home and tether right to my iPhone.

Make me a winner this month!

The biggest difference between iphone and windows phones is that WPs can run on 512 RAM and iOS cant. Always take into consideration that.

I however use blackberry for its Blackberry Hub.

And seldom use Lumia 520 for One Note

Still think the 920 is the closest to the iPhone 6. I think that says a lot. They caught up to 2 year-old hardware in a way. Those cameras on the newer just blow the iPhone out of the water.

I agree, lumia 925 is still best design in wp, imo, just needs better proc, sd expansion slot, and rounded corners?

Guys guys guys...its simple...no need for all this argument...what determines what phone someone buys?..the person himself right?..ok..now ..what determines whether one buys an iPhone or a windows phone?...simple......for those fans who want to buy a phone with everything done for them, menus, apps, and simplified ,....buy the iPhone or Samsung androids...hence I support the reviewer when he says "generically..iphone wld be a choice.."...
For those fans who want more intimacy with their phones, want to personalize them the way they want, be able to control alot of how and what the phone does, then windows is for you. ( these kind of people unfortunately are not the majority)
If you look at it that way, there is no basis for argument anymore. Just pick a side...my side is clear. Windows phone all the way, having come from Droid and iPhone.

I would argue that iPhone sees the sales numbers it does because of a zombie like following, that before the next release is always whipped into a feeding frenzy. IPhone has been late to the latest tech the last few years and doesn't meet any real world competitive needs. If not for a rabidly loyal following, iPhone wouldn't grab the headlines it does. I think WP is fresh and offers something unique to a world of iPhones and iphone-like competitors.

For the price that apple is offering is really a status symbol. You can get a much cheaper and have more feature phones. I have a lumia 1520 and im still loving it. Great camera, great screen and very good battery life!

If found Daniel's article very objective, especially since he leans towards MS/WP. The key point he brings up is that iOS doesn't do one thing great, iOS makes a lot of little things work well together and that makes it great. I have a 1520 and I can't even go into my MS account email to attach an MS Office document! How crazy it that?? I would like to talk about perception, which is really the bane of WP. As society transitions from desktop to laptop to tablet to phone, MS dropped the ball - big time. If MS already had a 90% market share in the desktop market, how did they wind up with only a 3% market share in the transition? How did Google, which had a 0% market share in anything, come to dominate the phone market? Perception. MS is now "old school", Android and iOS are cool. It's a stigma that MS won't be able to shake, and they know it. 10 million iPhones in 3 days? MS couldn't give away 10 million WPs in a lifetime! I would venture to say that if MS started it's own cellular phone service that was free as long as you had a WP, people would still buy iPhones and Droids. And that's even if you got a free phone from MS. Rather than spend over $7 billion to buy Nokia's devices division, spend 10% of that (still $700 million!) to pay developers to make the best WP apps ever. There's nothing wrong with the hardware, it's the app gap. This is what should've happened: MS: Excuse me, Mr./Ms. Developer. Would you build a (insert your favorite missing from WP app here) app for WP that's better than the iOS and Android version? Dev: Why would I waste my time with that? Nobody uses WP. MS: Because we'll pay you $100K to write it and $1000 for every download. That strategy would close the gap in record time and probably wouldn't even put a big dent in $700M. MS saw their one grip on the market, Office, fading to Google Docs. People weren't willing to switch to WP just to have Office on their phones. So now iOS has Office. That's called reality, not perception. Save the baby, throw out the bath water. Baby = Office, bath water = WP. For the record, I use a 1520, coming from a 920, I have a Surface Pro 3, Win7 laptop for work and an Win 8.1 desktop at home.

I found Daniel's article very objective, especially since he leans towards MS/WP. The key point he brings up is that iOS doesn't do one thing great, iOS makes a lot of little things work well together and that makes it great. I have a 1520 and I can't even go into my MS account email to attach an MS Office document! How crazy it that?? I would like to talk about perception, which is really the bane of WP. As society transitions from desktop to laptop to tablet to phone, MS dropped the ball - big time. If MS already had a 90% market share in the desktop market, how did they wind up with only a 3% market share in the transition? How did Google, which had a 0% market share in anything, come to dominate the phone market? Perception. MS is now "old school", Android and iOS are cool. It's a stigma that MS won't be able to shake, and they know it. 10 million iPhones in 3 days? MS couldn't give away 10 million WPs in a lifetime! I would venture to say that if MS started it's own cellular phone service that was free as long as you had a WP, people would still buy iPhones and Droids. And that's even if you got a free phone from MS. Rather than spend over $7 billion to buy Nokia's devices division, spend 10% of that (still $700 million!) to pay developers to make the best WP apps ever. There's nothing wrong with the hardware, it's the app gap. This is what should've happened: MS: Excuse me, Mr./Ms. Developer. Would you build a (insert your favorite missing from WP app here) app for WP that's better than the iOS and Android version? Dev: Why would I waste my time with that? Nobody uses WP. MS: Because we'll pay you $100K to write it and $1000 for every download. That strategy would close the gap in record time and probably wouldn't even put a big dent in $700M. MS saw their one grip on the market, Office, fading to Google Docs. People weren't willing to switch to WP just to have Office on their phones. So now iOS has Office. That's called reality, not perception. Save the baby, throw out the bath water. Baby = Office, bath water = WP. For the record, I use a 1520, coming from a 920, I have a Surface Pro 3, Win7 laptop for work and an Win 8.1 desktop at home.

I love your app $ idea. I think that would help the app count (even though I think it's a straw man argument) but knowing Apple fans, even if the app count was identical they would still choose another reason to not try WP. And as for the Nokia purchase, well, that really couldn't be avoided as Nokia was probably going to Android (strong rumor) and dumping WP at the end of the contract which was 2014 I believe. That would have effectively killed WP without Nokia. So MS really had no choice but to buy up the devices division.

It really is all about perception. Cadillac is trying to lose the image of being the car "your grandfather drove". VW tried to compete with Mercedes and Audi and it cost them $1B. Nobody wanted to buy the world's best VW for $100K! Nokia defecting to Android would have certainly put WP's neck in the noose. Someone mentioned in a different post that people don't like to switch platforms. I agree with that so MS shouldn't try to convert existing users but concentrate on letting people know that the app gap is closing so new users can decide to try WP. Of course, that means they really decide to do whatever it takes to close the gap and fix the apps that suck now. FB or most banks anyone?

For EVERYONE out there on this forum. The only reason iPhone sells so well is IOS! That's really it. If iPhones sold with android, you would still get people to guy cuz its apple but dang, the competitors are excelling and bring much better hardware. IOS is keeping sales of iPhones going. It's a very nice looking, stable, functional and fast OS. The reason windows phones don't sell as well is because of software. There was a drop in sales earlier this year i would say because of no new phones but its the OS and apps that has really lagged behind android and IOS that has kept WP sales so low. There is good news though for WP. With MS doubling down on mobile and cloud services, we can really see a bright future for WP being much better. I have a lot of hope for WP with the next iteration of the OS and how well it will work with the rest of windows.

Disagree strongly, WP OS is absolutely gorgeous and intuitive compared to iOS which still sports the same boring layout/UI since the iPhone3. Oh wow, look we flattened the icons! = zzzzzz. iOS is highly functional, efficient and useful but to say the WP OS has lagged behind iOS is complete ridiculousness.

wp cant even make a proper apps i.e fb suck,whatapps and even wechat suck all the way late notification bla...bla...bla brag about your hardware, yet what is the good in that if the phone cant really deliver thing that satisfy the user im lumia 920 window 8.1 user and buying it is the worse decision i ever made. just because i compare spec, so no more wp for me going for apple next

Love my 925 until a 1525 comes out someday.

Hurry up, Microsoft! My 920 is ancient, and nothing out there now compels me to finally make a switch

Way too much focus on "thin"... Thin is not inherently good. The larger the phone the more uncomfortable to hold and the more fragile the phone becomes. Weight is another matter, though, but even here there's a limit to how light a device can become and still be practical. In windy conditions, I find myself having to hold on tighter to my 1520...!

"Finally, for Microsoft, I still think there is a premium middle ground that they need to fill if they want to compete with the iPhone in a general sense." The iPhone 6/6+ phones are in the high end market segment of smartphones. Even the past year's 5S is still considered high end. Microsoft Lumia 830 is priced around $400 and that is no wear near the base price of any iPhones mentioned above. Apple is possible in the mid-market with the stripped down 8GB 5C! I don't see Microsoft having any competitive high end phone models to compete with the newest iPhone 6/6+ or upcoming Android models. The current high end Lumia models and technology is around one year old or more. The HTC One is around 6 months old. I don't see them doing well this holiday season at all with their exclusivity marketing strategy approach. It a turn off to existing WP users and is a barrier to potential WP buyers too. And with no high end WP models this holiday season; it going be less market share then 2013! The new bigger iPhones are going take a bit into the Android market! I switched back to the a brand new space grey iPhone 5S 64GB. It replaces my iPod Touch and my Lumia 521!

It is good to see an unbiased review. I do not think we will see new Windows Phone competitors to the iPhone 6 until April or May 2015. As far as good mid mid range, high end and flagship phones are concerned,I think we are in all in a MS holding pattern until the next version of Windows Phone is released in 2015. Threshold, Windows 9, or whatever it is called will reportedly combine WindowsPhone and WindowsRT for use on phones and tablets. The same apps will run on phones and tablets and the "Modern" side of Windows for laptops and desktops. This is be an incentive to developers. Current apps will probably need to be updated. If WindowsWhatever adds significant new features, and generates new/updated apps, we will want those features and apps for our phones. We will be upset if our recently purchased phones are not upgradeable, or if our carriers delay in releasing updates. Frankly this will be more important for the high end and flagship phones than for budget phones. Considering that WP7 was not updateable to WP9, I worry than any current or soon to be released phone will be updatable to or appropriate for WindowsWhatever. I think that the manufactures probably want to optimize for Windows Whatever and are holding off until closer to release time. My experience tells me to wait.

Okay there ya'll..Stop arguing over who is better and all the pros and cons of each. Just realize that everyone has his own choice. Nobody is gonna force u to buy a product which u don't like.
There is always a good side and a down side to every phone a company launches... It's all market strategies they play. They mess with your mind and create an impression that their product is better, whilst the fact is that none of the phones is purely perfect at this point. For eg. iPhones offer a great experience and a premium quality phone.. But at a cost much larger than what you'll spend on a Flagship phone from other company (which might also possess superior specs than iPhone) at which point i do believe that apple is the biggest player in manipulating people into buying his products which are always too much overrated and not that much innovative..(Really if you think they innovated something which wasn't already there in any other phone... Feel free to speak).. Now for the Windows phone. Though i'm also a windows phone user but i won't back off in speaking against the brand..
Well they do offer phones with much higher specs than any iPhone ever launched and literally speaking their performance is or can be way much more than any iPhone. The only problem at this point is with the OS, which is not as developed as iOS at the moment
And that is what leads to complications in the development of Apps for this environment. Moreover if any of you know Computers Science. You might be knowing that the kernels used in iOS and Windows Phone are truely different. Whislt the kernels and prog language used by windows phone is much more complicated than iOS, but has more possibilities for blending up with the hardware and using it to its max capabilities.only if it is build completely stable somehow. Plus WP OS also provides security to a much higher level. That is what makes windows phone OS advantageous but still unstable at points. Only if MS somehow sorts out all the issues in the OS.. WP purely possess the capability of creating a breakthrough in the market. But thats a long way to go. So as i told each brand has its advantage over the other
Apple Has the iOS, Microsoft Has Lumia series of Phones with outstanding performance and true innovations.. but a developing OS..

Whats the name of that aplication that shows date and time on the 1520 and HTC?

I totally agree with Dani about a upgrade for 925. It's the perception of Nokia that people will buy their phone no matter what is the size matrix of it. Out of 10 Nokia phones 7 are bricks. So heavy and thickness. Why can't they just produce a 1520 with 5" screen. It's thin enough and had got micro SD slot s well

The 1520 seems like the best phone here. I just wish it were smaller

I love it. Yes it's slightly too big but using my wife's 920 feels so archaic now! I'm hoping the next flagship will actually be a 5.5" screen, that to me will be the perfect size screen but to go back to a 4.7" is just taking a step back in time to me. Don't let anyone tell you you can't operate the 1520 with one hand (I do, takes a bit getting used to but you can), fit in your pocket (fits in ALL my pockets, front and back) or looks ridiculous holding up to your head (did they not remember themselves once using real hardline phones? This is still smaller!).

Windows OS is the best. I find iOS boring and not competitive on both smartphone and laptop

Great comparison... I have the 308 update error this article has convinced me it's time to get the iphone 6... Microsoft have had long enough... Life is too short...

The only thing that is not good on windows are the apps. For example the facebook (path, banking, e.g.) app. It really sucks... for a lot of people this is a very important app and Microsoft is still not managing to deliver a proper working app. I am a Windows lover, an early adapter but now the time is ready for me to change to iPhone 6 Plus. Yes live tiles are great, but in the end good working apps are the most important. I never thought changing to iphone, but because of the lack of good working apps I am done at Windows Phone.

Prices are getting ridiculous.

Good, neutral article!
I haven't tried any Apple hardware for more than a few minutes, so I can't comment on them. In theory, they offer a lot which I practically have no use for. Examples: Good car integration is useless if you're driving a 14 year old car with its original radio without Bluetooth. Home automation is useless if you live in rented apartments and will continue doing do unless you win the lottery. Apple TV is useless if you hardly have time to watch any TV.
So, I can imagine trying out an iPhone one day just out of curiosity, but I know already I wouldn't make the most of it. On the other hand, most users of any smartphones only do a percentage of what they could be doing.

In fact, I want them all. :)

These 2 sentences describe perfectly why I love WP- "However, the OS design still feels static and undeniably boring compared to the Live Tiles on Windows Phone. Often I turn on the iPhone, and there is nothing to look at, just icons with no information." Same exact feeling I get when I occasionally play with the wife's S4-there is just nothing "there". Well said Dan!

Thanks! I have the same issue with my iPad, which I rarely use. Shame too as it is outstanding hardware.

No cpu / gpu benchmarking? I really want to see that

I work at Gameloft on the IOS division and I can tell you that besides its design, it's nothing better than an 5s or any high end Lumia. As a side note, my L630 takes better low light shots than iPhone 6. Come on Apple, you can do more than that.

Apple products surely are nice, what's holding me from them is only the cost, which (probably) can get you a motorbike in Indonesia.

I can see why people go for iPhones, they are well built and have a distinct quality feel. I use a Lumia 1020 (64gb) and I have been disappointed with it. Yes the camera is amazing and i love the tiles, however, the iPhone can do just so much more that a WP can't do. That's why, I'll be getting an iPhone 6 (128gb) and selling this Lumia. Sorry WPCentral

No, haven't tried iPhone 6 and I doubt that I will. Not because it's a bad phone, I think it's very good phone for those who like iOS and iTunes. It's just not for me. Like Daniel mentioned, having just static icons boring. Live tiles are just so much more appealing to me, all info in a glance. And iTunes...
Windows Phone just gives that feeling that this is the right thing for me.
But a few things; the integration in peoples hub that disappeared and was replaced with slow loading apps. Don't like it at all.
And the lack of SD-card in the top models (except for the 1520, but it's to big for me) WHY is there SD-card in every low/mid model and not in the top models?? If MS really reads this comments, could they please give a reasonable expectation on that one? Have to give it to Apple, they at least gives an option up to 128 GB storage. 1020, 930, 9**, some with ridiculous 16 GB, and denim/Lumia Camera coming with 4K video??
The only useful phone really is the 1520, but it's still to big.
Really hope for a 1030 WITH SD-card or at least 128 GB. The 1020 is great, with xenon, camera and all, but 32GB...? Still, wouldn't switch my 1020 for an iPhone. Would pick the 830 first, seems to be a great phone.

Anyone know if the new iPhone 6 devices include a free sample of silicone lube in their boxes? Just to reduce the sticker shock.

Without a doubt these Windows Phone smashes iPhone 6 in specification and maybe performance category, however, they still sold more iPhones in a record span of time. i know it is because of apple "fanboyism", however the company benefit for that so Apple is going way laughing their asses off. My message to Microsoft is, next time, when you announce something make sure it will be ready to release in days or in a week. The buzz you created during the announcement (if there's any) has already died down when you release the product after months. I have and had only 2 windows phone since I became a Microsoft fan, the 920 which I bought on the first day of release and the 930 which i got on the first day of release. But I didn't camped out of the store nor went there earlier than when the store opens. But I have converted at least 10 friends to be a Microsoft fans and they are more fanatic than me now. They could have been 15 if not the delay of release of the product. SOme people are just so impatient. Is my effort as a fan not enough or is Microsoft slacking?

People why by the iPhone 6, even if Apple is now 1 1/2 years behind the curve. I got all that in 2013 with a One M7 and One max and my Nokia 1320 has much better battery life.

Interesting.. DxoMark says the new iPhones have the best camera. More interesting is the fact that the Lumias are not near the top anymore. http://blog.gsmarena.com/apple-iphone-6-iphone-6-plus-capable-cameras-ac...

Thing is with a Lumia 1020 in the hands of a capable photographer can yield amazing results. Lower ISO, use a tripod and timer and be blown away. Shot to shot on AUTO is only one way to define a camera. Not that AUTO isn't important, it certainly is, but the 1020 is sort of a league in its own.

I been waiting for 1525 and 935 to upgrades and replace my family 2x920 & 2x925. Windows phone features no.1 for me is Here drive provided 6 continentals offline navigation without eating data. The 2nd is live tiles, family rooms hub, the wireless charge, glance, city lens, camera especially low light capture, kid corner, data sense, Cortana, battery life, available with sd slot, available with glove touch screen for contractor or winter cold, etc... I heard that Apple phone is to thin and it is to bend and break, also heard is use sapphire screen and help screen scratch but when u drop it break easier and also is not recommended to use the screen protector. Also the phone get scratch easily. Even those, WP store is less apps and games bit it is way too much for me already. I got all important apps and most games already and those are not too priority to me, the will get bigger and better and will unify when wp9 is available.

Apple stock just went through the roof. 10 million phones sold multiplied by the price of the phone = $$$

As someone who moved from the 925 to the 930 I can relate to some of the points. I am however enjoying my 930 and like it chucky feel. The thing I miss the most is the low light capabilities of the 925 the 930 simple does not come close.

Great Article and video. Feeling the love for the 925.