Complete list of Xbox One and Xbox 360 titles in the Ultimate Game Sale
Here's a cohesive list of all Xbox One and Xbox 360 titles offered as a part of the Ultimate Game Sale.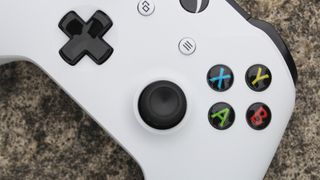 (Image credit: Matt or Jez took this photo)
Microsoft has kicked off the Ultimate Game Sale – its annual period of price cuts across a significant portion of the Xbox library. This time around, up to 70 percent is being slashed off digital Xbox One and Xbox 360 games, with up to 10 percent further discounts for those with an Xbox Live Gold subscription.
The full list of titles in the sale has been unveiled and can now be taken advantage of through the Xbox Store. Each of the below discounts will be valid from June 30 to July 10, before returning to regular pricing. Have any recommendations for the team or other readers? Make sure to let us know the games you're picking up in the comments section!
Note: Discount percentages on the left hand side represent standard price cuts, while the latter value shows the additional cut offered to Xbox Live Gold subscribers.
Xbox One deals
Xbox 360 deals
Windows Central Newsletter
Get the best of Windows Central in your inbox, every day!
Matt Brown was formerly a Windows Central's Senior Editor, Xbox & PC, at Future. Following over seven years of professional consumer technology and gaming coverage, he's focused on the world of Microsoft's gaming efforts. You can follow him on Twitter @mattjbrown.
Is Fallout 4 getting an Xbox One X patch? If so I'll buy it now rather than on PC and play it down the line!

Yep! Bethesda has been pretty keen to jump on board with Xbox One X - titles like DOOM, Elder Scrolls, Fallout and Dishonored all have support planned (: https://www.windowscentral.com/all-xbox-one-x-enhanced-games

As far as I'm concerned the game holds up on it's own without any enhancements so this is NOT anything trying to sway you away from getting it. But just be awar that Xbox one Enhanced doesn't always mean 4K or HDR or any of all the features Xb1X can have. You wanna look for 2 different symbols on the box/store page (I assume they will show up around the launch time of the new xbox) Xbox one Enhanced will show up on all the enahnced titles, then you want to look for tags that say 4k HDR Atmos and I can't remember if there's one that says the frame rate. basicaly enhanced can mean any or all of those tags, or it could be just running at 1080 60fps. Again, not a bad thing, just a heads up.

Generally speaking you are right. But of a developer is competent enough any and all games should be 4K @ 60fps with high end PC enhancements as well. There is of course a few titles like Ark Survival which on PC even on a 1080 TI GPU can only run at 1080P 60 FPS with Epic Settings. Which I will add the Ark devleloper has said the One X version is also able to achieve. The One X version of Ark is running exactly the same as a PC with a 1080 TI and 8gb VRam. So in all honesty One X enhanced games with a small amount of additional effort from developers is already starting to optimize games amazingly well. All EA games are reportedly hitting Native 4K on One X with PC high end enhancements on top. Codemasters are also achieveing this already. So is Respawn Entertainment. It would seem only Ubisoft and Bungie for whatever reason claimed they were just going to run the PS4 Pro code on One X for this years games. Bungies seems more to do with a deal with Sony they have about Destiny 2. But its awesome to see alot of 3rd parties showing up Ubisoft and Bungie as to how stupid they are. Especially considering all these other titles have achieved these things after those devs have had devkits for One X only 3-4 months.

Its not necessarily a competancey thing as it is a time and money thing. Fallout 4 will be 2 years old at the time of launch of the new Xbox. How much effort you put into a 2 year old game depends on a lot of factors. As for ARK, there's still a lot of development left for that game, so we'll have to see how well they optimize it.

The thing is considering developers are coming forward saying how the devkit oa by far the best one for consoles they have ever used and how fast it is to get things optimized and working well kind of says the opposite. Codemasters to took them 2 weeks. Respawn also commented how Titanfall 2 was running at 6K in mere weeks. Alot of praise has been put on the one X and devkit in the last 2 weeks from all types of developers.

I'm hoping for 60FPS updates in most cases, any enhancement will be good but I hope there is an icon for Framerate like you mention. Even if games that were 60FPS can maintain it 100% of the time. I'll probably play the game anyway at some point, and like you say it is supposed to be pretty good as-is. I'm not that bothered about 4K I just want the best Xbox Experience possible for the few hours a month I get to game for lol

I can't find the article now so I can't remember if it had a 60 fps tag. I know for sure it had the rest. I def got my monies worth out of fallout though. Might run through it again when the 1x comes out. Damn now that I say it like that I hope they come out with a robot 1-x themed version (futurama reference)

Yes its getting a patch for the Xbox One X. Been confirmed.

And there goes my credit card's limit power...YAY new games :)

Forza 6 Platinum and F1 2016! #SteeringWheel

I wish they would just show the sale price instead of just the percent off.

But that would make too much sense.

The price is different for every region, but it would be easier to at least guess.
Though I think this was just copied and pasted from Major Nelson's blog.

Grabbed Far Cry Primal - Apex and Assassin's Creed Syndicate - Gold for $52! Still had credit from Bing Rewards to use up so this was a steal!

Primal is trash talked. But you will enjoy it, i promise. Once you get used to it you'll be a boss and want more.

I'm really thinking about getting it as well, but I got Shadows of Mordor as an open word and have yet to play it... I'm between cutting my soles and getting this one now, or playing the other one and wait for this to get even cheaper

disappointingly still too costly

Noticed some play anywhere games in the list 😊. It would be nice if there was a seperate list of play anywhere games from this list. Would make them a little easier to find from this massive list.