Cortana looks great on Microsoft Launcher, but challenges and competition remain
Microsoft has made it easier than ever to use Cortana on Android devices, but how much does that matter?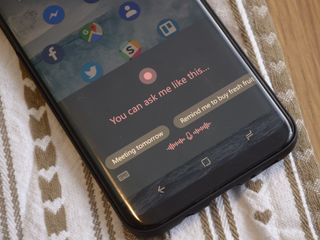 (Image credit: Windows Central)
Microsoft's presence on the Android platform continues to grow. There are dozens of apps available in the Play Store from Microsoft, many of which are at the top of their respective categories such as Office, Microsoft Launcher, and Swiftkey. But Microsoft is trying to bring their digital assistant, Cortana, to the forefront and compete against the likes of Google Assistant, Alexa, and Siri. They've made it easier than ever to access Cortana by integrating it with the beta version of Microsoft Launcher.
Cortana was already available on Android through an app, but this integration with the popular Microsoft Launcher brings a new design and the likelihood that people unfamiliar with the assistant will try it out.
Because the integration is in beta, it isn't fair to do a full review, but I'll go through the concepts behind the integration, what it does well, and how it can improve.
In addition to browsing through features and the look of the integration, I also tried using Cortana over the weekend much more than usual and compared it against Google Assistant and, to a lesser extent, Alexa. When I wanted to perform a task, I would ask both Cortana and Google Assistant to find out which assistant handled it better.
See at the Play Store (opens in new tab)
Easy access
Since Cortana was already available on Android, one of the biggest things that the integration of Cortana and Microsoft Launcher brings is quick and easy access to the assistant. You can get to it by either pressing the microphone button on the search bar on the home screen or within your cards section after swiping from the left. You can also have a card dedicated to Cortana in this section that lists some examples of what you can ask Cortana to do.
This might seem like it doesn't save much time, after all, you can setup Cortana as your default digital assistant on Android devices and can set your phone to summon it with a long press of home, pressing a button, or squeezing your phone, depending on what hardware you have. But I don't think this integration is aimed at people who already know about and use Cortana on Android. Sure, it makes it easier and makes it so you have one less app to manage, but I think a big reason for this integration is to attract users who like Microsoft Launcher but haven't jumped on board with Cortana.
Microsoft Launcher delivers a beautiful Android experience
Microsoft Launcher is very popular and respected among users outside of the circles of Windows Phone converts and Microsoft aficionados. Bringing Cortana aboard makes it more natural for these users to convert to Cortana and also makes it very simple for people who already like Cortana.
Using Cortana also allows you to stay within the Microsoft ecosystem. You can schedule things through Outlook, add to-do list items in Wunderlist or to your Microsoft account, and can avoid using Google, which is important to some users.
Sleek new look
The integration of Cortana into Microsoft Launcher also comes with a new look. Personally, I like the look, but I also agree with our Executive Editor Daniel Rubino that Microsoft needs to unify the look of the many versions of Cortana.
When you summon Cortana within the launcher, it pops up on the bottom of the screen with a prompt that says "You can ask me like this." This pop up is an overlay over the rest of your home screen which makes Cortana feel like part of the launcher, rather than just a shortcut to an app. This creates a smooth flow of access. The design is simple, yet shows you how to use the assistant. You can also hit a keyboard icon to enter requests with text rather than voice.
Stiff competition
Cortana may have a big part in Microsoft's plans for the future, but it's facing stiff competition now from giants in the industry. Google Assistant has thousands and thousands of third-party integrations. Alexa is coming to more and more devices, including Amazon's own Echo Dot which saw massive success over the holiday period. Many people are already choosing which assistant works for them and selecting the hardware to match. Once a consumer buys a set of Google Home speakers or puts an Alexa device in every room of their house, the chances of them even trying Cortana are likely minuscule.
In my testing this weekend I was taken aback at how much Google Assistant can do. People use digital assistants differently, but for me, Google Assistant tackled my smart devices, messaging needs, and other requests better than Cortana.
Cortana varies quite a bit between regions, one of its biggest faults, and for me, the UK version of Cortana just doesn't do what I need it to. Asking it to play an artist on Spotify yields music video results. It can't integrate with Whatsapp to send dictated messages. These are two major ways that I would use a digital assistant and easily did using Google Assistant. Some of these issues could be credited to the Cortana integration with Microsoft Launcher being in beta, but I tried the same requests on the app version of Cortana and got similar results.
This could just be region related. I know many coworkers and people who use Cortana on a number of devices, including asking her to play music on the Harman Kardon Invoke. So this might be something that is easily fixable but Microsoft needs to make feature parity a priority for Cortana on all devices, regardless of what country they're in.
A promising start, with obstacles
Using Cortana through Microsft Launcher over the weekend gave me mixed feelings. On the one hand, I love the look, feel, and easy access that the integration provides. But on the other hand, unless Cortana as an assistant improves, I predict that many people will happily use Google Assistant or Alexa with no issues.
By integrating Cortana into a popular Android launcher, I think Microsoft might be able to lure some people to try the assistant and depending on their needs, convince them to use it, especially if those users are in the United States.
The development team behind Microsoft Launcher has done a great job of making an attractive launcher that integrates Microsoft services. Now, the teams behind the integrated services need to make sure they step up and retain the users that are pointed in their direction.
See at Google Play (opens in new tab)
News Writer and apps editor
Sean Endicott brings nearly a decade of experience covering Microsoft and Windows news to Windows Central. He joined our team in 2017 as an app reviewer and now heads up our day-to-day news coverage. If you have a news tip or an app to review, hit him up at sean.endicott@futurenet.com (opens in new tab).
I don't have the Microsoft launcher and I don't want it (I use SauareHome 2 launcher). Is MS not able to beef up Cortana's integration on android without having to do it solely through their specific launcher?

yes There's a stand alone Cortana app

yeah but that app is pretty basic and only available to download in US. I'm in Canada and still waiting for Cortana to come on Android.
.
Another way to install the app is through some random website with an .APK file.

,Cortana is available in Canada in English. I am in Canada too and I use it. I just checked in app as well there are five options in Language + Region settings in app. Canada(English) being one of them.

Since you're one of the user of Cortana in Android I might ask you if the Cortana integration of notifications, between Android and Win10 PC is available already with the only "MS Launcher" Cortana, or we need the full fledged app. I have to ask this because I can't find in any place in the MS Launcher the place where I accept to sync my Notifications with other devices. A thing Cortana app does, instead. So I might suppose we NEED her, despite not available in the wider part of the world. MS Launcher can't fill in, for this purpose. Am I right?

I have and have had the stand alone app...I am referring to the level of integration. The integration of the stand alone app is poor. For example, it has no integration with MS own outlook calendar. Instead it's more integrated with google calendar 😑😒...unless I missed something? And the always listening "Hey Cortana" isn't available, etc.

You must not be logged in to your Microsoft account then? It connects with my outlook calendar just fine. It's not integrated into your calendar through your phone, it's on back end.

When i think about it Microsoft did "America first" way before Donald Trump. It's annoying that Cortana isn't even available for phone where she is available for PC and Windows Phone for years now.
It just doesn't make any sense. Having Cortana on PC but at the same time I can't use her on my phone? Well on my Lumia I can. But why not on my Android phone?

Or how is it even problem to enable it to everyone with only enablement to choose English. I would still be able to use her in English.

It is going to depend on your use case. Asking Cortana a generic question that leverages Internet search does appear very different from Google assistant (i.e, what movies are playing near me). The area where it falls short, as the writer points out, is phone specific questions, Ask Google Assistant to text a contact and it pulls up the specific Mobile #, asks you for the message, and sends it via a voice trigger. Ask Cortana to do the same and it brings up all phone numbers listed for the contact and you now have to interact with the phone to choose the number and type or press the mic button to send the message. This totally negates voice interaction. It seems the critical ability to interact with PHONE CAPABILITIES is the unique advantage of having a voice assistant on yoru phone in the first place. Cortana has some recent updates that fixes some of the integration between ToDos, and Reminders between Launcher and other MS apps so maybe they will make progress on the above.

I can use Cortana for Spotify on my Windows 10 PC but not on my Android. Is that so for everyone?

Does Cortana on MS Launcher also send app notifications & text messages to my PC? I had the stand alone app but it doesn't send any notfications anymore, so I removed since that's the only reason why I had Cortana on my Android phone.

Did you check the permissions for cortana. For me some time ago Cortanas access to notifications was magically removed.

If Cortana supports about 15 languages. Why Microsoft don't implements on Android an iOS?
Why only limits to english. I see more and more Windows users switching to Android, they try to test Cortana and Edge, but as that Apps are only adviable on USA (or english) they preffer use Google Assit and Chrome on ther own language. 🙄

I was thinking about switching to android, but two things are kinda important to me. Question to anyone who owns and android phone & a Bluetooth connected car. Can Cortana 1. Read out texts over the car's speakers when they arrive to the phone like is done on Windows Phone & mobile? And 2. Can you summon Cortana with a shortcut key I.e. Save her number so she can be 'dialed' and she responds?

No. Cortana can't run on Android like it does on W10M. See my rant below. I uninstalled it until I see an article saying it does.

I too wish that Cortana could read texts like with my Windows Phone. Google Assistant is now available in the Android Auto app and can read texts and allow you to respond like Cortana does on W10M. I started to use that and found it to work well.

Until they can make it work exactly like it does on W10M, I really don't give a flying F. This is no more useful now, than if you make it your default assistant, on any other launcher. Who cares if it gets more people exposed to Cortana (which I don't believe), if it's less capable than Google ASSistant, since it doesn't have full integration? It's like, "Hey, everyone look at our half-baked product!" No point. They just need to somehow get it full permissions, otherwise, it's a waste of time.

I agree. Go big or go home

Can we pin it to new page? If yes, then I will pin it and hide the feeds page completely. I was wanting them to replace the feeds page with cortana (adding any missing things into cortana).

I dont expect anyone will try Cortana because its in the launcher. If they actually do, they will probably be disappointed and not go back to it.

So if I was the sort of person to use these assistants, what would the advantage be of using Cortana instead of using the one that comes with my Android phone and also why would I want to use Ms launcher when the launcher that is supplied on my phone does the job fine?

I like the MS launcher actually. Its simple and clean and connects to your MS services. The only advantage I see to using Cortana on the phone is if you spend a lot of time at a PC and use Cortana there as well. If you set a reminder with Cortana on the phone, it will pop up on your PC too. I use Cortana to track packages and will often enter them on the PC. Its nice to be able to open it on the phone and see the same info. If you are already using Google Assistant, I dont see that Cortana offers anything. It doesnt have the connections to services like Google. I installed Cortana on my phone and have a few occaisions that I open it, but mostly that's because I came from Windows Phone and have some habits already established that I continue.

I wonder if we'll see a Microsoft phone running android? They have all the pieces coming together.

Can she automatically prompt me to have her read incoming texts? I needed a new handset and made the move to Android two months ago, and damn it if that's not the thing that I miss most.

All valid, particularly the point regarding Cortana's usefulness outside of the US. In the 3+ years I've been using cortana I haven't seen it improve much at all. In fact, it was arguably at its best when it first landed on my Lumia 1520 running Windows 8.

After my migration to an android phone, I tried the MS Launcher (twice), but gave up. What I had hoped for was a seamless skin that replicated my experience on a windows phone. A sort of sandbox on top of a sandbox. But quite frankly, its a mess. The interface looked a jumble, being neither windows or android, it wasn't customisable enough and it didn't act intuitively in the android world. I've ended up dumping it, and squarehome and embraced android, be it with the excellent nova app. Google assistant and the integration simply knocks the socks of Cortana and MS efforts, at least, here in the UK. This week I dumped outlook, due to the inability of two way sync contacts and calendar in a easy fashion, plus not being able to break out the constituent parts as separate icons. Even with emails outlook comes a poor second to gmail when replicating the folder set up within my native domain/webmail provider. One by one, I seem to be shifting to the google options. Not out of choice, but necessity or ease.
Windows Central Newsletter
Thank you for signing up to Windows Central. You will receive a verification email shortly.
There was a problem. Please refresh the page and try again.