Cortana-powered GLAS thermostat now available for $319 (Update)
More than a year after first being teased, Johnson Controls' elegant Cortana-powered thermostat is now available to order.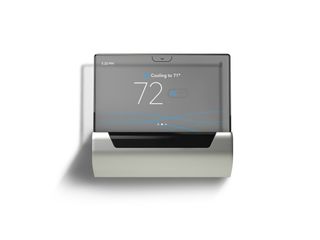 Updated August 24, 2018: After a short preorder period, the GLAS thermostat is now available to order from Amazon (opens in new tab) and Microsoft (opens in new tab) as well, with shipments set to arrive as soon as next week. The original story follows.
It's been a long time coming, but the Cortana-powered GLAS thermostat from Johnson Controls is now available for preorder at $319. And if you're looking for an especially stylish piece of tech to add to your wall, it may be worth a look.
The main draw of the GLAS thermostat is its translucent OLED touchscreen display. The device is built on Windows 10 IoT Core, and is powered by Qualcomm's Snapdragon 410E embedded platform.
Along with its elegant look, GLAS also sports plenty of smarts. You can leverage Cortana for voice control of course, but the digital assistant can also give you audible readouts of information like the current weather forecast, increases or decreases in temperature, traffic, and more. But on top of Cortana, Johnson Controls says that GLAS integrates with smart home devices via Google Assistant and Amazon Alexa as well. The combination of all three will let you use GLAS as a hub for controlling your connected lights and other smart devices.
Outside of the obvious smart home controls, GLAS can automatically adjust to your schedule to maintain a comfortable temperature while you're at home and save energy. The thermostat also tracks air quality and reports on information like humidity, carbon dioxide levels, and volatile organic compounds.
It's definitely an interesting, albeit pricey, piece of tech. But if you're interested in nabbing one for yourself, GLAS is available for preorder from Johnson Controls now for $319.
Dan Thorp-Lancaster is the former Editor-in-Chief of Windows Central. He began working with Windows Central, Android Central, and iMore as a news writer in 2014 and is obsessed with tech of all sorts. You can follow Dan on Twitter @DthorpL and Instagram @heyitsdtl.
It would be nice if they also released a Windows app.

I think in place of an app for Windows 10 they're expecting Cortana to be the interface/UI/settings for it akin to the HK Invoke. Not sure you need a pure dedicated app for this on Windows. Much of the interaction with Glas is voice, followed by the OLED touchscreen. Android/iOS are a bit different as you need a way in even for those not using Cortana.

I think for a thermostat, it would be wise to have an app, even if it is as simple as they get (temp up, temp down, status) without having to go through hoops on Cortana's 'devices' menu & controls if you don't want to speak out loud every time.
anyone using Android/iOS and not using cortana, will probably skip this thermostat … I can't imagine this being in its current state anything more than a niche market product for diehard MSFT fans.. it's an uphill battle coming into the market this late (i.e. ecobee's partnership with Alexa, nest's ever expanding ecosystem, etc.)

Lol not EVERY product is for everyone. Most people don't have apps now with their regular thermostat and they're fine. Let the thing breathe. It's not even out yet and you're already adding two cents about a product I'm betting you never installed let alone had 10 minutes of hands on time. THIS is why Ms and its partners can't grow. You put things in a box instead of letting it have a life of it's own

This supports Google Assistant and Alexa too. Not sure about Siri but I wouldn't be surprised if they support Apple. I think they saw the writing on the wall and decided against making this exclusively a Microsoft-supported product. Smart move, unfortunately.

If ecobee has an app... So, should this. Epic fail that it doesn't.

Love Ecobee's app. Can't imagine trying to set up a weekly schedule using just voice. Now, being able to say, "Hey Cortana, I'll be away for 2 hours", could be useful. Not that Ecobee and others couldn't implement that pretty easily.

Setting up a fixed schedule might be tedious if you require super tweaking. I have had a Nest for years and turned off scheduling for a while to enable the learned scheduling. It works, but not quite the way I want and it actually cost me more bill wise. So, I've returned to fixed scheduling to limit amount of HVAC use. I otherwise use voice-control via Alexa + SmartThings 95% of the time to interface with Nest.

How are you supposed to use it remotely then? Open up Cortana on your phone?

That or the ios/android apps for it.

They said that there is a Windows app coming though.

I can see it already
- Hey Cortana, set the temperature to 20
- I'm sorry, I didn't get that
- Hey Cortana, set the temperature to 20
- Bing!!!
Aaaand scene!

I've had considerably much better luck with Cortana understanding and executing things as intended than I have had with Alexa and Siri. I would have preferred Cortana to any other voice-UI. Unfortunately, Cortana is too late to the scene and when she showed up (earlier) not enough stuff took advantage of her. This and the Harmon Kardon speaker needed released dates 2 years ago. Still, I love the look and the potential for this device. Perhaps when I sell this hope, I'll leave behind my Nest (since it doesn't play well officially with SmartThings) and check this out. If it is still around... :(

The Cortana devices app already has this listed. I expect that you are right on with the expectation. They also said pore Cortana devices are coming plural. I can't wait to see what is next. Lastly...i love me some Insteon and have 5 Insteon thermostats. but would love one of these in the master bedroom.

I think it's mostly glass and plastic 🤔

Were you expecting some other materials for a thermostat?

He seemed to think it was made completely from cow

Guessing US only? :( Come on Microsoft, get Cortana out in some other regions....UK for me please!

Oh you sweet innocent child.

The Microsoft Store listing appears to only available for the US store (and not Canada, in my case), but the Amazon listing does ship to Canada, so perhaps it'll ship to the UK as well? Both sites list it for the same price. To get Cortana on your Windows devices to use it, you'll have to set her region to USA (which thankfully can be done without setting your whole computer / phone's region to USA).

Showing it of on an external wall wtf use it like you stole it comes to mind lol

As awesome as it looks, I feel it's a bit late. This makes what? 2 cortana enabled devices? For a Cortana ecosystem to take off, you need way more than just the invoke and this. And trust me, I'd easily switch if there was a good cortana ecosystem.

Let's be honest, most people will skip Cortana since Alexa and Google Assistant supported instead of just Cortana. So I'm not sure this will count (for most) as a Cortana device.

I was REALLY excited about this, what, a year and a half ago. Now with W10M long gone and Cortana on life support... what's the point?

This has access to all 3 Cortana Alexa And Google assistant.
Plus, all the extra home benefits like that air quality control indicator.

True. But have u tried Cortana from an Alexa device. I asked alexa to open Cortana last night....and Cortana is still listening...still testing

Based on what was said at the Build 2018 keynote, I'm expecting Cortana and Alexa to eventually merge, and you'll be able to choose either interface on any device, with both sharing the same skills in the back-end.

Cortana works with my insteon devices.

If this was last year, sure. But I've already shelled out on ecobee last Christmas

Have seen one put in demo mode. It's absolutely beautiful, screen is gorgeous. UI is much nicer than Nest, although that's probably because Nest is a one button UI and this is a full touchscreen.

I'm definitely looking at getting one.

The price is not bad at all. This is Johnson Controls, not some Mickey Mouse thermostat manufacturer.

you can buy three (3) decent Wi-Fi thermostats with $319!

But can they measure how clean your air is? Does it have all 3 digital assistance on board? Etc.

Yeah, the features that you don't ever need!

I'll be getting one when the price drops a bit.

Me too...
Should be 150 max...
I mean you set this thing up for good and hardly (if any) come back to it for adjustment a year later!
Meanwhile it's sitting pretty on the wall giving you an object of showoff!

I would love it if you could have the display show your calendar/appointments for the day/week and also have it tie in with my Ring Doorbell, too. Having the GLAS serve as a family information hub of sorts with weather/calendar/HVAC control/video doorbell receiver and chime would be incredibly useful.

Nice ideas that may justify paying $319 for this device...

Can I use my Invoke to control this thermostat?

This is very exciting news, to me. But one thing I wonder about this GLAS thermostat or any smart thermostat; do they work with evaporative (swamp) coolers?

The last time I used an evaporative cooler was several decades ago and I don't recall they worked with a thermostat. Just a toggle switch or a multi-speed fan switch....

GLADOS... GLAS... it's all leading to the same place... SkyNet...

I played with it at the Microsoft store in my area. Very nice but for $319, I'll pass.

If they add more features to it, it may worth a try...

I use nest, with web page pinned on my lumia 950 kind of webapp. Works great. This cortana glass looks nice

A lot happens in a year. I was stoked for the thermostat and Invoke. Then Microsoft pulled out of the mobile market, and they're creating a poor user experience by mashing Alexa and Cortana together. Oh well.

They also missed the mark on price. They're advertising this as the thermostat reimagined, but who is going to pay for equipment that just sits on your wall and has a very narrow set of uses.

It's not mentioned here or on the Amazon / Microsoft Store listing pages, but the Glas does support Celsius, for those of us non-Americans who are looking at importing it.
Windows Central Newsletter
Thank you for signing up to Windows Central. You will receive a verification email shortly.
There was a problem. Please refresh the page and try again.