Cortana support coming to Uber, Viber and Shopular Windows 10 apps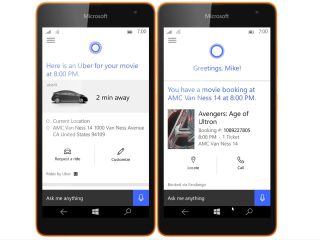 Microsoft has revealed that many upcoming universal apps that are being made for Windows 10, including Uber, Viber and Shopular, will have integrated support for the company's Cortana digital assistant. Over 500 Windows Phone 8.1 apps have already added support for that platform's version of Cortana.
As part of its Build 2015 developer conference announcements, Microsoft talked about how Window 10 apps can add Cortana to its features:
Microsoft offered an example of how the Uber driver app for Windows 10 will use Cortana:
Microsoft adds that more announcements of Cortana support for Windows 10 apps will be made before the PC version of the OS launches sometime later this summer.
Source: Microsoft
Wow awesome. Cortana is becoming amazing.

And then you realize Cortana is going to Android and iOS!

Their versions won't have this level of integration though. She will always be better on Windows. :)

Makes it less exclusive...but don't see how it makes my experience on Windows Phone any worse

It'll be interesting to see her answering "What's the best phone in the world?" when asked by iOS/'droid users! XD

I just asked Cortana about the best phone and it has a new answer. The original version said WP. The new one shows a banner saying WP. This might just be an artifact of Windows 10 coming and WP not being the name anymore. However, the banner can be tailored to give you any other answer.

You're correct. Just tried myself. Indeed, Cortana has began showing images for many stuff like "flip a coin", "roll a dice" etc...
And yeah, that Windows Phone image might be a hint that it can be easily replaced by a Windows 10 logo later.

She now says, "I can't pretend to be impartial" and shows Windows Phone banner.

The hell of the story
No. don't say that again

Becoming? She was always awesome.

For SHOPULAR APPS... Change the spelling mistakes

http://www.shopular.com/ might be that one

But I wonder, will cortana in w10 be for everyone, or restricted to only a few countries like in wp8.1?

Please help not able to update to windows 10... Everytime I update it my software crashes.....

Can anyone say when this feature will be available. anytime before RTM

Microsoft is putting their foot on others throats..lol just saying..

Uber is fail in India.. Even if cortana suggests.. No one is gona prefer it

It's not about uber, can't you see the big picture? The pure awesomeness!!

Forgot that India is the tech world trend setter ;)

Uber is not fail in India..Its becoming more and more popular atleast in all the metropolitan cities..

Did u guys forgot ..what happened in Delhi... At the end UBER was responsible for this.. And also the responsibility of officials to check.. Atlesst in Mumbai.. A lot of my colleagues prefer taxis or ricks.. Instead of such services

U cant blame uber for the mistake of one bloody rapist..They have corrected their mistake..Even taxi and bus are not safe..Do not forget Nirbhaya was raped in a bus..

Still missing the forest by putting emphasis on a damn tree. I agree that tree (Uber) is hideous, but that is not the point of the article.

Kinda true, Ola is doing better here. But still, Cortana isn't even in Beta yet & everyone wants a slice of her

I told Cortana to remind me when a new Windows 10 flagship comes out. Guess what she said.

Nothing! Just her usual response "ok Mister Washington, would you like to add a person, place or time. And that made me sad. :/

Ill try this as well when I'm at home. Excited on what she'll reply.

Whatsapp would be much mpre needed...

They didn't even release the calling feature for us... It's already available in Blackberry .. Disappointed :-/

Possibly May ending. #callingfeatureWP

Blackberry has an Android subsystem. It will get whatever android gets. It sucks big time though.

BlackBerry runs copy-pasted Android apps. Calling feature not out for Windows and iOS yet.

It's out for iOS.. Well, sort of.

They still use the old silverlight api which do not support voip.
They care for even a small number of users.
Don't cry like a child.
Even in android they support android 2.6

MORE AND MORE APPS SHOULD support cortana

To counter google now cards more apps with cortana support shoud come

Well it better as Cortana no longer speaks since I updated to the windows 10 insider program on my Lumia Phone

When for most used apps like WhatsApp???

Fb inc your such an asshole. What about WhatsApp calling for wp. Cortana support.

That's great. Is she going to be coming to note markets, dropping the alpha tag? Hope so.

nice wp style wallpaper...how u did it man?

It's an app called Tile Me!.

can't find the app by gisele name, it shows celebrity name....?

Sorry my bad. Phone autocorrected and I didn't notice. It's called Tile Me! http://www.windowsphone.com/s?appid=4b113087-6abc-40fb-8e49-d02adeba1393

Looks nice, but would be nicer for it to be available now. So it's essentially a demo until, both Windows Mobile 10 and the universal apps are both released, and the phones that can run them. Should be tagged with a 'Come back in 6-8 months' line in parantheses.

What about support for Dutch market and Dutch language support?

I'd actually prefer using Cortana in English, but localization is still lacking. Serving for places to eat gives me TGIF, Dunkin donuts etc. In Finland

Uber is illegal here in the Netherlands...

Im still waiting for news about Cortana availability in more countries! We want it here in Latin America!!!!

That will be great... can Cortana get me logged in to Uber, now that the new wp update of the app quits everytime I try to? Maybe they should crawl before they try to fly.

This Cortana UI look good.

Globally release for English cortana please.

The voice command API mentioned in the article is a one way, Cortana to app, interaction for launching an app but from the example with Uber it sounds like there are deeper integrations with apps like Google Now had just released. I hope this is the case.

Wow! all the power in the palm of my hand

Sounds great, when does she come to Sweden?

It should just be for windows no other phone simple .all dis Cortana stuff so fun n amazing love it love how smart Cortana gets smarter. It gets better it is ;!!!!!!!!!

I am so gonna leave whatsapp and all for viber soon as it starts working on my windows phone. (from India where almost everyone uses whatsapp. As common as normal sms)

*yawn* wake me up when Microsoft decides to take markets that aren't the US or UK a little more seriously. :D (but honestly, why Australians don't have full Cortana functionality yet baffles me. Microsoft obviously see a potential in our small, yet ever growing market to warrant them opening a retail store. Yes, I know: Different markets, different products, different methods of sale and distribution, but that really doesn't explain the why though; that just excuses it.) :)

Ask Cortana, "When is Windows 10 coming out ?" and see what she says

Wow, it'll be amazing to be able to use my voice to order a taxi on my phone!

I thought Cortana would slowly be available in more languages, in the same time they improve it. This latter they're doing impressively well. Anyone knows when we will have more Beta Cortana releases? (portuguese, in our case here)

What's the release date of windows phone 10 software...??? Badly waiting for it...m just excited...really...plzzz give me a reply on
yashpandya123@live.com or
yashpandya83@gmail.com Just waiting for your reply...

Earning money online was never been easy as it has become for me now. I freelance over the internet and earn about 81 bucks an hour. Get more time with your family by doing jobs that only require for you to have a computer and an internet access and you can have that at your home. A little effort and handsome earning dream is just a click away… ------------!~!~!------------- www.internet-careers.cf ,,,,,,,,,,,
Windows Central Newsletter
Thank you for signing up to Windows Central. You will receive a verification email shortly.
There was a problem. Please refresh the page and try again.