Creality CR30 3D printer review: Infinite possibilities
The CR30 is a new way of looking at 3D printing. It's exciting, but not without its issues.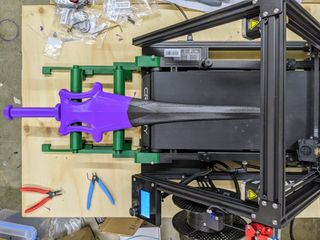 (Image credit: Windows Central)
3D printing as a consumer business has been around for more than a decade, and while we have seen great strides in the size, accuracy, and quality of the prints they can produce, a lot of those changes have come from small part changes not big mechanical experimentation. Our list of the best 3D printers shows that although there is a variety in the scale of each printer, the technology they use is all surprisingly similar.
The CR30 — often called Naomi Wu's 3DPrintMill after the YouTube maker who helped push the technology through — is something different. It uses a belt system and a print head turned 45 degrees to allow you to print along an infinite Z-axis, giving you the chance to print huge prints or lots of small prints, essentially forever. It pushes the technology of 3D printing into areas it hasn't gone before, and because of that, it deserves our attention. We have spent months with the CR30, trying to get to grips with the changes and how they can be used by a hobbyist or small business to the best effect.
Bottom line: The CR30 is a unique look at 3D printing. The belt allows you to expand your horizons in ways you might not have thought about.
For
Infinite Z-axis means giant prints
Can print like a mass-production factory
Offers new ways to look at your hobby
Against
It's not easy to get perfect
You need a lot of room
It won't print all the models you're used to
Creality CR30: Price and availability
Because the technology in the CR30 is new, the cost is still relatively high. With this 3D printer, you are paying for the experiment and the chance to do something different. The CR30 is around $1,120 at Amazon or $1,160 from Repkord with an upgraded Bowden setup. The upgrade is likely the first thing you will add anyway, so it makes sense to buy it from the get-go.
The CR30 was originally a Kickstarter, but all of the original backers now have their product, and mass production has begun in earnest. The stock seems to be pretty steady from Creality. You would expect that, though, as they are one of the biggest names in consumer 3D printing.
Creality CR30: What's good
If you are anything like me, your first thought when you see the CR30 in action is how much fun it would be to print a sword, and it is, in a way that is difficult to describe. Because the printer is essentially a conveyor belt, there is no upper limit to how big you can make a model. The only limitation is the scale of the model's width. If you want to print something long, make sure it is thin too. I printed Sephiroth's Masamune from Final Fantasy VII, and it ended up being 11 feet long! Unlike smaller printers like the Prusa Mk3, where you would normally have to print a sword in multiple small sections, the CR30 lets you print two halves that can be easily attached together. This eliminates a lot the sanding and filling that would normally be required.
Swipe to scroll horizontally
| Category | Creality CR30 |
| --- | --- |
| Filament diameter | 1.75mm |
| Nozzle diameter | 0.4mm |
| Hot bed temperature | ≤100℃ |
| Nozzle temperature | ≤240℃ |
| Layer height | 0.1mm-0.4mm |
| Print bed size | 200mm x 170mm x ∞mm |
| Product size | 535mm x 656mm x 410mm |
| Filament run-out protection | ✔️ |
| Power interrupt protection | ✔️ |
It's not just swords that can be printed either — though I have printed a lot of those — but just about any cosplay weapon you can think of can be printed with relative ease. Both the Masamune and the Whisper of the Worm from Destiny 2 were designed by Nikko Industries and modified to fit the CR30 buildplate, though I had to cut off the scope and magazine from the Whisper to get it to fit to scale. These prints take a lot of time, sometimes over 100 hours, but the end result is more than worth it. I even printed a 2-foot-long Alligator Loki, designed by Wekster and was blown away by how detailed its skin was.
Image 1 of 4
While printing the big stuff is where much of the fun lies, it isn't the only thing the CR30 is good at. If you are looking to make a lot of models in a short space of time, then the CR30 might be able to help. I designed a straightforward hook for curtains and needed 15 of them to secure my outdoor curtains. They weren't fancy, but they were big enough that it would have taken hours on a standard printer, especially as I would have needed to remove half of them from the build plate before printing the other half.
The CR30, however, can simply print the hooks in one continuous line until they are all finished. I set up a little box at the end of the printer, and as each model was completed, it slowly rolled off the end of the conveyor and dropped right in. I even had a few failures, something that would normally signal a complete failure on a static bed. Because the failed print keeps moving away on the CR30, a single failed part remains just that, a single fail. Mini mass production is the term I've been using to describe the effect of the CR30, and I think it works. You could set up two or three of these printers, set the parts you need to print, then only come back to them once the filament has run out. It is an extremely time-efficient and cost-effective way to mass-produce items.
As you can see from the gif, the printing angle is very different from most 3D printers. While it can create some weird variances — the backside of the print is technically an overhang — it also allows you to print a lot of models without the supports you would normally have to use. The textured belt is also extremely grippy and, once you have it dialed in, it can hold a print even when the printer is mounted vertically to the wall. The only issue with this setup is that some models that you may have been able to print on other printers may struggle to work on the CR30.
Creality CR30: What needs work
Because the CR30 is a new technology, there are going to be a lot of small issues. Even the iterations it has gone through since the first Kickstarter have been significant, and each one tries to improve on the overall design. Because of these potential issues, this is not a printer for the faint of heart. If you are looking to get into 3D printing or have never had to troubleshoot a 3D printer before, the CR30 is likely not for you. Before I even got to print one full model, I spent countless hours leveling the bed, adjusting the conveyor belt, and realigning end stops to get a configuration that would work.
Happily, because almost all of the parts of the CR30 are taken from other Creality machines, replacements are easy to source, and often an issue on the CR30 has been solved on the Ender 3 or 5, and that fix can be applied across the different models. Things like the PC4 connectors and the PTFE line for the Bowden setup are easily sourced and are classified as consumable. Things may break, but most of it is easily replaceable.
Although the 45-degree angled printhead can help you print certain models without support, it also limits the models that you can print with the CR30. This is an issue that can definitely be solved, but it requires a lot of experimentation. I managed to get a Destiny 2 ghost to print in sections after adjusting the infill, amount of walls, and the orientation on the print bed. The first time I tried, it completely failed. If you are designing models from scratch, take the time to learn the idiosyncrasies of working at 45 degrees and compensate accordingly.
Creality CR30: Competition
Offering alternatives to the CR30 is a difficult thing. There isn't really anything close to it on the market in terms of infinite Z, so if you want to print continuous tall prints, then the CR30 is your only option. However, if your goal is to print multiple parts, a print farm may work just as well, as long as you are OK with the extra manual labor.
The Elegoo Neptune 2 is an affordable 200mm x 200mm printer that you could buy instead of the CR30. If you were to buy six of the Neptune 2 instead of one CR30, then you could start yourself a nice business while still having change left over to do some upgrades. You could even buy the Creality Ender 3 and have the same kind of print farm to print multiple parts.
Again, these are not true alternatives if you are looking to emulate the best abilities of the CR30, but they are close.
Creality CR30: Should you buy it?
You should buy this if ...
You want to print swords or cosplay weapons
You want to print the same model repeatedly
You want to be on the experimental edge of a technology
You shouldn't buy this if ...
You want incredibly detailed models
You've never used a 3D printer before
This 3D printer is not for everyone. Even Creality and Naomi herself have said the same, and if you have never tried 3D printing, the CR30 is not for you. What it is, is a consumer option for a new way of printing. If you are a cosplayer or someone who makes props, this is a dream come true. I can't tell you how exciting it was to print and paint a full-sized Gunblade from Final Fantasy VII that cost $9 in materials and was light enough to swing like I was Squall.
The CR30 from Creality is a new way of exploring your creative impulses on a much larger scale than ever before. I have really enjoyed my time with it, and now it is mounted to my wall, it is getting even more use. I will continue to learn and grow with the machine, and with the help of the small but dedicated community, make better and better prints each time.
I am happy to recommend this printer to most people in the 3D printing community if they have any working knowledge of 3D printing. If you are looking to get into 3D printing because you love cosplay or prop display but have never used a 3D printer, maybe pick up a cheap one to start before you jump into the CR30.
Get the Windows Central Newsletter
All the latest news, reviews, and guides for Windows and Xbox diehards.
James built his first PC when he was 13 and has never looked back. He can be found on Windows Central, usually in the corner where all the 3D printers are, or huddled around the Xbox playing the latest games.