Cuphead is coming to Nintendo Switch, Xbox Live support planned
Games will be everywhere.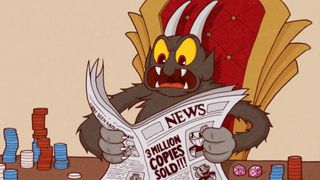 (Image credit: Studio MDHR)
Cuphead is coming to another popular platform very soon! Today, Studio MDHR announced that its game will land on Nintendo Switch on April 18. Cuphead will also receive a major content update on the same day which adds a host of features to the game. You can preorder it right now for $20.
Anger-inducing fun
A classic run-and-gun game with stylized illustrations and boss battles that will make you throw your controller at your screen. It's been called the hardest game ever played by many.
The update adds long-requested features like Mugman as a playable character during the single-player campaign, new animated cutscenes, new fight introductions, additional languages, and bug fixes. Studio MDHR's co-director Chad Moldenhauer commented on the game's Nintendo Switch debut by saying:
According to Microsoft, the team is working with Studio MDHR to implement Xbox Live into the Nintendo Switch version. The company said the following on Xbox Wire:
It seems like online multiplayer may be powered by Xbox Live on Nintendo Switch when it comes to Cuphead. It will probably even feature Xbox Achievements.
A few months ago, we reported that Cuphead has sold over three million units across Xbox One and PC. It also garnered a lot of awards for its animation style. The Nintendo Switch release should push that figure even further.
Asher Madan handles gaming news for Windows Central. Before joining Windows Central in 2017, Asher worked for a number of different gaming outlets. He has a background in medical science and is passionate about all forms of entertainment, cooking, and antiquing.
Cross platform saves? That would be great.

I was thinking the exact same....

Once again these companies lie and mislead gamers...
https://xblafans.com/cuphead-and-ashen-are-lifetime-console-exclusives-8...

Let me be the first to state the ultimate fan boy response (though depending on what happened to whatever contract, it could be a valid loophole), the Switch isn't a "real" console, so it doesn't count. 😛 Seriously though, this to me is just another argument against exclusives. I honestly thought that Cuphead was already on the Playstation. It really deserves to be on every platform, it's a great game. Maybe Microsoft feels justified doing this because they are bringing it in as a XBL title?

Yes, it is a great game and deserve to be on every platform.
I just feel for the switch owner who bought a XB1 just to play the game. If they are going to have timed exclusivity it's so annoying that they don't announce it from the start. Say this is a one and half year console exclusive. Don't say it'll never ever come on other consoles.

Will never under fanboys... the more cross-play/save, the better. I bought it cause it looks fun, and I prefer harder / action games, console exclusive or not matters nothing, now it's on Switch and if it support cross-save, I'd buy it again just so that I can play it with my friends in the coffee on some Sunday afternoon.
Bringing more games to notebooks and phones through xCloud, XPA or xvc is a good thing for Xbox owners, there's no downside. I bet this is a test run for xbox live sdk, what's more suitable than Cuphead and Ori?

No reason to buy Xbox One.

Huh? I guess... If you enjoy limited visuals in your games.

I bet he meant PC + Switch or PC + PS4 combo that's very popular in PC gaming crowd.

How many % of PS4 owners own a gaming PC I wonder. Why PC gamers want to buy FIFA or COD on PS4? Why didn't those PC gamers support Persona 5, Last Guardian, Ni no Kuni or Nioh? Gaming market share from the data we (well, our market research team) bought from various venders around the world.
In US: console (digital > package) > mobile > PC.
In EU: console (package > digital slightly) > PC > mobile.
In ASIA: mobile > PC > dying console (package > digital slightly). I ditched PC (and PsStore) after mid2016, due to 1) PC is and will always have issues, unless you go for an Alienware. Relatively, custom build is bound to have more issues 2) and if Valve don't remake Steam into a Win10 compatible store with the new sdk and urge devs to support *.appx, Steam will miss out all the WCOS families. It makes no logical sense to buy games from Steam (or PsStore).

Which is "A OK" from MS, as long as you buy your game from Xbox's ecosystem. Og/360 BC games, xb1 games, xb1 gamepads, wheels, game saves, everything we invested and generated, will be available on all future Xboxes, and through XPA, xvc, xCloud, Xbox owners can continue their game sessions on a low spec notebook, arm64 notebook, WCOS devices and phones.
And when people start gamepad gaming on the go, in a basement of some coffee or restaurants, those people will bring in more people into the ecosystem. Why would they want to ask their friend to join their games? Why would you refuse? And when those new comers start purchasing games and create game saves, why would they want to re-purchase/play the same game the 2nd time on other platform? PS4? Any words, promises or tech announcements?
Switch? Any words, promises or tech announcements?
Steam, only available on x64, x86 PC. And if you want to game-on-the-go, well, I normally spend 2.5k on a Alienware. I'm way over building my own rigs. Alienware team does a good job checking Windows and driver compatibility before rolling out updates. Relatively, a custom build will always have more issues. How do you justify your purchase? Buy once then play everywhere?

I really wish I was better at Cuphead than I am.

I think the key about Cuphead is about figuring out the weaknesses of the boss. If you're having a difficult time with a boss try different weapons.

This.... I was stuck about halfway through untill I changed up my weapons. I did play most of it in local coop, which is actually harder in some aspects. If you have the ability to game with someone try that, sometimes that makes a difference. I'm stuck on the last boss currently. I haven't tried it since the first night we got to it, but it can be really difficult just to get to it.

According to Gamenewsninja, Konami says Castlevania Anniversary Collection, Contra Anniversary Collection, and Arcade Classics Anniversary Collection are all coming to Nintendo Switch.