Custom Windows Phone Tango ROM released for Lumia 800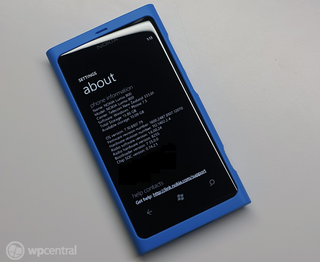 RainbowMod? Sounds familiar, right? We previously covered a custom ROM for the Lumia 710 sharing an identical name, and now it's out for the Lumia 800. Built on Windows Phone "Tango" (7.10.8773.98) and based on Chinese firmware, RainbowMod is shipped with both English (US) and Russian languages.
It's required that the owner has configured the Qualcomm boot loader on their Lumia 800. So what's included in RainbowMod?
Full Unlock from UltraShot
Removed OEM applications (Nokia Drive, Maps, etc.)
Search key remapping
QuickLaunch menu for quick switching state of WiFi, 3G, Flight mode, Power save, etc.
Ability to access file system via WiFi/USB
Integrated Live ID, DppImplant no longer needed, but new key can also be banned
Orientation locker
Added multiple colour themes
Easy installation xap from browser or file manager
Unlocked Facebook, Twitter and LinkedIn accounts (limitation of Chinese firmware)
Added Google and Yandex search engines
xb0xmod cert for cab-updates
Cab-updatable
Lots of minor changes
Updatability via Zune (not guaranteed)
It must be noted that the ROM creator does not own a Lumia 800, and thus this may well bust a cap in your Lumia's ass. Windows Phone Central takes no responsibility for any damage caused to your device. Proceed with caution and at your own risk. Head on over to the XDA thread for more information and support.
Source: XDA; thanks Maersk for the heads up!
Rich Edmonds is Senior Editor of PC hardware at Windows Central, covering everything related to PC components and NAS. He's been involved in technology for more than a decade and knows a thing or two about the magic inside a PC chassis. You can follow him over on Twitter at @RichEdmonds.
This article is oh-so-quotable

"...this may well bust a cap in your Lumia's ass..." #Awesome lol

Rich is on fire with news today

Love the features, but don't love that it hasn't been tested?!

How's about one for the Focus S!

Im most decidedly not going to install any russion ROMs. God knows what kind of stuff they built in. I'm doing stuff like online-banking with the phone, so no thanks. Theoretically, they could clean out the bank account.

I feel the same way about Android! My trust level is zero for Google, let alone ROM chefs.

This is why I always look a bit into the ROM creator. I'm running mirolg's ROM on my Omnia because he seems like an awesome guy.

You 3 people make me laugh out loud with your paranoïd/racists thoughts...seriously how can you rely on a man just because you think he "might" be a good guy and not rely on another because he is russian...looool
Just two things to know...1- android os isn't protected at all...never trust them apps! 2- windows phone os is over protected...and rom chiefs (even russians lol again) can be contacted at xda...so you'll be able to learn from them how far can they be relied on...


Lol. Stereotypes... Russian, must be mob; American, probably fat. Et cetera.

Why would you delete the Nokia applications? Thats what makes these phones so much better then its competitors?

To reduce the size of the download, thereby reducing server load. Esp. since they're available via the Marketplace.

A bit off topic, but ;
The 800 in the picture, is that a blue case on it or is that the body?

Looks like it is a case. You can tell with the ear piece. I do believe a gel case comes with the 800.

Yeah that's the case, you can tell because the buttons aren't visible. The case does come with the phone but mine got discolored around the edges pretty quickly

I would be happy if I could actually unlock my Lumia's bootloader. I know it's way harder than I think it is, but the truth is it's just sad to see these ROM's and don't be able to use it

I'm not blasting the OS, I haven't tried it (nor will I).. but it bugs me to see people mess up the UI of WP7. If you're going to create custom icons, at least respect the ratio of the icon in white vs the tile!
The custom icons are just fugly!

Awsome but can you tell me that is there is any wp8 rom for lumia 800 or any idea how to use wp8 apps in lumia 800.....! Please Help Me out I need to Use WP8 Apps In Lumia 800....!
Windows Central Newsletter
Thank you for signing up to Windows Central. You will receive a verification email shortly.
There was a problem. Please refresh the page and try again.