Gameloft bringing Dark Knight Rises and Shark Dash to Xbox Windows Phone 8 this week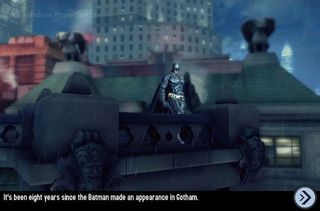 Xbox games for Windows Phone 8 were slim pickings until Gameloft's highly anticipated Asphalt 7 rolled out a few weeks ago. That rad racer became the first of the publisher's 12 announced games to actually see release, followed shortly thereafter by The Amazing Spider-Man and Real Soccer 2013. That still leaves 9 more games to go, including the hotly anticipated FPS titles N.O.V.A. 3 and Modern Combat 4.
We won't be shooting enemies this week, at least not with bullets. Batarangs, however are a different story. This Wednesday, Gameloft will release The Dark Knight Rises and Shark Dash for Windows Phone 8.
The Dark Knight Rises
Android screenshots
Gameloft is the only company to produce a videogame version of the 2012 film The Dark Knight Rises. The film centers on Batman's return to crime fighting after an arbitrary 8-year retirement. Batman must stop a villain named Bane (who bears no resemblance to the actual comic character) from detonating a nuclear warhead in Gotham City and fulfilling a plan that makes no sense if you think about it for more than five seconds. Count me as a big Batman fan who didn't enjoy Nolan's final movie too much.
The Dark Knight Rises game follows the basic plot of the movie and features such characters as Catwoman, Bane, Lucius Fox, Commissioner Gordon, and Alfred. They are all voiced by so-so sound-alikes (this is a phone game, after all). But regardless of your feelings about the movie, an easy gauge for whether you'll enjoy this title is how much you like Gameloft's The Amazing Spider-Man.
See, both games share engines and play very closely to each other. Batman moves around a sparsely populated open-world, stopping random crimes, searching for collectibles, and leveling up to gain new abilities. He'll actually do some sneaking around, gliding through the air, and drive a couple of vehicles too, so don't think this won't feel like a Batman game.
We haven't played the Windows Phone 8 version of this one yet, but it's likely to have a relatively low frame rate like Spider-Man, so keep your enthusiasm in check if you require only the smoothest graphics in your phone games for some reason. Also, Spider-Man has proven to be a very buggy title with at least one broken Achievement, so let's all wish really hard that The Dark Knight will Rise above similar issues.
The Dark Knight Rises is also one of those games that people with 8 GB phones likely won't be able to install, as the Android version clocks in at 1.8 Gigabytes. Expect the Windows Phone game to require a minimum of 4 GB of free space for installation, if not more. Remember, that's a Windows Phone restriction and not the developer's fault.
The Dark Knight Rises will cost $6.99. It's coming to all regions except for Brazil an Korea.
Shark Dash
Here's a game that will take up wayyy less storage space than Gameloft's 3D titles and should run on phones with only 512 MB of RAM such as the Lumia 620. It also happens to be a physics puzzle game. But! But!! I've already put a decent amount of time in with the Xbox Windows 8 version, and even though this genre usually makes my eyes all a-glaze, I still like Shark Dash.
The story involves a bunch of toy ducks kidnapping the heroic toy shark's girlfriend. It's basically a setup for taking down ducks, much like the birds versus pigs conflict in Angry Birds. This game consists of 96 levels (with more promised in the future). The goal is always to eat all of the ducks in as few moves as possible.
To get those ducks, you'll tap and pull the shark. Release him and he slingshots around the tub, bouncing off of walls, knocking things over, and eating any ducks he bumps into. There are several more sharks to unlock, all with unique abilities. Coins collected throughout the game (or purchased with real money) can be spent to unlock new skins and power-ups.
Shark Dash for Windows 8 costs $1.99, and you can get it here right now. The Windows Phone 8 version will be 99 cents, but you will of course have to wait for Wednesday. It will be available in Brazil and Korea, but not Russia and Taiwan, presumably because those two countries are extra scared of sharks.
Get the Windows Central Newsletter
All the latest news, reviews, and guides for Windows and Xbox diehards.
Paul Acevedo is the Games Editor at Windows Central. A lifelong gamer, he has written about videogames for over 15 years and reviewed over 350 games for our site. Follow him on Twitter @PaulRAcevedo. Don't hate. Appreciate!