Dead Or Alive 5: Last Round coming to Xbox One Feb. 17 in paid and free versions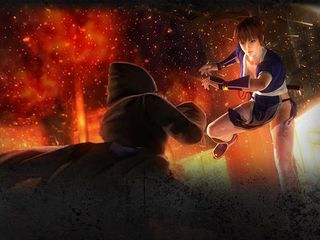 The Xbox One console will get another, and much welcomed, fighting game franchise on February 17 when Koei Tecmo releases Dead Or Alive 5: Last Round, a port of developer Team Ninja's last generation fighting game but with improved graphics and new content.
The game, which will also be released for the Xbox 360, PS3 and PS4 consoles, will include two new, as yet unannounced, fighters that will be added to Dead or Alive's already huge roster of 32 characters.There will also be new costumes and hairstyles to choose from and the game will get two new arenas: Danger Zone, from the first Dead or Alive game, and The Crimson from Dead or Alive 2.
Perhaps most importantly, gamers will be able to check out three different versions of the game, including a free trial that will allow users to play four characters in any mode except Story Mode. In addition, the company will offer Dead or Alive 5 Last Round: Core Fighters for $4.99, which will have eight characters, with the option to purchase other characters. The full Xbox One version of Dead Or Alive 5: Last Round will have all of the fighters and content from the game for the price of $39.99.
Will you be checking out this latest Dead or Alive game on the Xbox One?
Source: Dead or Alive 5 website
Windows Central Newsletter
Get the best of Windows Central in your inbox, every day!
Aww hell yes! Though I'll be paying full price hand over fist, because it's such a fucking awesome game. Between this and Mortal Kombat X, I'll be a busy guy

What's the price for the full version?

$39.99 for everything in the game, $4.99 for only the 8 base characters. Its in the article.

People are just plain stupid sometimes.

When I posted the question, the article did not have that information yet.

One of my favorite Dreamcast game is back.. Here's hoping for power stone

They tried to bring back Powerstone cause its a genius game, but starting the development didn't even happen.

Dreamcast? I own DOA1 on the Sega Saturn and PS1... those were the days. Tons of costumes already included on disc!

$40 bucks seems like a great price for it all plus a "free" trial. Will check it out and if I like, I buy.

don't understand why Core Fighters is free on the PS3/4 but $4.99 on the Xbox One.... (yes, i know the other versions are not mentioned here, but had to bring it up) beyond that, can't wait to add another fighter to my XB1 or PS4....now, who will release a joystick that doesn't cost $200???

there's a table in developer's site showing the differences... the "core fighters" in PS4 only have 4 characters (the same characters of xbox one trial) and the core fighters on xbox have 8 fighters.... Idk... I think they tried to make something like KI but just creates a confuse business model....

which now makes even less sense.... why a trial AND core fighters on one system and only Core Fighters on another? The trial is Not upgradable, but Core Fighter is... In the end, for me it doesn't matter. I'm buying the full game.

Me too. I'm not a fan of the "Freemium" model. I can see why they do it, but I think they need to keep it simple. Have one clear, easy to follow business plan and stick to it, and use that as the model for all such games. I'm still not sure exactly how the whole KI thing works. Full game or nothing for me.

No thanks got to waist my time on other games. Forza horzon 2, mcc, gta5, tom Clancy game in 2015

*waste What Tom Clancy game?

To me, an Xbox is not yet an Xbox without three things: Halo, Gears of War, and Dead or Alive. Thus, this is a must-buy. What's more I'm glad I held off buying DOA5 on the 360. The Xbox One was looming just a little too large on the horizon for me to drop £40 on an outgoing gen. I was sure they would port it to the One and I was right. I can't wait for Feb!

Even if you think that of Gears Judgement (and I would wholeheartedly disagree), it's to say nothing of the next Gears. It might be epic! (no pun intended).

Hopefully since MS bought gears they'll reboot it on xbo like halo

You're a good commenter, Ozzpot. We need a hundred more just like ya. :)

Thanks, I'm honoured and humbled that you would think such a thing.

I concur. I really hope the next gears gets a reboot and is made to impress. It will get a fair shake from me for sure.

Judgement, at least to me, was a welcome break from the relentless grit and pathos of the series. It was all getting a bit too heavy for me. Judgement's storyline was lighter, and allowed me to enjoy those familar Gears gameplay mechanics, honed to perfection. What's more it was graphically the most impressive Gears to date. I enjoyed too the class-based nature of the co-operative multiplayer modes, I think it added new dimension to the game. I do however think that it was a mistake to replace the wonderful Horde mode, perfected in Gears 3, with two other similar but overly simplified, and short, modes. What's more the competitive multiplayer was always a bit short on content. It was nothing a good bit of DLC wouldn't have cured. I expect a reboot to address all concerns. They would have learned a lot from reaction to all the previous entries in the series and will be determined to make the Xbox One's first taste of Gears a definitive one; a truly epic experience, a Gears fan's wet dream, and another thorn in the side of the Playstation 4.

I just wish they'd come out with a fight controller (other than an expensive stick) for either console. Last gen, I played fighting games on my PS3 because I had the Mad Catz wireless fight pads. Awesome controllers for fighting games.

You might wanna check out the Titan one then. We'll be reviewing it next week.