Microsoft Store to sell Call of Duty: Advanced Warfare, Destiny for $30 on December 13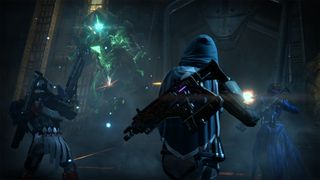 Fancy some gaming this Christmas? Microsoft has you covered with Xbox One and some kick-ass deals for December 13 on two popular titles. As part of the company's "12 Days of Deals", both Call of Duty: Advanced Warfare and Destiny will be available for just $29.99 in the US, and $39.99 in Canada, saving $30 on their respective retail prices. If you pop to your local store, both games will be yours for only $19.99 each.
For the brick-and-mortar deal, you'll be able to grab those games should you be one of the first 50 customers in major Microsoft Stores, and one of the first 25 customers in Microsoft's specialty stores. Oh, and if you're one of the first few who arrive, you'll receive a free Xbox t-shirt. Note that this deal is for US and Canada only.
Source: Microsoft (opens in new tab)
Windows Central Newsletter
Get the best of Windows Central in in your inbox, every day!
Rich Edmonds was formerly a Senior Editor of PC hardware at Windows Central, covering everything related to PC components and NAS. He's been involved in technology for more than a decade and knows a thing or two about the magic inside a PC chassis. You can follow him on Twitter at @RichEdmonds.
Glad I waited. Black Friday deals weren't this good for these games. I did pick up Lord of the Rings for $30 though. Looks like I'll be needing an external drive very soon.

Actually MS Store had CoD AW for Xbox One for $30 online on BF weekend, but I already owned it. Definitely taking advantage of the Destiny deal.

PLEASE TAG ARTICLE AS US/CANADA-ONLY!!! Since this is a global forum article is not relevant to anyone outside US/Canada. Tagging articles will make it so much easier for anyone.

Going to try and get Destiny for $19.99. That is about what it is worth.

Your kidding us right. It should be F2P with the crazy amount of grinding you have to do. After two or three strike playlists its about as much fun as when Cartmam, Stan, Kyle and Kenny were killing hogs to level up. Classic South Park!

Only level 9 now, 3 days into playing (RedBox ftw), but I noticed that sometimes the maps feel a bit repetative. Is that the case? I've only gone to Earth and the Moon, but the dungeons or w/e seem a little similar. Same dark hallway, same rooms, etc. I've also noticed that the "Grinding" feels more like an MMORPG, an endless supply of the "same" enemies. I'm going to pick it up, but I'm still unsure about whether I like it or not. I guess I was expecting more with all the Hype. Thoughts, anyone? Womp Womp...

Yeah there's not a ton of variety to be had in Destiny, although you still have 2 major enemy factions to meet yet and two additional planets to explore.
What it boils down to is the gameplay. If you like the mechanics then the grind to get better weapons and abilities for your guardian can be really fun-- the game does a good job of ramping up the opportunity for carnage as your abilities grow.
I have quite a few hours into it and although I am playing the same basic missions over and over, they are "refreshed" by facing different/harder enemy types and having different abilities that kind of change up your play strategy and reward experimentation.

Well said, this is exactly how I feel about the game so far! It's great, and I love to support Bungie after all they did for Microsoft and Halo, but it does leave a bit to be desired. Oh well, returning the Redbox today and for $20, you can't go wrong either way.

http://m.youtube.com/watch?v=S5SCXhxNg4A

If you don't like grind, you might as well stop now. I love the game, but I also love the constant grind for better gear.

The real fun starts when you level up past 24ish and start doing coop strike missions with friends. And then, there's the crucible, hours of non-stop players versus players gaming.

Yeah, I have some buddies picking it up too. I'm sure it'll be a bit more fun with the crew together. I did some Crucible last night. Was playing plots/hardpoints, then Strike/Slayer/Atrition/WhateverItsCalled and kept dying. I can hold my own in TitanFall and Halo, but I'm just horrible on here. Might just need to familiarize myself with the maps and gameplay though, but I was getting my butt whooped!

I wish it would be for the digital download.

Very great prices. I'm sure they'll sell out really quick.

Destiny tomorrow morning at Rockingham Park. Not a COD fan, but might just get it for the resale value. Will I see any of my fellow WCentral members there??

I'll be doing the same in NH. Hoping the turnout is small and you are the only other WCentral member going to that location. My former CoD clan only plays Destiny now and I've been waiting for a good deal to pick it up (already have CoD). Going for the $20 deal, but the $30 is still great.

Yeah, that extra 10$ will be spent at Pretzel time. I'd pick up a play and charge kit, but they're never in stock in stores!!!

Just got my copy of Destiny and free t shirt for $19.99.. No crowd at Rockingham, Shonuff. Great deal, glad I waited on picking it up until now.

Same here, early morning, first person there. Was trading in an X360 and picking up an xBone for my buddy. I may have seen you there! Got home, popped in destiny, and "rested my eyes" till now, @_@ Early morning sales are the death of me.

C'mon...what about the UK?
I want that deal now....

I preordered both these games and paid full price! I hope Microsoft reimburses me the differences! /sarc. ;)

Lol pretty much, im waiting for actual comments like that haha

Is there possible getting these games outside the US too by changing the region settings?

Since it would have to ship internationally, no.

Oh, so these aren't digital games? Damnit. Oh well, I could use jetcarrier or such to get it here in Norway. Region free for the win! :)

​I would buy them if they were digital downloads but since they are physical copies, I'll pass. My days off switching discs and not being able to family share are over.

Same here. I don't think I've even opened the disc drive on my Xbone unless it was by accident.

What is better? Advanced warfare or Destiny?

They are completely different games. I prefer Destiny, but if you don't like the idea of repetition and grinding to get better gear, then go for CoD.

Only for Xbox One or does that apply to 360 as well?

I have the same question.

Awesome. Might have to go grab COD in the morning. Friend already offered to give me Destiny but I turned it down cause I've been told it sucks.

Beats me why these deals are US / Canada only... The rest of the world bought into this Xbox system too. I personally like both games and would buy them as download at a cheaper price just not to have the disc going in and out ask the time.

Too bad I already own these games....Dam, should of waited..

Now I gotta choose between the two.

I've put over 300 hours into Destiny on Xbox 360, have three level thirties and obviously love the game. $20 is perfect for me to now join up with my friends that also play on One. I'm getting up early tomorrow because in a cheap ass gamer.

Just got one foe my son with a T-shirt for $19.99. Was about 40 people there. They have all 3 sizes of bands in stock too.

Got both games and a Xbox shirt for $42 including taxes

Larrynj did you go to the garden state plaza store?

No, Christiana Mall in Delaware.

Got em! Store opened at 7:50, was out of there by 7:55.
Windows Central Newsletter
Thank you for signing up to Windows Central. You will receive a verification email shortly.
There was a problem. Please refresh the page and try again.