Dell Latitude 13 7300 review: Business laptop with a conducive mix of battery life and performance
There's not much to dislike about the Latitude 13 7300 after using it as my primary device. If you're a professional who needs a new business partner, this could be it.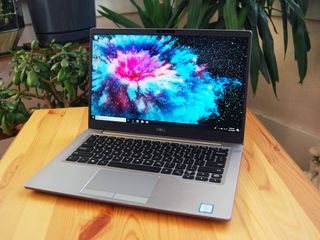 Dell's refreshed 13-inch Latitude 7300 is a business-class notebook that manages to keep its chassis relatively thin and light while still delivering a healthy mix of extra security and productivity-focused features. It has above-average audio, strong battery life, and excellent performance. I used it for about a week to see what it's all about and whether or not it's cut out to be your next device.
Bottom line: The Latitude 13 7300 is a durable workhorse with long battery life, colorful display, generous port selection, and an abundance of configuration options that will get you set with the security and performance you require.
For
Excellent battery life
Low-watt FHD display looks great
Comfortable backlit keyboard and Precision touchpad
Varied port selection includes Thunderbolt 3
LTE connectivity is available
Against
Terrible fingerprint reader
Tops out at 1080p
Prices climb quickly
Dell Latitude 13 7300 at a glance
Dell supplied Windows Central with a review unit of the 13.3-inch Latitude 7300. It has inside an 8th Gen Intel Core i7-8665U vPro processor (CPU), 16GB of DDR4 RAM, and a 512GB M.2 PCIe NVMe solid-state drive (SSD). The display is non-touch and low-watt to suck up less power, hitting about 300 nits brightness; you can add a privacy filter if you're worried about working with sensitive material in public. It's all wrapped up in a brushed aluminum chassis, but you can opt for carbon fiber instead. This exact model costs about $2,150.
Dell has a ton of configurations available, and baseline models with 8th Gen Intel Core i5-8265U CPU, 4GB of RAM, 128GB SSD, and 768p non-touch display start at about $1,299. If a 13.3-inch display isn't quite large enough, there's also a 14-inch Latitude 7400 notebook, and there's likewise an impressive Latitude 7400 2-in-1 that we reviewed quite favorably.
Note that you can add a WLAN card to go with the SIM slot, and there's an optional IR camera for facial recognition through Windows Hello (the fingerprint reader is also optional). Our review unit came with a 90W barrel charger, though you can opt for a 65W charger instead, and can choose to go with USB-C instead of the proprietary barrel. Let's take a look at the exact specs that make up this review unit of the 13.3-inch Latitude 7300.
Swipe to scroll horizontally
Category
Spec
Processor
8th Gen
Intel Core i7-8665U vPro
Up to 4.80GHz
RAM
16GB DDR4 Non-ECC
(2x 8GB)
Graphics
Integrated Intel UHD 620
Storage
512GB M.2 PCIe NVMe SSD
Display
13.3 inches
1920x1080 (FHD)
Super Low Power (SLP)
Non-touch
Ports
Thunderbolt 3
Two USB-A 3.1 (Gen 1)
HDMI 1.4
Optional SIM slot
Noble lock slot
microSD card reader
3.5mm audio
Audio
Dual Stereo speakers
Wireless
Intel Wireless-AC 9560
802.11ac (2x2)
Bluetooth 5.0
Camera
Front-facing 720p
Privacy shutter
Biometrics
Fingerprint reader
Keyboard
Three-stage white backlight
Touchpad
Precision
Two physical buttons
Battery
60Wh
90W A/C adapter
Dimensions
12.06 x 8.14 x 0.67 - 0.73 inches
(306.5mm x 206.95mm x 17.4 - 18.5mm)
Weight
From 2.75 pounds (1.25kg)
Dell Latitude 13 7300 design and features
Image 1 of 3
The 13.3-inch Latitude 7300 is built on a unibody aluminum chassis with a brushed metal finish that does a great job of hiding fingerprints and smudges. It's a robust chassis with nearly no give in the bottom portion or lid, which lends itself to a durable feel. On the back of the top is an embossed Dell logo, but it's otherwise a static finish. The build won't quite match up to something like the high-class XPS lineup, but the Latitude 7300 is by no means a slouch. You get added durability, decent port selection, and lots of room inside for DIY upgrades. The laptop weighs somewhere around 2.75 pounds (1.25kg) and is just 0.67 inches (17.4mm) at its thinnest point; you can slip it into a backpack or briefcase and not really notice it's there.
The thicker chassis allows for a varied port selection, so you shouldn't have to rely on adapters and dongles to make up for strict USB-C connectivity. On the left is a barrel charging port, Thunderbolt 3 with 4x lanes PCIe, HDMI 1.4, and a single USB-A 3.1 (Gen 1). On the right are another USB-A 3.1 (Gen 1), a microSD card reader, a 3.5mm audio jack, and a Noble lock slot. Everything is well-spaced out, so you shouldn't have any issues with crowding, even if you're using all ports at once. Thanks to the Thunderbolt 3 port, you can also create a powerful workstation with a high-performance docking station.
The optional fingerprint reader is built into the power button on the right side of the keyboard, offering up Windows Hello security. Unfortunately, it is one of the worst I've tested, to the point that I abandoned the initial setup that has you repeatedly touch the reader to get a quality scan of your fingerprint. Even after wiping it down to ensure nothing was interfering, it was still incredibly finicky, and I thought best to leave it alone.
For an ultrabook, the dual down-firing speakers are actually above average. They get loud without distorting, and their placement on the front curve of the laptop means they're not totally muffled when the laptop is on a desk or table. I watched more than a few videos and even sat in on a couple of video conferences with the laptop on my lap and didn't have any issues.
Dell Latitude 13 7300 display
Our review unit includes a low-watt FHD (1920x1080) non-touch display that gets up to about 300 nits brightness. The low-power display substantially cuts power consumption in half, and it's also considerably less expensive than the touch display option. If you're concerned about battery life, it's the right choice. Its matte finish does a great job of cutting down on glare, and unless you're working indirect light, you shouldn't have any problems.
The bezel isn't too thick along the sides, and the chin is also thinner than a lot of other business laptops out there. It's not edge-to-edge glass, so there is a plastic lip around the panel. Along the top is enough room for a webcam and privacy shutter, plus you can add an IR camera if the budget allows. Because the fingerprint reader isn't so great, facial recognition is likely a good idea if you're interested in using Windows Hello.
Testing with a Datacolor Spyder5, I got back 99% sRGB and 74% AdobeRGB color reproduction. These are both great results, especially for a business laptop, and I recommend at least going with FHD instead of the baseline HD (768p) option for clarity and color.
This is a standard notebook, so there's no converting it to different modes, and it has a single wide hinge for the lid. You can easily open the lid with one hand. At about the 90-degree mark, the hinge action seems to tighten up, so there's far less chance the display will shake around if you're trying to work on a bumpy flight or car ride. It's a smart design addition and not one I've noticed too often.
Those often working in public can choose a display with an integrated privacy filter, though this removes the option of a touch or low-power panel. If you do have the privacy filter, it can be toggled with one tap of a dedicated F key.
Dell Latitude 13 7300 keyboard and touchpad
Image 1 of 2
The keyboard has a three-stage keyboard backlight (off, bright, and brighter) for its chiclet keys, and for the most part, it's comfortable to use for productivity work. I typed on it for hours at a time and appreciated the deep travel, but it's still not going to quite match up to what you'd get from a ThinkPad.
There's no blue pointing nub centered in the keyboard like some of Dell's business laptops have, but the Precision touchpad does include a couple of physical buttons. They don't require much pressure to actuate, and overall the pointing experience is satisfying.
The palm rest around the keyboard is the same brushed aluminum as the outer shell. It warms up but doesn't get hot, and it does well hiding smudges and fingerprints. You won't have to spend as much time wiping it down as you would with the soft-touch black finish on a ThinkPad.
Dell Latitude 13 7300 performance and battery
The 60Wh battery, combined with a low-watt display, delivers comfortably about nine hours of life from a charge if you're tackling regular productivity work. With a lesser performance level selected in power settings, it could no doubt push more than 10 hours. There is a 65W adapter available, but with the 90W adapter (which was included with the review unit), you can expect a full charge in just over an hour.
Between word processing, video conferencing and streaming, heavy web browsing, and downloading, there were no issues with the performance from the Core i7 CPU, and that was without setting power management to the best performance. You're likely not going to get quite the same power as you would from 10th Gen Intel chips, but these Whiskey Lake CPUs are still excellent. For IT departments, vPro options are available in both Core i5 and i7, though you can opt for standard hardware with the Core i5s.
Integrated Intel UHD 620 graphics won't allow for high-quality AAA gaming, but you can undoubtedly enjoy some lower impact games when you're not going about usual work. The laptop will likewise handle a bit of editing or design, but don't expect anything miraculous without a dedicated GPU. Under load, you will hear the single fan kick on and work rather hard to keep things cool. It hits an average volume — not the loudest I've heard by any means — and it mostly manages to keep the laptop from getting overly hot.
There are two RAM slots inside, easily accessible for DIY upgrades after removing the back panel. Also easy to reach is the M.2 SSD if you'd like to add extra storage after purchase. From the factory is a Samsung PM981 with blazing speeds, though it's not precisely guaranteed you'll get the same hardware depending on availability. At checkout, you can configure wireless connectivity, including LTE or Wi-Fi 6.
I ran some synthetic benchmarks to see how well the Latitude 13 7300 stacks up to other laptops we've recently reviewed.
CPU
Geekbench 5.0 Benchmarks (Higher is better)
Swipe to scroll horizontally
| Device | CPU | Single core | Multi core |
| --- | --- | --- | --- |
| Dell Latitude 13 7300 | i7-8665U | 1,182 | 3,525 |
| Dell XPS 15 7590 | i9-9980HK | 1,176 | 7,624 |
| Dell Inspiron 13 7390 2-in-1 | i7-8565U | 1,111 | 2,965 |
| Dell Precision 3541 | i7-9750H | 1,117 | 4,720 |
Excellent performance from the quad-core Whiskey Lake CPU here. You could opt for the Core i5 instead and still have the power to get through productivity work.
GPU
Geekbench 5.0 OpenCL (higher is better)
Swipe to scroll horizontally
| Device | GPU | Compute score |
| --- | --- | --- |
| Dell Latitude 13 7300 | Intel UHD 620 | 5,409 |
| Dell Inspiron 13 7390 2-in-1 | Intel UHD 620 | 5,632 |
| Dell Precision 3541 | NVIDIA Quadro P620 | 12,469 |
PCMark
PCMark 10
Swipe to scroll horizontally
| Device | Score |
| --- | --- |
| Dell Latitude 13 7300 | 4,139 |
| XPS 15 7590 | 5,521 |
| Dell Inspiron 13 7390 2-in-1 | 3,764 |
| Dell Precision 3541 | 3,906 |
| HP Pavilion x360 14 | 3,558 |
| Lenovo ThinkBook 13s | 3,468 |
| Chuwi AeroBook | 2,140 |
| Chuwi LapBook Plus | 961 |
This PCMark 10 score shows how well the hardware in the laptop works together. Again, no surprises here as I didn't notice any performance hiccups in everyday use.
SSD
CrystalDiskMark (Higher is better)
Swipe to scroll horizontally
| Device | Read | Write |
| --- | --- | --- |
| Dell Latitude 13 7300 | 3,530.8 MB/s | 1,925.9 MB/s |
| Dell XPS 15 7590 | 3,000 MB/s | 2,796 MB/s |
| HP Pavilion x360 14 | 537.8 MB/s | 195.4 MB/s |
| Lenovo ThinkBook 13s | 1,604.1 MB/s | 851.4 MB/s |
| Chuwi AeroBook | 530.1 MB/s | 476.2 MB/s |
| Lenovo ThinkPad T490s | 3,060.7 MB/s | 1,542.3 MB/s |
| Lenovo ThinkPad T490 | 3,254.8 MB/s | 2,954.9 MB/s |
| Dell Latitude 7400 2-in-1 | 3,110 MB/s | 2,825 MB/s |
| Lenovo ThinkPad X390 | 3,024 MB/s | 1,563.2 MB/s |
| Huawei MateBook X Pro | 3,0416 MB/s | 2,779 MB/s |
The Samsung PM981 is certainly speedy, and you can swap it out for something different after purchase.
Should you buy the Dell Latitude 13 7300?
Altogether the Latitude 13 7300 is a solid business-focused notebook. Where some similar laptops fail — poor audio, meager battery life, so-so display, and non-upgradeable hardware — the Latitude 7300 excels, making it a great pick for a business partner. Sure, the fingerprint reader is atrocious, and there's no higher display resolution option than FHD, but the pros outweigh the cons.
The chassis is rigid and seems able to take a beating, the battery will easily last through a workday (especially with the low-power display option), ports give you plenty of options, and performance is reliable. There's even optional LTE connectivity for anyone commonly in the field. On top of that, there are many configuration options so you can put together the exact laptop you want. Just watch out for the price, which climbs quickly when you get out of the baseline models.
13.3-inch business notebook
Durable build, solid performance

The 13-inch Latitude 7300 is a well-rounded business Ultrabook that has few flaws. Typing is comfortable, performance is strong, battery life lasts through a day, and there are a ton of configurations to choose from.
Get the Windows Central Newsletter
All the latest news, reviews, and guides for Windows and Xbox diehards.
Senior Editor, Laptop Reviews
Cale Hunt is formerly a Senior Editor at Windows Central. He focuses mainly on laptop reviews, news, and accessory coverage. He's been reviewing laptops and accessories full-time since 2016, with hundreds of reviews published for Windows Central. He is an avid PC gamer and multi-platform user, and spends most of his time either tinkering with or writing about tech.