Dell Venue 8 Pro coming in hot red, ships tomorrow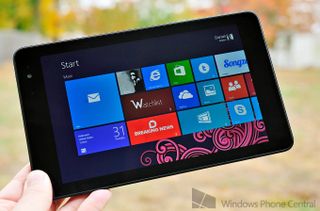 Bummed we didn't get a Surface Mini last week? Then it's probably time you get a Venue 8 Pro from Dell instead. The Venue 8 Pro is by far our favorite Windows 8.1 tablet in the 8-inch range. And starting today, you can order a new red version of the tablet from Dell.
Head to the Dell website and you'll see the option to get a new Dell Venue 8 Pro with 32GB or 64GB of storage in red. Previously, the tablet was only available in black. Anyone looking to spice things up might want to consider the red version, which looks pretty hot to us.
Specs remain the same. You get an 8-inch IPS display (1280 x 800), Windows 8.1, Intel Atom quad-core processor, 2GB of RAM, 32GB of internal storage (expanable with with a microSD card), 5MP rear camera, 1.2MP front-facing camera, 10 hours of battery life, stylus support and more!
The red edition of the tablet will start $299.99 for the 32GB model. Anyone thinking of picking this up?
Source: Dell (opens in new tab)
Thanks for the tip Steven H!
Windows Central Newsletter
Get the best of Windows Central in your inbox, every day!
Save my cash for the surface PRO 3

*Surface Pro 3. The Surface 3 has not been announced yet :)

Saving my money for the Surface Mini Posted via the WPC App for Android!

Any news for the next generation of DVP 8?
Good product but ...
I wish resolution was better and perhaps bump it to 8.3. Also camera doesn't work very well. Few things to iron.

Got it for $99 and like it.

Where did you get it for $100?

It was a promotion from MS and with $25 gift card.

Yep I Got the Same Deal at the Microsoft Store.. Got that and a Dell Venue Pro 11 for 299 the Same Day. It was a Good Day! It was a Christmas Promotion.

So you cheated, I'm reporting you to the Principal. Mr. Sabri, sammyboy405 is guilty of denying us the ability to cashin on some amazing offers last Christmas. He needs to be sent to the naughty corner. hahaha

They had the same promotion at the grand opening of the MSFT store here in aventura, fl. Today. Passed by but the line extended Half the mall...too much of a wait :-o. Went home empty handed definitely saving up for SP3.

Same here (MSFT Store Gand Opening special), for that price it's awesome!

Aww yea! I almost dropped $$ on one last week. Glad I waited.

Going with red over black then?

Wow $100 extra for just the color?

I am sure it will be available on Amazon at lower price within a week or two.

299 has always been the reg price Posted via the WPC App for Android!

I'm pretty sure this has been available before. They also used to have a model that was available with Windows Pro 8.1, but I can't find that one on their website anymore, sadly. Anyone know if they still sell that?

Yep. It's got the full version of Windows not the RT version. That gives you a lot more flexibility. Runs fast too. Also has a micro SD slot for extra storage.

No, that's not what I meant. I meant Windows 8.1 Pro, as opposed to Windows 8.1. They had an option to upgrade to Pro before, but I can't find it now.

My son works at Dell. I'll ask him about it.

You cab always upgrade from within windows (may be more expensive tho)

Yes, when I looked it was significantly more to upgrade to Pro. I only really want it because it's the only way to get the "Pro Pack" which includes Windows Media Center. Just curious if they will sell it again.

It has been available in red for the 64gb version never on 32 GB though and it does not cost more for color its always been 299 for 32 at reg price.
I picked mine up at Walmart for 199 Posted via the WPC App for Android!

*cries* I ordered a Surface Pro 3.... I don't have the money for all of these fancy toys

Recycled Toshiba and now Dell. We need new products moving forward. Seems things have stalled.

You will always get an onslaught of new products when new chips are introduced. Keep up with Intel and you'll know when the new tablets are going to be coming out.

I seen the red version last month but it's too late because i already got my daughter the black version. Would have loved to have the red. Would spray paint my Surface 2 red if it wasn't under warranty.

Have you seen these? Bodyguardz Carbon Fiber Armor - Surface 2 I have a White one for my Surface RT and a Red one for my 920

Planning on getting Surface 2 ;)

Hey buy mine for 399 with keyboard.

surface pro 2? what specs? which key board?

great device...better that any android device... it is useful not just for game. good size for moving everywhere.

great device...better that any android device... it is useful not just for game. good size for moving everywhere.

Android phone user here - DVP8 user for this very reason. These guys have almost completely eliminated any reason to buy an Android tab.

Except to play candy crush lol

You can play candy crush on EI right? :)

Why does everyone keep getting bummed on this site? I'd never get out of my seat if I worked there.

how's PhotoShop with the stylus?

I would think it would be even cheaper than before with the OS now free (if I'm not mistaken) on smaller devices!

If the wifi works on it maybe dell for me In the UK were terrible for customer service couldn't believe how bad the were but do miss my tablet wasn't a massive amount though

I've got a Venue Pro and I got it when it was released. It's always been available in red or black, most places that sell it just carry the black though. It's always been the full version of Windows 8.1 as well, not RT so it's always been able to run anything installed. It's a great little tablet, fast as heck. I love mine but I'm definitely wanting a Surface 3 now.

This tablet has been available in red for a long time (several months now). This is not new at all. They originally had all versions of the tablet in red, then they decided to make the 64GB version only in red and now they have both the 32GB and 64GB in red again.

I love my Venue 8 Pro. It is great, only improvement I'd like is a high resolution screen. The screen is very nice but I've been spoilt by other screens.

This isn't new news... I purchased my Venue 8 pro a month ago.. red was an option.. has been for a while now. My only gripe.. no SIM slot. This device would be amazing if it offered it internal.

UK version has the following option: Dell NetReady mobile broadband solution (HSPA+) with O2 sim card

OMFG! I want. But needs to be closer to $229 or less for my pocket. Otherwise saving for a SP3.

It will be in about a week! ;) That's just Dell's price.

Hot and Sexy. Go dell....

I bought my Dell Venue Pro back in Nov last year, used it regularly until Feb 2014, bought a Nokia Lumia 1520 & haven't touched the DVP since.

I won a 64GB version with cover and stylus at the Xbox one launch party at my local Microsoft store. Bought the Bluetooth keyboard and I have had a laptop replacement since.

I have had my 32GB Red DV8P since January, not sure why this is news now. I really enjoy the splash of color; only gripe is the Serial Number sticker on the side that begins to turn white as the color rubs off of it. Advice would be to take a pic of the sticker, then peel it off and leave just the Red case showing.

Or save the box Posted via the WPC App for Android!

Wait, so you guys prefer the DVP over the ThinkPad 8?

I have one. Wish the red option had been available when I bought it. Still, it's a great little tablet.

I have one and only if they would fix the screen touch and lighting sensitivity. Still major issues. Oh and the non working pen...

They fixed the light sensitivity ages ago. Check your Windows Update/Dell support site

Yep, you need to update. Been fixed for quite a while.

That's cool considering the fact that the Android version was always available in red.

Fantastic tablet. I am partial to the black one though, too old for red!

Love mine too. The only thing that would even possibly get me to look at another tablet would be a Surface Mini.

This. I love my DV8P and only a Surface Mini would pull me away.

Wasn't there already a red version exclusive to the Dell web site? Could have sworn I saw that when I bought mine.

Yet still no lte. I am the most die hard windows tablet fan and I think when the nexus 8 comes I'm gone. All but Toshiba and Thinkpad missing HDMI. Toshiba only 32gb drive size. ThinkPad puts USB in a place making it impossible to stand. Puts HDMI under the cover hinge. No one gets LTE. They are fucking up on purpose. This can't just stupidity!!!

Who needs LTE? Just tether with your phone when you need to. WiFi is nearly everywhere.

Agreed, I don't understand all the calling for LTE since windows 8 tablets first came out, don't understand the desire for another data plan device when you can just hook up to the one you already have if you need.

LTE? You're going to need a loan for that tablet.

Uh sorry, Sam. Dell is NOT a replacement for a Surface product. This must be a joke. :P

I have the Lenovo Miix 2 8", and I love it. Its cousins with the Dell, and tech spec wise nearly identical (but has a better screen if I'm not mistaken).

Why, in god's name, WHY that Start button on top???? Would be the perfect device for the perfect price (Lenovo's Thinkpad 8 seems to be the perfect one, but pricey)...

I've had my DVP8 for almost a month, and I don't think I've ever used the physical Start. It's too easy just to swipe in.

Well since + is its equivalent to ++ I've used it a couple of times for that on my DV8. But I really don't even want a front softkey because the swipe is so easy and I think the other would be in the way for me.

As an owner of a Surface, Surface Pro, Surface Pro 2, and DVP8, the Start button placement prevents the constant triggering when picking up the Microsoft products

Swipe in. Its THE easiest way.

Woohoo, got another tip published. :D

Damn, I wish I had the $100 option when I bought mine. I bought a black 64gb one a week ago off Amazon for $250.

As a medical student entering my clinical years, I would love to have a small tablet like this with me in the hospital. However, the windows store lacks sooo much in medical professional apps, I see no point. As a dedicated windows user, I really hope I dont succumb to an iPad grrrr...

I love my little Game of Thrones tablet aka Dell Venue 8 Pro. :)

I love my little Game of Thrones tablet aka Dell Venue 8 Pro. :)

This can't be new. I'm literally typing this response on a red DVP 8 I've had for almost a month. Maybe it was a promotional color a month ago? But Dell added the color option for free (and the 64GB version was on sale for $299). Or maybe I'm from the future. Also possible.

I bought the VP8 not long after launch. It's been plagued by touchscreen issues (see the Dell support forum - there are hundreds of replies/exchanges to quite a few threads). Dell's support has been exposed as seriously lacking. I guess I'm saying go check out the touchscreen threads before committing your money.

Asus Note 8 for the win. The implementaton of the Dell Stylus has left the people on the Tablet PC Review forum feeling a bit annoyed. Surface pro 3 for me :)

Microcenter has the back version for $199 right now

I haven't had any real issues with the stylus (one note usage exclusively.) I am using the newer version and updated drivers (from day 1.) In comparison to the N-trig one on my HP tx2 it is far better to use.