Dell Venue Pro available on December 14th for $150? [Update: You can order 16GB now as well]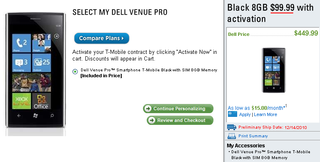 Update: Now the 16gb version (opens in new tab) is available for $149.99 on contract with free 2nd Day Shipping if ordered by December 2nd. (Thanks breadbooze and Jose P for the tip!)
Update: Well looky here, if you follow THIS LINK (opens in new tab), you can order the 8GB version for $99 on contract right now. Not bad. (Thanks, Sam S., for the info!)
The Venue Pro may make it for Christmas after all. We have to leave this as a question mark because Dell took down the offending page with the goods on it, but before they did Pocketnow managed to get a screen grab. The pricing is $149.99 with contract or $499.99 without and will not work on AT&T's 3G--so T-Mobile only this shall remain.
December 14th seems like a good date, as it leaves time to order just before the holiday. Now the bigger questions are will that date remain, can they make it and can they do it without any more glitches?
Source: Dell (opens in new tab) (not working); via Pocketnow, GoWindowsGo
Daniel Rubino is the Editor-in-chief of Windows Central, head reviewer, podcast co-host, and analyst. He has been here covering Microsoft since 2007 when this site was called WMExperts (and later Windows Phone Central). His interests include Windows, Microsoft Surface, laptops, next-gen computing, and for some reason, watches. Before all this tech stuff, he worked on a Ph.D. in linguistics and ran the projectors at movie theaters, which has done absolutely nothing for his career.
This is all well and good but can Dell ship a batch to Clove so they can then ship mine to me please?

I feel for you, lol. I know you've been waiting a long time for the VP--hopefully it'll be here soon!

Ya, the only upside to this long wait is that maybe when I finally do get one the big update will be close and I can update right away.

I just checked the Dell site and it actually let me walk all the way through to the checkout (I didn't purchase it - not yet at least). Also, the site says that it is for a 16GB model - not bad for a bill fifty!

Heyo! Thanks for running the tip and resulting traffic to my lonely part of the web. Has anyone taken the plunge and actually tried ordering from that link? I'd volunteer to be the guinea pig but I'm holding out for the 16GB version.

I might. Not sure I really need 16GB.

Hope it works out for you if you do! Good luck.

Go for the 16GB, so you don't kick yourself later.

The 16GB version is up on the site and available to order- http://configure.us.dell.com/dellstore/config.aspx?oc=mscovy2&c=us&l=en&... I just placed my order, let's see if it arrives by the 15th as stated.. also they are offering free 2nd day shipping (ends 12/2).

I've been waiting for this windows phone since launch!
just purchased (switching from att). painless and easy.

I think we're all missing the bigger problem here. It's on T-Mobile.

May be a problem for you, others dont seem to see it that way.

I ordered the 16Gb today, the preliminary ship date is Dec 9th but with 2 day shipping it says estimated delivery of Dec 15th. I have the HD7 now but I get the death grip issue on it pretty badly (instantly drops 2-3 bars if I hold it in my left hand and if I squeeze a little it drops to edge). Also the screen on the HD7 sucks, I don't know why HTC doesn't use IPS panels, but the viewing angles on the HD7 kill me, I notice colors flushing out if it's just laying on my desk.

Just ordered my 16gb version switching from my beloved Focus but im sorry att data plans sucked!!!!!

Just got off the phone with a Tmobile rep wanting to clarify my plan after purchasing the Dell Venue Pro online and Microsoft I have to tell you not only do you have to win over customers but you have to win over the customer service reps that tell me Android is better after I told him I ordered a WP7 with Tmobile's service. As he began to tell me why Android is better I informed him that WP7 is not Windows Mobile. Also, I suggested to him that when a customer is inquiring about WP7 you should seek to answer that question and you might want to Bing WP7 so you can catch up and stop drinking the Android koolaid. I also enlightened him that for the average consumer WP7 works just fine and he should not engage in promoting one product over another when a customer is clearly interested in WP7!!!!

I had an experience like this while looking at phones at T mobile. The rep started telling me how people kept returning HD2's, he didn't even know the HD7 was a totally different OS. I had a G2 at the time and the rep telling me to get android actually had a blackberry which I thought was funny. I'm pretty sure t mobile is just handing out big commissions for android phones, most of the reps I talk to at the stores just tout the mytouch 4g and all they ever can tell me about it are the marketing bullet points.

When I talked to a salesperson at one of my local T-Mobile stores, she flat out admitted they received very little training on WP7. I knew way more about WP7 sight unseen than they did with a working model and plenty of time to play with it.

Ya, what's up with them trying to get people to pick up an Android phone when they ask about WP7? Seriously that's just plane stupid and should piss people off really. Don't try to sell me something else when I ask about something specific.

MS needs to go it alone, from dodgy OEM's to carrier reps openly trying to sabotage WP7 sales, they are better off selling their own devices in their stores and online on their site and on sites like Amazon. EVERYBODY seems to be working hard against WP7's success and MS is doing nothing to counter that.

Unfortunately MS cannot do it alone. The more carriers with WP7 in stock the better, IMO. I do think one carrier requirement MS needs to impose is sales people need to be trained, and the venues should have some kind of display that stands out better than just another phone along the wall.
Windows Central Newsletter
Thank you for signing up to Windows Central. You will receive a verification email shortly.
There was a problem. Please refresh the page and try again.