Dell XPS 15 9550 vs XPS 15 9560: What's different and should you upgrade?
What are the differences between the XPS 15 9550 and the XPS 15 9560?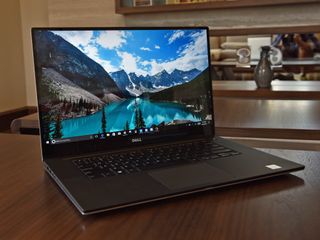 The refreshed XPS 15 9560 is now available from Dell (opens in new tab), and you might be wondering whether you should stick with the older 9550 model or upgrade to the latest model. While there aren't any major outward changes, the new XPS 15 has been refined to include the latest Kaby Lake processors and a brand new NVIDIA GTX 1050 GPU. Let's take a look at all the differences between the XPS 15 9550 and 9560 to help you decide which one works best for you.
Quick-reference hardware specs
To help you decide which XPS 15 is best for you, here's a collection of the specs each model has on offer.
Swipe to scroll horizontally
Category
Dell XPS 15 9550
Dell XPS 15 9560
Processor
Intel Core i3-6100H (3M Cache, up to 2.7GHz)
Intel Core i5-6300HQ (6M Cache, up to 3.2GHz)
Intel Core i7-6700HQ (6M Cache, up to 3.5GHz)
Intel Core i3-7100H (3M Cache, up to 3.0GHz)
Intel Core i5-7300HQ (6M Cache, up to 3.5GHz)
Intel Core i7-7700HQ (6M Cache, up to 3.8GHz)
RAM
8/16GB DDR4 at 2133MHz
8/16/32GB DDR4 at 2400MHz
GPU
Intel HD Graphics 530
NVIDIA GTX 960M with 2GB GDDR5
Intel HD Graphics 630
NVIDIA GTX 1050 with 4GB GDDR5
Display
15.6-inch
1080p non-touch
4K touch
15.6-inch
1080p non-touch
4K touch
Storage
500GB HDD + 32GB Flash
1TB HDD + 32GB Flash
256GB/1TB PCIe SSD
500GB HDD + 32GB Flash
1TB HDD + 32GB Flash
256/512GB/1TB PCIe SSD
Ports
HDMI, USB 3.0 (x2) with PowerShare
Headset Jack
SD card reader (SD, SDHC, SDXC)
Kensington Lock slot
USB Type-C Thunderbolt 3
HDMI, USB 3.0 (x2) with PowerShare
Headset Jack
SD card reader (SD, SDHC, SDXC)
Kensington Lock slot
USB Type-C Thunderbolt 3
Battery
56/84WHr
56/97WHr
Two biggest changes to the XPS 15 9560
As you can see from the spec table above, the XPS 15 9550 and 9560 are relatively similar. There are, however, two big changes to note.
First, the 7th-generation Kaby Lake processors are here. While these aren't a huge upgrade over 6th-generation Skylake processors, they do give you a bump in performance, power efficiency, and integrated graphics power.
Kaby Lake processors can handle 4K video much more efficiently, so if you're going with the 4K display, you might want to splurge for the 9560. If you're interested in some light gaming — even Overwatch — without opting for a full NVIDIA GTX GPU, the 9560 will also be a better choice thanks to upgraded Intel Graphics HD 630.
The other big change to the XPS 15 9560 is the introduction of an NVIDIA GTX 1050 with 4GB of GDDR5 VRAM. This is a significant improvement over the 9550's NVIDIA GTX 960M, and will allow you to play pretty much every current game with high settings. If you're looking for a laptop for gaming, you definitely want to grab the newer XPS 15 9560.
Other notable changes
When it comes to memory, if you want to get more than 16GB, you'll have to grab the XPS 15 9560 — it comes with up to 32GB of DDR4 at 2400MHz. You'll also notice that the RAM in the 9550 is clocked at 2133MHz, so if you're in the market for the fastest RAM, it has to be the newer XPS 15.
Kaby Lake processors are a bit easier on your battery, but to really improve life — especially on the 4K models — the battery has been beefed up to 97WHr on the 9560, up from 84WHr on the 9550. If working on the road is your thing and you want to worry less about power, definitely grab the XPS 15 9560.
One last thing: Windows Hello is a useful security feature that lets you sign in with bio-authentication. The XPS 15 9550 had no compatible hardware, but the newer 9560 now has an optional fingerprint reader for fast, secure logins.
Update: Regarding the fingerprint reader consumers will see the option to add one added to the Dell.com website during the first week of February, so stay tuned for that
Which should you buy?
As it stands now, both models remain available for sale on the Dell store, and you can grab an XPS 15 9560 for the same price — $999 up to $2500 (opens in new tab) — depending on the configuration. If you absolutely want more than 16GB of RAM or Hello-compatible hardware, you have to go with the 9560. Otherwise, you have some choices, but they're relatively one-sided.
Until Dell stops selling the XPS 15 9550 and we start seeing some deep discounts, it makes the most sense to go with the newer model. The upgraded Kaby Lake processors deliver better performance and power usage, the bigger battery means longer use before looking for an outlet, and the full NVIDIA GTX 1050 means you can play pretty much any game you want.
Windows Central Newsletter
Get the best of Windows Central in your inbox, every day!
Senior Editor, Laptop Reviews
Cale Hunt is formerly a Senior Editor at Windows Central. He focuses mainly on laptop reviews, news, and accessory coverage. He's been reviewing laptops and accessories full-time since 2016, with hundreds of reviews published for Windows Central. He is an avid PC gamer and multi-platform user, and spends most of his time either tinkering with or writing about tech.
Buy nothing Dell - utter garbage at all they do. Better to buy the Spectre, Envy, or Elitebook from HP. Or the Yoga or Thnkpad series from Lenovo. Or any other laptop. With all this Dell nonsense lately I wonder how much they are paying for product placement here???

They're also getting paid for HP product placement. And Surface product placement. And Razer product placement. -.- Dell is a big player in the PC space. They deservedly get media attention for their high profile flagship devices. Get over it. This site covers way more than Dell too. Talk about selective reading.

I love my xps 15. No issues.

That's your opinion, some would say stay away from HP or Lenovo because their trash. Personally I've had better luck with Dell laptops than HP in the past, but I won't base my decision on that, I'll base it on what's currently available and current reviews.

HP is known for poor support and I've seen it first hand. I'd rather go with a Dell or Asus.

just returned my Razer Blade 1060 (due to micro-stuttering issues and poor customer support) and will be getting this instead.. waiting until BestBuy has on shelves to purchase one.
I've asked this before. but does anybody know if they upgraded the hdmi to 2.0?

I believe I saw on reddit that it was indeed hdmi 2.0.... I unfortunately can't point you toward a link or anything.

So frustrating I can't find anywhere. Thx anyways

That is not correct. Dell refused to upgrade the hdmi in the XPS 9560...so it is still 1.4. It is a shame really.

ewww... Blade is supposed to be better for gaming. I live in Italy and Razer doens't sell it here, otherwise i would have choosen blade over xps... lucky me, at this point

Is the new XPS 15 handling Linux better than the old one? I want to get a XPS 15, but it seems that the 9550 model has issues with Linux and just wonder if Linux compatibility is better with the new models.

You go to a Windows community and ask us questions about Linux support? Although, with Linux's sub-1% marketshare, there is no place to actually ask questions like this.

So, a little confuses by the RAM comment in this article. Pretty sure the 9550 can be upgraded to 32gb of 2400mhz SO RAM, there is even a WC artichle about it. Unless you're referring to what you can buy direct from Dell, in which case you could still get a 32gb 2133mhz configuration.
Anyway, love the specs on the new one, though I'll be hanging onto my 9550 for a while yet, has been a great laptop for development, very fast and reliable! Thanks for the initial comparison, will be go to see the real world review

Does anyone know if you can get a "stripped" 9560 and manually up the RAM and SSD? More specifically, I'd like to bump the SSD to the Samsung 2TB 960 Pro.

Not from Dell. Your best bet is to buy the cheapest model then upgrade the RAM and storage and sell the old parts on eBay.

I'm erring towards the HP Spectre X360 15 - It is more versatile and the camera is well placed, Don't know why Dell don't have a pop-up camera at the top that you can press in and out.

I love mine xps 15. Its a new dell company you should try it.