Dell XPS 15 (9570) vs. LG gram 15Z980: Form or function?
It's hard to choose between these two fantastic 15-inch Ultrabooks.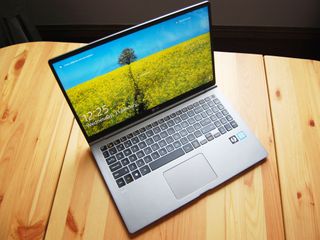 Buying a new Windows laptop these days is an exciting prospect, thanks to the wide selection of quality devices that continues to hit the market. If you're interested in a 15-inch device ― who doesn't love a big screen? ― two products might stand out. Dell's refreshed XPS 15 (9570) is expected to be available for preorder on April 16, and LG's gram 15Z980 is already widely available.
Let's compare these two Ultrabooks to help you decide which makes the most sense for you.
Dell XPS 15 vs. LG gram 15Z980 tech specs
Image 1 of 2
Swipe to scroll horizontally
Category
Dell XPS 15
LG gram 15Z980
Processor
8th Gen Intel Core i5-8300H
8th Gen Intel Core i7-8750H
8th Gen Intel Core i9
8th Gen Intel Core i5-8250U
Intel Core i7-8550U
RAM
8GB/16GB/32GB DDR4-2666MHz
8GB/16GB DDR4-2400MHz
Storage
128GB SATA SSD + 1TB HDD
1TB SSHD
256GB/512GB/1TB PCIe SSD
256GB/512GB/1TB SATA SSD
Display size
15.6-inches (touch and non-touch)
15.6-inches (touch and non-touch)
Display resolution
3,840 x 3,160 (4K UHD)
1,920 x 1,080 (FHD)
1,920 x 1,080 (FHD)
Graphics
Intel UHD Graphics 630
NVIDIA GTX 1050 (4GB GDDR5)
NVIDIA GTX 1050 Ti (4GB GDDR5)
Intel UHD Graphics 620
Ports
Thunderbolt 3
Two USB-A 3.1
HDMI 2.0
SD card reader
3.5mm audio
Thunderbolt 3
Three USB-A 3.0
HDMI 1.4
microSD card reader
3.5mm audio
Wireless
Killer 1535
802.11ac (2 x 2)
Bluetooth 4.1
Intel Dual Band Wireless-AC 8265
802.11ac (2 x 2)
Bluetooth 4.1
Camera
Front-facing 720p
Front-facing 720p
Biometrics
Fingerprint reader (optional)
Fingerprint reader
Battery
56Wh or 97Wh
72Wh
Dimensions
14.06 in x 9.27 in x 0.45-0.66 in
(357 mm x 235 mm x 11-17 mm)
14.1 in x 9 in x 0.7 in
(358.14 mm x 228.6 mm x 17.78 mm)
Weight
4 pounds (1.8 kg) with 56Wh battery, SSD, non-touch
4.5 pounds (2 kg) with 97Wh battery, SSD, touch
2.41 pounds (1,095 g)
Dell XPS 15 vs. LG gram 15Z980 design and features
The refreshed XPS 15 hasn't seen quite as drastic of an overhaul as the XPS 13 9370, keeping the silver shell and inner carbon-fiber palm rest. Dimensions are staying the same as well, but there's certainly a lot more hardware inside. You're still getting a professional-looking laptop that's just around a half-inch thick, though at 4.5 pounds for the touchscreen model, it's certainly heavier than the gram 15Z980's 2.41 pounds.
The gram is slightly thicker at 0.7 inches (it also has a wedge shape to it), but it in no way feels like a big laptop. The lid opens with one hand, the silver finish holds up to abuse and doesn't show many smudges or fingerprints, and it's even been put through MIL-STD 810G strength tests to ensure its durability.
Both laptops have fingerprint readers (though you pay extra with the XPS 15), backlit keyboards, and large Precision touchpads. If you often find yourself typing for long periods of time, either of these will suffice. Do note that the gram 15Z980 has that full-sized deck with number pad, something I'm sure many of you will appreciate.
Neither laptop is really skimping on ports, and both have Thunderbolt 3, USB-A, and HDMI. The gram has a microSD card reader, while the XPS 15 has a full-sized SD card reader. The XPS 15's Thunderbolt 3 port has been upgraded to have four lanes of PCIe support, the lack of which was a sore point with the XPS 15 9560. Don't count out the gram, though, as its Thunderbolt 3 port also has four lanes of PCIe, giving you the option to turn it into a gaming machine with an external graphics card (eGPU).
Bottom line
Both of these 15-inch laptops are about as small as possible, though the XPS 15 has more of a square footprint whereas the gram has more of a rectangular footprint. The XPS 15 is thinner, but the gram 15Z980 weighs much less, making it overall the more mobile device.
Dell XPS 15 vs. LG gram 15Z980 display
Image 1 of 2
These two laptops have the same size display (15.6 inches), and both are available in touch and non-touch configurations. However, if you'd like something more than 1080p, you'll have to go with the XPS 15's 4K IGZO display. It really is quite stunning, and the near-complete lack of bezel makes it pop out at you.
The gram 15Z980's display, though, can't be ignored. It also has very thin bezels, not much of a "chin" ― which contributes to the rectangular shape ― and it hit 100 percent sRGB and 76 percent AdobeRGB in our testis. If you hate the below-display webcam placement on the XPS 15, know that it's situated above the screen on the gram.
Bottom line
Both laptops are hard to dislike in the display area, though the XPS 15's 4K option will no doubt be enticing to anyone who works with media. Note than neither laptop has pen support, however.
Dell XPS 15 vs. LG gram 15Z980 performance
One of the best features of the gram 15Z980 is the 72Wh battery, which offers between 12 hours and 13 hours of life from a single charge. That's partly thanks to the 8th Gen Core i7 processor (CPU) inside, which delivers standard quad-core performance. You can get up to 16GB of DDR4 RAM for easy multitasking, though the SATA solid-state drive (SSD) options don't offer the same speeds as PCIe options found in the XPS 15.
Dell decided that U-series CPUs weren't going to cut it here, and instead, you have the option of Intel H-class chips. The Core i5-8300H has four cores with a 45W thermal design point (TDP), but the Core i7-8750H is rocking six cores. If that isn't enough, there's also an option for a Core i9 CPU that will no doubt tear through just about anything you feed it.
The XPS 15 is also the clear winner when it comes to graphics. Whereas the gram 15Z980 uses integrated Intel UHD Graphics 620, the XPS 15 is available with up to an NVIDIA GTX 1050 Ti graphics cards (GPU) with 4GB of GDDR5 VRAM. You won't be able to compete with the upper-end cards, but this is certainly enough power for a great gaming or multimedia editing experience.
Bottom line
There's not much competition here: the XPS 15 is the top performer for anyone interested in specialized tasks.
Dell XPS 15 vs. LG gram 15Z980 price
XPS 15 prices start at the $1,000 mark (opens in new tab). As with most Dell laptops, that introductory model has basic hardware inside, and you won't be getting a dedicated GPU, PCIe SSD, or touch display.
The gram 15Z980 doesn't come cheap, either, starting at about $1,250 (opens in new tab) for a Core i5 CPU, 8GB of RAM, and a 256GB SATA SSD. This is likely about the same configuration as the basic XPS 15, so you should be able to save some money by going with Dell's laptop, as long as you don't need the extra performance.
Bottom line
Dell's baseline XPS 15 model costs less than the gram 15Z980, and because of the wide difference in hardware as you scale up, prices will no doubt grow apart quite drastically. We still don't know how much a fully-equipped XPS 15 will cost, but the LG gram tops out at about the $2,000 mark (opens in new tab).
Dell XPS 15 vs. LG gram 15Z980 conclusion
If you're attempting to decide between these two stellar Ultrabooks, the decision really comes down to what you'll be using it for. The LG gram 15Z980 is certainly mobile thanks to its lightweight design, though it isn't really suited for any specialized tasks due to the hardware inside. It is still a great laptop for most standard productivity purposes, and the full-sized keyboard is an added bonus. It is well-designed, and it's one of my favorite laptops to use right now.
However, if you're thinking about a laptop for gaming or multimedia editing, the XPS 15 is the better choice. The six-core CPU options and dedicated GTX 1050 Ti GPU are in a separate class entirely, and the added bonus of a 4K display will make this the go-to choice for many.
Related resources
Windows Central Newsletter
Get the best of Windows Central in your inbox, every day!
Senior Editor, Laptop Reviews
Cale Hunt is formerly a Senior Editor at Windows Central. He focuses mainly on laptop reviews, news, and accessory coverage. He's been reviewing laptops and accessories full-time since 2016, with hundreds of reviews published for Windows Central. He is an avid PC gamer and multi-platform user, and spends most of his time either tinkering with or writing about tech.
Do you know if the Dell XPS 15 9570 got the same Gore thermal insulation improvements like the 9370? I know this update was more of a refresh, but there's been quite a few complaints about CPU throttling on the 9560s and older... thanks!