Dell's Computex headliner is the latest Inspiron 15 7000 Series 2-in-1
Dell has a bunch of new Inspiron products to show off at Computex in Taipei, but the headline act is this, the Inspiron 15 7000 Series. A 15-inch laptop available as either a 2-in-1 or as a regular notebook with an option for a 4K display.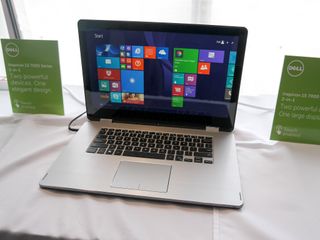 The notebook is being pegged by Dell as en entry level gaming notebook, and while 4K touch is available as an option, the standard display is a still pretty impressive looking 1080p Full HD panel.
Despite not being part of the flagship XPS range of products, the new Inspiron 15 7000 Series laptops still offer a premium experience. The 2-in-1 offers the convertible tablet mode along with a tent mode, and Dell is expecting success for this in North America in particular. Here's what makes it tick.
The notebook is boasting some higher end hardware, with the latest Intel quad-core i7H-Series CPU on offer as well as discrete graphics from NVIDIA to partner that 4K display you can specify. The disappointment here is that right now, Dell only plans to sell this in China. It'll be on sale there from August for RMB5999, and it comes in a pretty awesome shade of red.
The 2-in-1 will be on sale from June 23 in the U.S. starting at $549. It doesn't have the option for a 4K display and the internals are a little more reserved, but it''s still a great looking device for someone looking for a larger 2-in-1.
TAIPEI, TAIWAN, June 2, 2015 – Dell today announced at Computex 2015 a comprehensive new line-up of Inspiron devices, offering a wide range of technology solutions to meet families' everyday computing needs. Adding to Dell's award-winning consumer product line up, the new portfolio includes the Inspiron 5000 Series laptops, Inspiron 15 7000 Series 2-in-1, Inspiron 15 7000 Series performance notebook, Inspiron 20 & 24 3000 Series All-in-One desktops, and a full line of Inspiron Desktops. Demonstrating Dell's commitment to offering something for everyone, these new devices are available with a wide range of processor options and configurable features, enabling students, families and value-conscious shoppers to connect, learn and achieve more.
Inspiron 15 7000 Series 2-in-1 PC: Affordable Luxury
A versatile 2-in-1 device with a 15.6" display, the new Inspiron 15 7000 Series 2-in-1 combines the beauty and strength of brushed aluminum with upscale features and an impressive battery life of up to 8 hours 54 minutes . This 2-in-1 rotates between four modes: tablet, laptop, tent and stand mode; the latter is perfect for resting on an airplane tray table to watch movies at an optimal angle, no matter how far back the facing seat is reclined. True Color, also offered as an option for the new Inspiron 5000 Series, comes standard on this 7000 Series 2-in-1 PC with its wide-viewing angle IPS screen, and contributes to a vibrant, rich, saturated front-of-screen experience. Standard Waves MaxxAudio® Pro audio software enhances the multimedia experience with an impressive soundstage. Other premium standard features include a backlit, full-sized, spill-resistant keyboard. The design is exceptionally beautiful: the thin sub-20 mm form is lightweight and easy-to-carry without conceding strength. The Inspiron 15 7000 2-in-1 supports the new 802.11ac wireless standard, providing improved range and faster downloads for better surfing, streaming and video chats.
Inspiron 15 7000 Series Notebook: Optimized Performance and Power for Gaming Entertainment
The new Inspiron 15 7000 performance notebook packs the latest generation Intel Core i7H-Series Quad Core processors into a thin laptop, boldly designed in black and red with contrasting accents. The notebook is ideal for students and young gamers seeking a multi-usage high performance laptop for school work, multimedia and gaming needs at just the right price. Visuals will pop with 4GB GDDR5 performance class discrete graphics from NVIDIA; the 15" FHD wide angle display also comes with a 4K UHD touch option. It features performance speakers with built-in subwoofers and Waves MaxxAudio® Pro for an immersive sensory experience. The notebook is built to have staying power with a 74Whr battery so users can enjoy long battery life for on-the-go gaming and productivity. Intelligently engineered cooling solutions sustain uninterrupted game time.
Windows Central Newsletter
Get the best of Windows Central in in your inbox, every day!
Managing Editor - Tech, Reviews
Richard Devine is a Managing Editor at Windows Central with over a decade of experience. A former Project Manager and long-term tech addict, he joined Mobile Nations in 2011 and has been found on Android Central and iMore as well as Windows Central. Currently, you'll find him steering the site's coverage of all manner of PC hardware and reviews. Find him on Mastodon at mstdn.social/@richdevine
How on earth can a laptop with no discreet GPU be an entry level gaming laptop? It wont be able to even meet requirements...

Read the article, they have mentioned Discreet Nvidia graphics, the spec table is only for one variant of Inspiron.

Can you read the article? It will come with Nvidia graphics 4GB DDR5 (Possibly the GeForce GTX 960M) BTW I have a Dell Inspiron 5000 series and already comes with discrete graphics from AMD, the Radeon R7 270M which is decent for playing 2014/2015 games at medium settings (1280x720) , and some can even be played at 1080p at high settings.

Bought a Dell 7537 and not happy at all. Wifi is working only within 1m of the router. Go 3 meters away and you have barely one line. And connecting an Ethernet cable doesn't work at all, it's a problem from Intel card. So all in all, this is my first and last product from Dell.

Updating the driver might help. Also, uninstall and re-installing the card might fix it

I still find the off-centre trackpad a real arse. But I'm sure others love it.

It is centred with the space key. thats where you usually have the least hand palm sitting when you have the index fingers on f and j. The problem is the numpad that makes it look way of centred

I get it :-) I just think it looks odd. And, having built/used a few with the trackpads in that location, I always find my fingers go to the wrong place (oooh, matron). I guess I'd get used to it, but I like balance.

Is it possible to waste more keyboard space?

Exactly like a mac book pro.lol

You can lose whole biscuits between those keys.

Aye. It's a shame they didn't make the keys bigger - that seems a chief complaint of the current range. At least they're moving away from the weak AMD gpus they have right now. I tried a device with the 4k screen and running something intensive... Well it begins to chug quick. I don't understand the need for 4k on a device that doesn't have the internals to support it and the scaling in windows can be hit or miss. Oh well, someone will like it. I prefer the xps range - shame the 13 doesn't pack a 960 lol

It's a shame they didn't put a number pad like most 15 inch laptops. I don't like how this whole "copy Apple" thing is going. Just because Macbooks don't have numberpads doesn't mean Dell should remove them too.


i hate thinkpads for starting to put numpad in there.... it's WAAAY less comftable typing with your left hend resting on the bottom left EDGE of computer...

Lmao. :) I would most certainly drop an entire chicken nugget in those gaps.

Why I feel like seeing a mac there?

4.7 lbs seems to make it heavy for use in tablet mode. Also curious what benchmarks are if they're really marketing this for gaming with integrated graphics. The HD5500 seems especially mismatched with a 4K display for that target. Surface Pro 2 is hit or miss gaming at 720p or so.

The notebook is targeted at entry level gaming. Not the 2-in-1

Love that red Dell freaking killer PC. It looks really awesome and cool. My XPS 15 4K Touch is jealous:-) eat your heart out CrApple AGAIN. Sorry that your overrated MacJUNK is no match, to these superior devices that eats you for lunch. I hope in 2016 or so, i see people finally figure out how bad they got ripped off by CrApple and see what a garbage toys they are, for a ridiculous price. However, they have to get more IQ, to figure that out though. Not sure how that's going to happen. iSHEEP incredible intelligence, can't be mess with so easily, or can it??,..Dun, dun, duuunn

As much as I respect Apple from what they're doing on the mobile space, I think their laptops are overpriced and don't meet the requirements a professional can get with Dell laptops with discrete graphics like my Dell Inspiron 5548. Some MacBook Pro's even have Intel graphics without AMD or Nvidia and their price is about twice of what I paid for my Dell, and just because it has a Retina Display?

Microsoft Lumia 640 unlocked by windowsmania.pl http://www.windowsmania.pl/dyskusja-ogolna-515/5D-prezentacja-mozliwosci-interopa-wideo-21991/

How abour new Dell tablets/ convertibles?

What is wrong with the silver one in the first picture, the keyboard looks too small and silly surrounded by those massive side bezels, why not provide a more functional keyboard with more keys. What an ugly device. The red one I like though.

So you have room to put a cup of coffee.

It looks too much like a bootcamped MBPR. Really?! You have to make it look like a MBPR?!

That Windows 8.1 start screen, though...

They told us that they wanted to launch but since Windows 10 wasn't ready they just went for it regardless.

Good to know that, Rich. What I meant was the 8.1 start screen looks way better than what we have in Windows 10 right now IMO.

Was hoping for a refresh of the XPS15, sharing the same bezel-less design as the XPS13. Maybe later this year.

Not impressive enough for me. I was kinda expecting an update on the Dell Venue Pro "line" (I hope it to become a "line")

The Intel Core i7 5500U CPU is great for both performance and battery life. You can achieve about 7 or 8 hours of battery life on these laptops with brightness set to low which is great if you're on a dark place. My laptop is a Dell Inspiron 15 5000 with switchable graphics from AMD and the Radeon R7 graphics are always turned off to save battery life, they only get turned on when you play games.

Lack of num​pad is always an immediate disqualifier for me.

BestBuy has been selling the 4K Inspiron 15 7000 with AMD graphics for a couple months. Bought one in March. Think its a best buy exclusive. Same specs though.
Windows Central Newsletter
Thank you for signing up to Windows Central. You will receive a verification email shortly.
There was a problem. Please refresh the page and try again.