Learn coding, design and more with a lifetime subscription to Stone River Academy for $59!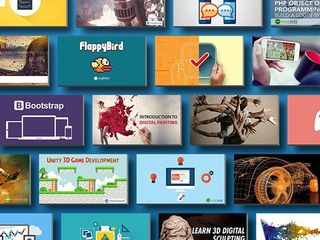 Choosing a specific career in the field of app development, web design, and 3D-animation can be tough — each is a growing field with high demand for specialists, and you have many interests. What if you want to learn them all? How can you afford the education needed for each career, and where will you find the time to go back to school?
Save 99% on this great bundle of course material!
Stone River Academy might be the answer you're looking for; they've put together what can be likened to a complete tech-education bundle. Courses for all levels of knowledge are available, and you can learn at your own pace; course availability stays open indefinitely thanks to a lifetime subscription. Master app development, web design, 3D-animation, coding languages, and more. You have the ambition and you can squeeze time into your busy schedule, but how can this be affordable?
Enter Windows Central Digital Offers. Right now, we're offering this lifetime subscription with over 110 courses and over 2000 hours of content for only $59. That's no mistake — that's a 99% discount off the regular $11,000. You're essentially paying a one-time fee to be enrolled for life. No matter what comes in the future, you'll be all set up to tackle it. Talk about a head start.
There are a ton of courses to choose from, but each course is broken down into a comprehensive curriculum to help keep things sorted. Learn programming languages like Java, Python, and CSS, as well as the ins and outs of game development tools like Unity 3D. Not only will you learn development, design, and programming, you'll also acquire the skills needed to carve a career in the tech industry.
Learn Bootstrap, Unity 3D, Java, Python, MySQL, node.js, CSS & more!
Do you want to always keep on top of current tech trends? With a lifetime subscription to Stone River Academy, you'll always have access to the latest courses — yes, new content is added all the time. Thanks to the broad range of content available, you might even discover a hidden interest. Imagine the possibilities available to you for only $85. The need for all sorts of specialists in the tech industry is high — why not get started today on a new career?
Get the Windows Central Newsletter
All the latest news, reviews, and guides for Windows and Xbox diehards.