DJ mixing app Edjing spins an update for Windows 10 PC and Mobile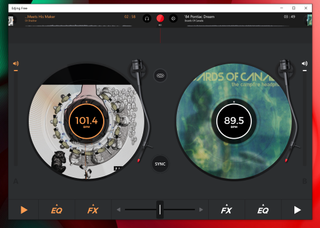 The popular DJ mixing app Edjing launched apps for both Windows Phone and Windows 8.1 in 2014, and now a universal app for Windows 10 and Windows 10 Mobile is now available to download. It's not clear when the update was released.
This new release is also a major update for the app itself, as the Windows 10 version also introduces Edjing 5. Here's just a few of its features:
Advanced BPM adjustment using the 'Tap BPM' function with beats synchronization
Automated audio effects sync on the beats of your songs (Loop, Cue, Seek...)
New FX: Roll and Roll Filter
A 'Slip' mode that can be activated for Loops and Scratch
Sound effects can now be adjusted manually
Option of adjusting the crossfader curve
While the app is free to download, Edjing does contain in-app purchases to unlock more content and features.
Thanks to Alex Danvy for the tip!
Download Edjing 5 for Windows 10/Windows 10 Mobile (opens in new tab)
If i hear any news on any new app or app updates again today i will call 911. I cant take it anymore Posted via the Windows Central App for Android

Please don't use the wording "drops" for updated apps in title like ever again because the first thing that comes to mind is "drops support".

Hopefully not anymore of dropping support Posted via the Windows Central App for Android

I thought the same thing I was scared shitless

Oke we need to drop the words like drop, pull, cut, discontinue,etc, from wp

Still no multitasking support. I welcome the update though.

still no Deezer and soundcloud option..... (IOS and Android have it)

Tell the developer about it.

Yup, let em know there is interest.

It's good for the DJ-type people out there. When I read the title of the app, the first thing I thought of was a time when I said "eding" instead of "editing" in a video I made a few days ago. I did say "editing," though, so I could just cut out "eding."

It's like the time with Android 10 years ago! :) The System and there support are NOW growing. And it's not like bevor! It has potential!!

Ooh niice. Will definitely check this one out.

Bugs on 950xl :( updates please

Was always buggy for me on WP8.1 (L930), and it's still buggy on Win10 x64. Sometimes there is no sound, no BPM being calculated, and crackling from tracks that do manage to load. I like the look of the app for a quick bit of fun, but these fellas really need to step up their game because it's totally unusable at the moment. :(
Windows Central Newsletter
Thank you for signing up to Windows Central. You will receive a verification email shortly.
There was a problem. Please refresh the page and try again.