There are plenty of SSD enclosures on the market that can turn a normal M.2 SSD into a versatile external hard drive. These range in price from super affordable options that do the bare minimum, up to something like the DockCase Smart SSD enclosure that goes way beyond the norm for those who like to keep close tabs on their drive's performance and health. Its built-in power loss protection helps prevent data loss, it has a sturdy aluminum build, and it's easy to set up and get working. I've been using it for the last week to get a closer look and to determine whether it's worth buying.
DockCase Smart SSD enclosure
Bottom line: The DockCase Smart SSD enclosure does everything right. It has power loss protection, detailed information available on the built-in display, built-in heatsink, and wide compatibility. It's a great choice for enthusiasts who want to keep a close eye on their external storage.
For
Power loss protection up to 10 seconds
Removable USB-C 3.2 (10Gbps) host cable
Shroud acts as a heatsink
Built-in display is genius
Works with NVMe and SATA drives in four sizes
Against
No Thunderbolt
2TB max capacity
DockCase Smart SSD enclosure: Price, availability, and specs
DockCase supplied Windows Central with a review unit of its new Smart SSD enclosure. It's currently available through a Kickstarter campaign where you can choose from five-second and 10-second power loss protection (PLP). Prices vary depending on whether you're jumping on the super early bird, early bird, or Kickstarter special periods; currently the five-second PLP models start at $69, while the 10-second PLP models start at $79. These enclosures are expected to start shipping April 2022.
There are a number of add-ons available if you feel like pledging more money. A protective silicone case is available for an extra $9, a 1TB SSD is available for $129 more, and a 2TB SSD is available for $249 more. It's unclear what SSD is being used here; I recommend buying your own drive and adding it to the enclosure so that you know what you're getting. Our collection of the best SSDs has a bunch of great options.
Here's a look at the specs that make up the DockCase Smart SSD enclosure. I have the model with 10 seconds of PLP, though specs are basically the same if you get the five-second model.
Swipe to scroll horizontally
Category
Spec
Interface
USB-C 3.2 (Gen 2)
10Gbps
Chipset
RTL9210B
SSD slot
M.2
NVMe or SATA
2280, 2260, 2242, 2230
Display
1.33 inches
240x240
IPS, LCD
Max capacity
2TB
OS
Windows 7, 8, 10, 11
macOS 10.6 or later
iPadOS 12.0.1 or later
Linux
Android
PlayStation 5
ChromeOS
Harmony
Dimensions
5 x 1.5 x 0.55 inches
(127mm x 39mm x 14mm)
Weight
0.2 pounds (90g)
Material
Aluminum alloy
Tempered glass
Warranty
1 year
DockCase Smart SSD enclosure: What I like
DockCase didn't skimp on this enclosure's build, going with a solid chunk of aluminum alloy for the case. It's joined by a ribbed back panel designed to better dissipate heat. On the inside of the panel is a silicone thermal pad for transferring the heat from the SSD to the case. The top of the enclosure is covered in a tempered glass panel that hides a 1.33-inch LCD display. More on that later. One side of the enclosure has a stamped button for display control, and one end has the USB-C 3.2 (Gen 2) port.
The enclosure is compact and lightweight, and thanks to the removable host cable you can easily slip it into a pocket. And because the host cable isn't permanently attached, you don't risk ruining the entire product if the cable is damaged. You can also use just about any USB-C cable you have lying around if you find the one included isn't long enough. With the host cable comes a screwdriver and some extra M.2 screws to make the installation process painless.
Opening up the enclosure requires a screwdriver; the back panel is completely removable, giving way to the M.2 slot. It's compatible with NVMe and SATA drives thanks to the Realtek RTL9210B chipset, and it works with four drive sizes including 2280, 2260, 2242, and 2230. There's enough room between the M.2 slot and the enclosure case that most SSDs with chips on both sides of the PCB will fit. I installed a Crucial P5 Plus with relative ease, slipping the drive into the slot and attaching the fastener at the other end. The process is simple enough for beginners.
The DockCase Smart SSD enclosure gets its name from two primary features: the built-in display and the supercapacitor. The latter offers up to 10 seconds of power loss protection, important for external drives that can get bumped around and lose connection (and power) from the host device. The grace period gives you time to get the drive plugged back in, preventing potential data loss or corruption. It's a great feature for everyone, whether working with important data or not.
A small display is the other part of the "smart" equation. The main screen that's shown by default shows your PLP status (whether it's charging or how much time you have available from the current charge), name and size of the drive, connected speed, disk health, and how much room you have left on the partition. The button on the side of the enclosure cycles through windows, with more detailed partition info, detailed SSD info, disk management, heat and voltage, and an "About me" page for the enclosure.
There's a whole lot of information available, perfect for enthusiasts who like to keep a close watch on their storage. The screen can even be rotated to face four different ways by double-clicking the side button. DockCase says the enclosure's firmware can be updated in the future to keep it relevant, though it's unclear how often this will occur.
The host port is USB-C 3.2 (Gen 2) capable of transfer speeds up to 10Gbps when connected to a compatible host device. This is the ceiling even if you're connecting to a host with something faster like Thunderbolt 4. I tested transfer speeds using a Crucial P5 Plus SSD and CrystalDiskMark, getting back 1,052MB/s sequential read and 923MB/s sequential write speeds. That's in line with what DockCase claims, so no issues there.
The built-in heat sink seems to do its job well. While testing and during regular use, the temperature displayed on the built-in screen never climbed above 45 degrees Celsius. That's well within standard operating conditions. The enclosure's case never really got that hot either; I had no problem handling it at any time.
DockCase Smart SSD enclosure: What I don't like
I ran into no problems while using the DockCase Smart SSD enclosure. Setup was easy (though you do need to use a screwdriver to get inside), my laptop recognized the drive immediately, and performance was steady.
This enclosure is best used with SATA and PCIe 3.0 drives, as moving up to a PCIe 4.0 drive will leave behind way too much unrealized performance. The USB-C 3.2 (Gen 2) interface is only capable of transfer speeds up to 10Gbps, which is far below a PCIe 4.0 drive's capabilities. For example, the Crucial P5 Plus PCIe 4.0 SSD with which I tested is normally capable of speeds up to 6,000+ MB/s but was cut down to just more than 1,000MB/s due to the limits of USB-C.
Even most PCIe 3.0 drives won't hit anywhere near their performance potential. If you want to maximize performance, investing in an enclosure with a Thunderbolt connection is recommended. The enclosure is also capped at a maximum drive size of 2TB. While anything larger is still on the rare side for most PC users, it is something to watch out for.
DockCase Smart SSD enclosure: Competition
If you're looking for a basic SSD enclosure that's far more affordable, I recommend checking out the Sabrent USB 3.2 tool-free enclosure. It uses the same RTL9210B chipset as the DockCase enclosure, with good stability and support for NVMe and SATA drives. It connects with USB-C 3.2 (Gen 2) and its speed is quoted at 1,000MB/s. It doesn't have a display or power loss protection, but it also costs only about $29.
If you have a PC with Thunderbolt, you can take advantage with OWC's Envoy Express enclosure. It works with NVMe drives and is quoted as having up to a 1,553MB/s transfer rate. It works with drives larger than 2TB, it's made from aluminum, and it comes with a two-year warranty. It lacks power loss protection and a display, but that extra speed might be worth the $79 price.
The ASUS ROG Strix Arion enclosure is another popular choice for those with NVMe SSDs. It fits the same sizes of M.2 drives, it offers USB-C 3.2 (Gen 2) speeds up to 10Gbps, and it comes in a stylized case with RGB and built-in heatsink. It costs about $55 but doesn't have a display or power loss protection.
DockCase Smart SSD enclosure: Should you buy it?
You should buy this if ...
You want an enclosure that provides detailed information about your SSD on a built-in display
You want an enclosure that supports both NVMe and SATA drives
You want an enclosure with power loss protection
You have a host device that supports USB-C 3.2 (Gen 2)
You shouldn't buy this if ...
You want transfer speeds well above 1,000MB/s
You want support for drives larger than 2TB
You want a more affordable enclosure without all the extra features
The DockCase Smart SSD enclosure is a well-built product made from aluminum and tempered glass. Its Realtek RTL9210B chipset offers compatibility across NVMe and SATA drives, it handles transfer speeds slightly above 1,000MB/s, and it's easy to set up and start using. Temperatures don't get too high thanks to the ribbed heatsink design, and performance is steady.
It's certainly not the most affordable enclosure on the market, but its built-in display and supercapacitor for power loss protection make up for the cost. There is a ton of information available right on the enclosure, ideal for enthusiasts who love numbers. And the PLP feature means you're less likely to lose data if the drive is accidentally disconnected.
If you're looking for an SSD enclosure that nails the basics and adds on a ton of premium features, the DockCase Smart SSD enclosure is an easy recommendation.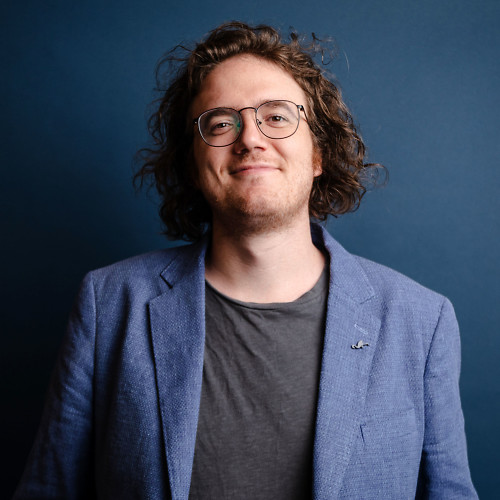 Senior Editor, Laptop Reviews
Cale Hunt is formerly a Senior Editor at Windows Central. He focuses mainly on laptop reviews, news, and accessory coverage. He's been reviewing laptops and accessories full-time since 2016, with hundreds of reviews published for Windows Central. He is an avid PC gamer and multi-platform user, and spends most of his time either tinkering with or writing about tech.