Dodocool's $12 'Hi Res Audio' in-ear headphones work surprisingly well
Remarkably, these sub-$15 in-ear headphones don't suck. Not at all.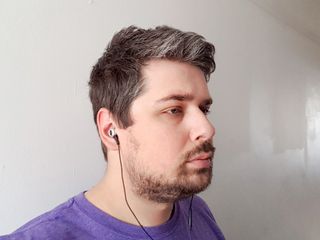 How would you feel about a pair of in-ear headphones you paid only $12 for? Confident, or happy to take whatever you get because you're not spending a lot of money?
What if I said you could have both a $12 price tag and quality sound? These in-ear headphones from Dodocool tick both of those boxes.
I was first attracted to these because of the "Hi Res Audio" label that comes with them. Surely you can't get such a thing without spending a lot, right? Wrong.
See at Amazon (opens in new tab)
What is Hi Res Audio?
From Sony, the pioneer of Hi Res Audio:
The image above is a good way to see the benefits of Hi Res Audio. More sample points produce a wave form closer to that of the original recording. As such, you get more detail in the audio files, which in turn means they're much larger.
Having the Hi Res Audio badge doesn't automatically make a set of headphones better, though, as What Hi-Fi explains:
Dodocool Hi Res in-ear headphones specs
Frequency response: 20Hz to ~45,000Hz
Mylar thickness: 6μ
Normal impedance: 16Ω±20% @ 1KHz
Normal power rating: 3mW
Maximum input power: 5mW
Output S.P.L.: 100±3dB SPL @ 1KHz
Input S.P.L.: 126mVrms SPL @ 1KHz
R/L Output Difference: ≦1.5dB @ 1KHz 1mW
Distortion: 2 percent (Max. 1KHz/1mW)
Buzze & Rattle: 50~3K Hz (0.28V)
These compare pretty favorably to a similarly priced pair of Panasonic in-ear headphones (opens in new tab), for example, particularly the frequency response, which is one of the big differences here.
Are they any good?
Specs on paper don't tell you whether or not they're worth any amount of your money. Using these headphones to listen to FLAC files and streams from Tidal, the sound quality is excellent. You still have to keep overall expectations in check, but to say I'm surprised would be an understatement.
When listening to regular, compressed music from something like Groove, they're less impressive, but so are the music files playing through them. The Hi Res Audio label on the sticker might be a bit of a placebo, but ultimately you're getting a very clear, balanced and punchy sound that isn't too heavy on the bass.
For $12. Hi Res or not, these sound superb for super-cheap headphones.
Not only is the sound quality exceptional for something so cheap, they're very comfortable and do a pretty good job isolating background noise. Besides the neat little carry case you also get a selection of tips to get the best fit for your ears.
The headphones themselves are very light because they're very plastic. But the little wings are just right to anchor them into your ears and you get an excellent seal.
The thing I'm not at all happy about is the cable. It's where you immediately know you're using cheap headphones because it feels nasty, thin and it gets tangled up far too easily. For $12 it's passable, but if these cost much more it'd be much less so.
The bottom line
Having the Hi Res Audio badge isn't what makes these Dodocool in-ear headphones good. I mean, meeting the technical standard might have something to do with it, but ultimately the sound quality is very good. Especially for this price point.
I can't think of another pair of cheap headphones I've used that sound so good. The Dodocools are on par with my own, much more expensive Audio Technica in-ear headphones. If you're a true audiophile you'll still walk away, but if you just want a pair of great sounding headphones that cost very little, you can't go wrong here.
See at Amazon (opens in new tab)
Richard Devine is an Editor at Windows Central. A former Project Manager and long-term tech addict, he joined Mobile Nations in 2011 and has been found on Android Central and iMore as well as Windows Central. Currently you'll find him covering all manner of PC hardware and gaming, and you can follow him on Twitter and Instagram.
I think I might give them a try, thanks!

Thanks for the article! I've just bought the ones with thicker cable and ear hooks (https://www.amazon.com/gp/aw/d/B01N32HDFU/ref=mp_s_a_1_1?ie=UTF8&qid=150...) to have a spare when my bluetooth ones run out of battery.

this guy is really handsome :3

When talking inexpensive earbuds with very good sound quality, IMHO your search should always start here. https://www.monoprice.com/product?p_id=9927 Some notes: These are called Enhanced base, but that is a bit of a misnomer, as the base is more balanced. Some folks have minor, but fair ergonomic complaints. I upgraded the pads, for example. However, they do have very good sound quality, clairity and balance at any price. They are sturdy and you can buy them by the case.

Thanks for the recommendation, checked them out. Apparently these 9927s are simply beyond belief for the price. I'll give them a whirl! :) Thanks Richard for the review of the dodocools! Will probably pick up some of these to try as well, for A/B or just backup!!
Windows Central Newsletter
Thank you for signing up to Windows Central. You will receive a verification email shortly.
There was a problem. Please refresh the page and try again.