Don't wait until Windows 11 — here's how to run Android apps on your PC right now
Windows 11 will support Android apps, but that doesn't mean you have to wait until later this year to run them on your PC.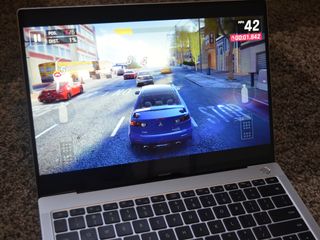 (Image credit: Windows Central)
When Microsoft announced Android app support for Windows 11, it was one of the bigger surprises of its event unveiling the OS. Windows 11 will support Android apps through the Amazon Store and even support sideloading APKs. While these are innovative and new technologies, they aren't the only way to run Android apps on your PC.
BlueStacks
BlueStacks has been in the Android emulation game for years. It's one of the best-recognized ways to run Android apps and games on your PC.
Aimed largely at gamers, BlueStacks has some features that Windows 11's solution for Android apps likely won't, including advanced customizable game controls. Since Android games are primarily built for touch, they usually aren't optimized for a mouse and keyboard. BlueStacks helps them feel more natural on a PC.
While BlueStacks is marketed towards gamers, it works well with Android apps. If you use an Android app that isn't available on Windows, there's a good chance that it works with BlueStacks.
The last major release of BlueStacks only rolled out in May, so it's recently been updated. The company behind the emulator also works to improve the app over time. BlueStacks 5 uses up to 50% less RAM than its predecessor and even works with ARM devices like the Surface Pro X.
BlueStacks 5 is one of the most popular Android emulators for Windows. It provides a solid gaming experience, thanks to its advanced customizable controls.
Your Phone app
Before adding native support for Android apps in Windows 11, Microsoft took a different approach to getting more apps onto PCs. With Microsoft's Your Phone app, people can use supported hardware to connect their phone to their PC, including running apps from a phone on a computer. Microsoft even added the ability to run multiple apps from your phone on your PC at the same time for certain devices.
The major downside to the Your Phone app is that the apps feature is available only for certain phones. All of the supported devices are from Samsung as well, which means if you use a device from any other manufacturer, you're out of luck. Even Microsoft's Surface Duo isn't on the list of supported devices (opens in new tab).
(opens in new tab)
Your Phone can sync your text messages, notifications, and calls between your smartphone and PC. With supported hardware, it can also run your smartphone's Android apps on your computer.
Not quite native
None of these solutions are as elegant as what Microsoft is doing with Android apps on Windows 11. Most notably, Android apps will run natively on the new operating system, which should yield better performance than emulation or streaming apps from a phone.
But they do provide other options for getting Android apps to run on your PC, and you can use them right now. Even after Windows 11 rolls out, BlueStacks should still have a solid niche among gamers.
They serve as a complement to the best apps on Windows and Microsoft's efforts to bring Android apps to Windows 11.
Windows Central Newsletter
Get the best of Windows Central in in your inbox, every day!
News Writer and apps editor
Sean Endicott brings nearly a decade of experience covering Microsoft and Windows news to Windows Central. He joined our team in 2017 as an app reviewer and now heads up our day-to-day news coverage. If you have a news tip or an app to review, hit him up at sean.endicott@futurenet.com (opens in new tab).
Glad y'all published this article, but I'm fine just waiting. I do smile at seeing the abrupt turn around in attitude about running Android apps in Windows though.

"here's how to run Android apps on your PC" - and Asphalt 9 on the preview, which is available on Windows 10 -_-

I know, right? A little more effort put into this article would go a long way. I have noticed that every time a "gaming phone" is covered by a tech reviewer, it is shown playing Asphalt..... are there litterally NO other killer apps that use a phone's power? If so, what's the point of all these mega phone specs?

People do this for games???

I tried Bluestacks a couple months ago and it was a hilariously poor experience. I wouldn't call it access to Android *apps* as much as it is an Android phone emulator. Like the kind you'd get with a development environment to test your app and see what it would look like on a phone. I was expecting something like the Windows 11 announcement - an Android app running in Windows. But what you actually get is a big clunky pretend phone on your screen, with its own home screen and pretend hardware buttons on it and everything, and it can show you one app at a time just like your phone and you switch between them with the Android UI. Your great big desktop screen is useless because you're just looking at a little make-believe phone that can only show one app at a time. I guess if your goal is really to play a phone game on your PC (though I can't imagine why anyone would want that) then it would technically get the job done, but it boggles my mind that after so many years of working on this they haven't figured out a better way to manage the presentation. It feels like an early proof-of-concept project.

Sad thing is the w11 preview is only for 2nd gen or newer snapdragon w10 devices. While x86-64 amd/intel will have to wait. Sure it was sad the BS5 arm beta never happened last year considering im sure they need all the help they can get.

I'm sorry, and I respect Windows Central and it's team very much, but Bluestacks shouldn't even be a suggestion in my opinion. It is very heavy and slow and the apps I tried run like crap. So no, thank you, I'll wait for official support in Win11.

Last I checked W10 on arm isn't supported but m1 based macs sure are
Windows Central Newsletter
Thank you for signing up to Windows Central. You will receive a verification email shortly.
There was a problem. Please refresh the page and try again.