Downloader for iTube is this week's Windows Phone myAppFree Deal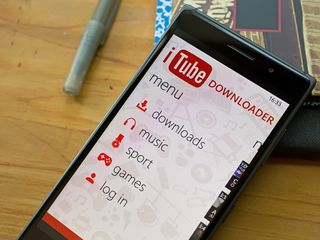 YouTube is an excellent source of entertainment and news videos, but you don't always have time to sit down and connect to YouTube with your Windows Phone. Enter the Windows Phone app Downloader for iTube.
The app delivers the ability to download and watch YouTube videos on your schedule. On a typical day, Downloader for iTube will set you back $1.99, or you can test things out with the trial version. However, for the next twenty-four hours, through a partnership with myAppFree you can pick up Downloader for iTube free.
The interface with Downloader for iTube is relatively straightforward with pages that include:
Main Page: Here is where you can view your downloads and view videos from sports, music and gaming categories. You also have the option to log into your YouTube account from this page.
Music: This page features the popular music videos available on YouTube.
Popular: Regardless of the type of video, the popular videos on YouTube will be highlighted on this page.
You also have the ability to search for videos through a keyword search. When you find the video you want to save for later, just tap on the thumbnail to launch the video and then tap the download button on the video playback screen. You will receive a toast notification when the download begins and another when the download is complete. All that is left is to go to your Downloads page and enjoy the video playback whenever the time suits you.
In just tinkering with Downloader for iTube for a short time, it comes across as a handy video playback app for YouTube. The Windows Phone app normally has a trial version but with the help of myAppFree, you can pick up Downloader for iTube free over the next twenty-four hours.
If you give Downloader for iTube, let us know what you think of the app and don't forget to rate the app in the Windows Phone Store. It is an easy way to send feedback to the developer on their apps.
Download Downloader for iTube for Windows Phone
myAppFree
Windows Central is proud to be partnering up with myAppFree to bring you savings on Windows Phone apps and games. myAppFree is a free Windows Phone app and service that highlights special deals for software on the Windows Phone Store. Make sure you download their app to keep track of all the specials they run weekly, as you'll never know what you may find.
Windows Central will continue to highlight select Windows Phone apps and games, such as Downloader for iTube, from myAppFree on a regular basis as a benefit to the Windows Central community. Additionally, with myAppFree expanding to offer deals from the Windows Store, look for us to shine the spotlight on the myAppFree deals for Windows 8 titles on a regular basis as well. Many of these deals will be universal apps so you'll double your savings.
George is the Reviews Editor at Windows Central, concentrating on Windows 10 PC and Mobile apps. He's been a supporter of the platform since the days of Windows CE and uses his current Windows 10 Mobile phone daily to keep up with life and enjoy a game during down time.
Ugh again with the little i - apple logo. I hate all the little i's.

iTube why anyone would offer a blatant apple referenced name in another store is sheer laziness.

Maybe everyone that has a WP device isn't a crazed, brainwashed, Windows Phone 7 Series fanatic like NIST.... You think❓❓❓

Lol.. Good one... i liked it... (⬅ Three lower case i's)... Wait, 4.

If you Include the last spelled out word there would be fIve sIr.

Thanks! Badly waiting for some apps to be free via myAppfree.. like IM+ Pro etc. It seems like only a few developers are interested in going with a deal with myAppfree, majority of them didn't want to give it a thought. :(

I'm ready to delete MyTube!

I hear it's cheap in Thailand.

TUBECAST is the new best player in the store..

Why? It's a great YouTube viewer!

Why, just went universal!

I'm just kidding. LOL!
Itube got its new place in Windows store & can't be compared with MyTube!
But it is better for the newbies, beginners having a single screen features for saving it as audio & video.

Metrotube does this though...

Heck no. I stick with mytube

Mytube or tubecast is my recommendation, both are universal.

MyTube is the best among all.

Can you transfer the downloads from the phone to a computer?

Yes. The downloaded archive is stored in the Videos folder of your device/SD card -- inside another folder called YouTube.

This!!
Spent a whole day looking for an app that does that.

WPtube..? Mtube..? Or just Pube..:)

I think uTube would have been a better name for this app.

That would be different. It doesn't sound like YouTube at all.

LOL this app is not even responding to my taps...

This app used 75MB data , but didn't downloaded the video.... Instead the whole process was about repeat once again

According to the YouTube ToS, people aren't allowed to provide downloading services of video content.

Fuck the YouTube ToS, then.

Really nice app. Clean interface and can download video and mp3.

People here stating their preference for Tubecast, MyTube or Metrotube don't seem to get that this app is not a competitor.
In the aforementioned apps, the downloaded video is stored in the app's internal memory, and you can't do anything with it besides playing it from within the app.
Download for iTube, on the other hand, stores the downloaded video on your device/SD card's Videos folder, allowing you to transfer it to your computer or share it.

Wrong.. I can access the downloaded MyTube videos using the Xbox Video/Files app

Lol, when I "sign in" in the app, I receive an email stated I sign in from Android..

Don't download this app, it is behaving like a virus. My phone freezes and crash every time I use it. The app it self is also very slow and buggy.

That's BS. The app is [obviously] legit and is working perfectly fine for me.

I have a Lumia 625. Maybe its because the ram is 512mb but my experience with this app(itube) is very bad, it's very very slow the buttons obviously don't respond when I press them and my phone crashes and restart. Tubecast is the best absolutely no problem just taught I would give itube a try, but sadly I'm very disappointed.

Tubecast is the best absolutely no problem just taught I would give itube a try, but sadly I'm very disappointed.

As I stated here (link), they're NOT meant to do the same thing.

What's your point other than repeating what I said and sending us a link to the virus(itube). You can stick with your itube and we will stick with our Tubecast.

If it could download videos to SD card, isn't this supposed to be revolutionary? I mean, it is one of a kind. No other app has got the provision to do so, right. Except for UC browser, I guess?

Mytube stores to sd card and everything can be accessed and played using the phones file app.

I cannot see the download button in this app while watching videos. Don't download the app. Just waste of your time and data.

When you open a video -- and the app aspect gets changed to landscape --, the download button is the second one on the right, from top to bottom, with the one immediately below it being for downloading only the audio.

with my lumia 640 i had to hide the control-buttons first.
maybe you have the same problem ;)

Shame on you *Windows central *for promoted this app that doesn't works!Be more professional plz

It's smooth... contrary to most comments. We appreciate the deal

far more superior than any video downloader on windows phone >> https://www.windowsphone.com/en-us/store/app/video-downloader-hd-for-you...

Its not working .. When I download the video/audio its never gets to completed status , although waited for a while to move to completed window but never happened also the start screen tiles refreshes when ever I use this app

@Geroge Ponder : Please review this app its far superior than any video downloader on windows phone https://www.windowsphone.com/en-us/store/app/video-downloader-hd-for-you...

This app isn't working properly on my new Lumia 640. Everytime I try to download a video it gets to 100% but never moves over to the complete column. And sometimes causes my phone to crash
Windows Central Newsletter
Thank you for signing up to Windows Central. You will receive a verification email shortly.
There was a problem. Please refresh the page and try again.