Watch us play Dragon Age: Inquisition multiplayer with your fellow readers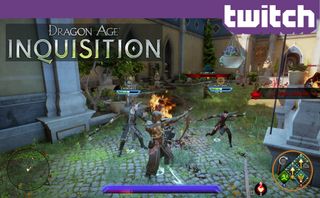 Every Wednesday, Windows Central streams a different Xbox One game or two on Twitch. No contests on Wednesdays; these streams are just for funsies. It's like a live podcast, only you also get to watch a game while chatting with our awesome readers and viewers!
Tonight we'll be streaming Dragon Age: Inquisition from Electronic Arts. Inquisition has a compelling multiplayer mode that's completely separate from the single-player game, which we stream on Thursdays. This time you can tune in without fear of spoilers! Plus, since this is a multiplayer stream, viewers who own the Xbox One version and have already played multiplayer in the past are welcome to join my game at the beginning of the stream.
Update: The stream has ended. Thanks to everyone who joined us for multiplayer and those who tuned in to the show. Read on to watch the full replay video!
Watch live video from EastXTwitch on Twitch
Dragon Age: Inquisition
The third game in EA BioWare's legendary fantasy-RPG series Dragon Age, Inquisition brings Dragon Age to Xbox One and Playstation 4 for the first time, as well as PC and previous-gen consoles.
Following the events of Dragon Age 1 and 2, the land of Thedas is plagued by civil war and strife. Worse, extradimensional portals have unleashed a threat that could destroy the world at large. Players create their own unique character from a variety of classes and races and then set out to bring peace to the land. To do this, they will head the Inquisition – a large-scale religious and political movement.
With hundreds of hours of gameplay, the choice of either action-based or strategic combat, and the ability to choose the direction and philosophy of the Inquisition itself, Dragon Age: Inquisition is a truly epic role-playing experience.
Join us tonight for some multiplayer questing!
Dragon Age: Inquisition – Xbox One – 42 GB – $59.99 – Amazon

(opens in new tab)

– Xbox Store

(opens in new tab)

Dragon Age: Inquisition – Xbox 360 – 42 GB – $59.99 – Amazon

(opens in new tab)
The Stream
We'll be playing Dragon Age: Inquisition's multiplayer mode for 90 minutes tonight, starting at 8pm Central (9pm Eastern, 6pm Pacific).
To join us, please follow me at Twitch.tv/Eastxtwitch and tune in during the stream. You can watch the stream right here in this post, but you'll need to watch from the Twitch website or a separate app to participate in our always delightful stream chat.
What's the best way to experience Twitch? If you don't have a PC, you can get the Xbox One or Xbox 360 Twitch app and watch from the comfort of your couch. Or grab the unofficial app Livegaming for Windows Phone. It has plenty of great features, including the ability to chat along with your fellow viewers. Unfortunately you'll have to add our channel to your favorites from the Twitch website, outside of the app.
I'll be available for a few minutes before and after the stream if you have any questions or just want to say hi.
Streaming schedule
Each Wednesday, we'll live stream a new, classic, or upcoming game just for fun with no prizes. Every Saturday, we'll stream a different game and give out free copies of that game as prizes. The stream always starts at the same time: 8pm Central (9pm Eastern, 6pm Pacific).
Want to know what's next for Windows Central's weekly Twitch streaming contests? Here's our upcoming contest schedule:
Saturday, February 14 : Guacamelee from Drinkbox Studios
Saturday, February 21 : Chariot from Frima Studio
In addition to our Saturday contest streams, we also live stream a variety of different games throughout the week. These streams don't have contests, but they still offer a great chance to see more exciting games while enjoying our live commentary and stream chat.
Mondays: Playstation Vita games! See what the other side gets to play.
Tuesdays: The Witcher 2 for Xbox 360. Catch up on The Witcher saga before The Witcher 3 launches in May!
Wednesdays: Xbox One games. We'll announce these games on the site every Wednesday.
Thursdays: Dragon Age: Inquisition for Xbox One. Chosen and funded by our excellent viewers!
We hope you'll tune in as often as you can! Set a recurring alarm on your phone so you'll always know when it's time for the stream to start.
Thanks to our cohosts for helping keep things lively and our Twitch stream moderators for keeping our streams clean and stress-free!
Paul Acevedo is the Games Editor at Windows Central. A lifelong gamer, he has written about videogames for over 15 years and reviewed over 350 games for our site. Follow him on Twitter @PaulRAcevedo. Don't hate. Appreciate!
Its a fun game. I wish you had the option to auto-equip and auto-level your team. I hate managing all the team members. I know you can auto-level by pressing X in the character screen but i would rather it happen automatically. Auto auto auto!

I will definitely try to be on tonight for this.

Wednesdays are when I take my cat out to eat at a fancy restaurant. Milk steak and jellybeans all night so I might be late

Is your cat still traumatized from the Witcher 2's nudity last week?

Will be fun as always! Great chance for some viewers to join in and play as well! That went great on the Fibbage and Warframe streams!

Hate missing Paul's streams like the last two. It is always fun and entertaining and much better than most of the stuff on tv. Great article too Paul.

Hmm. Looks cool and I'd love to jump in and play, but sadly I'll probably be studying for midterms. =/

I want want to play.. But I have a cource to finnish

I couldn't make Witcher last night and since this is multiplayer I'm going to try to hop in. I haven't played one second of MP but I'm loving the single player

Shame the stream treated you so poorly, Josh! You know, we still could have played together. My internet was not acting up.

Yeah it was definitely my internet. I was having issues with it for the rest of the night. If you end up doing another MP stream I'll join in. It gives me a chance to try it out first so I'll have at least some idea of what I'm doing :)

I'll make an appearance, but wont be able to stay for long. Thanks for streaming guys, its always a good time.

Just an FYI, The Twitch App is avail on all of the above-mentioned platforms as well as Android and iPhone. Sometimes its great to play on Xbox1 / 360 and have Twitch loaded up on a separate device such as a tablet or phone.

That's how I monitor the chat, from my tablet. :)

Thanks for the mod and adding it in about alternate ways to chat. :)

That's was fun. I am up for it next time.

enjoyed the stream, glad the gremlins were sorted

Always enjoy watching these steams. +1

I need to get this game so I can join in. Always great to play with a bunch of awesome people like Paul. If you're not checking out the stream you're definitely missing out on a great experience.

Even in closed Beta, Neverwinter was 5x's the game this was for me. Dialogue always felt cheap, and the repeating nature of battles and the awkwardness and clumsiness of the game always took away from a decent effort. Just wasn't my cup I guess.
Windows Central Newsletter
Get the best of Windows Central in in your inbox, every day!
Thank you for signing up to Windows Central. You will receive a verification email shortly.
There was a problem. Please refresh the page and try again.