The Witcher Twos-days: Read our Episode 1 recap and watch the new episode!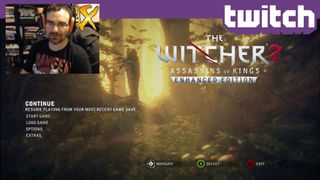 The Witcher 3 is set to be one of the year's biggest role-playing games when it arrives on Xbox One, Windows, and Playstation 4 this May. The third game in the Witcher series differentiates itself from other open-world action-RPGs with its dark and mature storyline filled with meaningful player choices and memorable sidequests.
To help prepare our readers for The Witcher 3, Windows Central has begun a new weekly Twitch series focused on The Witcher 2. Every Tuesday night at 8pm Central (9pm Eastern, 6pm Pacific), we play through another section of the game while you guys watch the stream at Twitch.tv/Eastxtwitch. Tonight we also gave out four copies of The Witcher 2 for Windows, and we'll have more prizes next week!
Did you miss the first episode of our Witcher Twos-day series? Don't worry; we've got a full write-up that will get you up to speed – complete with screenshots from the stream. Plus, catch the full video of tonight's episode!
Watch live video from EastXTwitch on Twitch
Beginning the game
Read our previous story for a quick look at Geralt of Rivia and a recap of the first Witcher game.
The Witcher 2 opens with a dramatic full-motion video introduction, which we have embedded above. We see a king and his party traveling on a ship, celebrating. Suddenly a burly bald man throws a vial at the ship's mast. It explodes, causing a wave of ice to freeze everyone in its path. Fortunately for the king and a few guards, the king's mage quickly reacts shields the small group from icy death. But their reprieve is short-lived, as the assassin emerges from hiding and slaughters everyone.
Next we transition to another place, a forest cloaked in dense fog. Series protagonist Geralt – the Witcher (a monster hunter) is running, weakened and confused. Suddenly he awakens, revealing the chase was only a nightmare.
Geralt now finds himself in the dungeon of La Valette Castle, hanging by his wrists. A trip of guards insults and assaults him. Soon Vernon Roche, commander of the Temerian military special forces, commands them to take Geralt to the interrogation room. We see that Geralt recognizes Vernon. "I thought you died," he remarks.
In the interrogation room, Roche unlocks Geralt's cuffs and orders him to relay everything that happened leading up to the assassination of King Foltest. Geralt tells the story in three stages:
That morning, the King summoned me
Geralt awakens in a tent next to the nude Triss Merigold, a sorceress and his sometimes lover. He is soon summoned by King Foltest, but not before we learn that the King has gone to war over a disagreement with the mother of his bastard twins, Baroness La Valette.
We step outside and explore the picturesque war camp. This is the first time the player has control of Geralt. We engage in conversation with a trio of mercenaries and win an arm wrestling minigame with a soldier.
Eventually Geralt meets up with Foltest, who explains his side of the conflict with the Baroness. Nobles in her court swayed her to keep Foltest's children from him, but only so that they could gain more power for themselves.
The la Valettes, led by the Baroness' adult son Aryan, have taken up a strong position atop a castle tower. Geralt volunteers to capture a ballista in the courtyard below, though he has to fight off several enemies to do it. Next he breaches the tower under cover from Foltest's archers.
Finally, Geralt meets up with Aryan La Valette. Here players have the choice to slay him and his men, duel only him, or attempt to talk him into surrendering. We chose the peaceful option, convincing Aryan that continued resistance would be hopeless for all in his charge. Aryan drops his sword and calls upon King Foltest's mercy. (Note that his option prevents us from encountering Aryan's mother in a state of distress within the dungeon later on.)
The assault
Although Aryan has given up the fight, the rest of the Baroness' forces have not. Geralt, Foltest and crew gain entrance to the main gate after Vernon Roche himself sneaks in and assassinates the gatekeeper. Foltest's forces have already secured the Baroness herself, but not her children.
Just as our team prepares to enter the castle, a dragon swoops in and attacks. They flee the dragon while fighting through La Valette troops along the way. Having been separated from Triss, the trio of Geralt, Foltest, and Roche cross a burning bridge. \
The dragon catches up with them though, and they nearly fall prey to its attack. Thankfully some troops distract the beast with arbalest shots, enabling our heroes' escape.
We split up at the monastery.
Foltest's two children are being kept within the castle monastery. The building is heavily fortified, so it falls on Geralt to discover a rumored hidden passage that will allow entry. To do this, he'll have to explore the village below.
Geralt encounters a group of soldiers intent on robbing a handful of peasants. He can choose to threaten the soldiers in a couple of ways, convince them that the dragon will be returning soon, or leave them alone. We choose the dragon bluff and the soldiers leave.
It takes a lot of searching, but we eventually discover a well that leads to the hidden passage. Geralt downs a cat potion, giving him the ability to see his way through the dark sewers. After fighting his way through some sewer monsters, our hero emerges inside of the monastery and opens the gate for Foltest and his men.
After dealing with some belligerent nobles within the monastery, Geralt and Foltest finally reach the Solar in which the two children are being kept. Foltest orders Geralt to wait at the doors that he doesn't scare the skittish children, who barely know their father.
While the two children step out of the room to wash up and prepare to meet Foltest's men, the unthinkable happens. The priest who had been guarding the children was actually the bald assassin we first witnessed during the game's introduction! He slashes poor Foltest's throat before Geralt can reach him and escapes out a window. Geralt spies the assassin leaving in a boat with members of the Scoi'atel, a terrorist group.
The escape
Now that Geralt's three-part story has concluded, Vernon Roche realizes his innocence. Roche slips Geralt a key that he can use to escape his bindings after the guards collect him.
We do just that, killing our would-be tormentors. On our way out of the dungeon, we happen across Aryan La Valette, who suffered torture because Foltest was no longer alive to offer him amnesty. Geralt and Aryan escape the dungeon.
After parting with Aryan, our reunited trio of Geralt, Triss, and Vernon Roche board a boat and set off in search of the Assassin of Kings. The Assassin and his Scoi'atel allies are planning something more…
And with that, the game's prologue had concluded! Now you're ready for tonight's episode of our stream.
The Contest
We'll be streaming The Witcher 2 for 90 minutes tonight, starting at 8pm Central (9pm Eastern, 6pm Pacific). During that time, we'll be giving out a total of 4 game codes:
4 copies of The Witcher 2 for Windows and Mac via GOG.com (opens in new tab)
To enter, just follow me at Twitch.tv/Eastxtwitch and tune in during the stream. You can watch the stream right here in this post, but you need to actually participate in the stream chat to have a chance at winning. We'll deliver codes to the winners via Twitch message (PM) during the stream. No code begging!
What's the best way to experience Twitch? If you don't have a PC, you can get the Xbox One or Xbox 360 Twitch app and watch from the comfort of your couch. Or grab the unofficial app Livegaming for Windows Phone. It has plenty of great features, including the ability to chat along with your fellow viewers. Unfortunately you'll have to add our channel to your favorites from the Twitch website, outside of the app.
I'll be available for a few minutes before and after the stream if you have any questions or just want to say hi.
Streaming schedule
Want to know what's next for Windows Central's weekly Twitch streaming contests? Here's our upcoming schedule:
Saturday, February 14 : Guacamelee from Drinkbox Studios
Saturday, February 21 : Chariot from Frima Studio
In addition to our Saturday contest streams, we also livestream a variety of different games throughout the week. These streams don't have contests, but they still offer a great chance to see more exciting games while enjoying our live commentary and stream chat.
Mondays: Playstation Vita games! See what the other side gets to play.
Tuesdays: The Witcher 2 for Xbox 360. Catch up on The Witcher saga before The Witcher 3 launches in May!
Wednesdays: Xbox One games. This week we're playing Dragon Age: Inquisition multiplayer!
Thursdays: Dragon Age: Inquisition! Game selected and funded by our excellent stream viewers.
We hope you'll tune in as often as you can! Set a recurring alarm on your phone so you'll always know when it's time for the stream to start.
Winners
Congratulations to these lucky dudes and dudettes!
mook6_99
kyralea
Ban01tgaz
betachris
Thanks to CD Projekt RED for providing tonight's prizes. Thanks also to tonight's cohost Xero and our Twitch stream moderators for keeping the stream friendly and giving away the prizes!
Get the Windows Central Newsletter
All the latest news, reviews, and guides for Windows and Xbox diehards.
Paul Acevedo is the Games Editor at Windows Central. A lifelong gamer, he has written about videogames for over 15 years and reviewed over 350 games for our site. Follow him on Twitter @PaulRAcevedo. Don't hate. Appreciate!
First was a good stream! Make sure to check this one out as well!

I missed last weeks stream as I was busy, I will see the regulars later tonight. ;-)

Come for prizes, stay for Paul's singing

I'll be there! Looking forward to more debauchery.

Daboom, Ching! I actually LOl'd for real when I read this comment

Thanks for the code last night! Sorry I wasn't able to be more active in chat, was watching at work. See you laterss!

Looking forward to it. Witcher 2 is such a quality game, pleayed through it twice, once on PC and once on 360.

Have played both, IMO The Witcher: Enhanced Edition > The Witcher 2 Oddly enough the graphics are somewhat better in ways too ..

Dark and mature is certainly one way to describe its fascination with breasts and rape. And how memorable can anything be when all the characters are wooden drones who do little but spout expository backstory? No one, including the boring generic main character, have any inner life whatsoever. But hey, they mo-capped 16 hours of sex scenes, so there's that.

Well you ​ did miss over 40 hours of actual storyline. Like trying to tolerate Star Wars Episode I without watching the originals.

If it isn't for you then don't play.

Hopefully I'll be able to catch tonight's stream tonight. They get better and better each week.

I'll be watching it from my brand new HP Stream 7! This thing is awesome.

Mine should be here tomorrow!!

I'll be peeking on you guys like a stalker hahaha

Sorry I couldn't make it!

Great stream guys, people don't know what they are missing out on. Its like the after hours bar of windows central where everyone gets to talk about anything while watching someone play a game... And here i never watched twitch before this. great stream see you guys later.

Highly amusing and a good group of peeps!!! Definitely entertaining :)

Great stream as usual and enjoy keeping up with story.

indeed, another good evening

Can't believe I missed the stream. Work got in the way. Gladly at least I will have the run down on what happened for next weeks stream. This game does look awesome. Hope you are having fun playing it.