Dragon Mania Legends update adds Xbox Live support and new content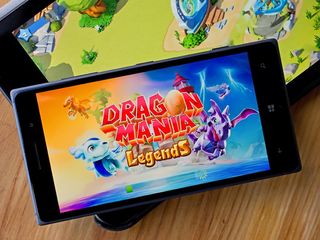 Dragon Mania Legends, the fantasy-themed city building game from Gameloft, received a major update today for both its Windows Phone and Windows 8.1 versions. The game now supports Xbox Live achievements and also has a bunch of new content to check out.
Besides the Xbox Live support, here's what's new in the update:
Fight against other players in 12 different leagues and win 7 unique Dragons!
Face the new Daily Challenges.
Master Multi-Wave Combat: Can you defeat 2 groups of Dragons in a row?
A new island for you to populate with Dragons
It's always good to see more Windows Phone and Windows 8.1 games from third-parties support Xbox Live. Thanks to everyone for the tips!
Download Dragon Mania Legends for Windows Phone (Free)
Download Dragon Mania Legends for Windows 8 (opens in new tab) (Free)
This game is very f*cking Awesome :D

I see they are keeping their promise about adding a lot of xbl support to games

Exactly what I came here to post. I recall Dungeon Hunter 5 was on the list too. Hopefully that's next.

hope i can play again on windows 10 mobile :(

I went to wp10 today, got dragon mania loaded up once and then since I can't get it loaded up. Is this the case with all wp.1 apps?? anyone know?

Same here , I rolled back to denim because of the game

i seem to have it working on wp10. seems its gotta be downloaded from the store app, NOT BETA STORE APP. it seems to play ok then, screen isn't sized quite right and a couple of other wee faults but i could collect coins and stuff so good enough just now. i play it on tablet too so i can do bigger things on it

"everyone" who tipped them, read carefully. :)

Got away from this game after they went screwy on the amount of gems you can earn for various events a few months ago.

What's the difference between only Xbox achievements and Xbox live achievements?

There is no differentiation. I think it was suppose to read as "Xbox Live, achievements,....".

The latest updates didn't resolve their constant server timeouts.
Also the cost of food is ridiculous, they a bunch of black marketers.

I have zero issue , but sometime it stutters a little bit and if the cost was less then it wouldn't be a challenging game ;) After you reach the max in everything , you'll have hundreds of millions you wont know where to go with , time matters more :D

Another victory for #SaveXboxWP. Join the movement that has been saving Windows Phone since November 2013. Details here.

I have stopped playing after their schiity update.But glad to know that they are taking care of their games.

I tried it pre achievements. Time to give it another shot.

Downloaded and loving so far.
Windows Central Newsletter
Thank you for signing up to Windows Central. You will receive a verification email shortly.
There was a problem. Please refresh the page and try again.